25 Easy Family Night Activities to Connect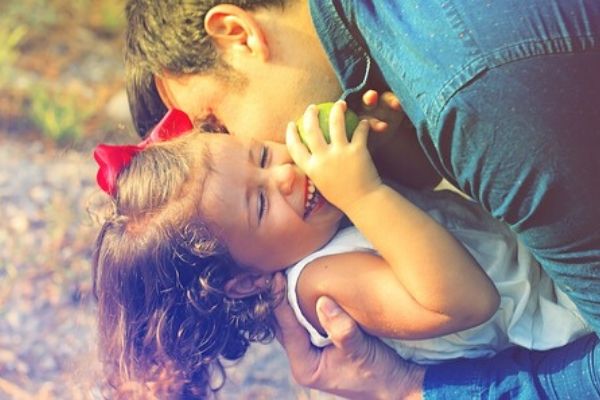 The Best Family Night Activities to Try!
Have you ever wished you could find more quality time to spend with your family?
Time that isn't spent shuffling them to activities or competing with technology?
Well, foster real connection through family night activities! It's important for our families to have regular rituals, and scheduled time together is a fantastic way to go.
This post contains affiliate links at no cost to you. However, I only recommend products I love. See my disclaimer for more.
For us, Sunday evenings work best, but every family is different. Now, no matter what the week brings, we can count on a little bit of time focused on each other.
Plus, our kids tell us it's their favorite thing we do. They get to have input about what we do together, mom and dad give our full attention, and sometimes we have snacks. It's a kid's dream!
25 Stellar Ideas For Family Time
So, let's get to it! Here are the BEST ideas for your future family activities!
1. DO MUSIC
Listen to some great music, create a family band out of household items, or perform a show.
2. PLAY PIRATE
First, make (or have the kids make) a pirate map scavenger hunt. Then, pretend the sofa or bed is the ship, and read some adventurous pirate books. Ay ay, matey.
You can also turn this St. Patrick's Day treasure hunt into a fun everyday search!
3. COOK TOGETHER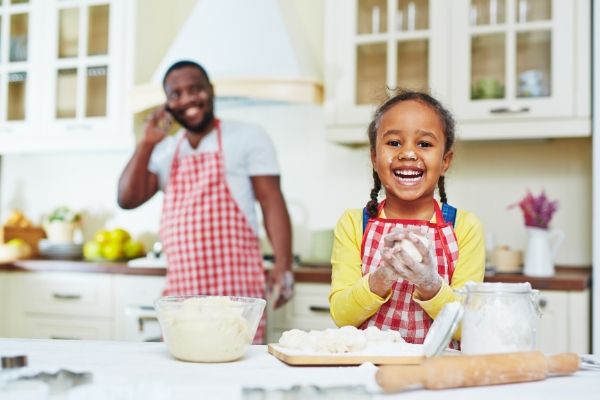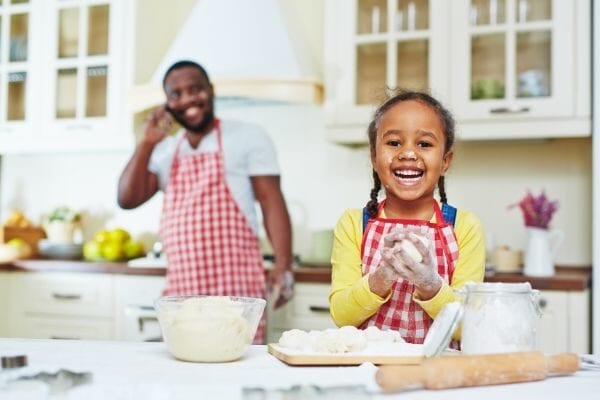 Get out those kid aprons and have the kids cook dinner or dessert!
They also love blindfold taste testing and learning different tastes (bitter, sweet, salty, etc.)
Related Post: 15 Fun Family Dinner Activities to Try Tonight
4. PLAY FAMILY GAMES
Play your favorite games and get out some simple snacks! Easy and no prep work! We love Sequence For Kids and Monopoly Junior right now.
Or check out 23 Epic Family Night Game Ideas HERE!
Not into board games?
5. INDOOR CAMPOUT
On cold nights, this works just as well as being outside! Light a fire, get out the glow sticks, put up a tent inside, and break out the flashlights and camping books.
Don't forget s'mores or banana boats in the oven!
Related Post: 75 BEST At Home Activities for Kids
6. FIRE PIT/OUTDOOR CAMPOUT
On nice nights, roast marshmallows, play hide and seek in the dark, look for lightning bugs, and do some stargazing.
Enjoy the moon and night stars together or get out a telescope.
7. MAKE A FORT
Next, make a big fort and huddle the family in it to eat dinner. This is a great indoor one!
8. DO ART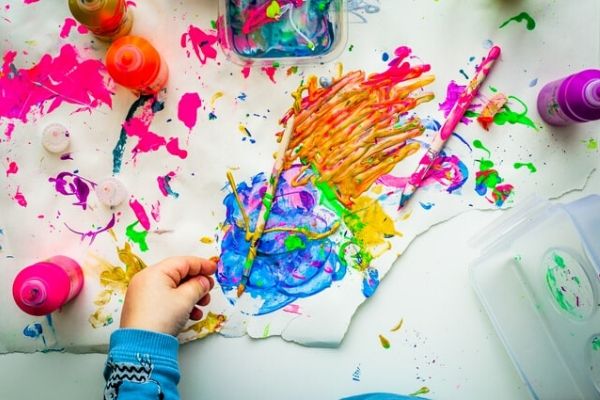 Get a huge piece of drawing paper out and have everyone in the family make artwork on it.
We like to rotate stations with different coloring utensils (colored pencils, crayons, paints, etc).
9. PLAY WITH PLAYDOH
Listen to fun music and make a family creation together!
Check out some other fun ways for parents to be playful HERE >>
10. MAKE SCIENCE PROJECTS
Do a few easy and cheap science experiments together! Baking soda and vinegar is always a winning combo! This post about science projects has lots of creative ideas!
11. BACKWARDS DAY
Do your day or bedtime routine in reverse! Start the day with dinner or just do one meal and begin with dessert.
This one produces lots of giggles. They think it's so special.
12. ENGINEERING
Make unique constructions with grapes or marshmallows and toothpicks. Or make catapults with craft sticks and rubber bands.
13. KINDNESS NIGHT
Foster meaning through family night activities by being kind to others! Make a treat to give to others, make cards, or do a random act of kindness. (See these inspiring kindness quotes for kids and great kindness kids books too)
14. GET OUT IN NATURE
We love to get out on our trail and the kids really get into this scavenger hunt HERE. Or watch the clouds or stars, try to explore with a magnifying glass, or paint with items found in nature
*Here's another great free nature hunt!
15. FAMILY MOVIE
On nights we're too tired to do anything else we rent a cheap movie, pop some popcorn in our pajamas, and cuddle on the couch. EASY!
*Here are great kids books that are also movies. (Read together, then watch the film!)
*Or check out these motivating movies for kids.
16. ALL THINGS LEGO
One of my son's favorites! Here are our favorite ideas using legos together:
Do a lego toss game into cups
Color sort them
See who can build the highest tower
Make different creations together (turtle, alligator, truck, etc) Draw out of a hat to see what comes next!
Decorate the table with Legos for dinner
Make a creation to put on top of a cake or dessert (my kids love spelling out their names)
17. GLOW STICK NIGHT
Get those glow sticks out and try them everywhere: the pool, bathtub, in whiffle balls, or with bowling! Get creative!
18. DR. SEUSS NIGHT
Make green eggs and ham for dinner, read books, and watch a Dr. Seuss movie or cartoon together.
Check out the best of Dr. Seuss in this set! (Includes the Cat in the Hat, One Fish Two Fish, Green Eggs & Ham, Hop on Pop, & Fox in Socks)
Target also has TONS of Dr. Seuss materials in their dollar bin every spring. I like to swipe a few things to make this night extra special!
19. EXERCISE/HEALTHY NIGHT
Use a family night to teach great healthy habits. Make delicious smoothies, do a workout video together, have a dance party, or go to the park and try out some new sports.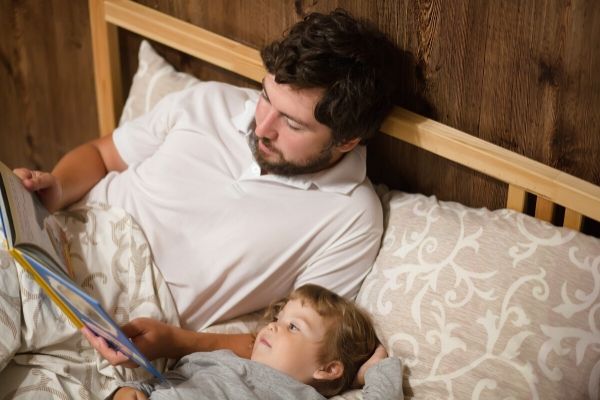 20. ALPHABET/READING NIGHT
Make reading fun! Our favorite ideas include:
Play a letter game (Hangman is EASY)
Make a reading nook or fort
Read some alphabet books. This Book is a classic WINNER!
For older kids, have an exciting book read-aloud or podcast
Make letters or words in a homemade pizza
Practice letters or words in whipped cream
Alphabet bingo (use sight words or book elements for older kids)
Related Post: How to Encourage Reading to Beat the Summer Slide
21. JOKE NIGHT
Look up jokes on the internet or in a simple book and tell them to each other. Don't forget to vote on your favorite jokes at the end of the night!
22. SNOW/WINTER NIGHT
Got the Winter blues? Have a snowball fight with tissue paper inside. Or venture out and have a picnic in the snow, squirt colored water in snow, or read some books about snow.
Don't forget to make snow ice cream!
23. ANIMAL NIGHT
If your kids love animals, this one's for you!
Talk about your favorite animals
Make an animal with your food
Watch animal videos or a movie (The Secret Life of Pets movies work well!)
Read books about your animal favorites
Do an easy animal craft, like making an animal out of a paper plate.
24. TRAVEL ABROAD NIGHT
You can expose your family to culture without traveling!
Learn about a different place through a show or books, then make something to eat from that place.
For example, learn a few interesting things about Japan and then try or make some authentic Japanese sushi.
25. FIRST DAY OF A SEASON
The start of every season brings a great opportunity to have fun!
Plant something for the first day of spring, or make an apple pie together and do leaf rubbings for fall. There are a lot of unique options with this one!
*For special ideas, check out the spring, summer, fall, winter, and holiday family bucket lists!
*BONUS*
Try any of these scavenger hunts for your next family night! (All FREE printables!)
And want all of these ideas in a handy dandy printable? You've got it! Just click and sign up below!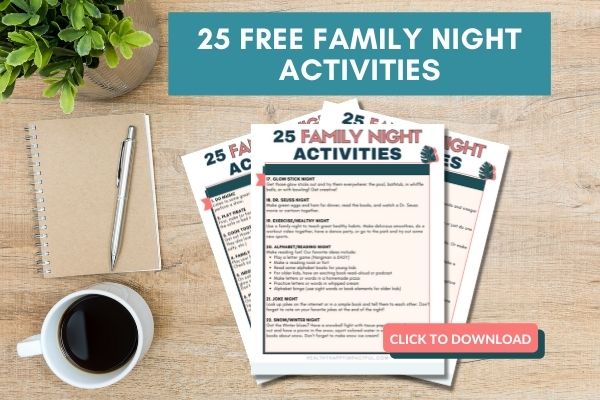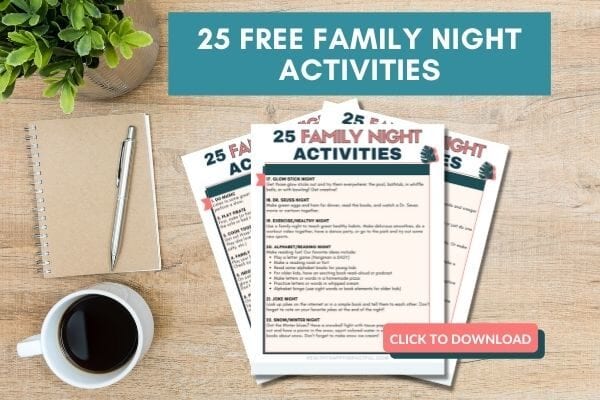 Love the idea of creating unforgettable family memories?
Then, check out my bargain ebook, jam-packed with 260+ unique family traditions for major holidays and everything in between!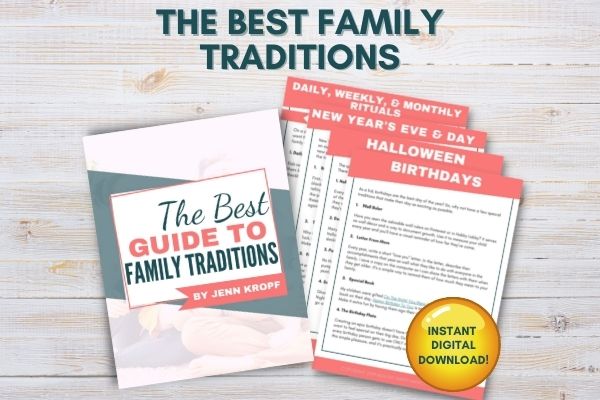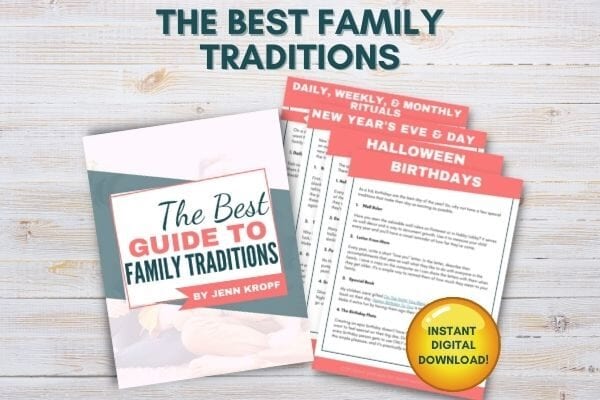 But Remember, Don't Fret!
Finally, it's the focused time together that matters! It can be thirty minutes or two hours.
On those evenings that you're too tired to plan or prep, just go outside and play together or cuddle up for a movie!
Sometimes, I even use the time to get family stuff DONE. Recently, my kids needed to make something for school, so we used Family Night to work together on it. The important part is not what you do, but that you are doing it together!
What are other fun family night activities you do to connect? *See this list of family bonding activities for even more ideas!
Don't Miss These Other Family Posts:
25 Family Night Activities to Connect Now