Super Fun Winter Bucket List for Your Family in 2023
What can you do on a cold day in the winter?
When the holiday season ends, we're often left with a bit of a shock. The cold looms and the days can feel gloomy and depressing.
So, let's find ways to brighten up the dark days with our own kind of fun – using a winter bucket list!
This post contains affiliate links at no cost to you. However, I only mention products I love. See my disclaimer for more.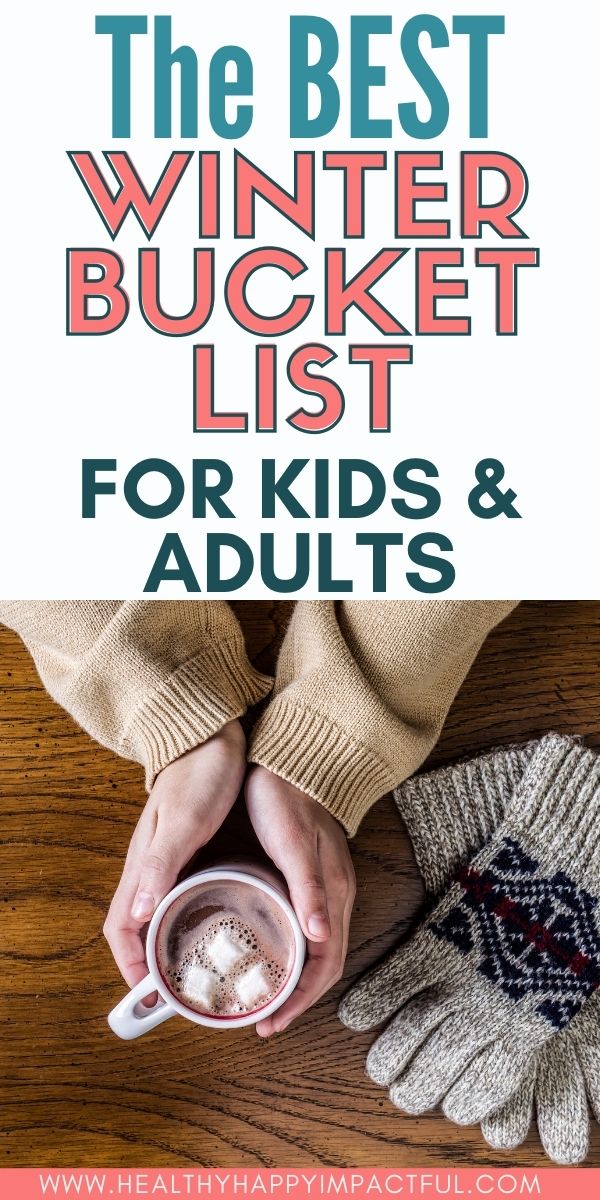 Now, if you're looking for fantastic Christmas activities, check the ultimate holiday bucket list.
Today's list is for after this busy time is done. These fun and creative ideas help us enjoy the harder months of the year before spring makes its grand entrance.
This article contains:
The ultimate winter bucket list for kids at home, outside, with food, and going places.
Fantastic winter activities for adults
4 ways to keep your spirits up in winter
Let's get to it!
Winter Bucket List: Fun at Home
First, this is a great reminder that there are TONS of fun things to do at home in the winter!
Create Your Family Goals for the New Year Check out these 45 family goals examples for ideas.
Make paper snowflakes and hang them up for decoration.
Have a pajama day.
Do a living room campout. Make foil packets in the oven and s'mores in the microwave.
Do a random act of kindness. Or try a kindness challenge for the month.
Try one of these ideas:
Pay for someone's food in the drive-thru behind you
Leave money in a library book for a child (or adult) to find
Use sidewalk chalk to write words on encouragement on someone's driveway
*Read more at: 17 easy ways to spread light.
Watch the movie Frozen – a necessity in our home! Then, test yourselves with Frozen Trivia Questions. (Ice Age and Cool Runnings are other winter favorites!)
Do fun family activities for Valentine's Day.
Have a game or movie night with any of the new goodies from the holidays. Find indoor family game ideas.
Put together an epic puzzle.
Make a blanket fort.
Make a craft with pinecones. (Turn it into your table centerpiece for winter!)
Read-aloud a fun new series. Or explore podcasts for kids.
Make Valentine's Day cards.
Have a pillow fight
Make your own snow globes.
Write thank you cards from the holidays or just to be kind.
Leave sweet little notes for each other. Find free love notes HERE.
*See here for more Creative At Home Activities for Kids, or grab the pdf below!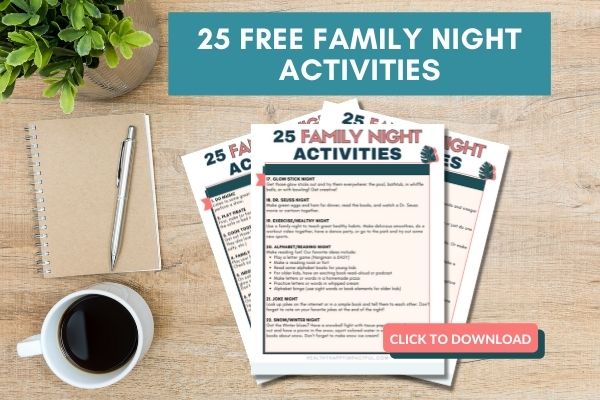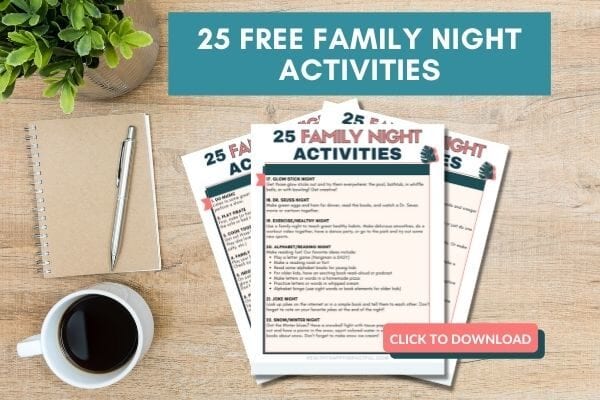 ---
Outdoor Winter Activities
Next up, check out these fun outside winter bucket list ideas the whole family will love.
Gather around the firepit with a hot drink.
Make a snow fort.
Create sidewalk art.
Paint winter themed rocks and hide them around your backyard or neighborhood.
Build a snowman.
Shovel a neighbor's driveway.
Go sledding.
Make ice. We left a tub of water outside with leaves in it once. When it froze, it turned into an interesting science experiment with the kids. Now, we do it on purpose!
Have a snowball fight. Get the parents out there too for a family fight everyone will remember.
Take a winter nature walk. Bonus if you take a thermos of hot chocolate for a suprise.
Make pictures in the snow using water or food dye.
Make frozen bubbles. Here's a tutorial.
Build an igloo.
Make snow angels.
Go ice fishing.
Do a winter picnic. The kids will think it's awesome and spontaneous. If it's too cold, then make it an indoor one in an unusual room (i.e. the closet, basement, bedroom, etc.)
Related Post: The Ultimate Family Bucket List – No Matter the Season!
---
Delicious Winter Food Ideas
Don't forget to have fun with food to make your winter special.
Make snowman pancakes. Line up three small round pancakes to make the snowman and use frozen fruit (blueberries work well) to be creative with the buttons, eyes, and a mouth.
Make a hot chocolate bar. Splurge on toppings you normally don't use like cinnamon, heavy cream, and gourmet chocolates!
Have a soup day and make a bunch of soups and chili to freeze for the rest of winter.
Bake a loaf of fresh bread to go with your soup.
Try chocolate fondue for Valentine's Day.
Make chocolate covered strawberries.
Bake a pie.
Put together a fun football tailgating spread while you watch the big game. Don't forget dips, pizza, wings, and other food indulgences.
Celebrate National Pizza Day (Feb. 9th) with a creative homemade pizza.
Try new healthy recipes if it's a New Year's resolution to get healthier this year.
Make snow cones out of snow.
---
Ideas for Your Winter Bucket List That Include Going Places
Finally, if you live in a place where these events/places are open and you feel safe, then add them to the list!
Collect old toys (and stuff) and take them to donate.
Take off to a warm location or book a hotel for a night with an indoor pool. Enjoy a quick breather from winter.
Volunteer.
Go ice skating.
Go bowling.
See a movie in the movie theater. (if that's not possible, set up your own movie theater experience at home)
Attend a hockey game.
Go stargazing. Don't forget the blankets and hot chocolate!
Head to an indoor playground. Get the wiggles out while you stay warm!
---
A Memorable Winter Bucket List for Parents
Now, here's the thing, adults should be having fun too! So, make your own special winter bucket list!
Declutter your living space. It's the perfect time of year to try a clean out challenge!
Do a digital detox. It will help you focus on what matters to begin the year.
Plan out your year. Get organized and motivated before activities pick up again!
Plan your New Year's Resolutions (or better yet, make them specific goals)
Go on a winter walk the first time it snows.
Give yourself or get a winter pedicure.
Make an inspirational vision board. (Use this free vision board template)
Do a polar plunge to raise money for charity.
Make a fancy hot chocolate or coffee.
Learn to ski, snowboard, or ice skate.
Cozy up your home. Add rugs, soft blankets, a warm fire, and more. Find easy tips to make your home cozy HERE.
Make a New Year's reading list. What books would you like to dive into in the coming year?
*Check out my favorite personal growth books and other powerful books for women for ideas.
Buy a new winter candle.
Send a self-care package. (or make one for yourself using these self-care kit ideas)
Plan a cozy date in with your partner. Try an appetizer tray next to the fireplace!
Do something romantic for Valentine's Day.
Re-connect with an old friend. Give a small gift, meetup for a coffee, or host a firepit night.
Make a hearty winter comfort food like chili or soup.
Do at least one thing that scares you (or gets you out of your comfort zone).
Plan a spa day at home.
Put up a winter wreath.
Read a book you've been meaning to get to, by the fire.
Set up an indoor workout routine, or join a gym. Now is a great time to set new healthy habits!
Start a new journal. Or track another fresh new habit with this free habit tracker.
How to Keep Your Spirits Up This Winter
For us, winter (after the holidays) is the most difficult time of year. Kids have a harder time getting their wiggles out, we feel a little couped up, and we're getting less fresh air.
But we can work to rectify this! Here are some easy ways to stay happy this winter!
Get Outside as Often as Possible
Vitamin D.
Our bodies need it to function well and most of us don't get enough of it. So, even when it's cold, try to head outside for a little sunlight and fresh air. Taking supplements is another way to make sure you're getting enough in the winter months.
Connect With Others
Personally, my mood tanks when I am too isolated from others. So, an easy fix here is to schedule interaction (in-person, Zoom, text) with the people you love ahead of time. This way it gives you something to look forward to AND the connection we all crave.
See also, 9 Ways to Stay Happy in the Winter
Get Your Self-Care On
Use your self-care kit! Find your zen. Repeat affirmations that lift your spirits (find some great ones HERE).
The bottom line is: if you treat your body and mind well in the winter, they will respond in kind.
Read these Simple Self Care Things to Do to get started!
Use the New Year to Grow
Finally, it's the beginning of a new year, which means a fresh start and new enthusiasm!
So, USE THIS to set specific goals that you can begin to work towards. As you see your progress, you'll keep your mind focused and in a positive state of mind.
To Consider With Winter Activities
Winter after the holidays is a bit less glorious, but there are still lots of opportunities to live, grow, and love those around you.
So, make every day matter friends!
Other family posts to enjoy…
Winter Bucket List Ideas