200 Best Family Bucket List Ideas for 2023 (+ Free Printable)
Your Ultimate Family Bucket List
Bonding over experiences is what makes life more meaningful with those you love. And this epic bucket list for family is full of ideas to make that happen!
This post contains affiliate links, and I may earn a commission if you purchase (at no cost to you). See my disclaimer for more.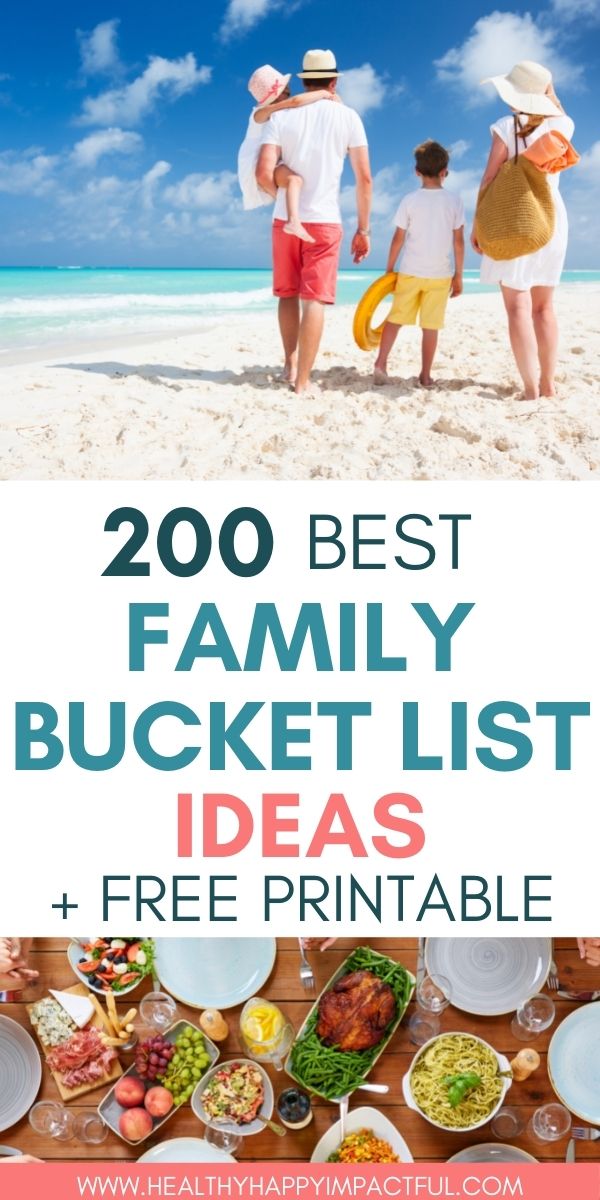 What is a bucket list for families?
First, a family bucket list is a series of things you want to do with those closest to you. If you have kids, this is your opportunity to make incredible memories with them.
Your kids are only young for a short time. In the blink of an eye, they will be grown. And you don't want to be left wondering what else you could have done together.
How do I make a family bucket list?
It's easy! Grab a piece of paper and a pen. Hold a family meeting if you need to. Then, get brainstorming together. Use the list below to get the ideas flowing.
200 Fresh Ideas for Things to Do With Kids
Simple At Home Family Bucket List
First, there are TONS of fun things to do with kids at home. So, let's start here with the family bucket list!
Put together a family cookbook.
Wow your kids with a magic trick (make them figure out how you did it)
Have a family water gun or balloon fight.
Host a fancy tea party. Dress up and make crumpits.
Plant and harvest a garden. Whether for one time or every year, this one benefits you in multiple ways.
Research your family tree. Take it a step further and get an Ancestry test to see where you come from.
Learn a new language together.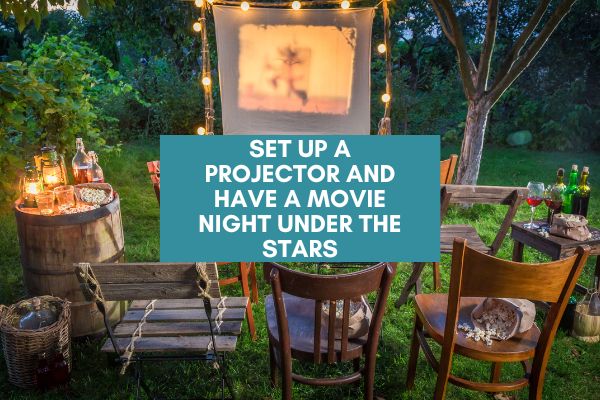 Set up a projector and watch a movie outside.
Create family photo books. We love Chatbooks!
Learn a new card game. Better yet, try card games until you decide on a signature family game.
Do a house project together. Get the kids involved in an awesome tree house, or a project that spruces up a shared space.
Make a home video. (Make it funny or record your family values)
Make t-shirts that are the same. Wear them around the house or on your next family outing.
Establish regular family dinners.
Have a science experiment day. (One year, a gift to my son was a box of homemade science projects with instructions. He LOVED it and it was super cheap.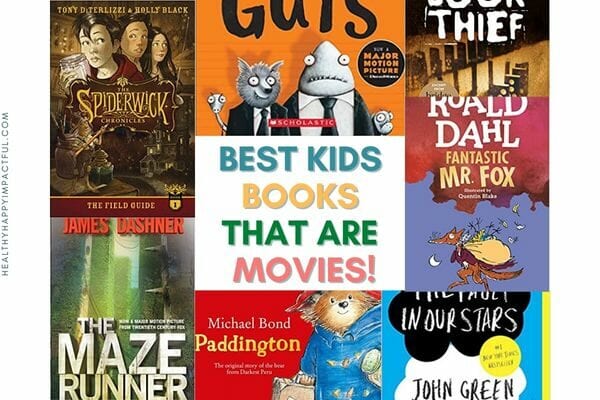 Show your kids your favorite childhood movies.
Cut out screens as a family. Do you feel like your family is a little too plugged in? Go a day, week, or even a month without it! And do things off of your family bucket list instead!
Do a kindness challenge (take treats to a friend, pay for someone's drink, or do things off of this list for a set period of time.
Teach the kids how to cook. Eggs are a great starter.
Have at least one crazy pillow fight.
Have a "yes" day, where parents say yes for a change.
Build an epic living room fort.
Do a massive declutter of old games, toys, and stuff that doesn't get used anymore. (Celebrate when the clean out is done!)
Have a bridge-building contest with toothpicks and marshmallows (or grapes).
Devote one day to a video game tournament. Play each other in your favorites games, create a bracket, and go head to head.
Watch a full movie series together (Marvel, Harry Potter, etc.)
Walk a marathon! Go 26 miles in a weekend by splitting it up between people. Enlist the whole family, friends, and grandparents if you need to!
Catch fireflies in a jar.
Have a super fancy dinner and teach your kids how to eat it properly.
Have a dance-off competition. Vote on the winner.
Do a new at-home workout as a family. (Yoga, boxing, etc.)
Hold a family hula-hoop contest.
Learn a musical instrument together.
Seasonal Family Bucket List Ideas
Next, these ideas for your family bucket list are still great at home, but also give a seasonal or holiday flair.
At least once, celebrate Christmas in July. Get really into it with Christmas cookies and everything.
Make a family Halloween costume. Each person plays their part.
Host an ugly sweater Christmas party.
Turn your house into the neighborhood "haunted house" at Halloween.
Build the coolest snow fort you've ever seen.
Have a full-blown family snowball fight.
Spend an entire snow day playing and relaxing.
Celebrate 7 major holidays in the span of a week. (Monday = New Years, Tuesday= Valentine's Day, Wednesday = 4th of July)
Food Ideas for Your List With Kids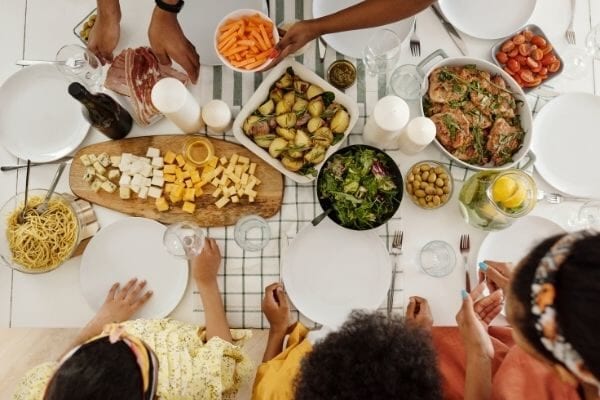 Add excitement to your food experiences with these fresh ideas!
Make homemade pizza. Give the kids the fun of putting the toppings on themselves.
Have breakfast for dinner.
Make homemade ice cream sundaes.
Find a family signature recipe.
Try a new food together. It must be a food that no one has had before, and everyone tastes it together. Things like:

Sushi
Thai food
Oysters
New, odd veggies from the store
Find everyone's favorite smoothie flavor.
Learn to make grandma's famous ____________.
Make a fresh pie at least once.
Create your own s'more recipe. (try peanut butter cups instead of chocolate!)
Create one meal using only things from your garden.
Do "around the world" dinners once a month.
Bake your own bread at least once.
Perfect a family favorite guacamole.
Host an iron chef contest between family members and vote on the best dish.
Take a food tour in your city. (These are available in most major cities!)
Visit a huge outdoor food market together.
Eat a meal together from a food truck.
Try every kind of pizza style. (Chicago, New York, Detroit, etc.) Vote on your family favorite.
Have your kids prepare a dinner all by themselves. (They plan it too! Best for older kids unless you want to eat pb&j)
Go vegan for a week. (Or vegetarian)
Find your favorite family brunch place.
Eat a fancy hot dog. Kids love hot dogs, but spice it up with toppings and a true food experience.
Compare the best barbecue from different places in the U.S.
Try a kids cooking class.
Attend a murder mystery dinner together. Real life Clue. Who doesn't love that?!
Tour a chocolate factory.
Eat off of a street vendor in a city you are visiting.
Attend afternoon tea at a cafe or hotel.
Make homemade dog treats for a furry friend.
Eat a fancy french pastry (or macaroon).
Crazy Fun Things to Do With Kids Near Me
Next, we get out and about! Here are fun things to do with kids to put on your family fun bucket list.
Go go-karting as a family.
Go off the high dive at your neighborhood pool. (everyone in the family)
Visit a cool museum near you.
Do something scary together – show your kids that life is what you make it. And climb that mountain, go off the high dive, or run a race together.
Related Post: Small Ways to Break Free of Your Comfort Zone
Ride a crazy roller coaster near you.
Have the kids open accounts at a nearby bank (or a brokerage). Teach them about money.
See where your food comes from. Show the kids how milk gets to them, where their meat comes from, or how their favorite veggies are grown. In a disconnected food world, this is a great gift to the whole family.
Picnic at a new spot. Or make it a game and picnic at every local park near you.
Tour a local factory. Whether you see someone make food or marbles, this is always an interesting experience showing how things are made.
Spend a day exploring your own town. Most of us don't see the cool things near us.
See if you can visit all of the playgrounds in your area at least once.
Go to a state fair. Ride the ferris wheel together!
Ride bikes at your nearest trail. (Set a goal for how many miles you can do!)
Spend the day on a local beach. (at a state park or near the ocean)
Build your best family sandcastle at this beach.
Run a 5k together (or more if they are older).
Volunteer together. Try a soup kitchen, participate in a church activity, or walk dogs at a local animal shelter. The family will feel good about making a difference in the community.
Rescue a pet at a local animal shelter.
Go to a local park (with an open view) and watch the sunrise or sunset together.
Splurge on family photos in a local scenic location.
Team up for a laser tag tournament.
Take swim lessons with your kids at a local pool.
Spend the night at a fun nearby hotel. (Be sure to get one with a pool!)
Visit your nearby zoo, or a zoo within a few hours of your home.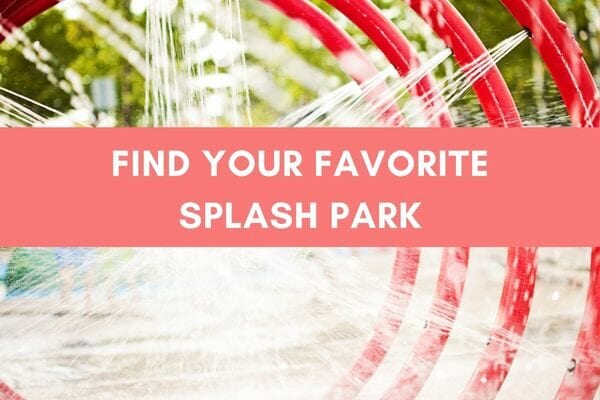 Find your favorite splash park.
Go to a gymnastics open gym at least once.
See a memorial in your area.
Take in a local high school or college sports game together.
Hang out at your nearby petting zoo at least once.
Get a season pass to your favorite amusement park for one year.
Try out beach volleyball together at a local sand court.
Visit a "haunted house" together.
Tour a botanical garden. Bring snacks or a picnic.
Spend a morning garage saling, and see what goodies you can find in your neighborhood.
Teach the kids to skip rocks in a nearby creek or lake.
Rent segways and ride them around your town.
See our favorite 10 ideas here:
Then keep reading for super fun travel activities!
Epic Family Travel Bucket List Ideas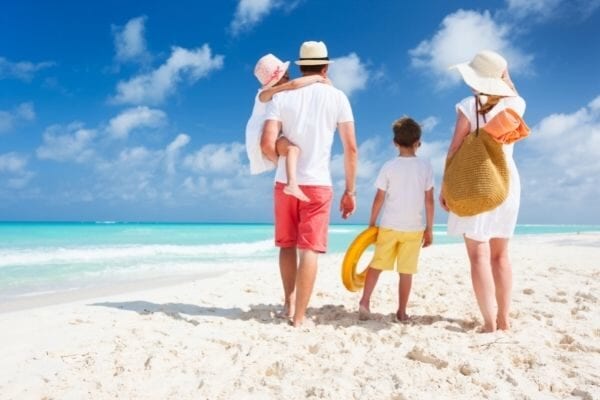 Finally, travel is a MUST on your family vacations bucket list. So, get planning those epic adventures now!
Travel to a different country.
Explore a major U.S. city.
Visit a historical location and learn about the past.
Visit a location that has to do with your family history in some way.
Ride a double decker tour bus.
Visit every state in the U.S.
Go somewhere fun that embraces imagination. (Disneyworld, Harry Potter at Universal Studios, etc.)
Stand in two states at once. (One leg in each state!)
See Yellowstone National Park.
Explore the Black Hills in South Dakota.
Visit the 9/11 Memorial and the Statue of Liberty.
Hug a Redwood Tree in California.
Visit the Space Coast in Florida.
Explore the Wisconsin Dells.
See the sand dunes in Sleep Bear Dunes National Lakeshore, Michigan.
See the sights at the Grand Canyon in Arizona.
Hike the Rocky Mountains, Colorado.
Learn about our nation's history in Washington D.C.
Set your sights on Niagara Falls in New York
Drive up the beautiful pacific coast in California.
Rent a beach house in Destin, Florida.
Learn about the American Revolution in Boston, Massachusetts
Visit Millenium park in Chicago.
Take an Alaskan cruise and witness the natural beauty.
Splurge on a family beach vacation at a resort in Mexico, Costa Rica, or St. Lucia.
Pick up the Free Bucket List for Families Printable Here:
Find TONS of other great family goodies in the resource library! Grab access below!
How to Follow Through With Your Family Bucket List
Now that you have an abundance of ideas, get the crew together and begin brainstorming! You'll find things on this list that inspire you, plus you'll come up with tons more that are special to your family.
And once you have your list established, schedule at least 1 thing to do in the next week. Get the momentum rolling and you'll be ready for more.
Related Bucket List Posts You'll Love:
The seasonal bucket lists have a list for the family and one for adults too! 🙂
Best Simple Bucket List Examples for Families, Kids, & Teens!