Smart Goal Setting For Kids (To Help Them Succeed in 2023)
How do you teach kids to set goals?
Your child wants to play more during soccer games, but doesn't practice.
Your son wants to save for an expensive Lego set, but then spends his money on candy.
Your daughter wants to earn a school reward for reading books, but doesn't read at home.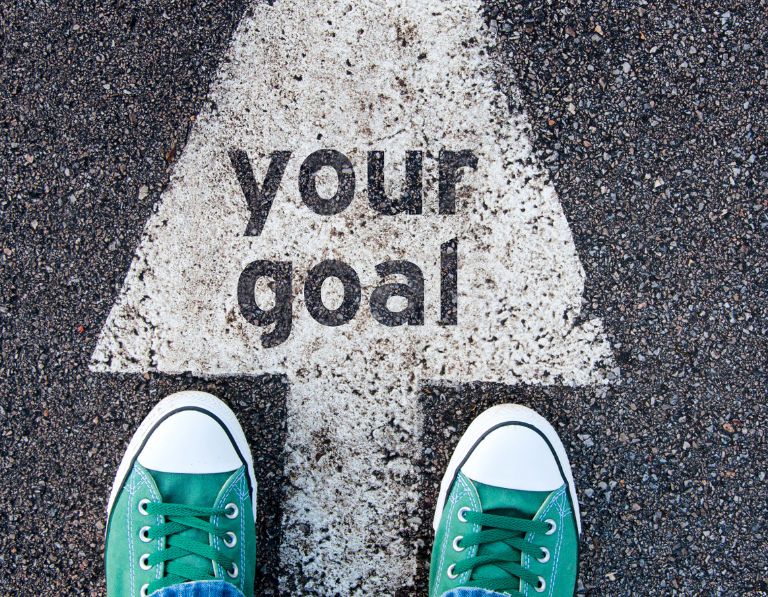 Does this sound familiar? Goal Setting for Kids helps parents and teachers provide the tools needed for kids to succeed.
How do you explain goals to a child?
Most kids have options when it comes to choosing activities to participate in. They have an abundance of resources for doing well in school. So it is frustrating when we feel like they are not reaching their potential.
It's time to introduce the idea of goal setting to our children.
This post contains affiliate links, and we may earn a commission at no cost to you. See our disclaimer for more.

In kid-friendly terms, a goal is something you decide you want and you make a plan to achieve it.
Reaching a goal takes motivation, effort, and determination. Goal setting for kids can:
improve self-image
increase awareness of strengths and weaknesses
build responsibility
provide direction and clarify what is important
improve decision making
give kids a lead role in their future
provide a successful experience (PositivePsychology)
SMART Goals for Kids
A SMART goal contains all of the aspects needed to be successful in goal setting. While this is a great way for adults to set goals, SMART goals can also be kid-friendly and easy to write.
Specific: SMART goals have a specific outcome that are simple and sensible.
Measurable: Goals can be quantified to track progress. How much? How many?
Achievable: Goals are attainable and realistic.
Relevant: Goals will help improve or benefit your child's life in some way.
Time-bound: SMART goals have a deadline.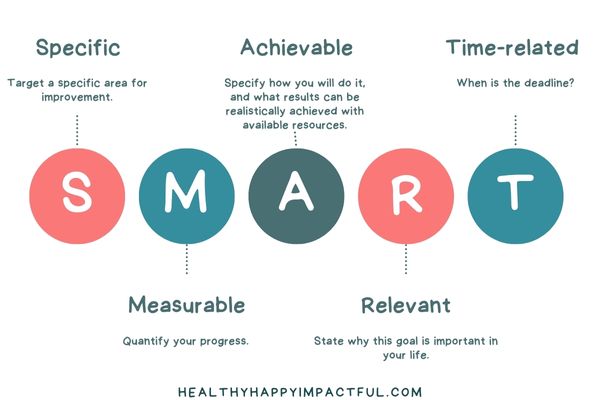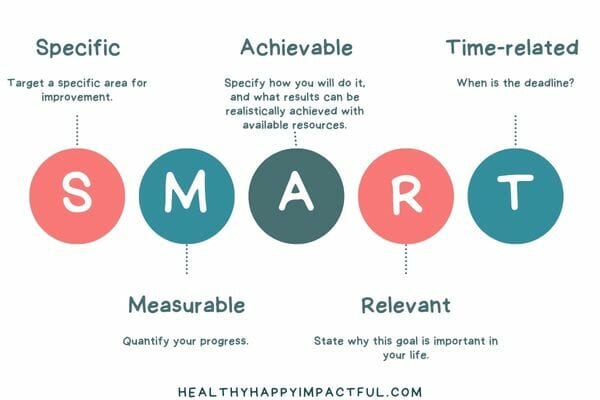 Steps for Goal Setting for Kids and Teens
Goal setting is a skill that will follow our children into adulthood. It provides direction for achievement.
First, use these steps to narrow down what your child would like to accomplish.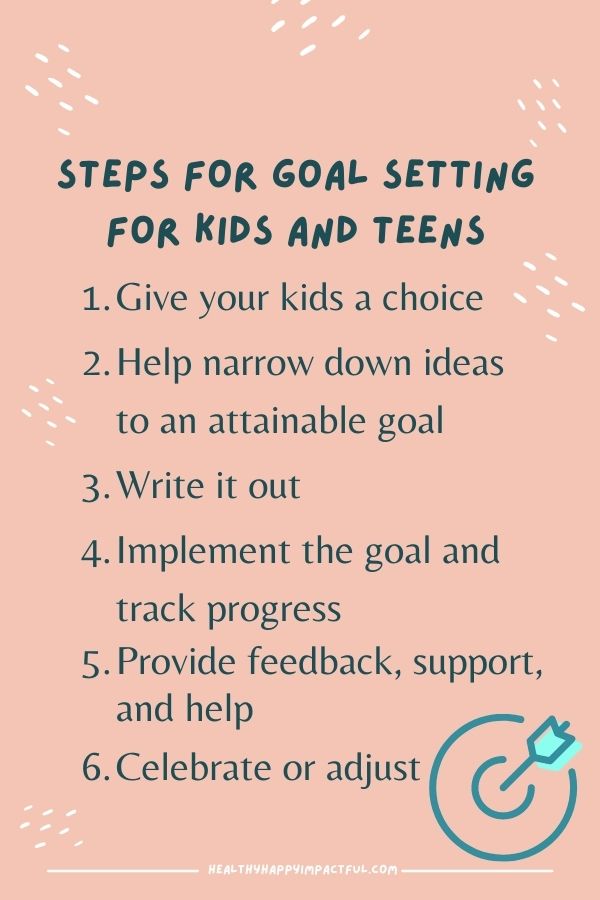 1. Give your kids a choice.
There is power in choice! Kids should set their own goals so they will be motivated and committed.
First, have your child make a list of three things they are really good at. Why are they good at these? Have they worked at them harder? Practiced more? What is making the things on this list go well? Make a correlation between what they are doing and the positive outcome.
Second, have your child make a list of three things they want to improve. Again, make sure this list contains goal-setting ideas your kids are motivated to improve in. Don't give too much input unless they ask for suggestions. Your child needs the ownership to buy into this goal.
Kid-friendly list Example:
I am good at being kind to others
My handwriting is really neat.
I get good scores on my math work.
I wish I was better at reading on my own.
I can't tie my shoes very well.
I don't score many goals in soccer games.
Teen Example:
I am doing well playing the guitar in my free time.
I have several good friends.
I consistently turn in my work in school on time.
I need to practice driving to get my license.
I have a hard time being on time to school in the morning.
I am getting a C in Biology class, but I want to get a B.
2. Help narrow down ideas to an attainable goal.
Okay, now that you have a list, it's time to focus in on one specific goal. Smaller, short-term goals work well for younger kids. Guide your child to pick a goal that they can reasonably attain with a plan and commitment.
Your child needs to pick the area they want to set a goal for. It has to be meaningful to be motivating.
If you have a teen or older child and the goal they want to attain is safe and reasonable, show interest and partner with them. They may find they excel or enjoy a new passion or hobby.
3. Write it out.
Here is where a SMART goal comes in. Help your child write out a goal that contains the components of a SMART goal.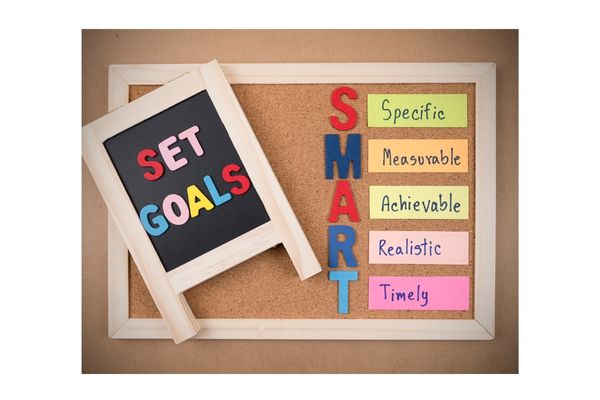 4. Implement the goal and track progress.
Post the goal where your child can see it and check in as they track their progress.
Tracking goals does not have to be difficult. Keep it simple!
Color in boxes on graph paper
Make a simple chart that can be marked off
Place stickers on a calendar
Use a star chart
Write out steps that can be crossed off
Have your child create their own tracker or goal map
Use a goal ladder
The tracker you use will dependent on the goal.
*Look here to get a book reading goal tracker >>
Remind your child or teen that this is a journey. The "getting there" is just as important as reaching the goal. This process will help build a growth mindset. And they will see that their present actions have an impact on the future.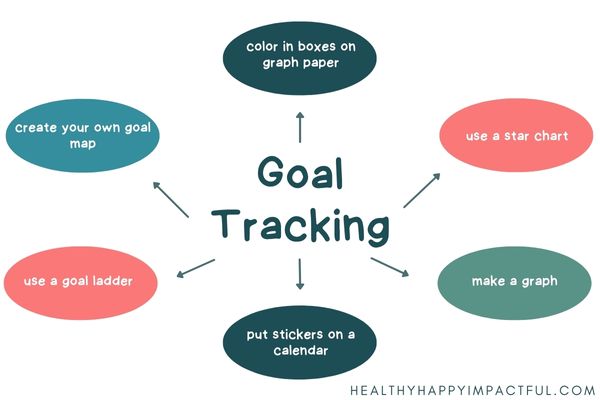 5. Provide feedback and support
Try not to fall in the trap of micromanaging your child. Your role in this process is to guide your child with their goal plans. Encourage, help, and provide support as needed.
This is their goal, not yours.
It is up to your child to decide if they will ultimately achieve their goal.
6. Celebrate or Adjust
Celebrate your child's effort and persistence along the way.
If your child is struggling to stay motivated or is unable to meet the goal, help him adjust the goal. Setbacks don't mean failure. Encourage your kids to keep trying. Give your kids permission to mess up. They will learn from that too.
Examples of Goals for kids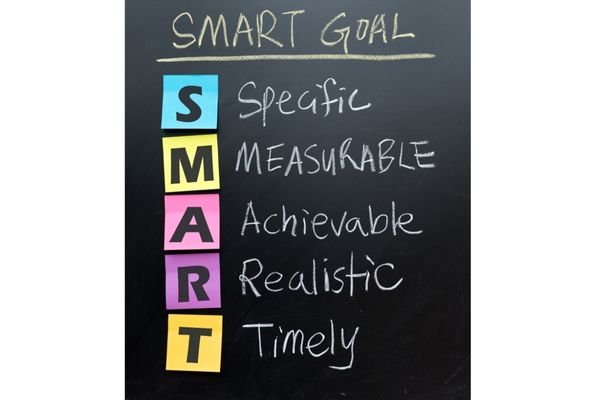 Some of the SMART goal examples below are completed in a short amount of time. Some take longer. It is up to your child's motivation and stamina level to decide the time frame.
Example Goal #1:
I will make an extra $15 by the end of the month so I can buy a new Lego set. I will do this by asking for more responsibilities at home such as taking out the trash, cleaning, and doing yardwork.
Specific: This child will do extra chores to buy a Lego set.
Measurable: This can be measured by counting money earned weekly and tracking it on a chart during the month.
Achievable: This is age-appropriate and can be adjusted as needed for the child.
Relevant: This child will learn that it takes hard work to make money and buy the things we want.
Time-bound: The deadline is the end of the month.
Example Goal #2:
I will read 20 books a week so I reach the goal of 400 books by winter break.
Specific: This child will read 20 books a week.
Measurable: This can be tracked by writing down the title of the books or using this reading tracker found here. Because this is a longer goal, you may want to include a small motivational reward or celebration after every 100 books. This can be adjusted based on the child.
Achievable: This is age-appropriate and achievable for this beginning reader as they are reading shorter books.
Relevant: This child has to practice reading to better learn how to read.
Time-bound: The deadline is winter break.
More Examples of SMART Goals for Kids
I will get an A in Science class on my second quarter report card. I will do this by meeting with my teacher and studying for 15 minutes each weeknight instead of waiting for the night before the test.
I want to run a mile in under 10 minutes in P.E. by the end of four weeks. I will do this by practicing running a mile 3 times a week and timing myself each time. I will set my pace to run 15 seconds faster per week.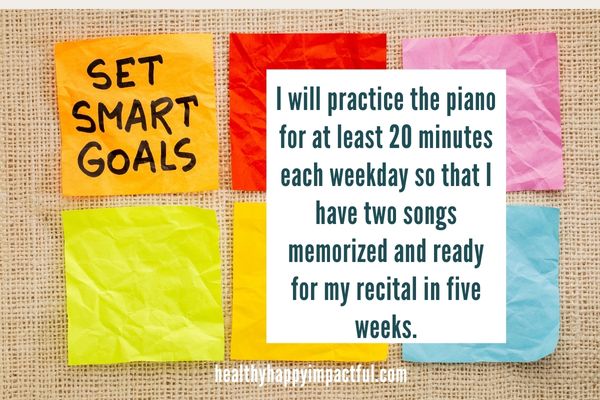 I will declutter my room for the next two weeks by sorting through my toys for 10 minutes each day to choose toys I don't play with to donate.
I will talk to two classmates at recess each day this week to help make friends.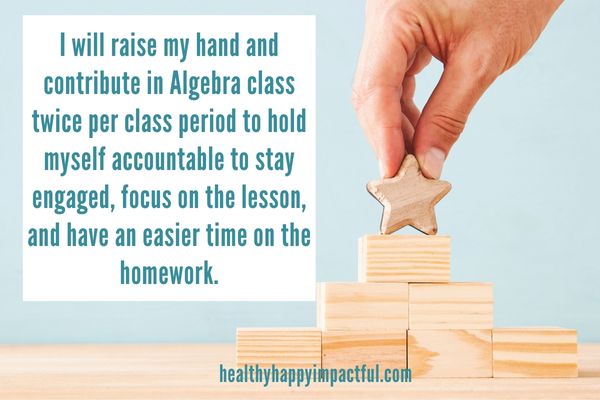 I will spend 2 hours each weekend driving with my parents so that I will be able to get my driver's license when I turn 16.
I will practice throwing and catching the football with my dad for at least 15 minutes three times a week for a month so I can play quarterback on my flag football team.
Activities for Setting Goals
Try out a goal setting activity that will motivate and pique the interest of your child.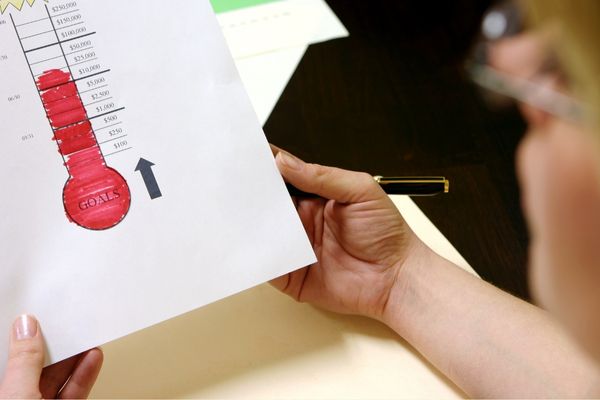 Make a Visual Picture
Have your child draw or paint a picture of themselves completing the goal they have set. This will be a visual reminder of what they are working toward that they can refer back to. It will also remind them of the positive emotions they will feel when their goal is completed.
Make a Goal Map
Kids can map their goal progress as they work towards their goal. Using a large piece of paper, have your child draw a large map.
Break the goal down into smaller parts on the map and label each step. They can color in each part of the map as they complete each step.
Say Affirmations
An affirmation is a positive statement that you repeat aloud to yourself. In this case, the affirmation would be aimed toward helping your child achieve their goal.
I am a great reader.
I work hard to achieve my goal.
I am strong. I can do this.
Any positive statement that your child can repeat will work. Try turning the affirmation into a song or a cheer. Make an affirmation bracelet your child can wear by writing the affirmation on a strip of paper.
Read more about positive affirmations for kids here.
Make a Family Goal Jar
Involve everyone in the family when setting goals. Have each person write down their goal(s) on a piece of paper and place it in a jar. When a goal is accomplished, remove it and add it into another jar for completed goals. Or set family goals that you can accomplish together.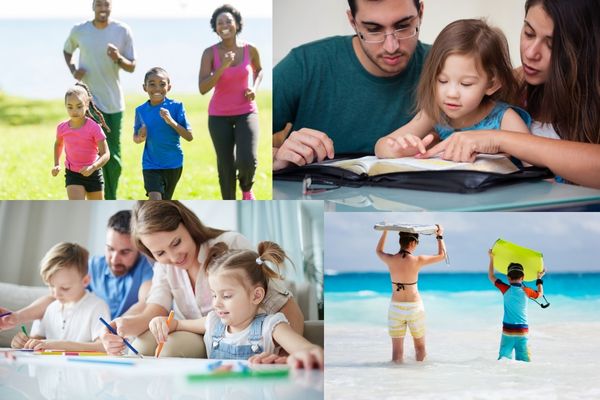 Goal Setting Books For Kids
Read goal setting books that fit your child's age. This is another kids goal setting activity that increases motivation and understanding of the goal setting process.
Squirrel's New Year's Resolution by Pat Miller (Ages 5-7)
In this book, squirrel and her friends have to decide what goals to make for the New Year. This is a great read for younger goal-setters.
The Magical Yet by Angela DiTerlizzi (Ages 5-8)
*A USA Today Bestseller
This encouraging book will help remind kids that learning new things can be difficult. When this happens, add the yet! I can't ride my bike, yet! I haven't met my goal, yet!
For more books like this, check out these great growth mindset books >>
Salt in His Shoes: Michael Jordan in Pursuit of a Dream by Deloris Jordan (Ages 5-10)
Michael Jordan almost gave up his basketball dreams when he was young, but his parents stepped in to help him learn what goes into reaching your goals.
Goal Setting Books for Teens
Make it Happen, Girl! by Shira Halperin (Ages 12+)
Motivate and inspire the teenage girl in your life with this guide full of journal prompts, questionnaires, and goal setting tools.
What Do You Really Want? How to Set a Goal and Go for it! A Guide for Teens by Beverly K. Bachel (Ages 11+)
This step by step guide will help teens write their goals, overcome obstacles, celebrate success and more.
Things That Would Be Kinda Cool To Do: Goal Setting for Teens by Mindful Magic Journals
Teens can use this book as a guide to achieving goals and staying motivated.
*See great goal setting and achieving statistics to help you learn more >>
To Consider With Goal Setting for Kids
Goal setting kids will learn that they can control the outcomes in their lives.
By using SMART goals for kids, we will give our children the important gift of thriving in their own lives.
Let me know what goals your kids are accomplishing in the comments!
More posts you'll love…
Motivational Smart Goal Setting For Children