45 Family Goals Examples You'll Want to Do Right Now
What Are Your Family Goals?
Family goals examples get you brainstorming about how you want your family life to look.
For years, we've set family goals. It's a fun collaborative experience! It's also interesting to see what the kids would like to do in the following year, or how they think our family can improve.
The Family Goals Examples List
Before anything else, a happy family is key to a happy life. These goal ideas help get you there!
1. Create a Family Motto
What does your family stand for? Is it love? Kindness? Growth?
If you're not sure, then have a goal to sit down together and decide on your family mission statement. Then brainstorm how you will show those qualities. This is an easy one that doesn't have to take much time!
This post contains affiliate links, and I earn a commission at no cost to you. See my disclaimer for more.
2. Play More Music
Music makes everyone happier. So, make a family goal that you'll listen to a few minutes every afternoon or once a week.
3. Pray Together
Make a goal to pray at the dinner table, before bed, or anytime that's good for your family. If you have a prayer that can be passed down from your religion, that's wonderful.
If not, a moment of thanks before your meal gives everyone a minute to pause and remember their blessings.
4. Practice Gratitude Together
So much good comes to us when we realize how blessed we truly are.
So, perhaps that can be added to your daily, weekly, or monthly routine as a family. Say something you're thankful for when you get up in the morning or before bed at night.
Check out these posts to give you more ideas:
5. Try Something New Together
Life is exciting and meaningful when we branch out of our comfort zones.
What can you do with your family that stretches you? Pick something for your list!
6. Morning Hugs
This one is oddly specific because it was one of our family goals this year!
We spent the prior year having AWFUL mornings, and as a result, switched up our kid morning routine to include a hug. It's just one way to start the day on a positive note, and it was helpful for us.
Related Post: Awesome Everyday Traditions to Start
7. Cut Back on Screens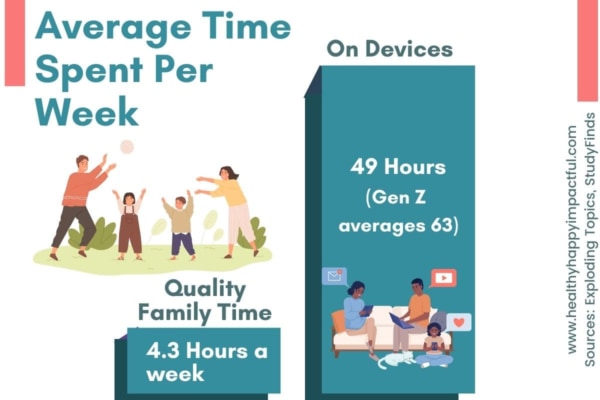 This year, we cut out screens on weeknights (when they're in school). Once the expectation was set (and they were actually IN school), it became the norm. As a result, they had a lot more time to play outside and hang out with the rest of the family.
*We'll always set a family goal around technology usage because it's easy for us to slide with it!
8. Say I love You
If you'd love to be more expressive and open about your love, try a goal that centers around that.
Perhaps everyone says "I love you" before bolting out of the door in the morning, or before bed at night. It's an easy habit, but your family will always know that they are loved.
(Or try these free love notes)
For more ideas on this, read 131 Creative Ways to Say I Love You.
9. Go to Worship
Obviously, this one has been hard during the last year. However, if you have a church, temple, or synagogue that brings you joy, then returning to regular visits can be a fantastic goal.
10. Start a New Tradition
Do you have easy, memorable traditions that you do with your family? If not, make it a family goal!
Check out my Best Ebook of Family Traditions for an in-depth guide to meaningful quality time all year long.
You'll find miscellaneous, holidays, and routine rituals that all build a strong family bond.
And, read these birthday traditions posts to get you started:
11. Invite Others
Next, if you're missing out on family and friends, make it a goal to invite (or Zoom) someone to your home for dinner once a week or once a month. Build your special community and get to know those around you.
Related Post: How to Make Friends As An Adult
Quality Time Family Goals Examples
Next, without quality time together a family has a difficult time thriving. So, consider any of these family goals examples!
12. Schedule Date Nights
Seeking out quality time in your relationship makes all the difference in your family dynamic. So, if mom and dad need more time to themselves, make date nights a goal. Here are fun date night ideas for holidays!
*Our kids love date night because it's their special night to watch tv (or hang out with a cool babysitter).
13. Schedule Family Nights
Furthermore, if you feel like quality family time just doesn't happen, schedule it in! Pick one night a week and make a goal for that to be your time together. No matter what.
For specific activity ideas, read: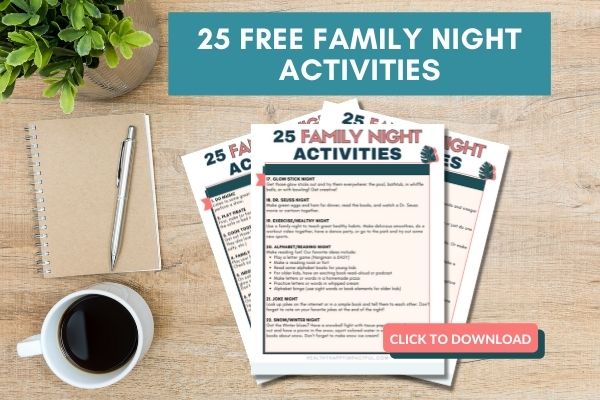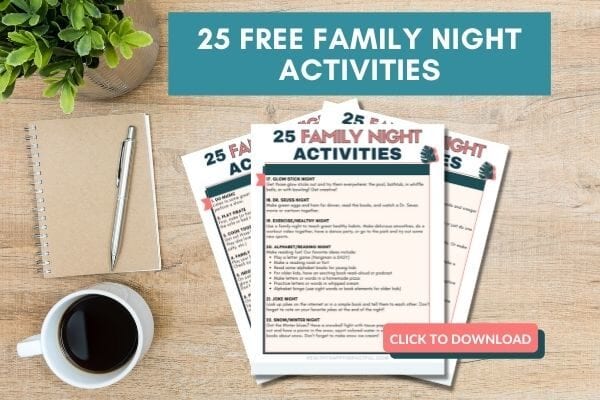 14. One-on-One Dates
If your kids are involved in a lot of activities or have multiple siblings, one on one dates are a fun family goal for the year.
Perhaps, once a week (or once a month) you spend time with one child doing what he or she wants to do. Or plan it all out with easy activities and simply follow through during the year.
15. Visit Far Away Friends or Family
Do people you love live far away? Make it a family goal to visit them this year!
16. Plan Fun Three Day Weekends
Perhaps you are in need of more short adventures this year. (I know I am!)
Look ahead at your calendar, and decide on a short getaway/trip once, twice, or many times in the coming year. Mark it down and make it happen.
For more great tips on planning ahead, check out How to Plan Your Best Year
17. Read Books Together
Give yourselves a read-aloud goal. Can you finish an entire series together before the end of the year (or the month)?
18. Go on Vacation
On our family goals list, we'd love to visit a National Park every year. Or maybe your goal is to visit Disney World or take another grand vacation. Even a night at a local hotel is something special to look forward to.
So, don't forget a vacation!
19. Create a Family Bucket List
Are you frustrated that you don't do fun things together with your family? A great goal is to make a bucket list for at least one season.
Here are some posts that have awesome bucket list activities:
Family Meals: Great Family Goals Examples
Meals together are the cornerstone of quality family time, so why not get the most out of them?
20. Family Dinners
First, if you're not eating together at least once a day then that's a great goal! If dinner doesn't work for your family, what about breakfast or lunch?
21. Dinner Conversation
Next, liven up your family dinners with a conversational goal.
Our recent goal was to tell something good and something challenging (the grit) that happened during our day. Other variations of this include "high and low" and "sweet and sour."
Or you can just use a few conversational cards at dinner.
Related Post: 15 Family Dinner Activities to Liven Up Meals
22. Healthy Dinners
Now, perhaps health is a big theme for your coming year. Create a goal of trying two new healthy dinner recipes every week.
We did this one year, and not only did it expand our cooking knowledge, but we found some healthier staples for our family.
23. Family Manners
My son eats like an animal. It's true.
If your kids do too, consider goals that include using a utensil, staying at the table until everyone is done, or chewing with your mouth closed.
Family Responsibilities
Next, part of raising a family is teaching kids how to contribute to something bigger than themselves. These family goals examples help do that!
24. Make Chores a Family Affair
Are your kids involved with chores? Perhaps a regular ten minute clean up or weekly chores around the house need to become a goal for the year.
Check out this free kids chore chart template to get it started!
25. Practice Your Emergency Home Plan
Do you have a fire safety plan? Do the kids know what to do if there's a fire, tornado, or intruder? Have you practiced using your safe meeting place?
If not, make it a goal to develop and rehearse this plan!
26. Raise Independent Kids
Every year, we put at least one goal on the list that promotes the kids becoming a more independent version of themselves. One year it was for them to bathe/shower all by themselves.
Other family goals examples include getting their own breakfast food, packing their own lunches, and taking care of a younger sibling.
For a kid's routine that helps with this, grab your access below:
27. Start Saving For a Vacation
Saving for vacation can be a family affair and fits in well with teaching kids about money (#36). So, set a money goal and have everyone contribute to a jar for a few months.
Healthy Family Goals Ideas
Many of us are doing our best to stay (or get) healthy. Here's how to make it a family affair:
28. Take Family Walks
Why not include more easy exercise + quality time in your family goals? Decide now that you'll take one or two family walks a week in the coming year to keep each other moving and together.
29. Plan Family Exercise
On that note, why stop at a walk?! If fitness is a priority, make a goal that each Saturday or once a month the entire family does a fitness-related activity together!
Ideas include:
Doing a workout video together
30. Healthier Eating
Healthy eating as a family is an important priority and one that can be cut down into more specific objectives.
Family goals examples for this include salads a few times a week, meatless (or vegan) once a week, and healthier snacks (click for 50 easy ideas).
31. Mental Health (Good Family Goals Examples)
Kids and adults alike face more anxiety and mental health issues than ever before.
If your family could use a figurative breather, then make it a family goal that everyone takes better care of themselves in this way.
Introduce meditation, breathing techniques, family yoga, or simply a designated time once a week (or month) to ease the mind.
Doing Good for Others
Show your family how good it feels to make someone's day. Here are ideas!
32. Participate in a Kindness Challenge
This was a goal of ours at one time. It went beautifully until a colossal sibling fight at the mailbox led to a neighbor coming to break it up (HUGE fail). Overall though, I loved that it pushed us to put others first for a month.
This kindness challenge from doinggoodtogether.com is a sweet one.
33. Volunteer Together
Help others with a family goal of volunteering once or twice a year.
As you establish this goal, brainstorm ideas for how you want to do it together.
34. Take Something to Someone Who Needs It
Decide to take a dinner or a treat to someone that's feeling low once or twice during the year.
Teaching Great Habits & Lessons
Next, the following habits will serve kids for the rest of their lives. Why not incorporate one or two into your goals?
35. Teach Kids to Cook
Maybe this is the year that you teach your kids to cook eggs or make that pie from scratch! Or perhaps they just help with dinner once a week to begin learning the basics of the kitchen.
36. Anger Management
Anger is common between family members. We spend a lot of time together and know just how to push each other's buttons.
So, if it's an issue in your home, make it a goal to research and practice calm down tools that help your kids get along. Mom and dad can practice them too!
37. Start and Maintain a Garden
Next, grow your own food! Make a small (or large) garden this year and watch your plants flourish.
As an extra bonus, you'll eat healthier and save money in the summertime!
38. Teach Kids About Money & Finances
Is it time to open a savings account? Or start an allowance system? If they are older, perhaps you can teach them about the stock market, the power of compound interest, and other more complicated (yet important!) concepts.
39. Simplify the Gift Giving
Teaching kids that experiences come before stuff is a valuable lesson. But how can we teach that?
This year make it a family goal to simplify your gift giving, or transfer some of those gifts to experiences. What specifically can you cut out? Plan it ahead of time to make it easier later.
40. Recycle & Conserve Energy
As kids get older, and you're able to discuss energy consumption, it's a great idea to recycle more or lower your usage. Kids can get involved by seeing the bills every month and brainstorming ways to use less.
As you develop better habits and see a change in the bills, take the kids out to dinner with the money saved to show them that it makes a difference both for the environment and their home life.
41. Set a Reading Goal for Everyone
Next, a reading goal during the summer or on holiday breaks is a fun way to encourage reading in your home. Set a number of books that EACH member wants to hit and see who reaches it first!
Grab a fun reading tracker and reading challenge ideas >>
Home Family Goals Examples
And finally, your environment is everything. So, make it a great place to be.
42. Declutter Your Home
Is your home full of stuff? Decide that this is the year to clean out the clutter! You can even divide the rooms into each month of the year, or every week until it's done.
Check out other declutter ideas here: 21 Easy Ways to Simplify Your Life
43. Work on a Home Project
We all have to-do lists when it comes to our homes, but a home project that benefits the entire family is a great goal to put on the list.
Then, all members of the family can contribute in some way to make it happen.
44. Inspire Yourselves
Finally, could you add decorations to your home this year? Put up a few inspirational quotes?
How can you make your living space a place that motivates and moves you?
A quote post you'll love:
45. Document Your Beautiful Family
Before you know it, these moments will be memories of the past. So, get a family photo taken this year to document your growth and love.
How Do You Set Family Goals?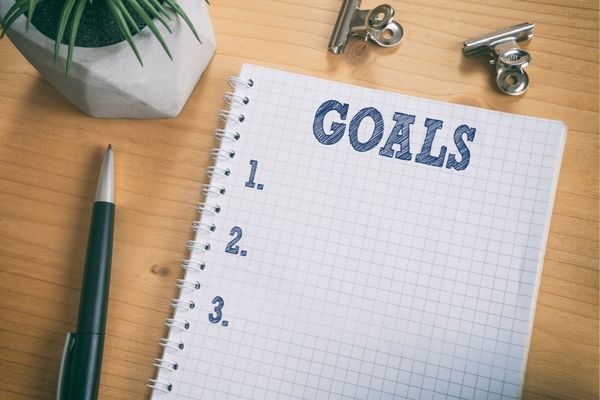 Here's how it looks when we decide our future family goals…
We discuss ten goals that we'd love to happen in the coming year. This could be as simple as "pray at dinner" or as difficult as "climb a mountain."
Then we talk about what we can do to make them happen.
It's GREAT goal setting practice for kids (and adults)!
When the kids were younger I wrote the goals, and they colored pictures to help represent them (similar to a vision board).
Now that they're older, they do the writing. Then, we put the list of goals on the fridge for the rest of the year, so that we can all see it.
That's it!
To Consider With the Family Goals Examples
Again, this is a BIG list, so choose the ideas that fit your family! And like us, you may want a variety of one time goals and re-occurring habits to build. This gives a nice mix of easier and harder goals.
Have fun with these family goals examples! What are your goals for the year?
Other family and goals posts to enjoy…
45 Examples of Family Goals For Your Best Year Yet