23 Easy Ways to Be Healthier in 2023 (+ 3 Day Healthy Challenge)
Be Healthier in 2023 With Tips + Challenge
You're tired. Or sick. Or just want to lose a few pounds. We all feel this way sometimes.
Here, you'll see that any time is a great time to find ways to be a healthier version of yourself.
Today, we're applying the "work smarter not harder" method to our bodies. Pick one action from each category below, and apply it to your life. Then, watch how this minimal effort creates a massive impact on your health.
Plus, read on for tips to stay motivated and join me for an incredible 3-day healthy challenge!
This post contains affiliate links, at no cost to you. See my disclaimer for more info.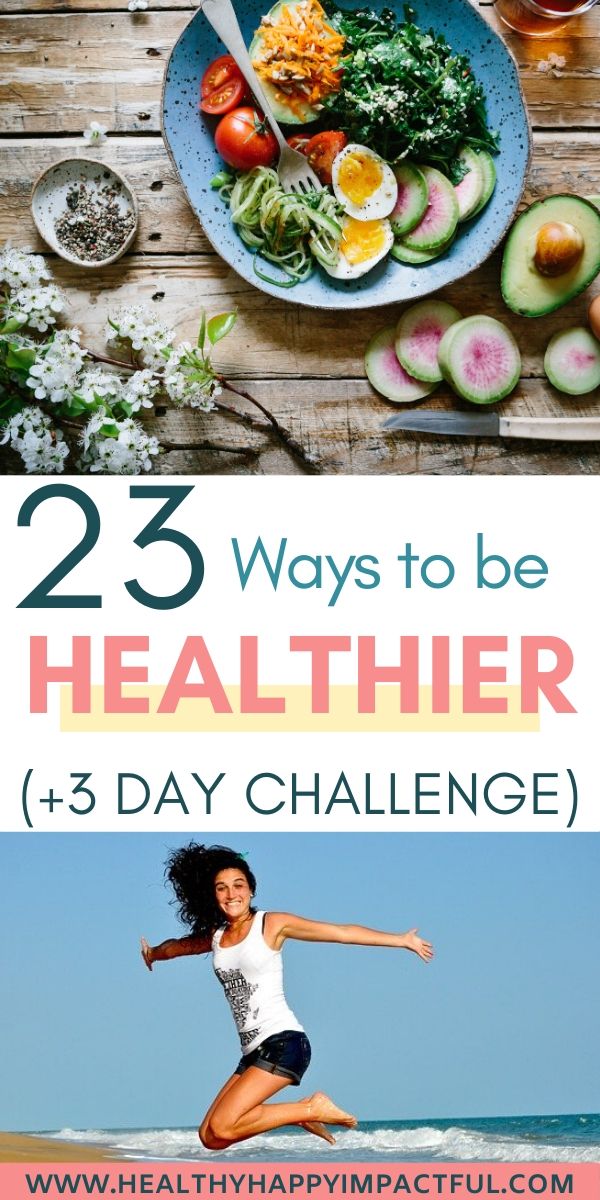 Eat Healthy in 2023
What we put into our bodies is the cornerstone of our overall health. But it's often easier said than done. Pizza and donuts keep calling our names, darn it!
So, try one of these healthy switches to fight the temptation!
1. EXPERIMENT WITH VEGETABLES
Vegetables are packed with the nutrients our body needs, and they are the mainstay of EVERY healthy diet.
So, find ways to make vegetables more pleasant to you. Aim for one new healthy recipe a week. If you try something you don't like, move on.
But in the end, you're sure to find at least a few healthy recipes to add to the lunch or dinner rotation.
2. TRICK YOURSELF WITH PORTIONS
Buy smaller plates and eat from them. It's an automatic way to eat less.
Another trick? After serving yourself, keep your dinner food in another room. When going back for seconds, you'll have to physically get up and get more. Adding this tiny amount of friction keeps portion sizes down.
3. EAT PROPER MEALS
This is my downfall since becoming a mother!
All-day snackers don't feel as though they're eating much, but it really adds up! The protein and healthy fats we eat from complete meals help fill us up, and if we're constantly reaching for pretzels or chips, we miss out on essential nutrients!
Find some easy options HERE: 21 Weeknight Dinners Under 45 Minutes
4. FILL HALF OF YOUR PLATE WITH VEGGIES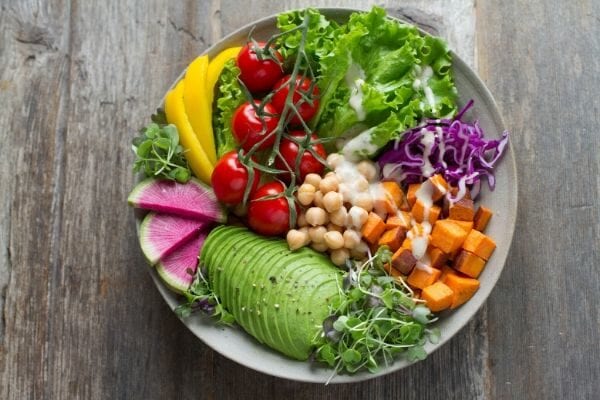 Focus on doing the opposite of what most people do. First, fill your plate with half veggies, then use the space left for your carbs and protein.
5. MEAL PREP ON THE WEEKENDS
We all know how difficult it can be to stay on track during the week! But the healthiest eaters among us eat that way because they prepare ahead of time. When there's a pre-made wrap in front of us, it's much easier to chow down on it, than if we know we have to put it together.
Get your meal prep game on with these posts:
6. SWITCH JUST ONE MEAL
If you go into a new goal swearing to dramatically change your diet, it's a recipe for disaster.
Instead, start small.
Find one meal or snack that you want to replace and do it, consistently. After a month of one healthy meal, move on to the next. If you gradually build, your healthy habits will be here to stay.
Want to start with snacks? Read 50 Healthy Snacks for Kids (& Adults)
7. DRINK SMARTER
For more years than I'd like to admit, I didn't think there were many calories in alcohol. Wow, I was wrong. Soda, alcohol, and creamy coffee offer empty calories with no nutrient benefit.
So opt for green tea, herbal tea, or coffee with one simple additive.
Need to drink more water? Drink a glass of water before every meal. Not only will you be less hungry, but it ensures that no matter what, you're drinking three glasses of water a day.
8. SHOP SMART
Here's the deal, you're going to eat what's in your house. This means that to be healthier, you must start at the grocery store!
Choose stores that have lots of produce available, and be sure to go in with a grocery list (and not when hungry!). Shop the perimeters, and stay out of the middle aisles that contain only the processed stuff.
Related Post: 17 Easy Ways to Eat Healthy on a Budget
9. EAT MINDFULLY
Most moms have to do some form of standing while eating. Usually while feeding children. But it makes it difficult to enjoy and be aware of what and HOW MUCH we're eating if that's our common practice.
So, work hard to eat sitting down and focus on what you're consuming. Chew slowly and put your fork down between bites.
If you struggle with mindless eating, write in a food log every little thing that you put into your body. Keep it up for at least a week and you'll notice some serious patterns.
10. EMBRACE COOKING TECHNOLOGY
Finally, the microwave, crockpot, and Instant pot have one thing in common. They all make healthy cooking much easier. When looking for new recipes, find some easy ones that utilize quick cooking options.
Find amazing slow cooker recipes HERE: 12 Healthy Weeknight Crockpot Dinners
Move Your Body
Now that we've covered nutrition, it's on to the second part of the equation…. how to move our bodies a little more often.
11. WALK MORE
Regular movement is key to so many health benefits. So, start easy, with these tiny ways to be healthier!
Aim for at least 10,000 steps a day. To do this, try one of these simple tricks:
Decide to only take the stairs if you're walking less than six floors
Never park in the first ten spaces of the parking lot
Walk during your work breaks
Plan a walking meeting, or take your phone call while you walk
Get up ten minutes earlier in the morning and take a short brisk walk before the chaos of the day
Walk your kids to or from school, walk to work if it's close
Take a family walk with the kids after dinner
Walk the shopping cart back to the front of the store
Schedule a once a week walk with a friend
Read 17 Simple Tips to Gain More Energy for more ways to liven your step!
12. INVEST IN A STANDING DESK
If your job includes sitting for seven hours a day, consider investing in a desk that naturally increases your daily movement. This top selling desk gives you the choice of sitting or standing and is also the perfect choice for a home office.
13. WORKOUT FOR SHORT BURSTS
Long workouts are not required to be healthy. Besides, it's difficult for many of us to get more than 20 minutes for exercise.
But, with interval training, you don't have to! Alternate between running/jogging and walking or other high and low-intensity exercises for a shorter amount of time – with better results!
14. DO BODYWEIGHT WORKOUTS
No fancy equipment or personal trainers are needed to get into shape!
There's so much you can do with your own bodyweight! Here is a list of some of the best and most basic exercises to do TODAY! Fit them in between other activities or on tv commercials!
squats
lunges
pushups
tricep dips
plank
wall sits
burpees
mountain climbers
15. TRY SOMETHING NEW
Often, we don't stay with an exercise program because we don't really enjoy doing it. So, try a few new things this year to see what you like.
Examples include kickboxing, Zumba, yoga, bodyweight exercises, jump rope, swimming, and walking.
*Planning is key, so check out these critical tips for planning your year around your goals!
Don't Forget About Mental Health
Mental health is just as important as the physical kind! So, let's look at ways to be healthier with our minds. Many will tell you, if your mind isn't right, it's hard to keep the rest of your life together.
16. GET BETTER SLEEP
Avoid technology one hour before bed and do some calming activities before bed. Read a good book, stretch, or meditate to get your mind in the zone for great sleep.
For more tips see How to Get the Best Sleep of Your Life
17. LOWER YOUR STRESS LEVELS
Lean on friends, find your quiet space, or get your favorite self-care activity on.
Stress is the number one problem among most of the parents and adults that I know. So, take baby steps this year to manage your stress in a healthy way.
Sign up below for a free 2 page self-care toolkit! You'll eliminate stress in no time!
18. UNPLUG OFTEN
How many times have you checked Facebook today? Instagram? Your email?
The number is often embarrassing (if we pay attention).
Not only do we miss out on important stuff by looking at our phones all day, but we get much less done. So, set a specific time each day when your devices are put away.
19. SCHEDULE BREAKS
Schedule several vacations this year.
This doesn't have to be a long expensive getaway. It could be day trips, long weekends, or even a well-planned staycation.
Whether with family, on your own, or with your spouse, a healthy lifestyle requires clear times that you put your mental clutter away.
Stay Motivated Through the Year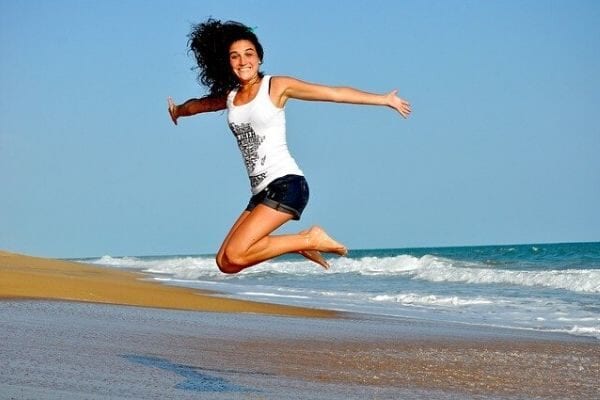 Why do most people quit on their New Year's Resolutions? Because all of our goals sound great at the beginning of the year. By March our motivation and willpower have taken a hit and we care a lot less about all the amazing ways to be healthier.
So, plan ahead for this and keep yourself inspired. Try out one of these easy ways to stay motivated and healthy.
20. WATCH A HEALTH DOCUMENTARY
Netflix and Amazon Prime have lots of health documentaries out. This article provides a list of the best options. Likewise, you can find many health-related Ted talks available.
These are almost always insightful pieces that leave you evaluating your own health. Whether you agree with certain diets or not, they usually provide ideas that make you think and keep you wanting to create your healthiest future.
21. READ
Whether it's blogs, magazines, books, or health journals, find some publications that keep you on track to be a healthier you. Start with these great books to get you going!
Body Love
This is my favorite book because her health philosophy makes incredible sense. It explains what you should be eating, as opposed to focusing on the bad stuff. Her knowledge has benefited me immensely, and I LOVE her healthy green smoothies.
The Longevity Paradox
This book is a fantastic read on aging and living well over the long term. It also includes an action plan to achieve more energy and prevent and reverse diseases.
Well + Good
This cookbook gives superb healthy eating advice and details 100 easy recipes to try at home. The cool thing about this is that it includes recipes from the biggest people in the wellness world.
*See: 7 Incredible Healthy Cookbooks for more!
22. FIND GREAT HEALTH PODCASTS
There are so many interesting things to learn and ways to be healthier. Not only is it great information to know, but it keeps our eyes on the prize.
The Model Health Show and the Ultimate Health Podcast both have fantastic Apple podcast ratings.
And now for #23, eat well in 2023! One of the most impactful ways to be healthier…
The Clean Eating 3 Day Healthy Challenge
Now, join me for the 3-day clean eating challenge! To be clear, this is not a crazy diet to pursue. I'm no expert, but I do know that how we treat our body affects the rest of our lives.
This healthy challenge is a way to set the tone for the rest of your year. The rest of your life perhaps.
Will it be the year we take charge of our health? Let me answer for you, YES, yes it will be.
A SAMPLE MEAL PLAN FOR THE HEALTHY CHALLENGE
For this challenge, we want whole, clean foods with no additional ingredients we can't pronounce. Processed food it out! If you follow a certain diet, then just modify it to your liking.
Follow the meal plan exactly, or just use it for inspiration! Either way, commit to just three days of taking great care of your body with natural foods. Anyone can do three days to be healthier, and you'll be mentally preparing for your future!
DAY 1 PLAN
DAY 1 Breakfast
Put together oatmeal with a tablespoon of each: chopped nuts, berries, and maple syrup or honey. Add flaxseeds or chia seeds for an added nutritional bonus.
Then, add water, and microwave for about a minute and a half. Easy peasy!
Day 1 Snack
Reach for a hardboiled egg, cheese stick, or piece of avocado. Any of these will help keep you full until lunch!
Day 1 Lunch
Opt for a chicken salad with veggies, clean protein, and seeds. Beware of the dressing! Choose an option that only has readable ingredients or make your own!
Day 1 Snack
Pop some popcorn! Make your own on the stovetop or use a clean microwave version (with ingredients you can pronounce!)
Day 1 Dinner
Make an easy chili out of tomato sauce, diced tomatoes, kidney beans, onion, peppers, corn, and hamburger/plant protein. Put together your own seasoning, or just throw in some chili powder!
Then, top with olives, green onion, and cheese. As a side, opt for three-ingredient chips or pour your chili over baked sweet potatoes.
DAY 2 PLAN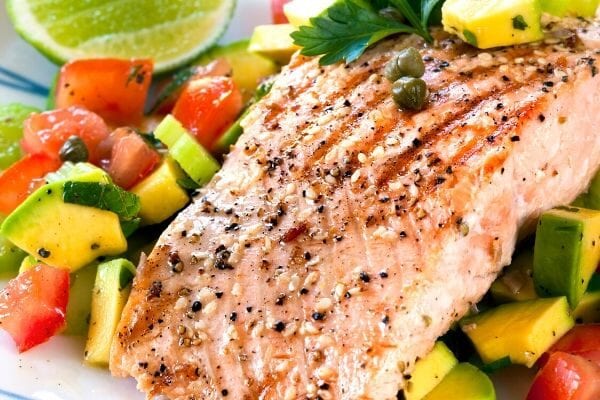 Day 2 Breakfast
Pour a little olive oil in the bottom of a glass dish. Swirl it around to get the edges, then plop in two raw eggs. Microwave using 30-second intervals until your eggs are done as you like. Watch it cook closely!
Finally, add spinach, salsa (without sugar), avocado, or cheese! It's a super quick, on the go breakfast!
Day 2 Snack
Snack on an apple with peanut or almond butter.
Day 2 Lunch
Stack a burrito bowl with brown rice, beans, cheese, avocado, lettuce, and olives. Note, Whole Foods makes clean tortillas, but otherwise they are hard to find, so try brown or cauliflower rice instead!
Day 2 Snack
Make oatmeal/energy balls – Try an easy recipe HERE, but leave out the chocolate chips for this challenge.
Day 2 Dinner
Cook or bake your favorite fish in oil! Salmon and cod are big winners at our house.
Sautee an easy frozen vegetable like green beans or broccoli, and then roast potatoes or cook up a quick side of brown rice. And presto, quick and healthy dinner!
DAY 3 PLAN
Day 3 Breakfast
Whip up a smoothie with almond milk, spinach, berries, chia seeds, and a scoop of protein powder or peanut butter.
Day 3 Snack
Enjoy the oatmeal balls again from yesterday! No need to reinvent the wheel!
Day 3 Lunch
Use high-quality pita or regular bread and make a sandwich! Prep a clean tuna salad or a simple turkey and cheese. (Just watch the ingredients!)
Want to make it even easier? Take out the bread entirely and make them lettuce wraps! Pack some fruit, veggies with hummus, or nuts on the side and you've got a well-rounded lunch!
Day 3 Snack
Have a handful of apple chips, The kids take these apple chips to school whenever I buy them!
Day 3 Dinner
Make my favorite butternut squash soup!
Roast a medium to large squash in the oven. While it's cooking, sautee some onions and garlic. Add the roasted squash, a little ginger, and 4 cups of chicken or vegetable broth. Finally, cook at a low simmer for about 10 minutes.
Additionally, roast chickpeas as a healthy, and seriously addictive side!
Way to go, you did it! Reward yourself without food for achieving your goal!
Something to Consider to Be Healthier
If a 3-day healthy challenge like this seems daunting, start with just 1 day. Or, do your research and prep beforehand for success. Make it ridiculously easy to reach for the right things when you start your first day!
What are your favorite easy ways to be healthier in 2023? The planning starts now!
Looking for more ideas? Check out the new Glow Up Challenge here >>
Other healthy living posts & resources for you…
How to be Healthier This Year