Your go-to guide for fast and healthy weeknight meals.
Someone complains that they're hungry.
I look at the clock. It's 5:15 pm!
Shoot! What in the world are we going to have for dinner?!?!
Inner panic ensues. Excuses and less healthy options begin creeping in. And of course, I really don't want to make dinner now.
Darn it, where are the quick and healthy weeknights dinners that can save the day?!
This post contains affiliate links at no cost to you. I only mention products I love and recommend regardless of compensation. See my disclaimer for more.
Um, this happens a bit more often than I would like. Sound familiar?
Any busy woman knows that a list of go-to healthy dinners is a MUST for staying on track for time-starved weeknight meals.
So, here are 21 stellar ideas to add to the rotation, and help save us on those days when it's critical to get quality food on the table!
All of the dinners below can be put on the table in 45 minutes or less!
21 Quick and Healthy Weeknight Dinners
1. Tostadas
To me, these are the easiest on the list. All of the ingredients are usually on hand or in the freezer. The kids can help put stuff on, and they are done in about 10 minutes.
Plus, the kids love them. We've even used canned chicken when I didn't have time to figure anything else out! Delicious!
2. Sausage, Bell Peppers, and Onion Bake
This sheet pan idea is so easy, that no recipe is even required. Mix the ingredients in olive oil and salt & pepper. Roast in the oven. Ideally, I bake these for 45 minutes, BUT they are extremely easy to put together.
Chop it up and throw it on a pan. All hands-free cooking! Add additional seasoning if you desire, but we love it simple!
3. Carrot Soup
I've referenced this soup on a post before, but it's seriously the quickest soup I've ever made, and it's extremely healthy! In general, all vegetable soups will be fabulous for weeknight dinners!
Get the carrot soup recipe HERE
4. Stir fry or Hash
We make this once every few weeks because it's a great way to use up leftover vegetables. Sometimes we put them with rice, potatoes, or even cauliflower rice (already done in the package). Next, I saute ingredients with a healthy fat and add Italian seasoning, salt, and sometimes pesto for flavor.
Furthermore, if you wish you were better at improvising in the kitchen,
MAKE THIS.
It will teach you what flavors work together, and how to put an original dinner on the table quickly.
5. Tacos
Like tostadas, these are one of our common quick and healthy weeknight dinners. We have everything on hand, and we can use tortillas or salad. No recipe required!
6. Breakfast for Dinner
Eggs are a very healthy protein and happen to be extremely fast to cook and put together. So, try something different for dinner like this quiche with spinach and ricotta! It looks DIVINE.
7. Fish and Veggies
Fish like salmon, cod, or tilapia is our go-to when time is tight because it takes no time to thaw and cook, compared to meat. It's usually done within 15 minutes on the stovetop!
Usually, we'll throw some veggies and olive oil in the oven with it or saute some spinach.
8. 20 Minute Shrimp Scampi Zoodles
Just like with the fish above, shrimp is a fast and healthy meal. To make it even faster, they sell frozen spiraled zucchini at the store to go with this meal!
Get the recipe from the picture HERE.
9. Loaded Baked Potatoes
If you have an Instant Pot, this can be cooked shockingly quick. And, this is my desperation meal when there's no food in the house! We like to top our potatoes with bacon, plain yogurt, olives, cooked spinach, and cheese!
10. Pita Pocket Pizzas
Honestly, I rarely have the time or energy to make homemade pizza crust these days.
However, we buy healthy pita pockets at Trader Joe's, and they make the perfect sized little pizzas!
The kids put on the sauce and toppings, and I put them in the oven for about 10 minutes. That's it! It makes for one of the fastest dinners on this list!
11. A Giant Salad

Salads are great because, well, TONS of veggies. Plus, there is very little (if any) cooking involved.
The image above gives the best and most extensive ideas for a lovely salad. Check out the full post HERE for inspiration on how to NEVER make a boring salad!
12. Meatball Subs
If you have meatballs in the freezer then this is a super fast meal! Find some barbecue sauce, cheese, and sandwich bread.
This is one of those weeknight dinners that can be made both quick and HEALTHY by throwing it with a salad and side veggie!
13. Paninis
These can be made on the stovetop, with a panini maker, or even a George Foreman Grill. Simply make a sandwich how you want it and toast it up.
This ultra-easy step turns a really simple sandwich into something scrumptious and dinner worthy. We love mayo and pesto in our paninis!
14. Quesadillas
Black bean and bell pepper quesadillas are staples here, and there's not much explanation needed. But this post has some great tips for making the perfect 10 minute quesadilla!
15. BLTs or BLT Wraps
In the summer months, eat real tomatoes while you can! This means that at our house, BLTs make a regular appearance.
Luckily for me, this requires very little cooking, and is still a healthy option with veggies and whole wheat bread (or lettuce wraps).
16. Meat on the Grill
If you don't have a George Forman, it's a lifesaver when you're wanting to grill something fast. On any given night, we'll grill (inside or out) pork chops, steak, or hot dogs and throw them with some baked or sauteed veggies.
17. Whole Wheat Pasta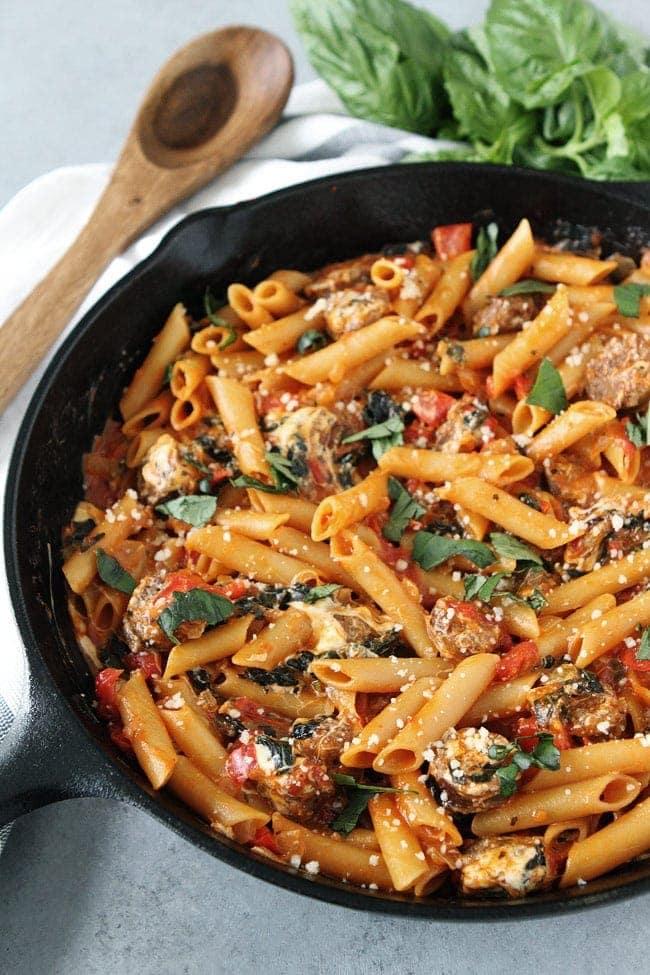 Pasta is a great weeknight dinner because it's fast to make up, and you can throw in what you have on hand. This sausage pasta looks delicious, and wait for it…you cook it all in ONE POT! Making it even faster, and way better clean up!!!
18. Snacky Dinner
This is by far my kids' favorite dinner. Sometimes popcorn and veggies/hummus for dinner is just what we need to survive the day! Plus, this can be healthy! Try any of these:
homemade popcorn
veggies and hummus
cucumber rollups with deli meat and cheese
fruit and yogurt dip
homemade meatballs
homemade roasted potato chunks
whole wheat crackers with meat and cheese
See a list of the BEST healthy snack ideas HERE!
19. Vegetable Chili
Chili with meat in it takes some planning beforehand, but to put together a fast hearty chili without it isn't difficult. Simply follow your normal chili recipe and add in more veggies or beans instead of meat, or try this easy one here.
Related Post: 12 Healthy Weeknight Crockpot Meals (+ more tips for quick weeknight dinners!)
20. Homemade Macaroni And Cheese
We all know the boxed version is super quick, but if you don't have it or want something a little healthier, this recipe is done in 20 minutes! I would add peas, carrots, and maybe some leftover meat for a complete one-dish meal!
21. Veggie Chowder
Finally, whether we're in soup season or not, this soup just looks so light and delicious! It's packed with veggies and has enough dairy to be a real crowd-pleaser.
Wondering about the BEST kitchen gadgets to create fast weeknight dinners?
These two are LIFESAVERS in our kitchen!
This immersion blender has helped me make my favorite soups in HALF the time. I can't live without it.
We spiralize zucchini and make pasta FASTER than making it with noodles. Now that's healthy AND quick!
Food for Thought…
So, what are your healthy and quick go-to weeknight dinners? Which new one would you like to try?
Want even more ideas?! Check out 95+ Healthy Meals for Dinner – with a free printable at the end of the post!
Other healthy posts you may enjoy…
The Best Healthy Weeknight Dinner Ideas