11 Healthy Make Ahead Breakfasts for School Mornings
One of the very best ways to make school mornings easier is to have healthy food in the freezer or pantry!
Here, grab and go is the name of the game until everyone gets settled into the schedule and before school morning routine. So, we need ideas for make ahead breakfasts and plenty of freezer options too!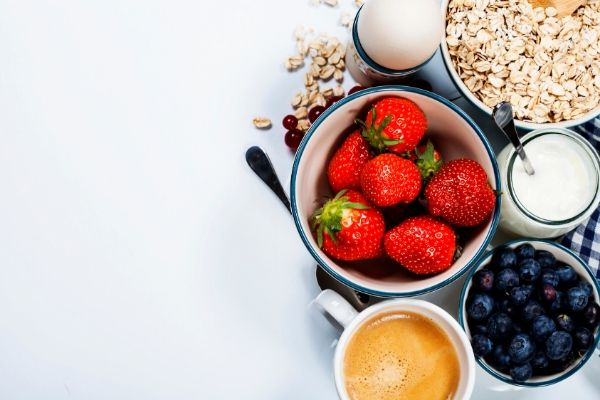 11 Healthy Breakfasts to Make Ahead Today!
This post contains an affiliate link, at no cost to you.
Check these out, in no particular order!
BREAKFAST SANDWICHES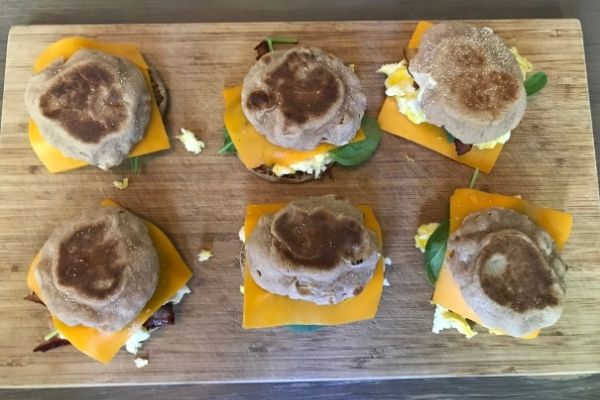 This breakfast is ridiculously easy!
Toast your bread of choice, scramble some eggs, and cook a little sausage or bacon. Then, start stacking! We love adding cheese and spinach to make it complete!
If you'd like mayo we wait until the day that we eat it to add it in. That way nothing gets soggy! Wrap them individually in plastic wrap, then put them all in one big freezer bag. Get them out as needed!
GRANOLA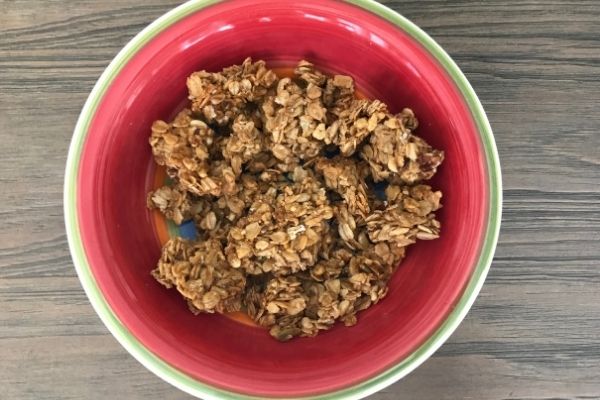 Granola is delicious with a little milk or thrown with some yogurt and berries for a fun parfait. I love it when my kids eat this because it's all whole grains with all-natural sugars. And it's so filling!
Plus, the best thing about making granola is that I can double the recipe and freeze a huge amount for later.
I use a very modified (for personal preference) version of the recipe found in the 100 Days of Real Food Cookbook, but there are thousands of different recipes on Pinterest!
*Check out 7 Health Cookbooks That Will Change Your Cooking HERE>>
BREAKFAST BURRITOS
Of all the make ahead breakfasts, burritos appear most often because, well, they're so dang tasty! And also hearty, so I know we'll be full for hours.
We cook up some potatoes, eggs, sausage, and peppers/onions. Then throw it all together with cheese in a tortilla. We wrap them individually in foil and put them in one big freezer bag.
In the mornings, simply take one out, unwrap it, and microwave for about 1 min and 30 seconds.
EGG MUFFINS
This recipe from Six Sisters' Stuff looks amazing and I love how versatile it is.
Simply add your favorite mix-ins and BAM, you're ready to go for a quick and very healthy breakfast.
FREEZER BREAKFAST BOWLS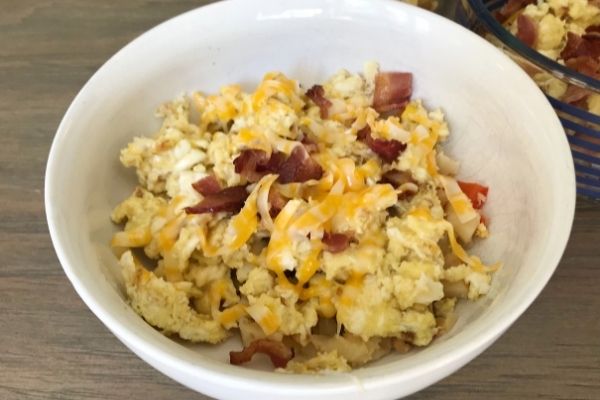 This is another breakfast that doesn't need a recipe! YES!
Cook up some potatoes, peppers/onions, eggs, and meat of your choice (separately). Then pile it on in a bowl with some cheese on top.
To freeze, just make sure the bowl you put it into is freezer and microwave safe! Seal well and it will be ready for when you need it.
*Don't just stop at breakfast! Check out these other kids food posts:
SMOOTHIE PACKETS
Smoothies are one of the healthiest breakfasts possible, and when it's all put together in the freezer, there's no excuse not to whip one up!
I use a small freezer bag. Spinach is always added first, but the rest depends on what's lying around!
Chia seeds or flax seeds usually get thrown in as well because they help keep us full. All I need is milk or almond milk the day I make them!
Check out this post for what smoothies I love to make!
Find more tips to get organized for school here:
PANCAKES
Pancakes are our treat for Saturday breakfasts, and if we didn't make them ahead to freeze, the tradition wouldn't exist!
We LOVE the whole wheat banana pancakes found HERE. We always double the recipe to make tons to freeze.
RELATED POST: 3 Meaningful Family Rituals
MUFFINS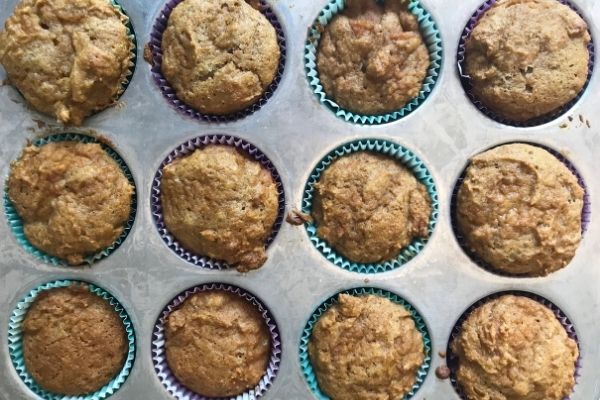 Muffins are very easy to grab and there are so many options out there!
Not only are they great for breakfast, but I also like to use them for snacks or in the kids' lunches for a fun treat.
In this picture, we made the pumpkin muffins from 100daysofrealfood.com. We LOVE them, and they always make me excited for fall. Plus, we use them for our back to school breakfast!
OVERNIGHT OATS
Next, the kids like overnight oats 10X more than traditional oatmeal, so this is always a crowd-pleaser for us! This is not a freezer meal, but I try to make 4-6 jars at once so that we have multiple mornings done.
The great thing about overnight oats is that it's very versatile. We start with
1/2 cup milk
1 tbsp yogurt (if we have it)
honey (1 tsp-1tbsp depending on how sweet you like it)
1/2 cup oats
Then add the fun stuff! We like cinnamon, berries, raisins, chopped apple, or dried fruit, cocoa, peanut butter. The sky's the limit!
Leave them in the fridge overnight and then the kids can pick them up out of the fridge in the morning! Absolutely no work for mom early in the morning!
INSTANT OATMEAL JARS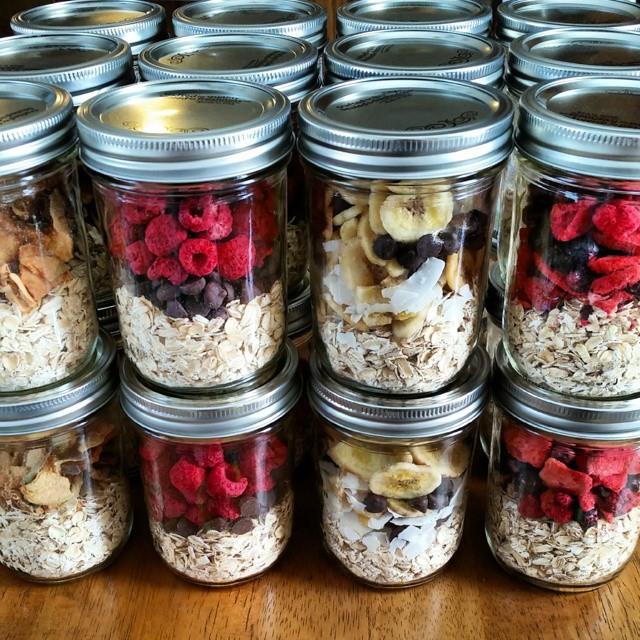 These awesome looking oatmeal jars make winter oatmeal a breeze. The best part is that they are ready to go for the kids to do it themselves!
Aren't they beautiful?! The fruit and chocolate chips look delicious! I wish my breakfast preparations looked like this!
GET THE INSTRUCTIONS & RECIPE HERE
HARD BOILED EGGS
Finally, while eggs may not be as fun, they are such a huge staple in our house! My husband makes a bunch at the beginning of the week, and everyone grabs them out of the fridge when needed.
If you haven't tried it in the Instant Pot, that little contraption makes it SO MUCH easier to boil and peel afterward!
SOMETHING TO THINK ABOUT
What make-ahead breakfasts will you try this week? What have you made before that your family loves?
Give yourself a break and make breakfast one less thing to do!
OTHER FAMILY POSTS YOU MAY ENJOY…