How To Overcome Picky Eating & Teach Kids To Eat Well
Picky eaters are common amongst kids (and adults) these days. It's hard for kids to eat well. But what if it doesn't have to be that way?
Recently, I picked up the BEST book about children's nutrition and how to overcome picky eating. I love when it's the unexpected source that is the most influential.
French Kids Eat Everything is a storytelling adventure of a split family (He is French and she is Canadian) that moved to France for a year, and the surprising lessons learned around food.
What they quickly realized, was that their small North American children ate horribly. They consumed lots of junk food, at all times of the day, and would try very little new nutritious food.
Often there were meltdowns and power struggles around food. So, plain noodles (with no sides) ruled the day at mealtimes.
This contains an affiliate link, at no cost to you.
In contrast, they saw firsthand how much healthier French families were. They saw French children eating adventurous foods adults wouldn't dream of eating here.
Picky eaters DID NOT exist.
The cultural differences around food were astounding.
How To Overcome Picky Eating
And the author also noticed certain healthy habits of kids that the French practiced that translated into enormously better health.
Whether you're looking to overcome picky eating, or just want to be healthier overall, these are such valuable ideas to consider.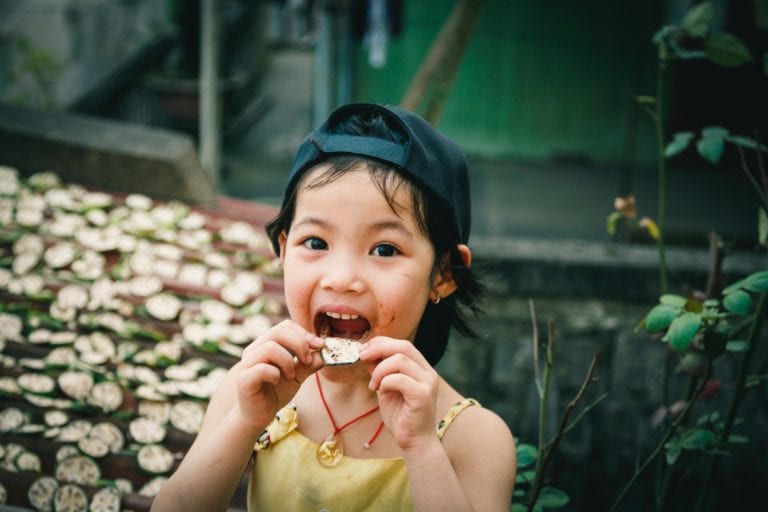 1. PARENTS ARE IN CHARGE OF FOOD EDUCATION
No one else will care about your kids' health as you do. And as parents, the responsibility lies squarely on our shoulders.
First, create house rules and stick to them.
Then, model healthy eating behaviors for your children. If they see you eating healthy foods, they'll be more likely to try them too.
2. AVOID EMOTIONAL EATING
Food is not a pacifier, a distraction, a bribe, or a reward. When we use it as such with our children, it teaches them that food will make them feel better or it's what they should use to reward themselves.
It's a habit that will be hard to break later.
I think this is something I struggle with regarding my eating.
However, it's easier said than done. Food as a reward or bribe is a DAILY thing that happens for my kids at school and activities. Even at the doctor's office, my kids are rewarded with lollipops (little ironic maybe?)
So, while food as a reward is unheard of in France, it's difficult to fight here. It's best just to be conscious that it's happening and try to reduce it when possible.
Here are amazing alternatives to food rewards >>
The author also suggests an alternative. Instead of using rewards, try the natural consequences method. "First we eat our vegetables, then we eat dessert."
Related Post: How to Build Better Habits, From the Expert
3. PARENTS SCHEDULE MEALS & MENUS
Kids should eat what adults eat: no substitutes and no short-order cooking.
Have you ever been to a restaurant and noticed the kid menu has the most unhealthy items on it? It just creates picky eaters! If we want kids to eat well later on, they need to eat well now.
So they eat what grown-ups eat, including the veggies.
Give kids smaller portions and allow them to ask for more if they want, but have regular meals and times so everyone knows what to expect.
Related Post: A Free Weekly Meal Planner + Meal Plan Ideas
4. FOOD IS SOCIAL; EAT TOGETHER
Eat family meals together at the table, with no distractions. The number one purpose of food is to enjoy it with people you love!
So spend food time also strengthening bonds and reconnecting with loved ones.
The French NEVER eat alone as it goes against how they experience food.
Related Post: 3 Meaningful Family Rituals To Build Exceptional Relationships
5. EAT YOUR VEGGIES
Teach kids to seek out good foods rather than avoiding bad foods. If they learn how to enjoy healthy food, they will ask for it themselves when they're older.
So have veggies present and make it a pleasant experience.
Have them describe it and what they like about it. Do they like that it's crunchy? Or sweet?
6. YOU DON'T HAVE TO LIKE IT, BUT YOU DO HAVE TO TASTE IT
Kids should taste the new healthy food, but not be forced to eat it. Prepare the veggie in a variety of ways and keep trying.
Sometimes it takes up to 10-15 times before a child will accept a new food.
7. IT'S OK TO BE HUNGRY BETWEEN MEALS
Snacking is a huge problem if you want to overcome picky eating. You see, the French don't snack. Can you guys even imagine? I can't!
They have one scheduled late afternoon snack and that's it. So, they eat 4 times a day. Period.
Since children are then hungry at dinnertime, they eat well no matter what's in front of them.
8. SLOW FOOD IS HAPPY FOOD
Eating slowly is not only better for digestion, but it also results in eating less because your stomach has time to signal that it's full.
Plus, if you teach kids mindful eating, you have more time to talk with them and they learn to associate food as something to savor.
9. EAT MOSTLY REAL FOOD
Processed foods are less common in France, so they naturally eat more whole foods. Whole foods fill you up more, and they tend to eat less overall.
Additionally, food that you make yourself is always going to be healthier than something that comes out of a box. It's a difficult rule to follow in our society because processed food is so stinking easy to get ahold of, but it's worth the effort.
10. REMEMBER; EATING IS JOYFUL!
Lastly, eating is for pleasure with those you love around you. The French LOVE their food. They spend hours enjoying multiple course meals.
The difference is that there is no guilt or shame when they eat!
SOMETHING TO THINK ABOUT
It's amazing how cultural differences can have such an impact on health and happiness.
This was something I also noticed in my observations when traveling in Europe. People were in so much better health there.
The obvious physical differences were shocking to me then, and now it makes a lot more sense.
What rule do you identify with the most? What can you do this week to overcome picky eating?
YOU MAY ALSO ENJOY:
FURTHER RESOURCES:
French Kids Eat Everything by Karen Le Billon
And check out this interview with the author herself! Do French Children Eat Everything?