Free Printable Weekly Meal Plan (+ 3 Meal Plan Examples!)
Get this Cute Meal Planner Printable Today!
Want to cook healthier? Or just lose some weight? Perhaps it's time and money issues that are kicking your butt.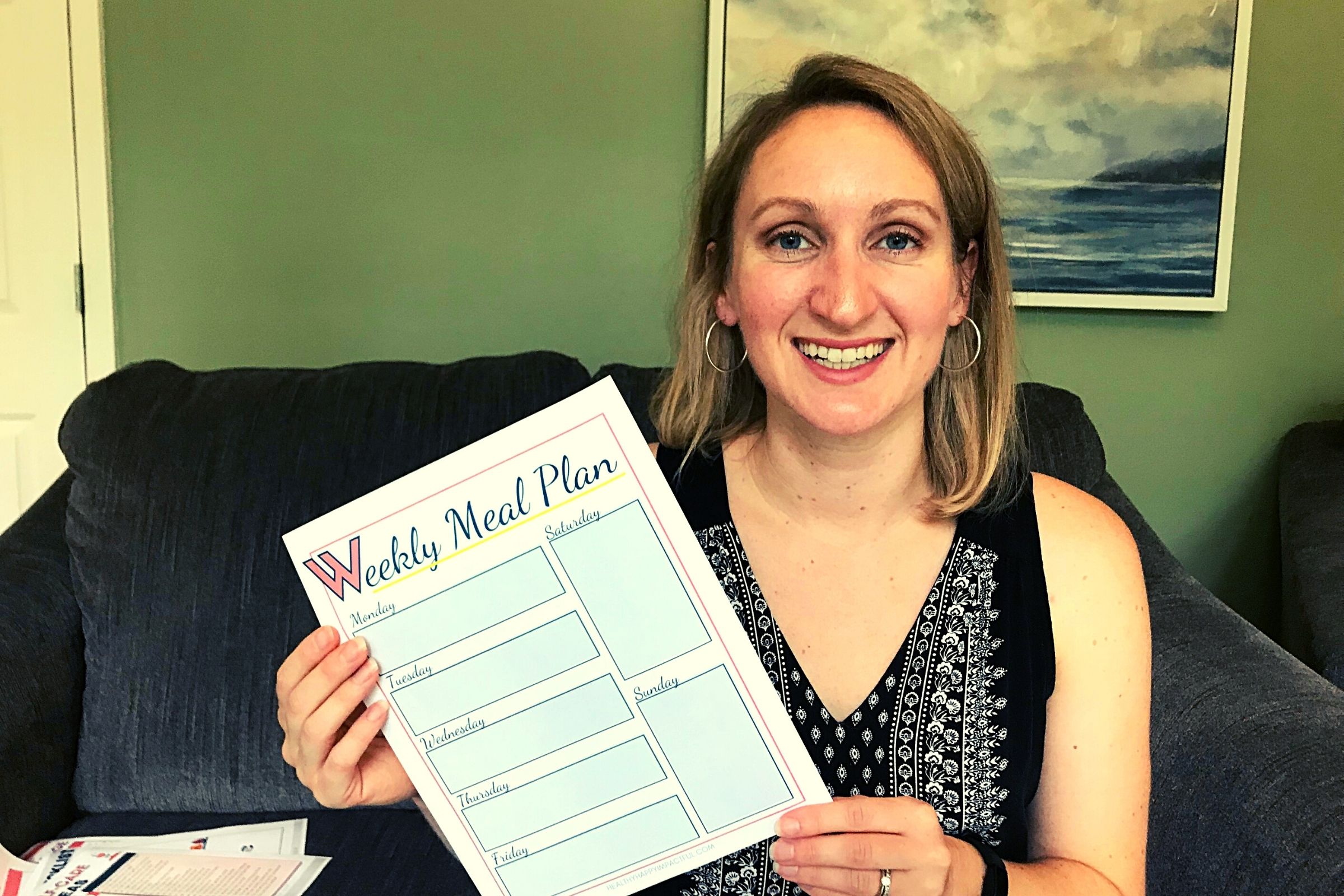 We've all been there.
And one key solution to ALL of these challenges is a meal plan. That's why today, I've got a free printable weekly meal plan for you along with easy ideas to REPEAT every week!
This post contains affiliate links as no cost to you. I only mention products I love and recommend. See my disclaimer for more.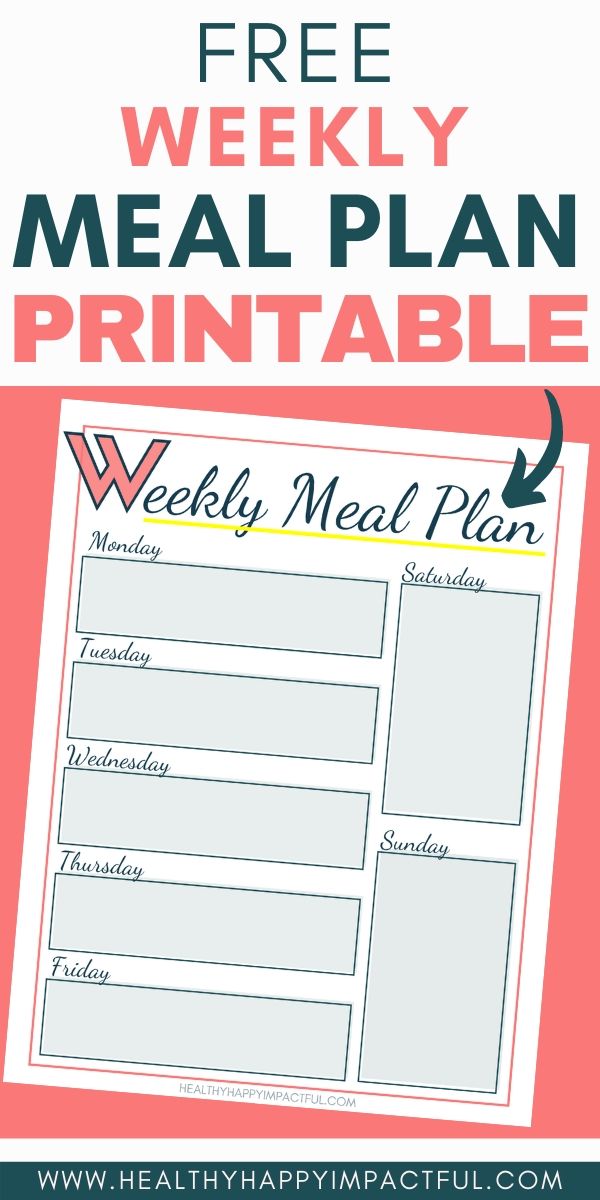 Why a Weekly Meal Plan is a Game Changer
Let's get to the good stuff. Here's why you need a plan in your life:
It Saves Time: First, figure out what's for dinner ONE time, instead of seven. Then, use it to get all of the groceries you need ONE TIME, instead of rummaging through your storage or running to the store at the last minute. Just like that, you've cut minutes (if not hours) from your weekly to-do list.
This one benefit keeps you from going looney by Thursday.
It Makes You Healthier: What usually happens when there's no plan for dinner? Junk food, that's what.
At my house, if I'm thinking of dinner without a clear direction, it's usually chicken nuggets or frozen pizza that make their way to the dinner table. Not good.
*These awesome cookbooks will also help you keep it healthy!
It Saves You Money: Likewise, without a plan, takeout becomes an increasingly tempting option. As a result, we can unintentionally spend hundreds of dollars on food that can be cooked at home for half the price.
Moreover, by making a plan around what you already have, you'll be cutting down on food waste by a huge percentage. Currently, the average American family throws out $1,600 worth of produce every year (source). That's no small amount! And it's all money that we'd love to put towards something we care about.
How do I Make My Weekly Family Meal Plan?
A meal plan can be varied every week, or you can make things easy with a repeatable template.
But before we get into meal plan ideas, consider this:
Plan at the End of the Week
As the week winds down, pick a Friday, Sunday, or sometime before you go grocery shopping to do your planning.
Start With What You Have
What if you have twenty sweet potatoes in your pantry? Make sure at least one of your recipes for the meal plan includes them.
So, take a few moments before your meal planning session to go through your fridge, freezer, and pantry. What needs to be used up?
This is an additional step that takes a little time, but the results on your budget and time are exponential.
Weekly Meal Plan Examples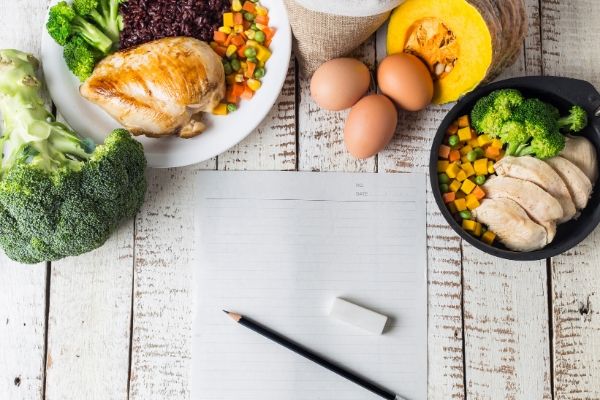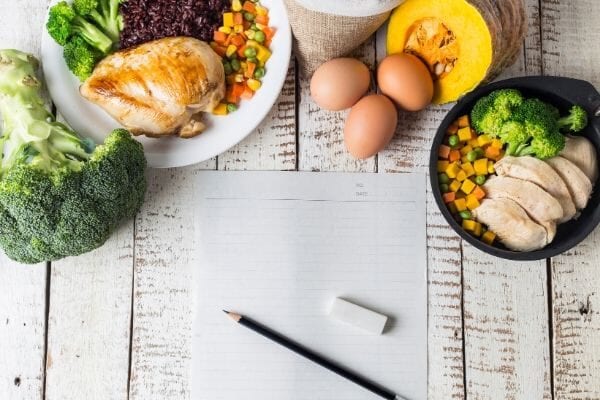 Next, here are three meal plans that can be repeated on a regular basis.
Mix and match the meal plans and meals that work best for your family! Then, print the download and read to the end for what we do at our house.
Meal Plan #1: Traditional
Monday: Pasta night
Tuesday: Taco Tuesday (any Mexican variation works here)
Wednesday: Crockpot meal
Thursday: Breakfast for dinner
Friday: Pizza
Saturday: Date night (out)
Sunday: Protein and vegetable (perfect day for grilling or roasting)
Meal Plan #2: Save Money/Save Time
Monday: Meatless Monday
Tuesday: Double and freeze a meal (casseroles, crockpot meals, soups, and one-pot wonders)
Wednesday: Stirfry or hash
Thursday: Use a freezer meal (from Tuesdays of the past!)
Friday: Leftover night
Saturday: Date night (out)
Sunday: Snack night (we LOVE this type of dinner for a simple family night thing)
Meal Plan #3 Eat Healthy
Monday: Meatless Monday
Tuesday: Fish and veggie sides
Wednesday: Soup & salad
Thursday: Leftovers or stirfry (with lots of veggies)
Friday: Healthy crockpot dinner
Saturday: Date night (out)
Sunday: Protein and veggie sides (perfect for grilling and roasting)
Or, use these popular food posts to help you fill out your meal plan….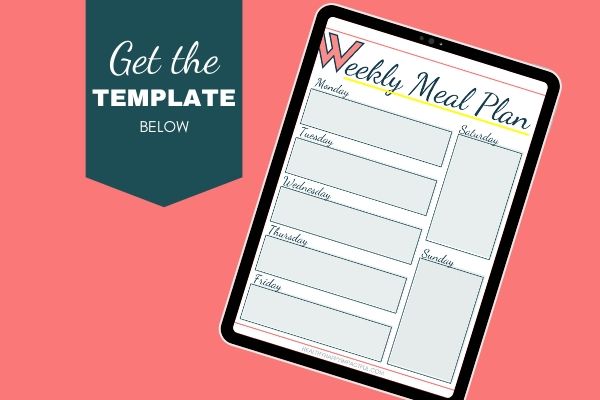 Now, download the Free Printable Weekly Meal Plan Below!
Then, Reuse it!
Put it in a page protector or picture frame so that you can reuse it with a dry erase marker every week. No need to print a ton of copies!
Now, how else can we make meals a painless process?
Tips for Making A Weekly Meal Plan Easy
Honestly, meal planning does NOT need to be a ton of work! If you have a template, just follow the plan. Here are some other tips to make things easy.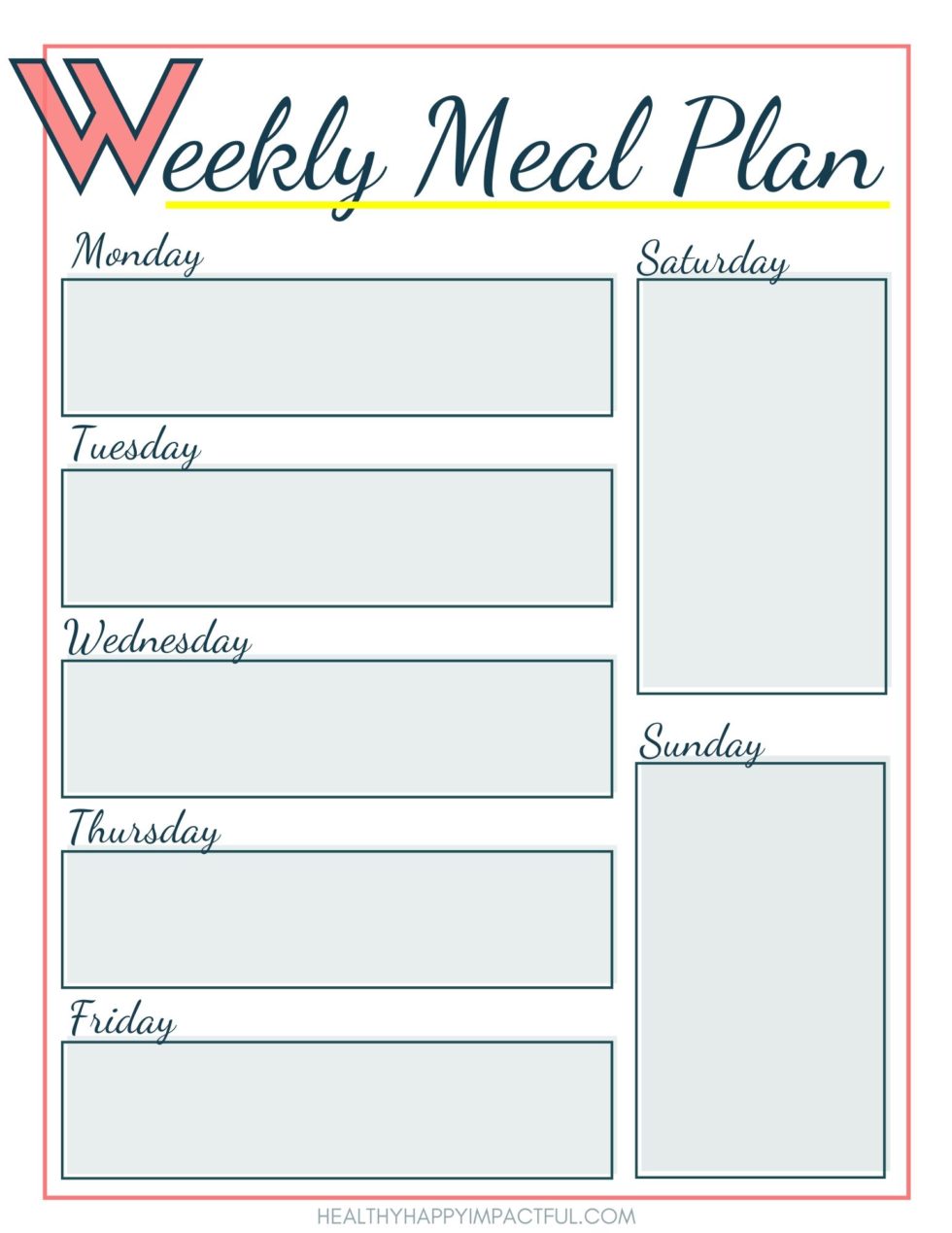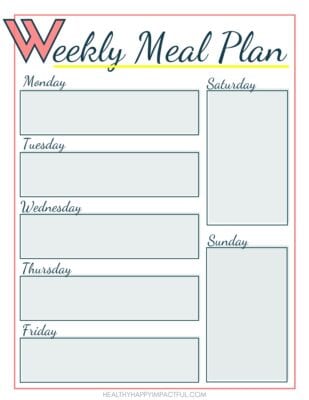 Double and Freeze
In the save time/money meal plan example, there's one day for making a freezer meal dinner and one day for using one up. Doubling a dish you're already making is a lot less work than starting from scratch. Plus, you're still only cleaning up ONE set of pans.
As a result, you have one day every week you don't have to cook. This alone is a mom lifesaver.
Choose Recipes That Make a Lot
When making dinner, always pick recipes that will make a lot of food. Either you can repurpose the food for leftover night, or it will give you something easy for lunches during the week. Again, get more from less work.
Pick Recipes With Ingredients You Know You Have
Raise your hand if you've run out to buy some crazy ingredient. I know I have.
Then, after, it sits in the pantry or fridge for months before being thrown out. What a waste!
Instead, choose ingredients you know you can use with several if not tons of recipes in your weekly meal plan. Often, I notice that if I skip an ingredient or do a substitution, my family doesn't know the difference.
Save Time With the Right Appliances
Invest in kitchen utensils that SAVE TIME. A crockpot or Instant Pot once a week ensure that at least one meal will be easy. Likewise, a George Foreman grill makes grilling a cinch when you're short on time.
Meal Prep One Thing on Sunday
Finally, consider prepping just one meal or ingredient for the week ahead. Cut vegetables, grill extra meat, or make a marinade to make those busy weeknights that much easier.
Related Post: A Sunday Checklist for a Productive Week
Two Common Meal Planning Mistakes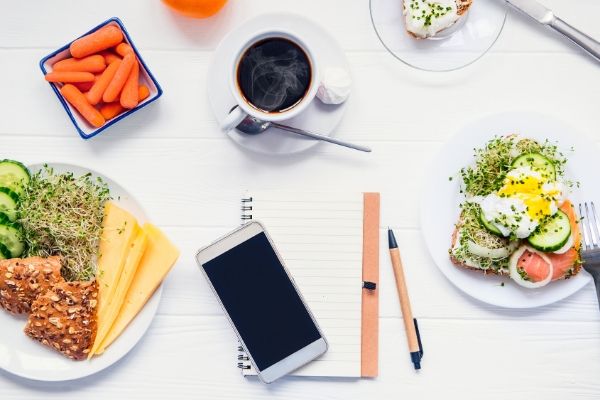 Next, avoid these two regular mistakes we ALL make from time to time. It will save a lot of frustration!
1. You Don't Consider Your Schedule
You have the perfect plan. But, then you realize that your kids have activities four nights of the week and you won't be home for one. If you don't consider your schedule for the week ahead of time, you're destined to fail.
So, ALWAYS take into account what's going on with your family first.
2. You Don't Give Yourself a Cooking Break
Yes, takeout and pizza from the freezer are not the healthiest options. BUT, every mama needs a break during the week. So, be sure to give yourself one or two nights off. Your sanity will thank you.
Here are some wholesome options to replace your full on cooking nights:
Healthy(ish) takeout (from places like Panera, Zoes, Chipotle) – preferably something not fried
Store-bought rotisserie chicken
Leftover night
Breakfast for dinner
Sandwiches
"Everyone on their own night"
Healthy(ish) snacks – popcorn, fruit, veggies and hummus, cheese and crackers
Healthy(ish) freezer meals (homemade or from the grocery store freezer aisle)
Baked potato bar (cook them in the instant pot and you're done)
Bean burritos or tostadas (versatile and super easy)
Plain spaghetti (use frozen zucchini noodles or gluten-free noodles if needed)
Pizzas on pita pockets or English muffins
My Meal Plan Right Now
Here's our summer meal plan for a family of five. You may notice a few things…
First, my husband is intolerant to dairy and most grains, so many pasta dishes are out. Plus, we have to get creative on most traditional dishes.
Two, it's not theme oriented. Instead, it allows for a lot of variety because we have an abundance of summer produce this time of year.
Third, it includes freezer meals because I want meals to be as EASY as possible.
Monday: Meatless Monday (we've been trying recipes from this great cookbook lately)
Tuesday: Make and double a meal to freeze (shepherds pie, pot pie, pizza crusts, crockpot meals, fajitas, meatballs, soup, etc.) – This day has a lot of leeway depending on what we HAVE a lot of.
Wednesday: Use a freezer meal
Thursday: Stirfry or omelet (we're obsessed with omelets and goat cheese lately – they are a great way to use up summer veggies!)
Friday: Date night (takeout)
Saturday: Fish or protein with vegetable/potato sides
Sunday: Pizza or snacky dinner for family night
As mentioned in the tips above, the days get moved around based on our schedule. For example, if we're busy on a Tuesday night, I'll swap with Wednesday night instead.
And of course, life is messy, so the plan often doesn't go perfectly.
So, use the ideas, and make a plan, but also be flexible when it counts!
Good luck meal planners! Do you use a meal plan template? And what are your favorite dinner plans?
Before You Go…
Want more organization ideas?
Sign up below for the free Back to School Organization Calendar!
Easy steps to get organized this August! Click the image below or SIGN UP HERE.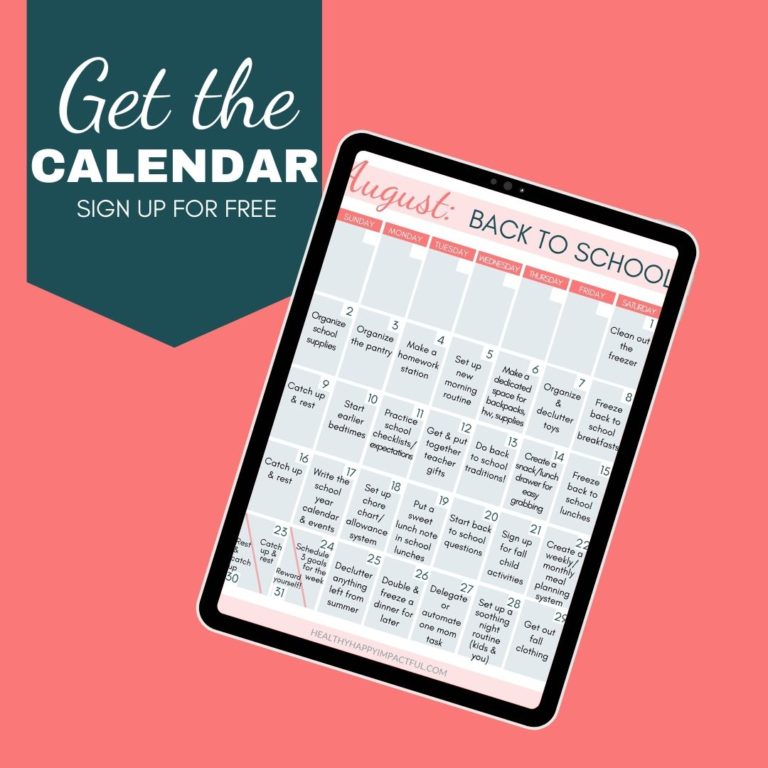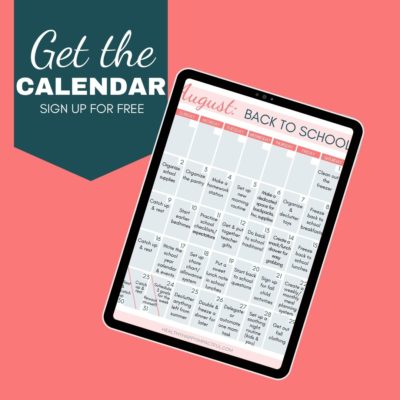 Examples include:
Make-ahead healthy breakfasts (also an upcoming post!)
Create a homework spot
Start earlier bedtime with the kids
Get together teacher gifts
Create a morning routine
& 26 other easy organizational tasks for a smooth transition!
We'll be organized instead of forgetful! Make this year the best back to school yet FOR EVERYONE!
Other free printables you may enjoy…


Free Printable Weekly Meal Planner