I asked, and readers responded unanimously! We NEED more healthy weeknight crockpot meals to feed our families and help us get on with our days. Because slaving in the kitchen just isn't an option!
Furthermore, we're all looking to stay warm when the weather turns. The crockpot is the easiest way to do so!
Weeknight Crockpot Meals
So, I gotcha ladies. These 12 meals are easy, healthy, AND delicious. Everything we're looking for. And, perfect for the upcoming rush of the holidays or the cold days ahead. I'll be trying them out in my own home.
1. Slow Cooker Pot Roast
The first and BEST of the weeknight crockpot meals? It HAS to be pot roast. Because I swear the crockpot was invented for this dish. The recipe here looks so flavorful and tender, don't you think?!
2. Crockpot Chicken Fajitas
This fajita mixture has lots of veggies and uses all clean ingredients which makes it a super nutritious dinner option. What a super easy Mexican food night.
3. Healthy Crockpot Potato Soup With Chicken
Potato soup is always a favorite with my kids, and I like that this recipe adds carrots and celery in the mix. It's also one of the FEW potato soups I've seen where the base is dairy-free!
4. Crock Pot Chicken And Rice
I love this recipe because I have a hard time thinking of more than just soups for my crockpot. This dish looks like the perfect answer to a little slow cooker variety. Plus, cooking rice with the rest of your food is a lot less clean up!
5. Slow Cooker Garlic Parmesan Chicken & Potatoes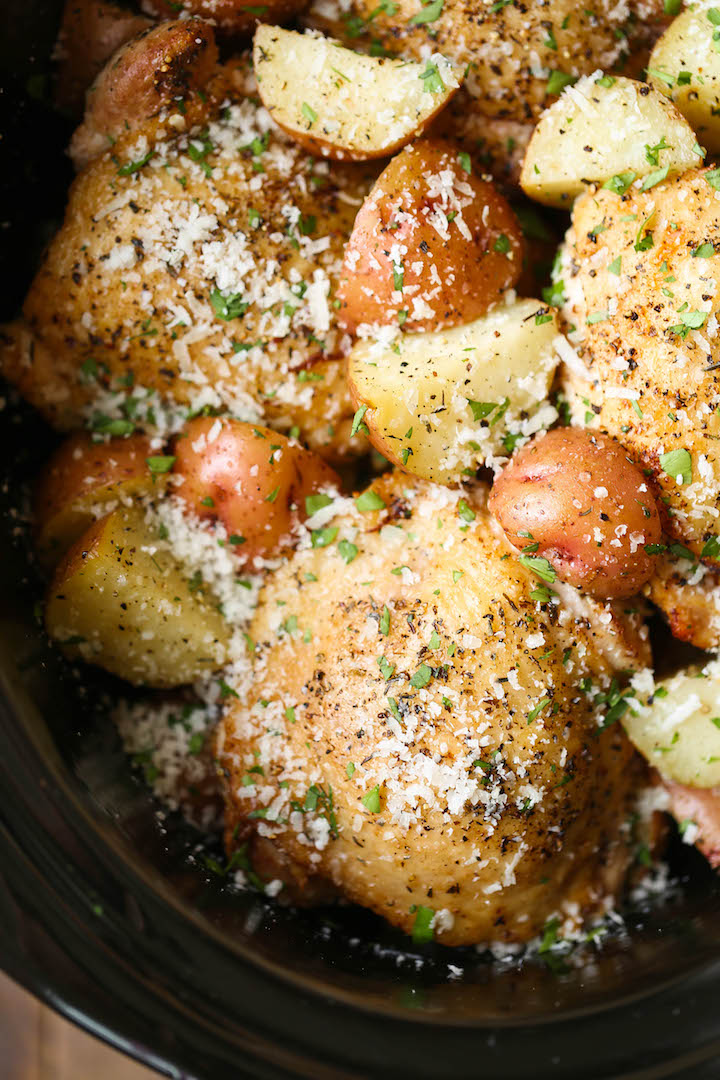 This budget-friendly dish uses chicken thighs as the protein and adds a little pizzazz with all that parmesan. Yum!
6. Crockpot Stuffed Peppers
Stuffed peppers are always a fun and healthy way to dress your dinner up. But my favorite thing about it? It's a great recipe to use up what you have in your fridge! The filling can be extremely versatile.
7. Healthy BBQ Chicken Quinoa Casserole
Quinoa is such a great superfood grain, but often it's hard to know how to cook it or what to put it in. This recipe puts a fun barbecue spin on it that's sure to please everyone!
8. Crock-Pot Sweet Potato Stew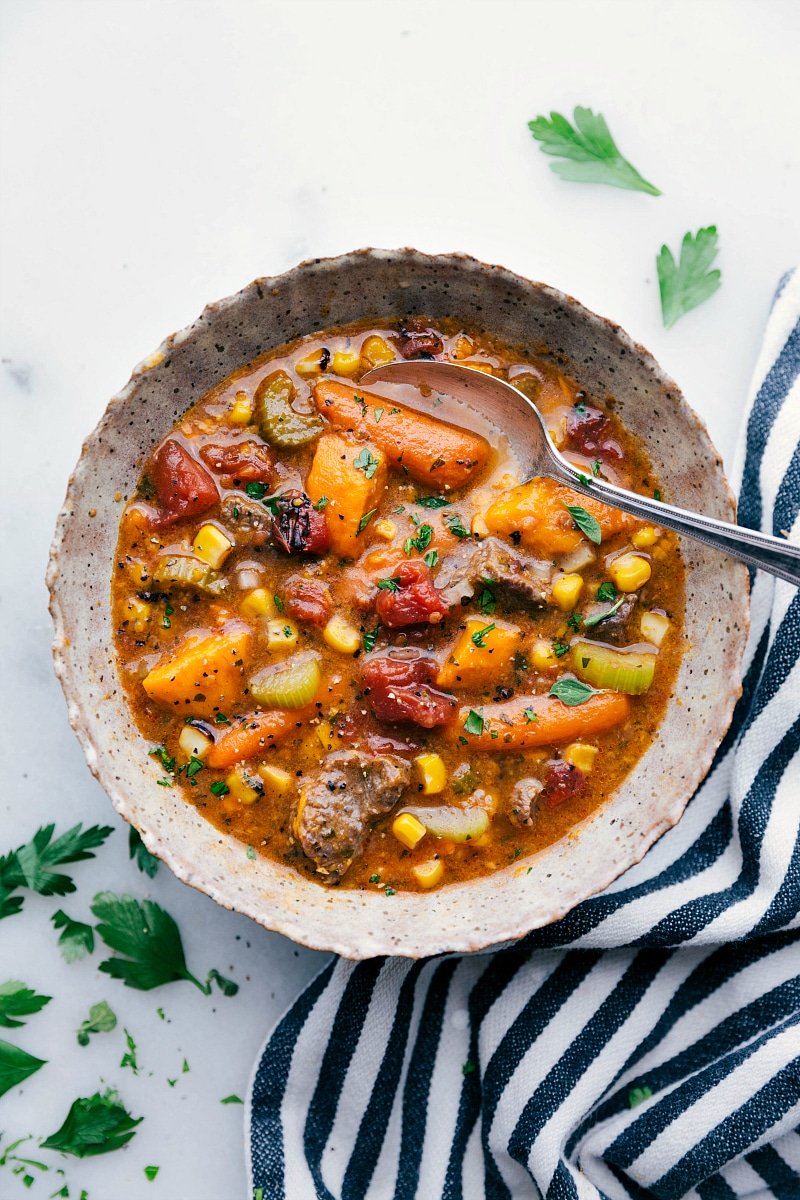 This stew has LOTS of veggies for one of the healthiest stews I've seen. I also love that there's an instant pot variation! That means it's perfect if you forget to get it together early enough.
9. Crock Pot Teriyaki Chicken
If you love Chinese takeout, this is a must-try recipe! Throw it in the crockpot and enjoy a cheaper and healthier meal. Forget about that restaurant menu!
10. Slow Cooker White Chicken Chili
In the colder months, chili is a big staple in our home, and I love the white chicken varieties. This one is BURSTING with flavor.
If you're a chili lover check out this related article for another great chili recipe: 21 of the Best Healthy Recipes For Fall
11. Slow Cooker Buffalo Chicken
We're suckers for sweet potatoes at our house. It's like the guilt-free carb. And this recipe looks like it's good enough to serve a crowd or have for a tailgate!
12. Slow Cooker Butter Chicken
Finally, this Indian recipe gets all of its great flavors from a variety of spices. It's gluten-free and paleo. And it would be delicious on a bed of regular or cauliflower rice.
Something To Think About
There you have it! 12 absolutely divine recipes to try out in the next few months. They'll fill you up with the vitamins you need while keeping you cozy on those brisk nights.
And like any good crockpot recipe, you'll set it and forget it… to come back hours later to a fantastic smelling house and a flavorful meal.
What do you think are the best weeknight crockpot meals? I'd love to know!
You May Also Enjoy…