15 Healthy Instant Pot Dump and Go Recipes For Weeknights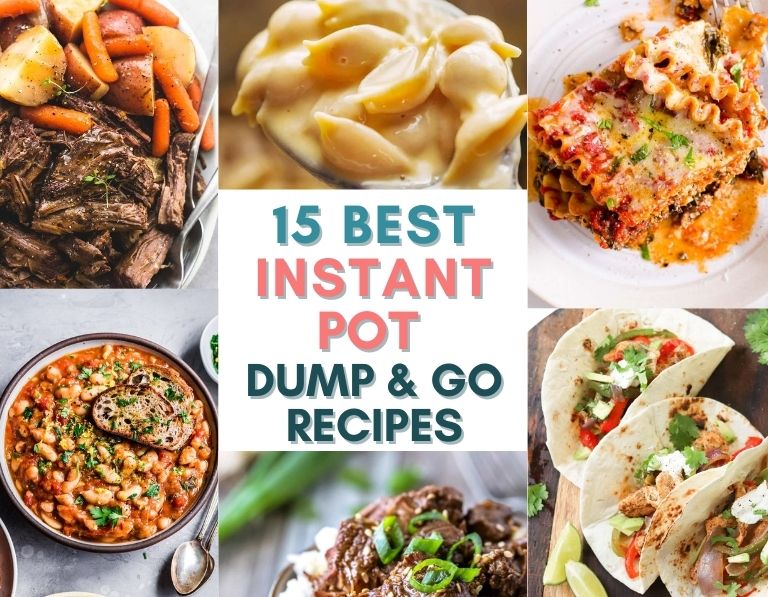 What are dump and go instant pot recipes?
These meals are exactly what they sound like! Aside from chopping a few vegetables, you dump everything you need straight into the instant pot to cook. The concept is a lifesaver to moms everywhere!
It's the easiest, simplest dinner solution. And it's a game changer.
Note: A few recipes have a quick saute option. This step can add flavor, but you can also skip it to make it a true "dump and go" instant pot recipe.
Dump and Go Instant Pot Soups & Stews
First, in my home I've gone to making almost all of our soups in the instant pot.
You can not beat the efficiency and flavor. It's as though the soup has been simmering for hours, even though it has only been a few minutes!
Use pre-cut or frozen cut vegetables to make these meals even faster!
Instant Pot Dump and Start Chicken Recipes
Chicken goes with everything friends!
One Pot Pasta Dinners For the Pressure Cooker
*Note: this recipe does require you brown the meat first, so it isn't completely a dump and go instant pot recipe. However, it's the easiest lasagna I've EVER seen, so I had to include it!
Instant Pot Dump and Go Beef Recipes
The instant pot is the best tool for turning your cheaper cuts of beef into juicy, tender deliciousness.
To Consider With Dump and Start Instant Pot Recipes
I hope you got some great ideas for your next weeknight meal from this list of dump and go instant pot meals!
What's your favorite? And do you have other recipes you've tried and loved? Share them in the comments!
More Great Healthy Dinner Ideas