115 Easy Rewards for Kids (Motivation That WORKS Without Candy!)
Our rewards for kids got an upgrade recently!
And it began with my 9-year old son's non-aggression problem.
I know, it sounds like a made-up problem (it probably is). But when he stepped out onto the basketball court, it was PAINFUL to watch.
GAMES went by without him touching the ball. And he routinely let kids go past him.
Honestly, we doubted our decision to do basketball. "Maybe team sports aren't for him," we thought.
But then, I decided to try rewards for kids. I told him if he touched the ball five times during a game he could choose a coupon.
Can you guess what happened next?
He touched it six times IN THE FIRST HALF.
Not only was I shocked at how effective this reward system was, but we noticed that his confidence skyrocketed.
This post contains affiliate links, and I may earn a commission if you purchase, at no cost to you. See my disclaimer for more info.
Save this post for later – pin it to Pinterest!
How should I reward my child?
Now, this scenario with our son worked because we chose a goal that was within reach, and we let him pick a reward that matched his interests.
Remember, smaller goals and rewards work better, and then raise the bar as you go. (The next basketball game was six touches, and so on.)
When to Use Kids Rewards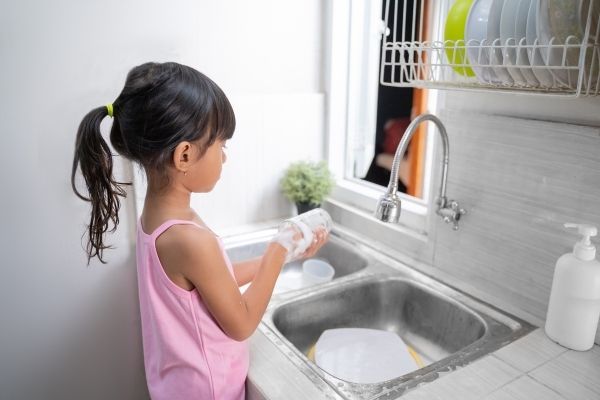 Rewards for children are amazing! They can be used to motivate your child towards any number of skills & habits. Plus, consistent rewards eliminate the need for punishment later, and remove a lot of stress.
I mean, couldn't we ALL use less stress?
So, use kids reward ideas for any of the following:
As rewards for good behavior: give positive reinforcement for helping a sibling, being kind, participating in a sport, etc.
To reinforce good kid habits (putting away their plates, making their beds, using manners at the table, reading, etc.)
To show that you appreciate how hard they are working at home or school. (Focus on the effort more than the result).
As rewards for chores and getting kids to help around the house.
To encourage them to support a goal the family is trying to achieve (healthier eating, being on time, etc.)
Now, pick from the ideas below and get started! Put these incentives in a jar or use free kids coupons like I did! Either way, you'll love it!
Big List of Good Rewards for Kids
Rewards for kids don't have to cost money, involve candy, or be complicated!
Fun Experience Incentives
These kids reward ideas either let your children do more of something they love or enable them to experience a new thing!
Bonus: many of these are free reward ideas!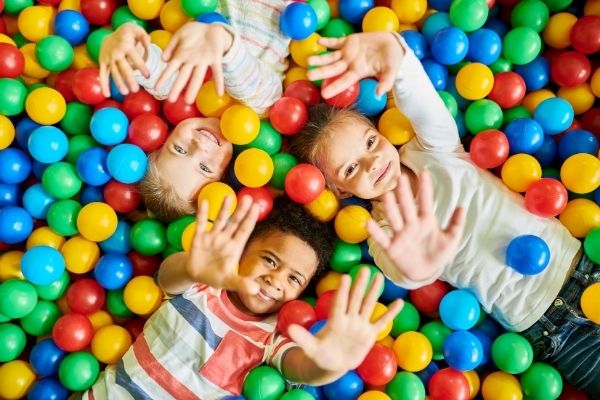 Read aloud from a favorite book.
30 minutes of extra screen time.
Take a day off of chores.
Watch a movie or tv show (child picks!)
Have a sleepover with a friend or two.
Have a playdate with a friend.
Give 30 minutes for the child to take pictures of anything.
Paint your nails. Or have a spa day.
Visit grandparents or cousins.
Earn extra responsibility: walking home from school on their own, staying home alone, etc.
Get out of school a few minutes early for a special outing of choice.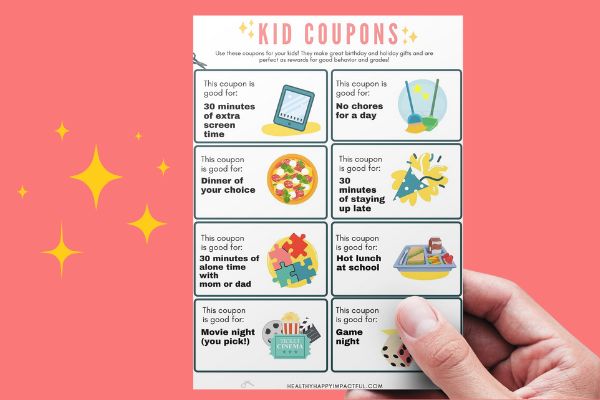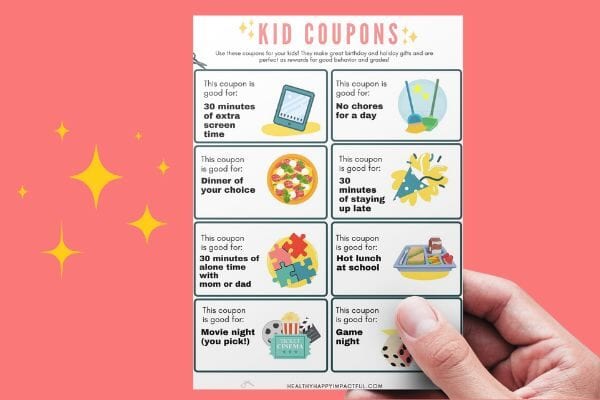 *Get the cool free kids coupons below for a way to pick experiences, or do your own with these free printable blank ones!
Pick a playground or make a trip to the park.
Being "in charge" for a day (picking music, tv, etc.)
Have a water fight. Or tickle fight.
Get a professional haircut.
Take a trip to a pet store (if you can handle them wanting five pets after!)
Paint his/her room a (reasonable) color of choice
Related Post: Best Experience Gifts for Families
Cool Item Rewards for Kids
These items make great rewards for toddlers or 12 year olds and will motivate even your toughest kids!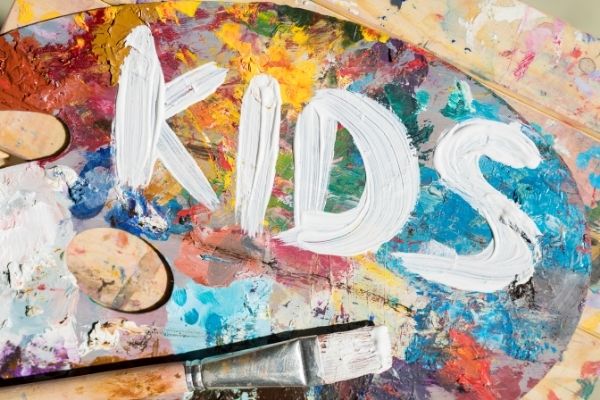 Something for their bedroom – a decoration, themed sheets, cool pillows, etc. This works well for older kids!
The child picks something out at the store
Download a new app or online game
Bubbles (great for toddlers)
An article of clothing or shoes
Special sports equipment for a sport they love
A pet. This can be a goldfish!
A gift card to the bookstore
A gift card to their favorite restaurant
Related Post: Gifts Kids Love That Are Not Toys
Food Reward Ideas for Kids
Now, I struggle as a grownup with associating food with reward and comfort. If you do too, see great non-food adult rewards.
For that reason, I prefer to use the other types of kids rewards more often.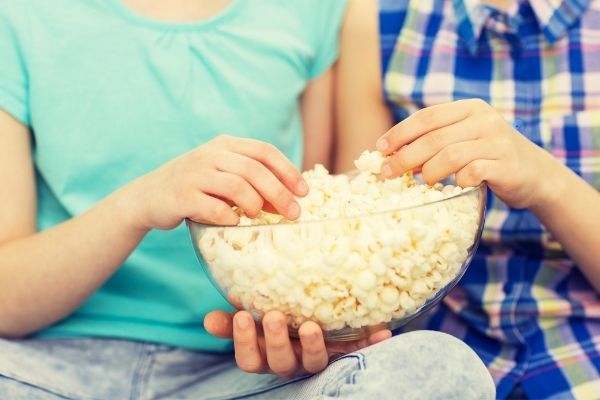 However, there are some fun food ones for this!
Bake a treat together (the child picks).
Drink hot chocolate (or another fun drink of choice).
Gum (We've used this on virtual learning days as motivation.)
Get an extra hot lunch at school. (My kids have a set number of hot lunches that they get per week, so they covet these.)
Have the parent pick up a grocery item of the child's choice.
Make a new healthy recipe together that your child picks.
Family Rewards for Kids
These incentives are a motivating way to encourage everyone to work together towards a family goal.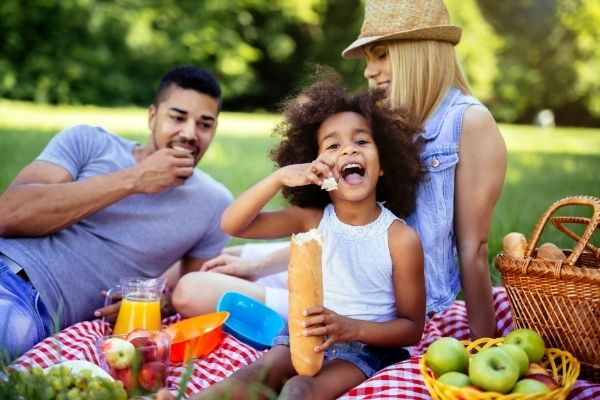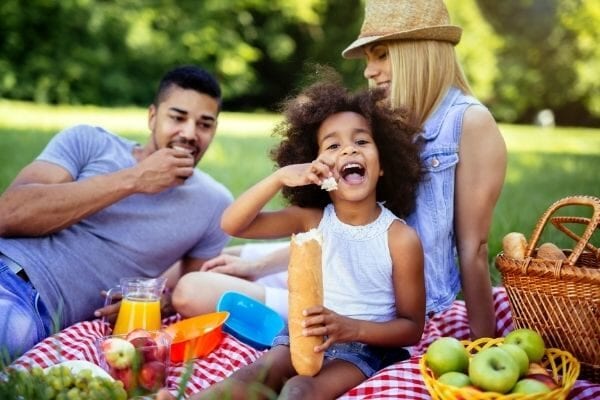 A family visit to the movie theater
Camp out in the backyard or at a park
Family bike ride and picnic
Full vacation or weekend getaway
Membership to a nearby zoo, aquarium, etc.
Visit a trampoline park for a day
Go to an amusement or water park
Go out to a baseball game (or soccer, tennis, etc.)
Go out to dinner at your favorite family restaurant.
Attend a concert as a family
Try indoor rock climbing together
Go skating or rollerblading
Related Posts:
*Here are the rewards that work best at our home. Then, keep reading for reward ideas for teens!
Teenage Reward Ideas
With teens, rewards based on freedom and choice are EXCELLENT options!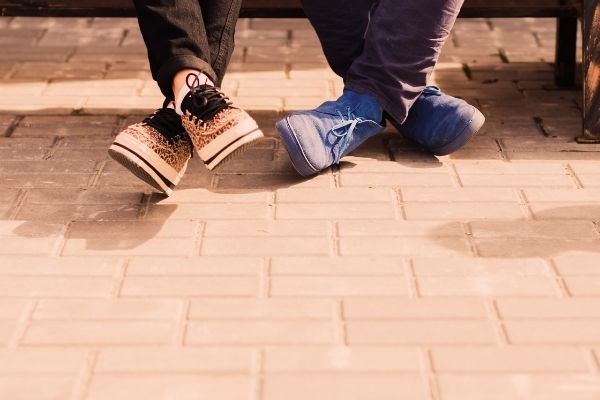 More freedom to drive on their own
A gas gift card or a gift card to somewhere they can hangout with friends
Being able to eat in their bedroom
Picking the music for a week (in the car, Alexa, etc.)
A fun item for their bedroom
Put extra money in their college fund (or something else they're saving up for)
Take them to a nail salon
Spend a day with them doing whatever they want to do
Pay for a subscription they would benefit from (Audible, Kindle, etc.)
Taking them to a show or sporting event they are interested in
Give them more freedom to choose activities outside of school
Daily Praise & Incentives
Finally, what about everyday things? Yes, it's fun to use bigger rewards, but sometimes kids just need a little day-to-day love to help them do their best.
Dr. Jamie Donnelly, experienced school psychologist says, "Rewarding doesn't always have to be tangible; it can be verbal praise or a high five. As they are learning and developing, they need to know they are doing the right thing."
Help them be proud of themselves with these:
Love notes to stick in their backpacks, lunch boxes, etc.
Saying "good job on ________. " (A recognition of hard work)
*Do you have a goal, but still aren't sure about a reward? Leave a comment below, and I'll help brainstorm!
How do you create a reward system for kids?
Now, do you have something you want to keep track of for a reward? For my son, I just kept tallies in a notebook, but if it's an ongoing reward, why not try a chart?
Check out these cool kids reward systems for different goals!
Fun Etsy Reward Chart for Young Kids
*Best Reward System for Toddlers
This fun reward chart comes in 3 different colors! It's perfect for potty training, reading goals, and any new habit you're trying to build. Have kids color in the circles, write an X, or add stickers.
Your kids will have a GREAT visual as they work towards their goal.
Check out the low-cost reward chart HERE >>
Free Weekly Chore Chart & Routine Checklist
*How we get our kids to do chores & good kids habits!
First, we use this free weekly chore chart so that the kids know exactly what their chores are Monday through Friday.
Then, we utilize their routine checklists to track their chores and daily habits. It saves us at least thirty minutes a day of nagging the kids, and cuts down on a million daily decisions. We LOVE it!
See more about the free morning chart for kids here, and check out the entire routine & rewards pack for customizable templates and everything in one spot>>
Related Posts:
Free Reading Charts
If reading is one of their goals try these monthly charts from Saving Talents to help them keep track of their books!
Chore Chart for Younger Kids
Next, this beach chore chart is such a fun idea for summer! (There's also an ocean theme chart through the link!) Use it for chores, or just about any goal or habit!
Other Fun Child Reward System Ideas
This chart from Amazon doubles as a reward chart AND can be used as a chore chart!
These editable reward charts from Etsy are BEAUTIFUL and so creative! This one is space themed, but there are so many other designs to choose from LittlePrintsParties.
The Reward Jar
This jar is an adorable option to keep track of a goal! All kids benefit from seeing their progress in a visual way!
To Consider With Rewards for Kids
There are all sorts of great rewards and charts to explore in this post! I hope you found some useful ones!
How are you going to use rewards for kids in your home?
Other family posts you'll enjoy…
Reward Ideas for Kids That Are Not Candy