8 Free Printable Coupons for Kids (Makes a Great Gift!)
Printable kids coupons make an AMAZING gift or reward for kids.
They don't add lots of junk food to the home, or low-quality plastic toys, and the kids get just as excited for them!
Instead, the coupon focuses on quality time together. The activities encourage bonding and allow you to get in family time when the rest of life gets crazy. Plus, it's FREE!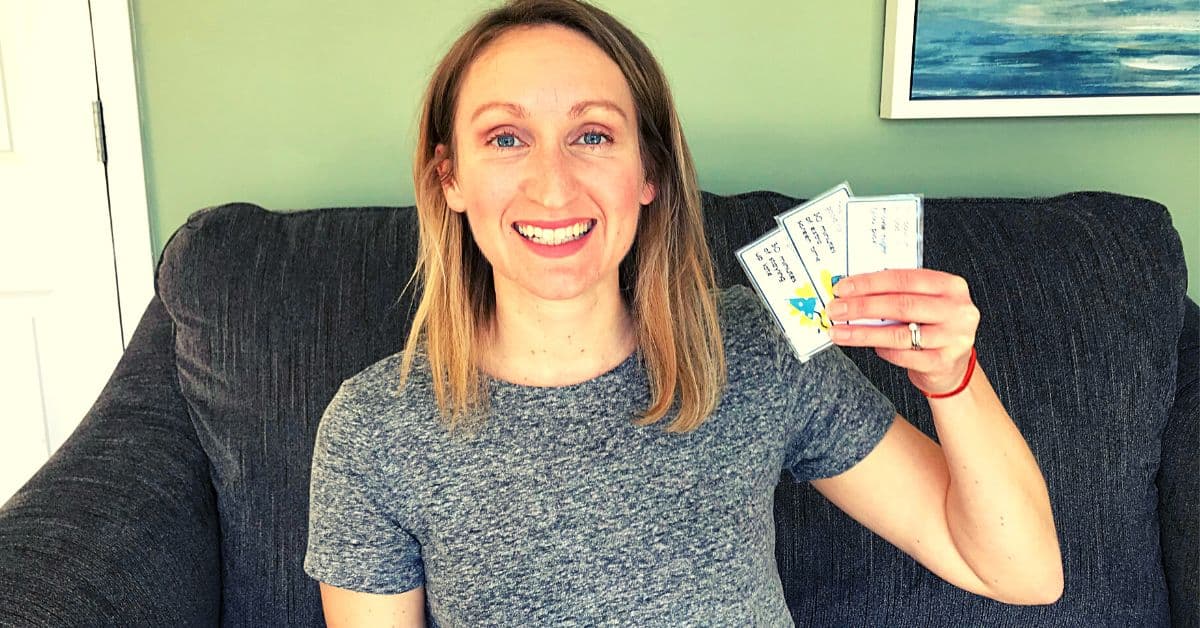 As my kids pointed out recently, they can barely read my scribbled coupons.
So, today, we've got a set of coupons that work perfectly for children! And cut down on the work of making your own!
This post contains affiliate links, and I may earn a commission at no cost to you. See my disclaimer for more.
When to Use a Printable Coupon for Kids
These printable kids coupons work beautifully as a birthday tradition in our home. And they are amazing tools for positive reinforcement.
But, there are SO many different ways to use these! Here are just a few:
Rewarding Good Behavior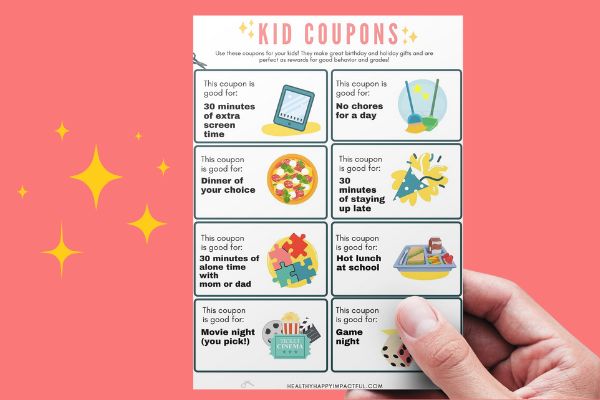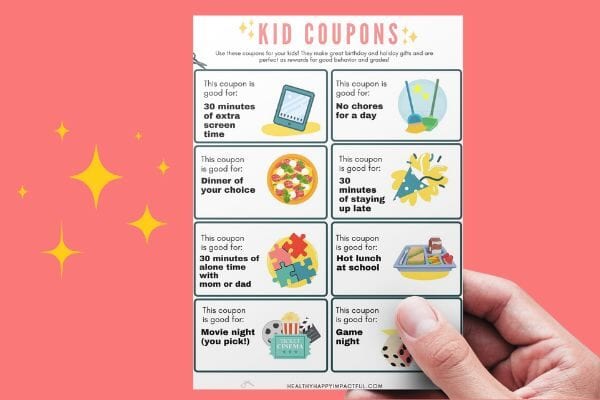 Did your child do something that you are proud of? Perhaps he was nice to a friend. Or she stood up for what's right. One of these coupons makes a great little "prize" when you need one.
Rewarding Good Grades (or Test Scores)
When your kiddo gets straight As (or Bs) or does well on a test because they worked their buns off, a coupon is a fun little treat.
Finishing Their Routine Checklists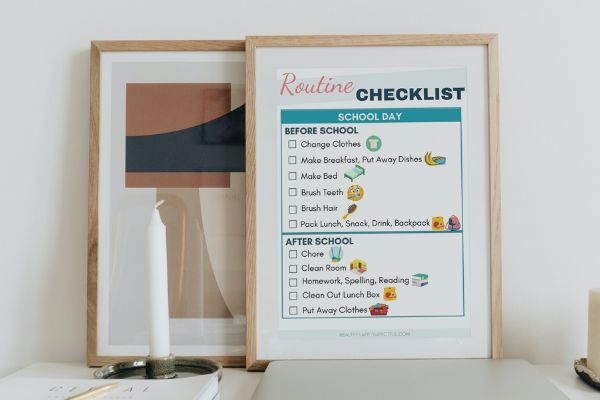 In our home, the kids complete their routines every day to get their electronics on the weekends. But adding a coupon reward to this is another great idea.
The routine checklist is a built-in system that makes sure they are taking responsibility for themselves and helping around the house.
Check out the kids routine chart here >>
Outside of School Activities
I originally made the kids coupons because I was desperate to get my son more into basketball. At the time, he constantly avoided the ball and physical contact. So, we made a deal that if he touched the ball 5 times during a game he could choose a coupon.
We tweaked it (and made it harder) as time went on, but I was impressed by how well this worked.
Gifts for Holidays
We love them for:
*Read this big list of non-toy gift ideas if you're looking for more ways to encourage experiences over stuff!
What's on the Kids Coupons + Extra Ideas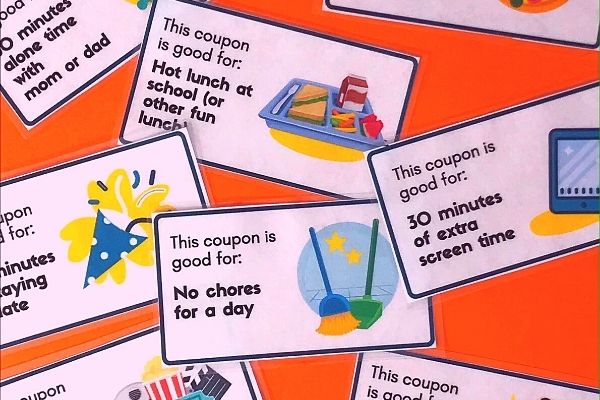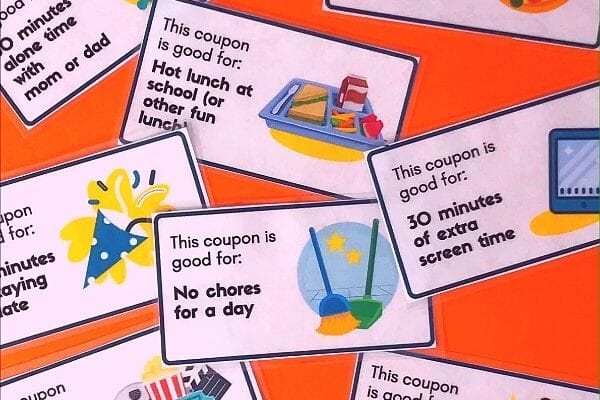 30 minutes of extra screen time
30 minutes of alone time with mom or dad
30 minutes of staying up late
Special breakfast of your choice
Park day or outdoor adventure
Science experiment at home
New art supplies (or book, craft supplies, etc)
Friend or cousin sleepover
Creative Ways to Use the Coupons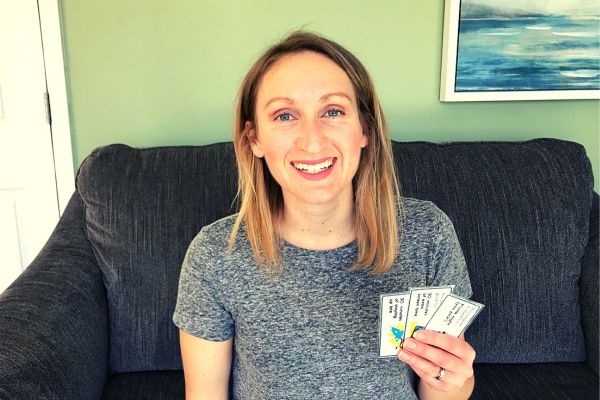 A Kids Coupon Book
Now, if you want to make multiple coupons into one gift, then staple them together or use washi tape for a super cute kids coupon book!
Put The Kids Coupons Into a Jar
This is a great family idea for positive reinforcement. Kids can draw from the jar after such things as good grades, doing extra chores (try a chore list) without being asked, or being helpful with a sibling.
Put Them on a Key Ring
You can also hole punch each coupon and stick it on a book ring if you'd like for them to be together but separate. This idea works really well for holiday gifts.
Make Them Re-Usable
Now, every family will have their favorites, so if you have some you'd like to keep using, laminate them or print them on durable cardstock to make them last.
Watch the Short Video
Get the Free Printable Coupons for Kids
Plus, see this reward ideas list for kids for more ways to encourage them!
Instructions for the Printable Kids Coupons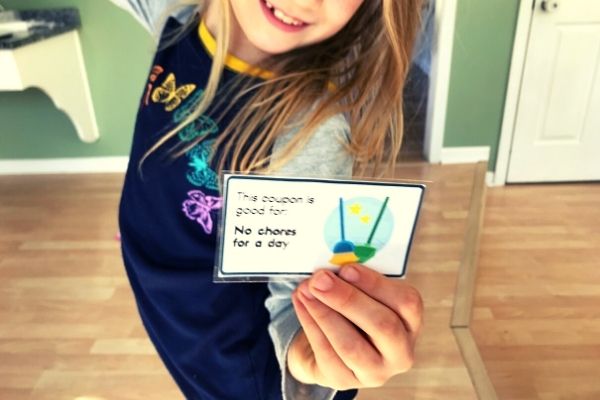 1. Grab access and download them straight from your email or the resource library!
2. Print them
3. Cut the coupons you want to use, in whatever creative way you'd like to use them!
4. Be clear with your kids about the expectations.
Answer these questions ahead of time:
How can they earn each coupon? Perhaps you feel some coupons are worth more than others. Kids of different ages will also prefer different coupons. Which will they choose from?
Will you need to supervise?
What is the expiration date for the kids coupons? My kids tend to hoard them and forget. So, it works best to set a deadline and give a sense of urgency.
Can they combine coupons at the same time?
5. Watch their eyes light up when they get one.
What if you want to make your own coupons?
(Sign up once and you will find ALL of the coupons and notes in the library!)
Blank Coupons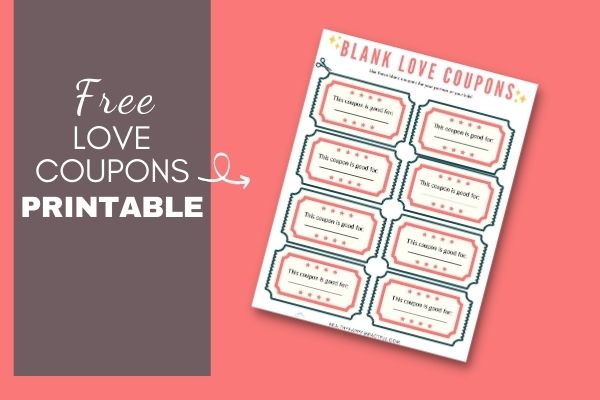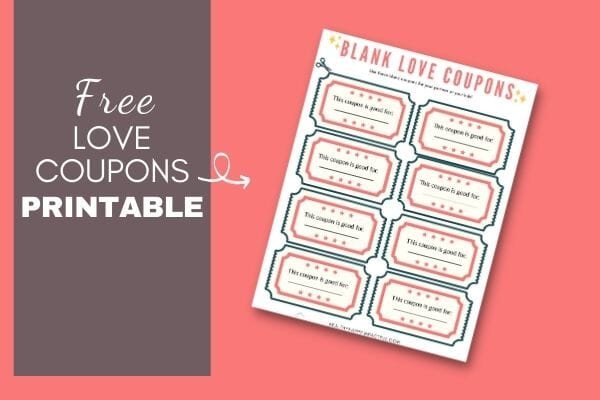 Check out these love coupons to create your OWN free printable coupon for kids! You'll also find TONS of coupon activity ideas that work for kids or adults.
Love Notes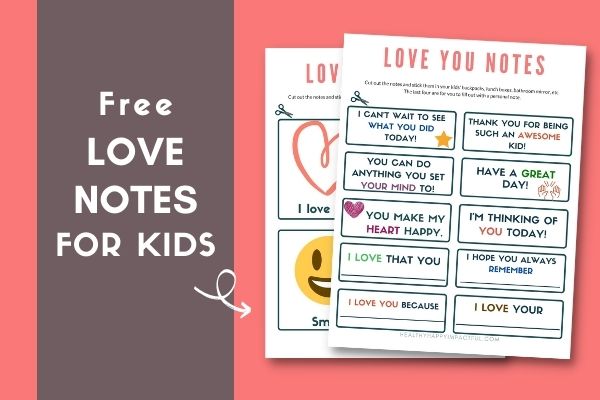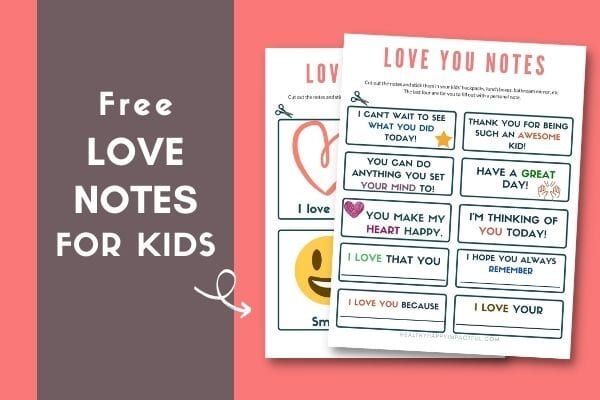 And don't forget these fun love notes to stick in your kids' lunchboxes or backpacks! It's an easy way to give a little dose of love.
Free Experience Gift Certificate
This little cutie prints right off the post. Grab it on the experience gifts for kids article and promote even more quality family time without breaking the bank.
I love making freebies for Healthy Happy Impactful!
You may also like:
Deluxe Kids Routine & Reward Pack
And finally, I offer an affordable Routine and Rewards Pack for a ready-made solution to increasing the responsibility and teamwork in your home.
It's my MOST popular product! It features: 4 different routine charts, 32 kids coupons, chore and reward ideas, reward charts, and more. You'll love seeing your kids do things without you having to ask!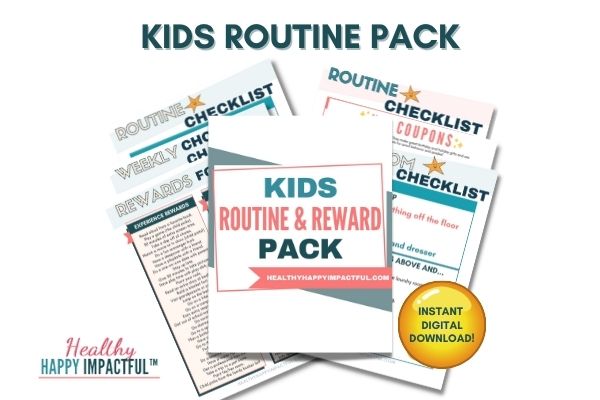 To Consider With These Free Coupons for Kids
I hope your family loves these coupons as much as we do! We love how it inspires our kids of all ages. And if you're not sure of how to use them leave a comment below and I'll help you brainstorm!
Other family posts from Healthy Happy Impactful…
The Awesome Printable Coupon for Kids (Get 8!)