135 Best Experience Gifts for Kids + What to Wrap & Free Printable
Books, toys, and random trinkets litter your floors. Does it make gift-giving difficult? Or stress you out?
On the one hand, you want to see your kids' faces light up. On the other, you'd like to stop drowning in stuff.
We have the solution! Use this experience gifts for kids list to make unforgettable memories.
What are experience gifts for kids?
And how are they different? For starters, unlike junky plastic toys, they have lots of benefits.
Experience gifts give kids…
Novel Experiences
They help kids branch out and try new things. It's possible they'll find a new passion through one of these gifts.
Strengthen Family Relationships
Many experience gifts for kids are done as a family. This builds connection and love within your tribe.
Give Kids A Boost
By learning a new skill or subject, their confidence and self-esteem increase.
Make Your Family Happier
In a recent study done by the University of Texas, researchers found that consumers are happier when they spend money are experiences versus material goods (Science Daily).
This post contains affiliate links, and we may earn a commission at no cost to you. See our disclaimer for more.
But Do Kids Appreciate Experience Gifts?
Yes! You might need to get creative with wrapping (keep reading!) but my kids beg for the experience gifts over toys once they know what to expect.
How Can I Give Experiences Instead of Gifts?
Now, this is wonderful news! BUT I have noticed a problem when using kids experience gifts in my home. I still want my kids to have fun opening a gift.
Unwrapping a piece of paper is not exciting.
That's why I include ideas for what to wrap as well. Choose items you already have at home, or make a small purchase. Either way, you will have a blast in the moment of gift-giving AND building memories later too!
What Are Great Experience Gifts For Kids?
Best (Free) Experience Gifts for Toddlers & Elementary Kids
When kids are young, it's not always worth it to spend big money on your gift experiences. Start with one of these crowd-pleasers first.
1. Park & Picnic
Wrap: a fun lunch spread & drinks
2. Coupons
Coupons are incredibly versatile. Give them a chore pass, extra screen time, staying up late, a fort day, and more.
3. Frisbee Golf
4. Splash Pad
Wrap: swimsuits, snacks, popsicles
5. Movie Night at Home
6. A Free Local Event
Go to a concert in the park, high school sporting event, or another community outing.
Wrap: a t-shirt with the local team or band on it
7. A Trip to a Faraway Playground
8. A Trip to a New Cool Library
Wrap: their own library card
9. Gift Certificates For Monthly Family Hikes
Wrap: trail map, hiking shoes, backpack, trail mix
Cheap Fun Kids Experience Gifts
These kids experience gifts cost a little bit of money but have incredible value for the price.
1. A Cooking Day With Kids
2. Starting a Garden
3. Craft/Art Day With Friends
4. Trip to Chuck E. Cheese
5. Petting Zoo Passes
Wrap: snacks and money to feed the animals (a wagon is fun if you're willing to splurge on a bigger item)
6. Exploration Experience Day For Children
7. Karaoke Night
8. Dance Party
9. Science Experiment Day
One year, I gifted a box of homemade science experiments to my son. I had all the ingredients and notecards with what to do. It was a HUGE hit.
10. A Monthly Card in the Mail
Kids LOVE real mail. If you can spare the cost of 12 cards and a stamp, you'll make the day of a child by sending them regular cards. Add a crossword puzzle or pictures for extra fun.
Wrap: A note describing the gift and telling them to go look in their mailbox for the first card.

Good Subscriptions For Kids
Subscriptions are kids experience gifts that give year-round. For these, I give you ideas for what to wrap. OR make your life simple and wrap the first box that comes in the subscription.
1. Cooking Box
3. Lovevery
4. STEM Box
We've enjoyed KiwiCrate
5. Baking Box: Experience Kids Gifts
6. Highlights Subscription
Note: Subscriptions can overwhelm you with stuff. I recommend starting with a shorter period and designating a "leftover box" for supplies you can play with again later.
Fun Family Experience Gift Ideas
The following ideas make for great things the family enjoys together.
Memberships Everyone Will Love
These experience gifts for kids give everyone something to look forward to. And they help you get out when you'd otherwise be stuck inside.
1. Aquarium
2. Zoo
Wrap: a stuffed animal, animal book, and animal crackers
3. Science Center
4. Trampoline Park
5. Amusement Park
6. Botanical Garden/Arboretum
7. Outdoor Waterpark
Wrap: a swimsuit, money to spend at the park
8. YMCA or Community Center Membership
9. City Pool Membership
10. Indoor Playground
These playgrounds are helpful in the hot and cold months, and usually come at a discounted membership price.
Wrap: tennis shoes, snacks
Tickets and Gift Cards
1. Baseball Game
Or choose another sporting event like football, soccer, or tennis.
Wrap: a baseball hat or team shirt, ballgame snacks like sunflower seeds
2. Circus
3. Live Shows
(Disney on Ice, Sesame Street Live, Monster Jam)
Wrap: glow wands for show & theme shirt
4. Musical
Wrap: soundtrack or iTunes gift card
5. Concert
Wrap: an outfit to wear the night of the event
6. Comic Con
7. A Museum
We have several kids museums in the area that are hands-on and sensory-based. If they're older, take them to a cool art exhibit.
Wrap: extra tickets for your child to invite a friend, a themed item similar to the museum (blank painting canvas, marble run, etc.)
8. Ballet Tickets
9. Planetarium
10. Factory Tour
Wrap: the item the factory highlights (marbles, chocolate, etc.)
11. An outing to their favorite restaurant
Wrap: a gift card to a restaurant
12. An outing to find their favorite books
Related: Great Interactive Kids Books
13. Children's Theater Tickets
Wrap: tickets, information about the play/musical, themed item from the specific play
14. Tickets to a Magic Show
Adventure Experience Gifts for Kids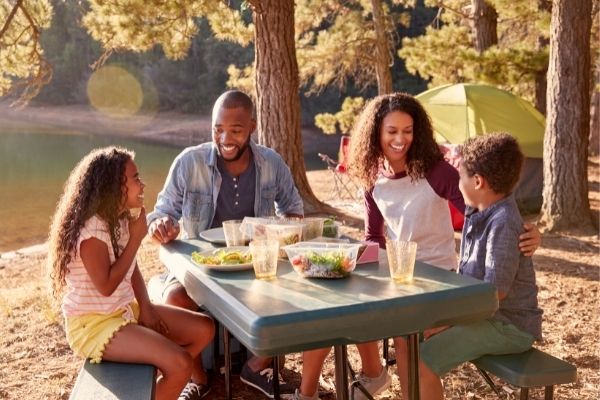 1. Camping
2. Indoor Water Park
3. Night in a Hotel
4. Spa Day
Wrap: slippers, robe, nail polish, face masks
5. Arcade Day
Wrap: tokens/tickets to use, snacks
6. Shopping & Lunch
7. Ice Cream & Movie
Wrap: movie snacks and the movie listings
8. Fishing Tournament
9. Water Adventures
Try kayaking and paddle boating. Or learn to sail together.
10. Hiking Adventure
Wrap: hiking boots, walking stick, a backpack full of snacks/trail mix
Active Kids Experience Gifts
1. Horseback Riding
Wrap: a cowboy hat, riding jeans
2. Indoor Rock Climbing
Wrap: chalk for your hands, activewear clothing
3. Go Kart
4. Mini Golf: Experience Gift Ideas For Kids
5. Daddy/Daughter Night or Mommy/Me Day
Wrap: a fancy outfit for dinner out, bowtie, corsage, etc
6. Build a Treehouse
This is a great active gift if your child helps build it. But even if you do it yourself, it's a fun way to build anticipation.
Wrap: wood, tools, building materials, snacks for a work break
7. Build a Toolbench
8. Skiing
Wrap: ski passes, ski attire
9. Ice Skating
Wrap: hot chocolate packs, gloves
10. Roller Skating
11. Bowling
Wrap: money for snacks, custom bowling shoes, bowling ball
12. Batting cages
13. Surfing lessons
Wrap: a surfboard, a wet suit
More Active Gifts to Wrap That Encourage Experiences
These are active gifts you wrap and double as meaningful kids experiences. They are ways to encourage your child to go outside.
1. Outdoor Obstacle Course Set
See an obstacle course here >>
2. Kites
3. Bikes
4. Rope Climbing (or Jump Rope)
5. Basketball Hoop
6. Trampoline
7. Hammock
See a freestanding hammock here >>
8. Outdoor Play Equipment
This includes swings, slides, water tables, etc.
9. Pogo Stick
*Related Post: Best Gifts For Outdoorsy Kids
Unique Family Ideas & Adventures
Next, these family experience gifts get creative.
1. Paying to Stream Disney or Netflix
Wrap: A list of movies/shows they'd love to watch, snacks, and drinks
2. Game Night Gift Basket
3. Helicopter Ride
4. Boat Ride
Wrap: A boating hat, sunscreen
5. Train Ride
6. Fruit Picking
Wrap: insect repellent, gloves, wet wipes
7. Movie Night Kit:
Wrap: favorite classic movies or a list of movies to stream, snacks, drinks, a blanket
8. Outdoor Movie Night:
More Great Family Fun:
Experience Gifts for Tweens and Teens: Fun Classes
1. Drawing Class
2. Painting Class
3. Gymnastics
4. Martial Arts
5. Cooking Class
Wrap: an apron and kitchen utensils
6. Swimming
Wrap: goggles, swimsuit, swim towel
7. Jewelry Making
8. Rosetta Stone Classes
Wrap: Spanish crosswords, Italian dictionary, Rick Steves Germany book, etc.
9. Music Lessons
Wrap: a guitar pick, music sheets, instrument case
10. Dance Classes
Try ballet, hip hop, etc.
Wrap: clothing and shoes that fit the dance style
Unique Experience Gift Ideas For Teens
These ideas work best for older kids. They make for unique gifts they'll adore.
1. Subscription to a Meditation App
Help them deal with stress and anxiety. Headspace and Calm are both popular.
2. Subscription to a Workout App
Make taking care of their bodies easier.
3. A Language Learning App
4. A Ride in a Hot Air Balloon
Wrap: a jacket, sunglasses, camera
5. Indoor Skydiving Experience Gift For Kids
Wrap: pictures of skydiving, clothes for the event
6. Donation to their College Fund
Or a vacation with friends, a car fund, etc.
Wrap: a picture and a few accessories for what they're saving for
7. Gift card to a Nail Salon
Wrap: the gift card, and a new nail polish
8. Historical Tour at a Local Place (Haunted house, etc.)
Wrap: information about the history of that place, a themed movie (haunted house movie, documentary, etc.)
9. Broadway Tickets (or Off-Broadway Tickets)
Wrap: the tickets, a nice outfit to wear, related movie
10. Coupons: Experience Gifts for Teens
Wrap: Give them coupons to use for special privileges: staying out later with friends, filling up the gas tank to their car, a pass on chores, etc. See a blank coupon template here to make your own.
11. Escape Room Gift Card (or Tickets)
Wrap: a riddle they have to figure out to know what the gift is
Related: What Am I Riddles With Answers
12. Pottery, Ceramic, or Wood Making class
Wrap: A canvas or piece of wood to bring
13. Audible Gift Card
14. Kindle Gift Card
15. Spotify or Music Gift Card
16. Tea or Dessert at a Fancy Restaurant
Wrap: a tea time hat, tea pot with tea, or fancy outfit
17. Chocolate Tasting
18. Tickets to Paintball
19. Tickets to the Symphony
20. Tickets to a Comedy Show
21. A Room Makeover
Wrap: a gift card to a home store for them to pick out, paint samples, or the actual items (lamp, bedspread, pillows, etc.)
22. A Reading Nook
Like the room makeover idea, give your tween or teen a corner to re-decorate for reading.
Wrap: twinkle lights, bookmarks, a bookstore or home goods gift card, paint color samples, lamp, etc.
Travel Experience Gifts for Kids & Family
Next, these experiences are family vacations that your kids will remember for a lifetime.
1. Disneyworld
2. Universal Studios
3. Beach Vacation
4. Roadtrip
Wrap: car activities, map
5. Flying on an Airplane
6. National Parks Annual Pass
7. Legoland
8. Seaworld: Experience Day For Children
9. An International Trip
Wrap: Food from the country you will be visiting, the country marked on a map, culture or language book
10. Whale Watching
11. Tickets to a Novel Event
Try something new and get tickets to the Kentucky Derby, a major Nascar race, etc.
Wrap: A hat or earmuffs that fit with the event, themed shirt
Great Gifts to Charity
And finally, these gifts help kids think outside of themselves too. Let them be the ones who give the money and fill out the paperwork so that they feel amazing doing something good for the world.
3. Kiva
Grab The Free Printable Gift Certificate!
To Consider With Family & Kids Gifts of Experience
Don't forget to document these beautiful experiences with custom photo albums and calendars. This allows you to live your moments with the kids again and again. (It also helps pass the cabin fever winters!)
And if you're looking for more gift-giving ideas that are not junk, head over to this big list of kids gifts that are not toys for practical and meaningful ideas.
What have been your favorite experience gifts for kids? Leave a comment below!
"If you want to be happier, shift some of your consumption away from material goods and a bit more toward experiences. That would likely lead to greater well-being." – Amit Kumar
Other kids posts you'll love…
List of Fun & Active Gift Experiences Kids & Families Love