79 Fun Family Bonding Activities & Quotes To Connect in 2023
Use these fun family bonding activities that make deep connection possible. Because we live in a time when having strong family ties is sometimes difficult.
Sure, there are plenty of extracurriculars for kids and social media to "stay connected." But those can also get in the way of truly bonding with those we love.
Luckily, all you need is the space and intention to make the magic happen.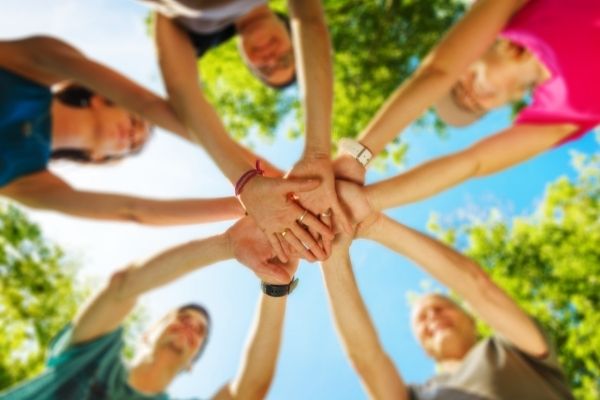 So, this post includes family bonding games, questions, and activities to suit all age levels. Use the table of contents to skip around to what fits your family best.
General Relationship Bonding Activities
First, this section has amazing bonding activities you can do with your family often and with little effort!
This post contains affiliate links, and we may earn a commission if you purchase. See our disclaimer for more.
1. Dinner Fun
Now, let's start with dinner. Everyone eats it! So, why not make it a genuine bonding experience?
Toast each other for the day's successes, share what you're grateful for, or test each other with your favorite jokes. Once you set a routine, you'll find it's easy to connect!
For more specific ideas, see these 15 fun family dinnertime activities!
2. Go on a Picnic
Need a change of pace for your mealtime activities? Take your food outside! Grab a blanket and enjoy the fresh air together. After eating, kick a ball around or take a walk and bond through exercise too.
Bonus: Stay and watch a sunset together!
3. Family Movie Night
As we all know, this is the easiest way to bond when mom and dad are tired. So, make it an occasional thing, or block off every Sunday night for your favorite family movie together with snacks and cuddling.
*Find inspiring family night movies >>
4. Read a Book, Then Watch the Movie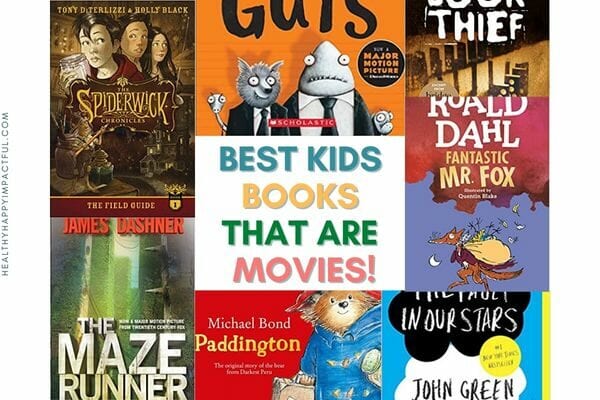 Next, take movie night up a notch by reading the book together first. After all, the book is almost always better than the movie! See the best list of kids books that are movies >>
5. Family Walks
These simple walks combine exercise and family. What a happiness boost! (Plus, it's really hard to be distracted by your phone while walking!)
So, hit the trail, sidewalk, or even dust off those bikes. Get out and explore a new area together. The spirit of adventure will connect you in new ways.
6. Camping
There's something about camping that drowns out the distractions of our modern-day world. It's simplicity at its finest. And it's an amazing opportunity to connect deeply with those you love.
So, grab that tent and set it out in the backyard or a large beautiful park. Don't forget the family camping gear – yummy food, card games, and blankets for cuddling.
Then, just be in the moment!
7. Attend a Cultural Event
New shared experiences are family bonding activities that truly stick.
So, explore a local play, concert, or even a lesser-known sporting event. These don't have to be expensive either. Our local high schools put on great play productions!
8. Tell Stories About the Past
Do your kids know about how you grew up? Have they heard stories of their grandparents and great-grandparents?
Stories are the glue that binds families, and if you're not passing down what makes your heritage unique, it WILL become lost with time.
So, start with… "Have I told you about the time I/grandma/your uncle……"
9. Look at Pictures of Your Family
This is a common practice for us, as every New Year's Eve we review pictures from the year before. We've been astounded at how much everyone loves seeing our family over the course of the last year.
10. Read Aloud Together
Next, there's nothing like a Harry Potter series or other childhood adventure book to make your family want to spend time with you! So, get lost in the story together!
Related: Best Family Hobbies List
11. Write Back & Forth in a Journal
Um, who doesn't love mail!?
Create a family journal and pass it around each night. Make your own mailboxes if your kids are getting into it!
Then, use it as a way to tell your kids you love them, tell them your stories, or just to talk about the day. You might be surprised how much they open up in their notes too!
Related Post: 131 Fun Ways to Say I Love You
12. Invest in Quality Traditions
Great consistent traditions make family bonding SO MUCH EASIER!
So try working on a bedtime routine that you love. Or Saturday pancakes and a bike ride. The more you do it, the more you will look forward to it. See these great traditions examples >>
13. Cook a Recipe Together
Do your kids know how to navigate the kitchen? As a mom, sometimes it's hard to have the patience required to let them cook, but as they get older it's an excellent opportunity for genuine conversation.
Do some fun taste testing while you're at it!
14. Garden
First, get them thinking and planning about what they'd like to eat. Then, plant your fruits and vegetables together. Kids will take pride in the growth and eventually harvest. Plus, they'll learn important lessons along the way.
15. Build Something Together
Next, my husband and son LOVE building things. And it's definitely when they bond the most. As I write this, they're dreaming up plans for a modified treehouse. But they've built many other things as well.
16. Have a Tea Party
For my daughter, bonding over a cup of tea is preferred. We gather the special teas, fancy china, and perhaps find a snack or two. Then, we have fun pretending we're fancy and elegant as we enjoy our event.
Related Post: How to Add Quality Time With Each Child
17. Prank Each Other
One year my husband and I did an April Fool's joke on the kids. And they talked about it for MONTHS. (And planned revenge for months after that.)
Yet, it surprised us how much it boosted our spirits and brought us together in an unexpected way. If pranks aren't your thing, tell jokes, or start tickle fights instead. Anything that creates laughs and positive energy will bond you like no other.
Related Post: Easy Ways to Be a More Fun Mom
18. Dance
Have you tried the Floss yet? If not, it's time to see who does it best! Just don't hurt yourself!
19. Have a Nerf or Water Gun War
Next, get the adrenaline flowing and have fun tracking down your kids with water or darts. A snowball fight counts too depending on what season you're in.
20. Vacation or Staycation
When was the last time you had an adventure together? Or learned about a new place? There's no time like the present to get out into the world and show the kids how much is out there.
Plan a fun staycation for families.
21. Try Something New As a Family
And finally for family bonding activities, develop a growth mindset and get out of your comfort zone together! Try the crazy-looking noodles, explore a new park, or go bowling if it's something you haven't done before.
22. Volunteer
Helping others is a great way to bring your family closer as well. You will be united in a worthy cause.
So, sign up for an official event, or simply bless another family by dropping off goodies or groceries.
Related: Best Boy Mom Quotes
Family Team Building Activities At Home
These family bonding activities bring you together through the art of dreaming. Inspire yourselves together!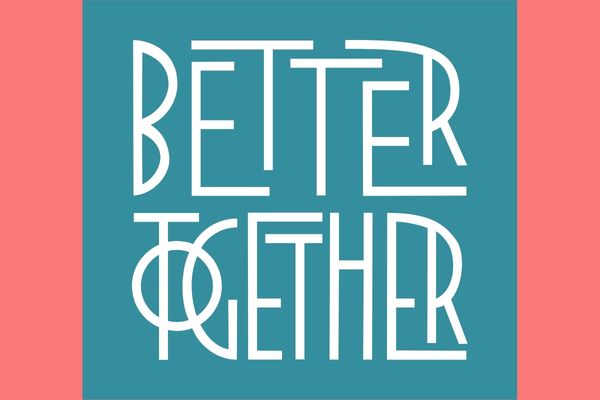 23. Create a Mission Statement
Decide together what your family stands for with a unique family vision statement.
24. Make a Family Vision Board
What would you love to do, see, or try in the next year? Or try separates kids boards and couples vision boards.
25. Set New Goals Together
We like setting family goals every New Year, even if they are basic. Get goal setting tips for kids to help them create their own unique goals too.
26. Make a Family Bucket List
Here's the ultimate list of family ideas to help you build a customizable list.
27. Show A Little Love
Try these 100 reasons I love you to help you come up with reasons your family members are the best!
Related Post: Blank Heart Templates You Can Write In
28. Try a Challenge Together
We are currently doing a step challenge as a family and this has not only made us more active, but also brought us closer.
29. Make a Gratitude List Together
There's nothing like finding the good in the world as a family. It will make you happier together and apart. Grab gratitude list ideas here >>
Post your list on the fridge when you are done!
*Or check out one of the fun family night activity ideas below: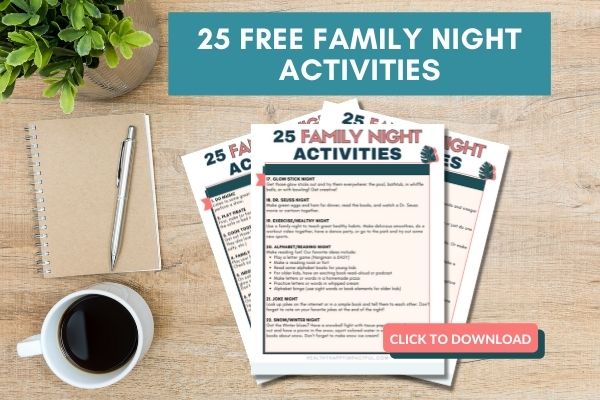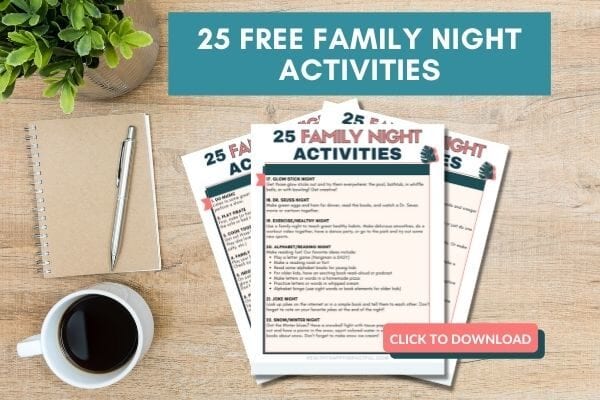 Play Bonding Family Games For Adults & Kids
These games require NO equipment and are easy to do anywhere.
30. Get Into 2 Truths and a Lie
Your family members know you pretty well. But I bet there are still a few things you would be able to stump them on! Keep it tricky by switching up minor details and making the truths as outrageous as possible.
31. Enjoy Truth or Dare – Family Edition
This family bonding game is the most fun we have ever had on family night. You will laugh non-stop. See the family truth or dare game here >>
32. Pass the Message Game
A.K.A the Telephone Game. This game isn't just for classrooms. You can do it around the dinner table too! Try silly words like "hoodwinked" or fun tongue twisters like "She sells seashells by the seashore" to keep it interesting.
33. Play Family Feud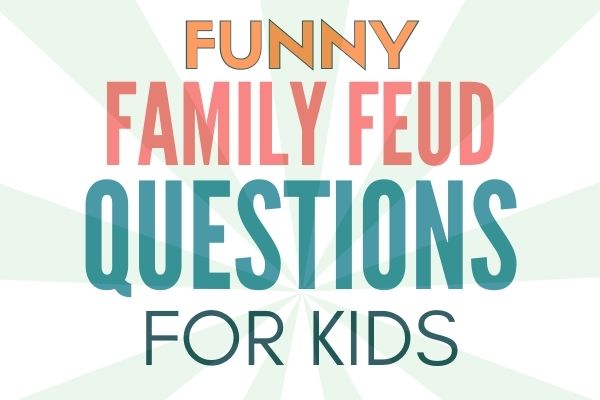 Check out these family feud game questions with points to get started!
34. Play Trivia
Trivia is easy and you get to learn new things. Try these kids trivia questions or trivia questions for teens and see how much your family knows.
35. Tell Jokes & Riddles
These What I Am Riddles will get everyone thinking!
36. Play Charades
Use this set of charade ideas to play charades as a family. Or use the same words for Pictionary or Catchphrase. They are just the right level for kids!
37. Debate With Your Kids
These debate topics for kids will get you going. My son and I have spent hours discussing the merits of longer and shorter summer breaks. (Can you guess which side I'm on?)
38. Try Holiday Games
When the timing is right you can find the funniest games to play with loved ones. We especially like Christmas trivia questions and holiday scavenger hunts.
Related: Team Building Activities for Kids & Teens
Family Bonding Questions
Next, these creative bonding questions for family NEVER fail to get the conversation flowing!
39. Would You Rather
Check out this ultimate questions list for this or that to see what ordinary or outrageous thing your family members would pick.
Or get even deeper with this crazy would you rather list >>
40. Never Have I Ever
My family has so much fun with these! Start a sentence with "never have I ever" and go from there. You'll find out many interesting things about your tribe.
Example: "Never have I ever swallowed gum before."
See these 250 never ever family questions to make it easy!
41. How Well Do You Know Me
And to round out the questions, quiz your family to see who knows you best! You'll be surprised at what they do and don't know about you!
Related Post: 100 Examples for the 21 Questions Game
42. Who Is Most Likely To
This game is hilarious and will get everyone excited! For example, who in your family is most likely to put an empty box back in the pantry?
See the Who's Most Likely to Questions: Family Edition
43. Ask What If
Connect deeply through questions that make you think about life and questions that help you think about what if situations. You will also be working on everyone's critical thinking and problem-solving skills in the process.
More amazing questions to build conversation:
The Top Family Bonding Board & Card Games
Finally, these 7 games all encourage friendly competition or open conversation, making them perfect for creating family bonding moments that make a difference.
44. Beat That
In Beat That, players attempt a variety of different wacky challenges. Buddy up and duel with family members for extra family fun!
45. Our Moments: Families
Our Moments: Families is filled with 100 thought-provoking question cards for amazing relationship building. Cards can be used on family night, or are easy to take on roadtrips and for travel.
See Our Moments: Families HERE >>
Related Post: Epic Dares for Your Family Truth or Dare Game
46. Kids Against Maturity
This tabletop game is full of age-appropriate toilet humor that gives everyone a good belly laugh. And with lots of awards to back it up, Kids Against Maturity is definitely one to consider!
47. Throw Throw Burrito
Throw Throw Burrito is the world's first dodgeball card game! Collect matching sets of cards while dodging, ducking, and throwing soft burritos. The kids will love this more physical game!
Check out Throw Throw Burrito HERE >>
48. Hedbanz
Hedbanz is an excellent game for the entire family! We've noticed that it works particularly well with younger kids too, because reading the cards is optional. Who doesn't love a good reasoning and guessing game!
49. Totem
And finally, Totem is a positive relationship building game using question cards that help you look on the bright side. It's a fantastic self-esteem building and self-discovery tool as well!
50. Beat the Parents
This game makes us all laugh. The kids just think it is hilarious, and they often win. Try it out with your family here.
Related Post: Best Family Night Board Game Ideas
19 Family Bonding Quotes
Before you go, see these inspiring family bonding quotes that will motivate you to water your most important garden.
1."Your family and your love must be cultivated like a garden. Time, effort, and imagination must be summoned constantly to keep any relationship flourishing and growing." – Jim Rohn
2. "What can you do to promote world peace? Go home and love your family." -Mother Teresa
3. "A family doesn't need to be perfect. It just needs to be united." – unknown
4. "The bond that links your true family is not one of blood, but of respect and joy in each other's life." – Richard Bach
5. "Family is not an important thing. It's everything." –Michael J. Fox
6. "Families are the compass that guides us. They are the inspiration to reach great heights, and our comfort when we occasionally falter." – Brad Henry
7. "I think togetherness is an important ingredient of family life." – Barbara Bush
8. "Family faces are magic mirrors. Looking at people who belong to us, we see the past, present, and future." – Gail Lumet Buckley
9. "Our most basic instinct is not for survival but for family." — Paul Pearsall
10. "There's only one thing more precious than our time and that's who we spend it on." – Leo Christopher
11. "Families and friends form some of the closest of bonds you will ever experience. It is almost impossible for you to lead a happy life without support from these important groups of people." – Jeffrey Dawson
12. "Family life contributes immensely to an individual's happiness. Only in a happy home life can complete contentment be found." – Dorothea S. Koppliln
13. "Ohana means family and family means nobody gets left behind or forgotten." – Stitch
14. "So much of what is best in us is bound up in our love of family, that it remains the measure of our stability because it measures our sense of loyalty." – Haniel Long
15. "Having a place to go is a home. Having someone to love is a family. Having both is a blessing." – Donna Hedges
16. "That's what people do who love you. They put their arms around you and love you when you're not so lovable."– Deb Caletti
17. "There's nothing that makes you more insane than family. Or more happy, or more exasperated, or more secure." – Jim Butcher
18. "Rejoice with your family in the beautiful land of life." – Albert Einstein
19. "The memories we make with our family is everything." –Candace Cameron Bure
To Consider With Family Bonding Activities & Quotes
As with all relationship building, it's important to MAKE the time and space to be together. And, the QUALITY of time is a major factor. Put your devices away and be present.
You'll never regret having these moments with your loved ones.
What are your favorite family bonding activities?
More family posts you'll love…
Simple Family Bonding Activities That Deepen Relationships