205 Fun Family Traditions Examples to Start (#1 List for 2023!)
Traditions for Families That Add Meaning & Play
Growing up, we did a lot. But when I think back on childhood, I remember simple family traditions examples like Saturday night pizza with a show and jokes in our family room.
It was something we did consistently, and it holds a special place in my heart because we did it together.
Now, think about your own childhood. What comes to mind first?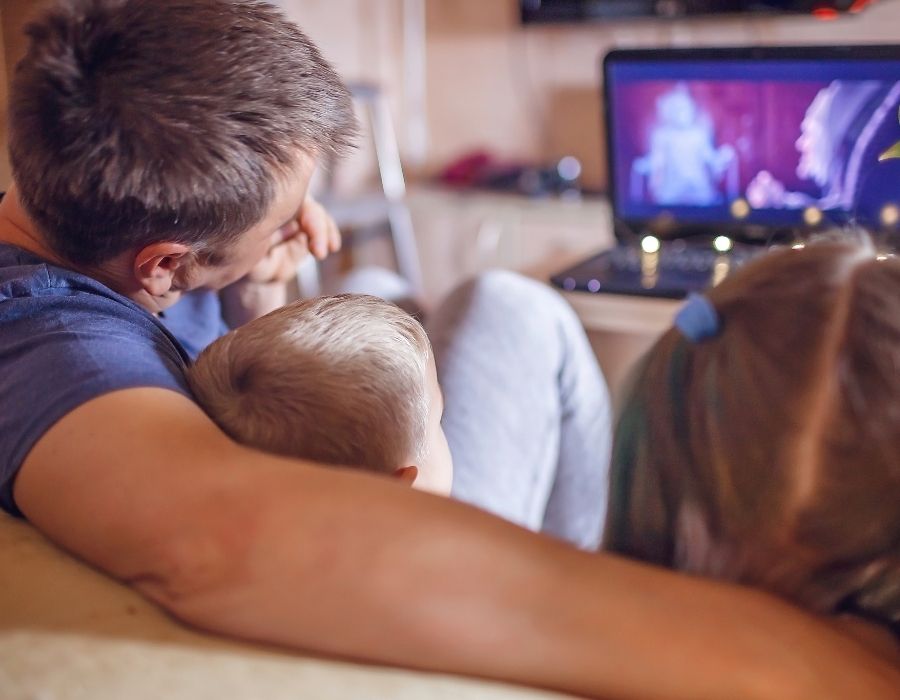 For most, it's not the vacations or one-time events. It's the every day, week, or year things that you looked forward to doing together. And perhaps it's that spontaneous tradition that was so special because only your family knew about it.
What we do on a regular basis shapes our lives and our kids' childhoods in so many ways.
In this post you'll find these possible family traditions examples:
Why Family Traditions Matter
Daily & Weekly Rituals
Family Traditions Examples for Every Month
Funny, Favorite, & Unique Family Traditions
Holiday Traditions Ideas
The Importance of Family Traditions
The truth is, without rituals in place, you're missing out on astoundingly beautiful moments with your loved ones. Here are a few important benefits to remember with family traditions: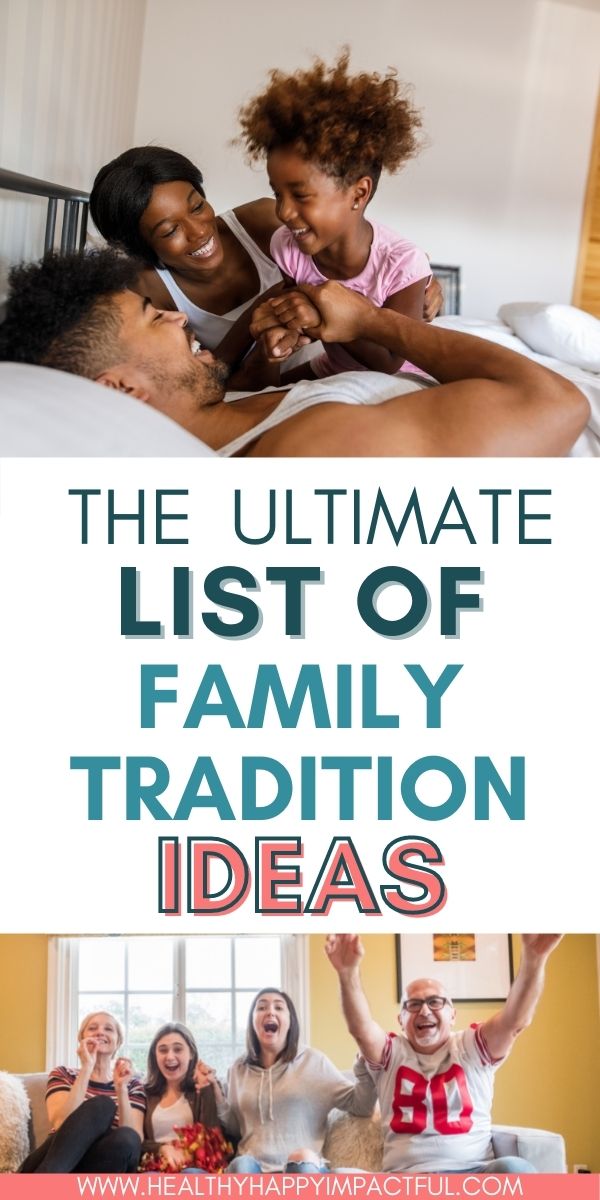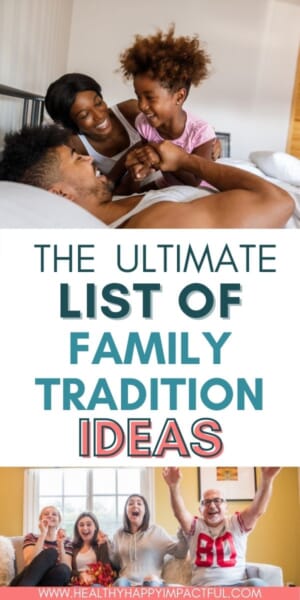 1) You will build better family bonds and memories.
Imagine how much closer you feel to your loved ones when making meaningful rituals a part of your life. Now, imagine how your kids feel one day when they look back on their childhood.
Regular rituals give these beautiful gifts!
2) Your kids will feel loved, nurtured, and secure.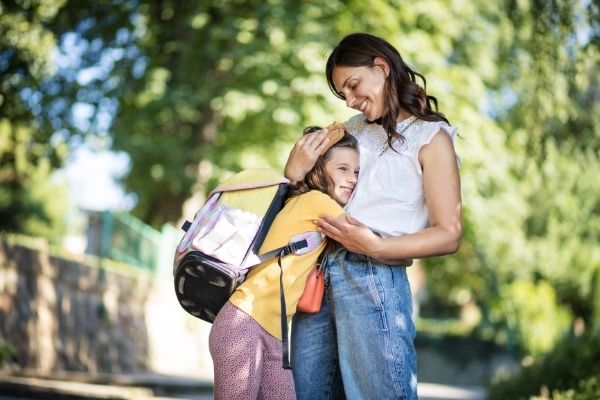 Many traditions build kids up with love and provide comfort in difficult or changing times. In turn, this helps them feel secure in their family environment and much better able to deal with life in the outside world.
3) You'll remind them of who they are & prepare them for life.
And finally, traditions are the best opportunity you'll find to pass on your values, family heritage, and skills to your kids. If you want them to remember where they came from, this is your chance to impart your wisdom to them.
Family Tradition Ideas & Examples
Now to the family tradition examples! Different rituals work for different families, so pick and choose a few that would be amazing for you!
Daily & Weekly Family Traditions Examples
Family Dinners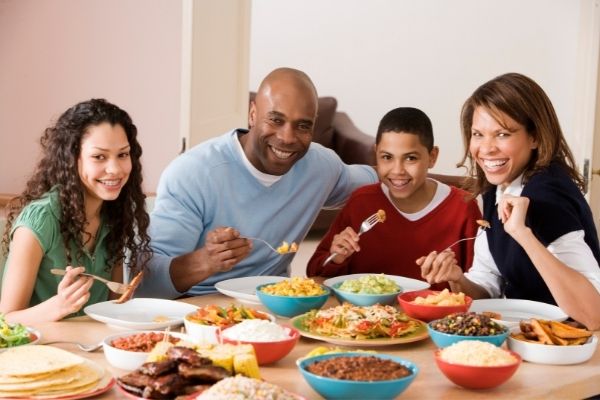 First and foremost, setting aside time to eat with your family regularly is an unbeatable ritual to raise happy kids.
A recent Harvard interview discusses how it lowers rates of depression, anxiety, and substance abuse with kids – while adding resilience and higher self-esteem (source).
Family Dinner Rituals
What you do during those dinners can matter too. We like to tell our "good" and "grit (hard thing)" for the day. You can also discuss your highs and lows, say a prayer, or ask funny questions to each other. (Also, get rid of phones!)
Family Walks
One of our favorite daily family traditions is the after-dinner walk. Not only does it promote conversation and bonding, but you get a little exercise and aid digestion too.
Morning Routines
Routine is the foundation of a smoothly run household. Good routine will keep everyone happy and a lack of one will make you miserable. So, what do you do every morning to set the family up for a great day?
(See beautiful morning routine ideas for adults, & for kids)
Bedtime Routines
Likewise, closing out the day is much easier (and memorable) with an effective wind-down routine. Regular nighttime ritual ideas include: reading a book, brushing teeth, cuddling, telling a story, and saying a prayer.
Daily Child Checklists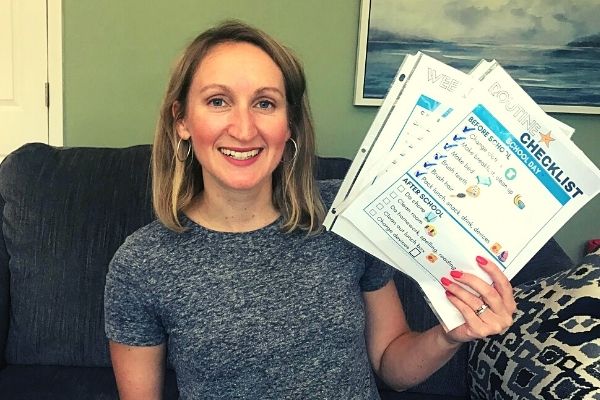 To help our kids with morning and after-school routines, we like using a daily routine checklist (print from my email resource library). It's a checklist that helps develop responsibility and accountability in kids.
Family Chores
Everyone that lives in your home is part of a team. And with that comes responsibility. Use this kids chore chart pdf to help each family member know what they need to do every week.
Dinner Help
Dinner help (& clean up) is a beautiful time to teach kids lifelong skills involving the kitchen. Have them cook with you and contribute to the meal the family eats on a regular basis.
(As the kids have grown, we added it to our chore charts to make it consistent).
Family Hugs
After a year of crabby kids, we established a morning hug rule. It's simple, but effective in reminding us to slow down and show affection every day.
Family Night Traditions
A weekly family night is an amazing way to carve regular time for your family. And they don't have to be complicated. Our last 3 family nights looked like this:
Find more fun family fun night activities HERE>> or sign up below for the free pdf!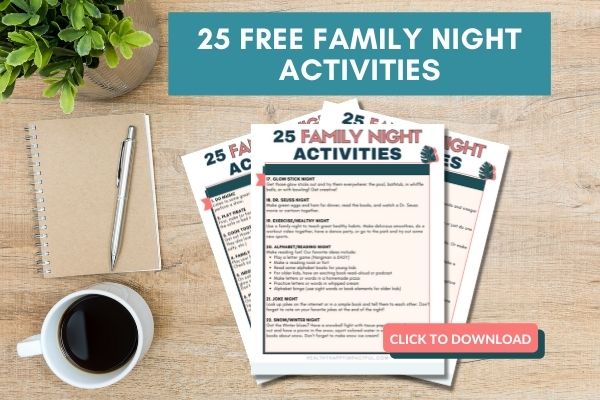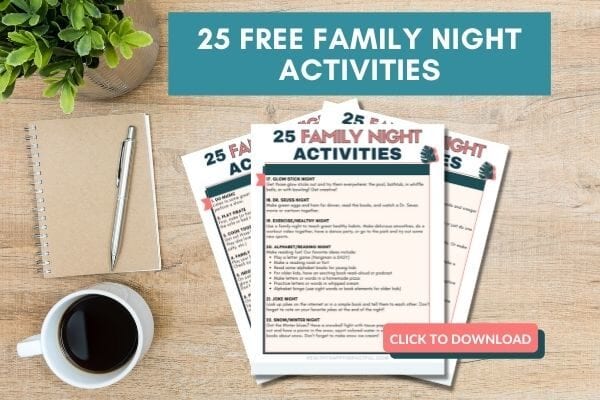 A Nightly Journal
This could be a question book, what we learned today, gratitude, or a simple notebook that gets passed back and forth. Either way, it's a sweet close out to the day (or week).
Family Watching
Movies and sports games are special when accompanied by fun food, pizza, or getting to eat on the living room floor. They also happen to be super easy when mom and dad are tired.
Date Night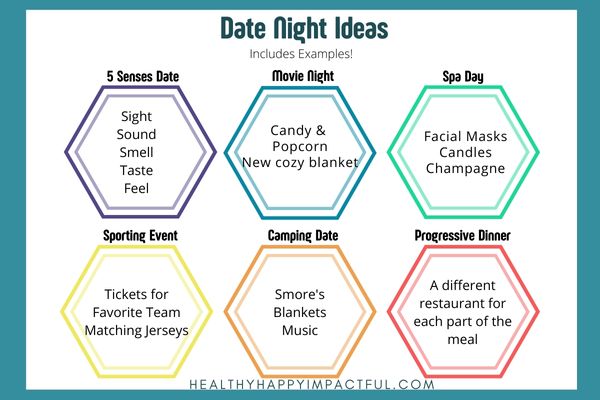 Time for parents to be together is SO important! Pick one night of the week and make it separate and special. Pay a babysitter and go out, or let the kids watch tv on their own while you do something else in the other room.
Check out my family's favorite rituals in the video!
Then, keep reading for LOTS more ideas!
Weekend Brunch
Next, pancakes every Saturday or bacon and eggs make a simple morning extraordinary. Plus, it's another great sit-down meal with those you love.
Weekend Exercise
A weekly exercise ritual makes you all healthy and happy in the long run. We love Saturday family bike rides lately, but nature walks, practicing a sport, and running work too.
Family Read Aloud or Book Club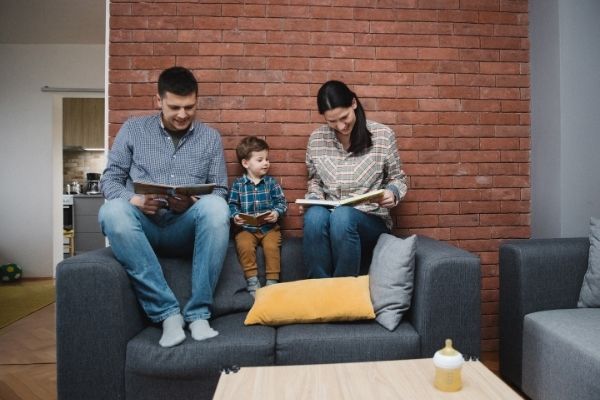 If you want to instill a love for reading, start a book series you know everyone will love. With younger kids, read aloud or listen to an audiobook. With older kids, you can form your very own family book club!
Weekly Family Meeting
Next, a great element to add to your family night is a weekly meeting. Discuss your calendars for the week, any issues that need to be resolved, and what you're looking forward to. It's a simple step that can take as little as 5 minutes, but it also prevents a lot of arguments later.
Related Post: 7 Creative Everyday Family Traditions
Family Traditions for Every Month
A Different Excursion Once a Month
Neil Degrasse Tyson, the famous astrophysicist, credits his parents for shaping his passion for the planets. When he was a kid, it was a monthly family tradition to take cultural excursions. On one of these trips, he fell in love with the Planetarium (and the rest is history).
Dance Party
Do you like to get your groove on? Set a date for a dance party after dinner once a month. Let loose and have fun!
Hang Out By the Fire Pit
Many of us own fire pits without truly using them. While the weather cooperates, make it a monthly ritual to sit outside, enjoy nature, and roast something fun.
Outside Movies (Easy Family Traditions Example!)
Driveway movies are special (especially in the summer months) and don't take much to set up or clean up.
Full moon walks
Do you take the time to truly notice a full moon? Mark your calendar, and take a walk with your family every full moon. Get lost in the wonder of space and the universe for a few minutes together.
Invite Over a Dinner Guest
One ritual that boosts your sense of community is to invite over a family once a month. Make an easy dinner and get to know someone better.
One-on-One Parent and Child Dates
"Dates" can be out and about or at home on a rainy day. Here are fun examples:
Dinner out with mom or dad (bring family games)
Go to the bookstore and buy a book
Go fishing with dad
Throw some blankets and pillows in your bathtub and read together
Do an easy craft together
Write and illustrate a story together
Related Posts:
Volunteering
Once a month, serve food at a kitchen, or volunteer at church or school together.
*Related Post: The Best Family Activities for Bonding
Funny Family Traditions Ideas
Next up, the traditions for families that make you laugh and put a smile on your face.
Tickle Fights
Tickle wars are so good for young kids. They let out excess energy and help them feel loved. You'll find they put a smile on most adults' faces too!
Be a Goofy Character
Every Valentine's Day, "Mr. Mustache" makes a surprise appearance in our house. It's a silly made-up tradition that started years ago with a fake mustache. Yet, years later, my kids still think it's the best thing in the world.
Lunch Box Jokes
Want to give your child a mid-day laugh? Slip a funny joke in with their lunch box on a consistent basis!
Fancy Tea Parties
To girls, tea parties are so fun! Dress up in crazy hats and jewelry to remind yourselves that a lot of silly fun can be found in your home.
Nerf Gun Wars
A family member of mine used to have regular weekend nerf gun wars with his family. They turned the lights out on a Friday night and it was on. They ALL adored this special tradition.
Family Toast as a Family Tradition
How often do you celebrate your family? Get a little silly and toast nightly with "thank you for my family." Or add it to your family night ritual.
Guess Who Wrote It
This funny game is a great thing to do at birthdays, holidays, or weekly dinner. Everyone writes something funny, true about themselves (that no one knows), or something they are grateful for. Those around the table must guess who wrote it.
Special Handshake Family Tradition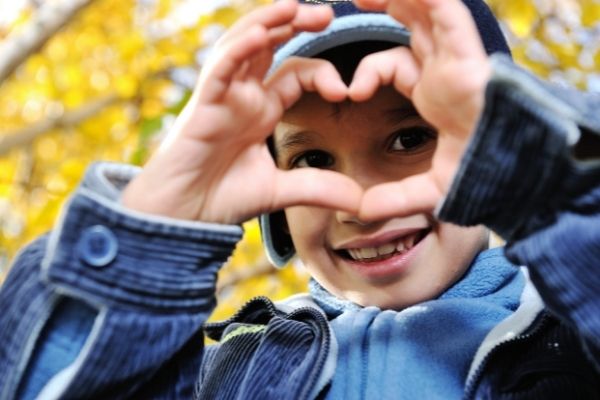 A special handshake, fist bump, or squeeze can communicate your feelings without words. For boys, especially, it's very helpful!
Favorite Family Traditions Ideas
Family Vacations
Vacations to the same place or at the same time of year will solidify as fond memories to your family. So, rent that beach house or cabin yearly and watch as your kids fall in love with it.
Seasonal Bucket Lists
Bucket lists add fun into your life. They force you to look at life as an adventure and remind you that it's important to step outside of your comfort levels too.
Here are great seasonal ones for your family (or yourself):
Special Outings As Family Traditions Examples
Do you go anywhere special as a family? It could be regular visits to the farm, a nearby zoo, ice cream shop, or your favorite park. Your kids will remember these places as joyful parts of their childhood.
Lunch Notes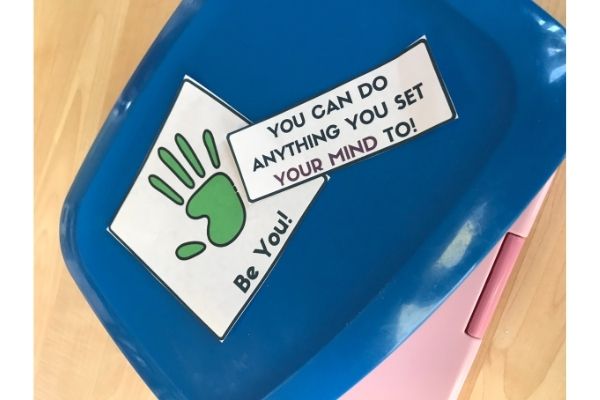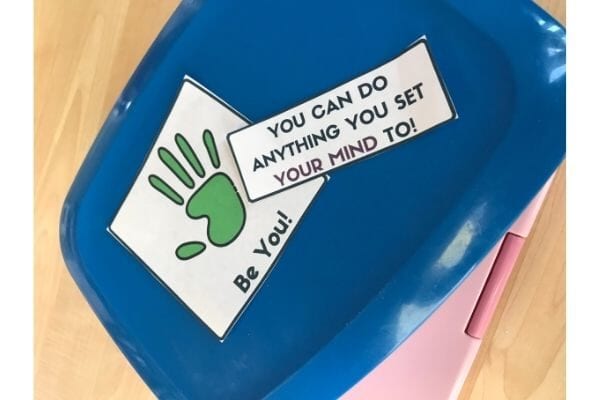 Jokes are fun but these lunch love notes are a low-effort way to encourage and build self-confidence in your kids too.
Desk Notes
A fun tradition for school is to write your child a note anytime that you see his/her desk.
Coupons
Coupons have become a fun staple in our house because they make great (free) gifts! As a reward, the kids love picking one out when they get good grades or do well in extracurriculars.
See the free kids coupons printable HERE>>
Family Campout Traditions
Whether it's yearly camping to a national park, a backyard campout, or even an indoor one – these are always loads of fun! They also give everyone a break from electronics.
So, set a special date every year, and get out in nature.
Picnics
Eating in open air turns a simple meal into an indulgent feast. So, create a ritual around regular picnics. (A great one to incorporate into family night)
Apple (or Berry Picking)
Get fresh air while you pick your own ripe produce. It's healthy, plus everyone will learn more about where our food comes from.
Giving Rituals (Yearly Family Traditions Examples)
Traditions for families that teach the kids to give are both fun and meaningful. So, start May Day baskets, boo the neighbors, or try this super creative 12 days of Christmas gift.
A Family Garden
Food that comes from a garden is always the most delicious. So, have your kids help and make the yearly garden (or just a few plants) a regular project.
Last (or First Day of School) Treat
Make transition times more fun by adding in a small tradition for the first or last day of school. Get an ice cream or visit your favorite restaurant to listen to the kids discuss their future plans.
A Yearly Party
If you love throwing parties, a yearly party is a tradition everyone looks forward to. For example, we skip birthday parties in favor of one huge summer party that we can splurge on.
See: How to Make a Birthday Special (Without a Party) for more!
Meteor Watching Party
How cool would it be to watch meteor showers with your family? Look up your next one and fill a big thermos with hot cocoa for extra fun. Then, see how often you can make it happen.
Game Day (or Opening Day)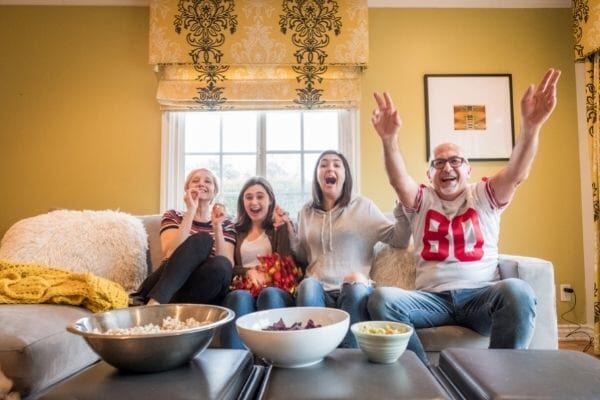 If you love a sport, make it a fun day by getting the family together in your favorite gear and providing a different kind of meal that goes with the activity.
Unique Family Traditions Examples
Snow Day Traditions
One or two special touches to a snow day are extremely exciting to kids. Mine know that after playing in the snow, they get to drink hot chocolate by the fire. (And they talk about it all day long!)
Sick Kid Family Traditions Examples
Traditions for when your child is sick offer comfort. Perhaps a special juice is reserved for sick days, stickers, or even a "sick spot" that your child uses to rest all day.
Parent Travel Traditions
When my husband used to travel often, the kids slept on my bedroom floor. They LOVED this and it gave us special time together.
Make Up a Holiday
Why not create your OWN family holiday that's unique to YOU?! Think about what your family loves to do. Now, hereby announce that a specific date will forevermore be for it.
A Family Gratitude Practice
Raising grateful kids (and reminding ourselves to be grateful) is important for a happy life. So, where in your day, week, or month can you incorporate speaking about your blessings?
Check out these 18 Thankful kids activities and How to Practice Gratitude for specific activities to try!
Kids Pictures
For a fun way to document growth, take pictures next to the same building, artwork, tree, or even sign every year.
Prank Wars
Either for a spectacular April Fools Day or just because your family loves it, have fun with this often.
Park (or Trail) Clean Up
Teach your kids the importance of the environment with a yearly or bi-annual cleanup. Celebrate after with a fun treat or activity.
Build a Time Capsule
What would you like to remember from this time with the kids? Include a few items in a box and add to it every year.
Box of Goals
To teach the importance of goals, have everyone stick one in a box every month. At the end of the month, pull them out and see what you accomplished.
Check out these fun examples of family goals
Celebrate a Season Change
Season changes are a way to pause and enjoy the weather and festivities. Make a dinner based on seasonal produce and then jump in a few leaf piles, plant flowers, hit the pool, or do another activity based on the beautiful season you are in.
Milestone Trips
Entering middle school and high school aren't easy transitions for kids. To ease this change, have one parent take the child on an outing or trip.
During this one-on-one time, your child will have an opportunity to express his/her fears and hopes without the rest of the family around. (Plus, you'll be able to express responsibilities and expectations.)
Recreating your Favorite Family Recipe
Food is an important part of family traditions. So, make your favorites as often as possible and know that your kids will still be talking about them when they are forty.
New Home Traditions
Celebrate the change of a new living space with a party or just a special meal amongst family. When visiting other's new homes, wine or bread are sweet traditions to help welcome them in.
Related Post: Fun Growth Mindset Activities for Kids & Adults
Holiday Family Traditions Examples List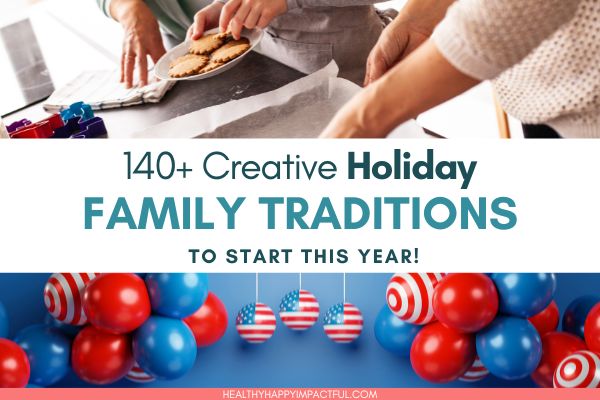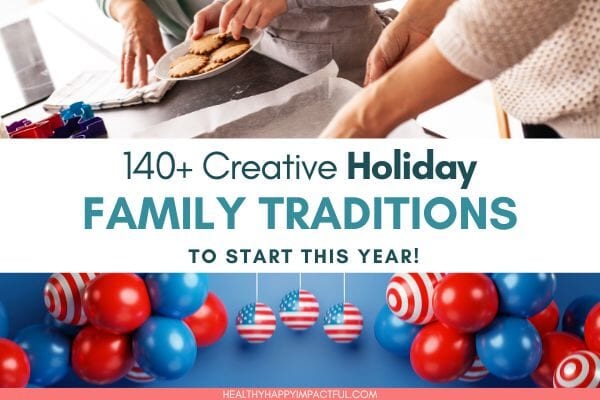 For specific family traditions examples for holidays, check out this list of helpful posts:
And for an entire BOOK of creative family tradition ideas (with MUCH more on major holidays), check out the Family Traditions Ebook. It saves TONS of time to have so many amazing ideas all in one spot for easy reference.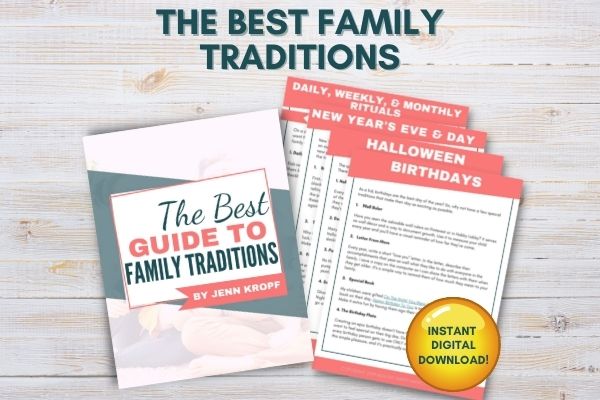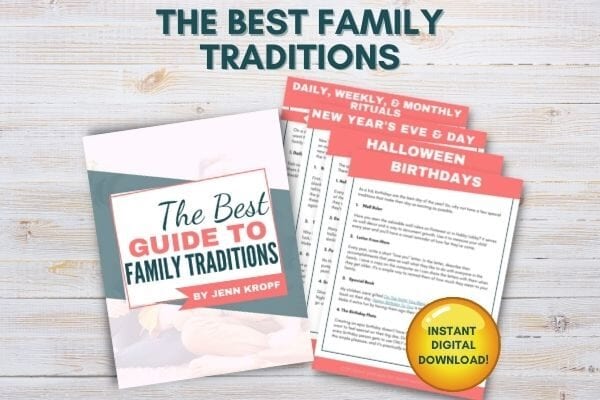 What are your favorite family traditions examples?
Before I go, just remember: keep it simple for best results. The quality of a tradition is always more important than how many you do. Plus, consistency is what matters most!
What are your favorite examples of family traditions? Leave a comment below and let me know!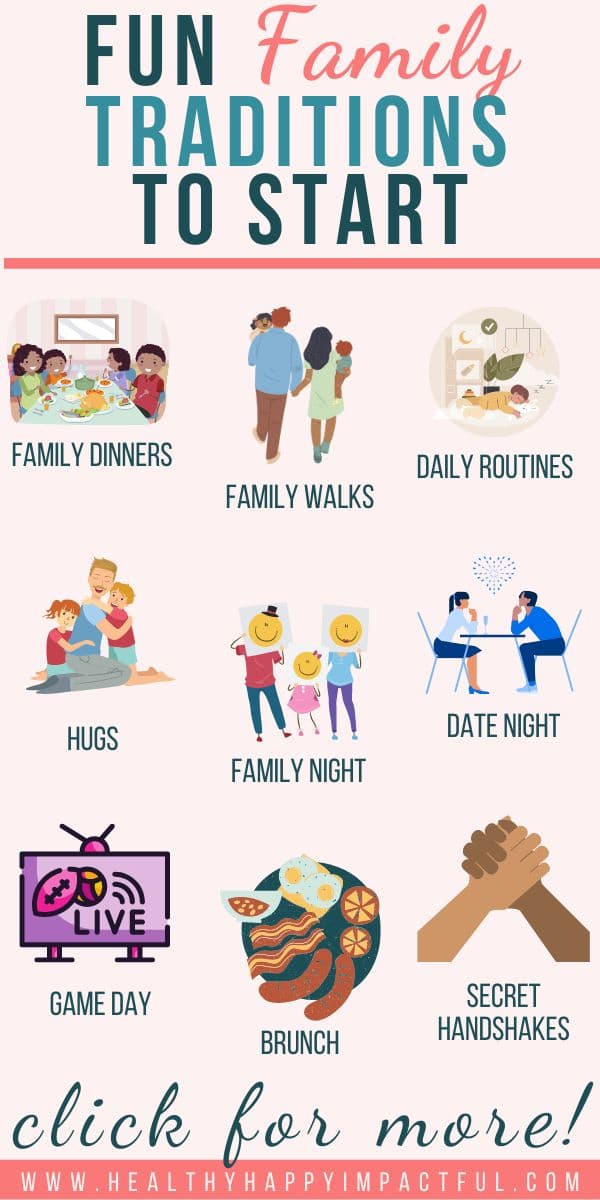 Special thanks to this source:
Cox, Meg. The Book of New Family Traditions: How To Create Rituals For Holidays and Every Day. Philadelphia: Running Press, 2012.
Other ways to connect from Healthy Happy Impactful…