25 Creative Fall Date Ideas For Fun And Romance
Fall Dates to Bring Back the Fun
Like most parents, my husband and I can find it crazy hard to spend time together just the two of us. Sometimes, the logistics of living with small kids can be tough on a marriage.
But all couples need TIME to connect. (No matter how exhausted you are!)
And these simple, creative fall date ideas help create new adventures and lasting memories with your spouse.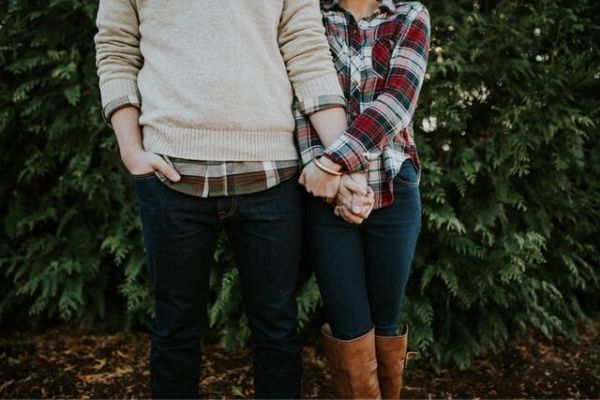 "The most desired gift of love is not diamonds, or roses, or chocolate. It is focused attention."

Rick Warren
So, instead of staring at each other, wondering what you can possibly do by yourselves (speaking from experience here), check out this list!
It's a great mix of options this fall!
1. DO A FALL PICNIC
This post contains affiliate links, and I may earn a commission (at no cost to you). I only mention products I love and recommend. See my disclaimer for more.
First, bring a big blanket and some goodies for a relaxing picnic at the park. Take wine, snacks, and appetizers or pick up food on the way!
After, take a long walk and connect during this fun, cheap, and incredibly easy date.
*Check out more picnic date ideas and tips to make any picnic easy.
2. GO WINE TASTING
Wine drinking is much more enjoyable when sitting outside with your partner.
So, check out flights at a local winery (many have live music), or buy a few bottles for home and sit out on the deck choosing your favorite!
3. ATTEND A FOOTBALL GAME
Football season is in full swing during the fall, so why not see a high school or college game just the two of you. Split some concessions and take in the cheer.
4. GO TO AN OUTDOOR CONCERT
Fall is one of the best times to be outside, so use it! Check your community calendar and see if there are any cheap or free concerts in the park.
5. GO CAMPING
Are you the adventurous type? Or do you need to get away from life's hustle and bustle?
Spend a night cooking by firelight and connecting without distractions. Then, snuggle up in your tent at night and listen to nature together. The hammock above is the perfect way to alleviate stress to truly enjoy your time together.
6. COOK SOMETHING FALLISH
Next, prepare something different together!
Look up a recipe, then get the ingredients and spend the night mixing up new fall cocktails or baking a delicious apple pie. Here's a fun bourbon apple cider to try! We've tried it, and LOVE it!
7. GO GARAGE SALING
Switch things up, and try a morning date! Spend a morning driving around to find treasures. Flea markets and highway garage sales (across states) are also extremely popular this time of year, so grab a coffee and see what you can find!
8. GO TO A DRIVE-IN MOVIE
One of our first dates was at the drive-in and it continues to be the classic place to experience a movie in a novel way. With fall, showtimes will be earlier and it's much better weather to snuggle up.
9. MAKE CHILI & APPLE CIDER
Make a huge pot of your favorite chili together and some apple cider to drink while cooking. Then, grab cozy blankets and snuggle up on the couch with your fall goodies!
10. BUY CANDLES
Sounds weird right?
But hear me out. Pumpkin pie is one of the known scents that seriously turn men on. So, take that guy with you to buy a few new candles and see what he likes!
11. TAKE A SHORT ROAD TRIP
The scenery is gorgeous this time of year. If you can get a good chunk of time, then use it to drive to a nearby town. Enjoy quiet time in the car and take in the beauty nature has to offer, or check out these insanely fun would you rather couples questions.
12. HOST A FIREPIT NIGHT
Double date time! Throw out your firepit and invite a few couples over for roasting marshmallows on a crisp night.
Related: Connect and laugh with fall this or that questions.
13. GO GET A PUMPKIN SPICE LATTE
Coffee dates are our favorite kind of dates. So, hit up Starbucks, find a cozy local cafe, or even try your hand at making one at home. Here's a fun recipe to try!
14. HALLOWEEN MOVIE NIGHT
Play the latest scary movie or choose one of your favorite classics. For me, Hocus Pocus always makes an appearance! Then, enjoy warm drinks and cozy blankets on the couch together!
15. A SPECIAL FALL OUTING WITHOUT KIDS
Who says you have to take the kids to everything? Go to the pumpkin patch, do a hayride, find a corn maze, or pick apples by yourselves. Pick one event and make it a special reoccurring event for the two of you to look forward to every year.
For fun activities with the kids, check out: Family Halloween Traditions to Start Now or The Ultimate Fall Bucket List
16. GO HIKING
This no-cost date is perfect for fall!
Find a beautiful spot and spend a few hours hiking together with just you and nature. You'll be getting exercise and fresh air to boot!
17. GO ON A ROMANTIC FALL GETAWAY
Fall is arguably one of the best times to get away. Plus, this time of year tends to be busy. So, why not take a short break and book a hotel for a night or two? Then, focus on being together or seeing something new.
18. ENJOY A BIKE RIDE
Bikes can be done anytime, but it's so much more enjoyable when it's cooler. Find a new scenic route to enjoy a ride together.
19. HAVE A TASTE TESTING DATE
This is one of our all-time favorite creative date ideas. We've tested all sorts of random things, and it can easily be given a fall theme! Buy 2-4 different varieties of the same fall food and vote on your favorite!
Fall flavored beer
pumpkin/apple/pecan pie
mashed potatoes
pumpkin lattes
pumpkin pancakes
chili
soup
Related Post: The Best Date Night Gift Ideas to Give Your Partner
20. VISIT A FARMER'S MARKET
Next, use a morning date to visit the farmer's market and then go somewhere for brunch together. You'll find great fall produce to try for new recipes, and it gives a wonderful excuse for a breakfast date!
Related Post: 21 of the Best Healthy Recipes For Fall
21. BOOK A GHOST TOUR
Do you love scaring yourself? Then find a local haunted house and book a tour! Get that adrenaline going together!
22. HOST AN ADULT PARTY
Sounds crazy, but it really just means inviting over a few couples for a game night or talking. Have everyone bring a fall dish for the group to enjoy and spend the night relaxing with your spouse and friends.
Try out these Halloween Quiz Questions with friends!
23. IRON CHEF SOUP CHALLENGE
Have a soup cookoff between you and your spouse! Make your favorites or opt for new ones and see who comes out with the best soup! After, have your kids or neighbors taste test and vote on the winner!
*Find more fun date night ideas for married couples here >>
24. MAKE A FALL BUCKET LIST
Make a date out of writing the things you'd like to do for Halloween and Thanksgiving (or anytime in between). These could be just the two of you, with friends, or as a family bucket list.
25. GO TO A FALL FESTIVAL
Finally, festivals and fairs are in full swing now, so check one out with your partner! Walk around and enjoy looking at the different items. But be sure to buy some kettle corn to take home!
Something To Consider With Fall Dates
Our busy lives can make date night a difficult pursuit, but dates are what keep the spark alive in our relationships. So, try some new fall date ideas in the next few months! It will be worth taking the time to strengthen your relationship!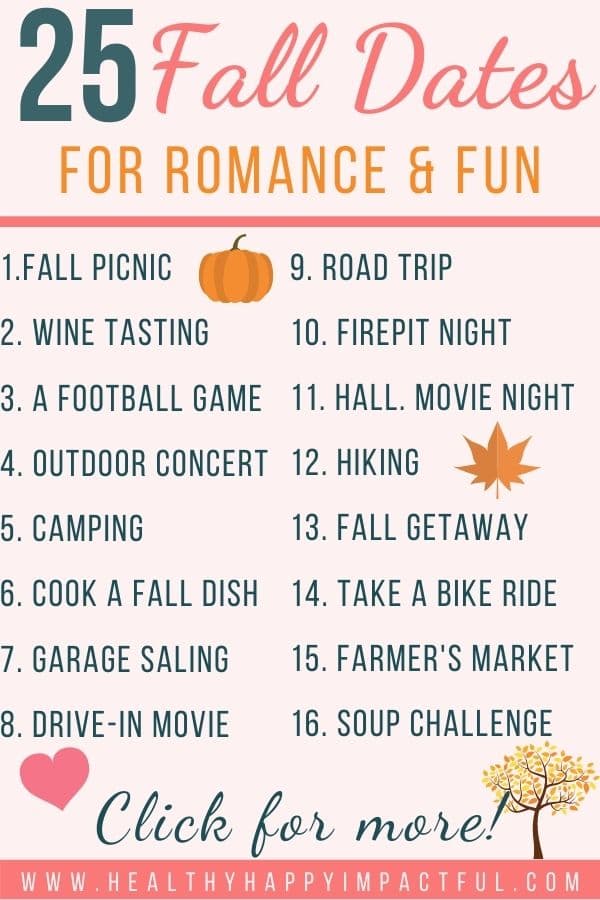 What's your favorite out of these creative fall date ideas?
Finally, what can you schedule today for a future date?
Other relationship posts & fun resources…


25 Inspiring Fall Date Ideas to Spice Things Up