The Best Christmas Traditions for Couples in 2023
Epic Christmas Activities & Date Ideas for Couples
Christmas is a beautiful time for family and friends, but sometimes in the flurry of activity, our own relationship takes a hit.
Um, when was the last time you relaxed with just your spouse?
If you're like me, not often during the holiday season.
So, let's solve this with fun Christmas traditions for couples. They are easy, built-in ways to make our most important relationship a priority, even during this busy time.
This post contains affiliate links, and I may earn a commission at no cost to you. See my disclaimer for more.
Choose a few of the traditions below and start something that can last for decades – building unforgettable holiday memories along the way.
1. Have a Baking Day
First, why not make your scrumptious Christmas treats together?
Spend a few hours making your favorite goodies to eat. Then, walk around the neighborhood together giving away small packages of treats to neighbors and nearby friends.
Find delicious recipes here: 15 Healthy Treats for Christmas
2. Take a Romantic Christmas Getaway
Next, Christmastime is arguably the most beautiful time of the year. So, plan an annual weekend getaway with your love. You can pick a serene quiet landscape or a bustling city with lots of lights to enjoy. The choice is yours!
*Can't get away?
Make it a fun holiday staycation and add activities in your day that make for a relaxing break from the Christmas preparations. Fun ideas include seeing an outdoor light show, getting hot chocolate, trying takeout from a new restaurant, and having a holiday movie marathon.
3. Exchange Date Night Gifts
Next, my spouse and I aren't big gift-givers to each other. However, we LOVE giving a gift that is used as a future date. We put together these date gifts and unwrap them on Christmas Day night, once the children are in bed and we can have a moment to ourselves.
Over time, this has turned into one of our favorite Christmas traditions for couples. Because we have two planned out dates to do in the dreary winter months.
Check out 17 creative date night gifts for specific ideas on what to do for this!
4. Do a Shopping Trip Day
Do you have kids? Every year, get a babysitter and enjoy one night out getting gifts for the kids and eating at a fun restaurant. If you're shopping online this year, turn this into a cozy night in with takeout after the kids are in bed.
5. Volunteer
Next, helping others will undoubtedly bring you together. Is there a way for you to be generous over the season? Plan out a few options and enjoy the feel-good endorphins together.
6. Go on a Couples Date
Try a couple's date night every year around the holidays to catch up with old friends. It's a simple yearly tradition, but it's a relaxing way for parents to take a night for a break. You get to relax with each other plus a few others you love.
*Try these fun challenge questions for couples on your date!
7. Watch Christmas Movies
Who could miss all of the amazing movies at Christmas? Whether you're into the classics like the Grinch, or the plethora of romantic Hallmark movies, snuggle up with your partner by the fire and give at least one night to the holiday spirit.
8. Kiss Under the Mistletoe
This one is such an easy way to keep the romance alive! Hang your mistletoe over a common space and enjoy some extra smooches over the holiday season. It only takes a second, but it's a fantastic way to strengthen your bond!
9. Eat a Special Breakfast
This one is perfect for Christmas morning. Decide on a special holiday breakfast and splurge on some fancy coffee for a Christmas morning that feels cozy and warm.
If your kids are older and sleep in late, sit with your spouse and enjoy a quiet moment together before the chaos of gifts begins.
Find healthy make-ahead holiday breakfasts HERE >>
10. Make a Toast
After the hoopla has died down, make a toast with the one you love. What are some things that went well over the holiday season? The year? Spend a short moment being grateful for the love that surrounds you.
11. Have a Hot Chocolate Date
Make your own special chocolate bar or stop at a local coffee shop for a quick date that puts ANYONE in the Christmas spirit. If you have time, sit and chat with your sweet beverages.
Try these fun Christmas would you rather questions or Christmas carol trivia questions on your date too. You'll be laughing in no time!
12. Write a Love Note
Next, get a little romantic and leave a love note or letter in your partner's stocking for them to read on Christmas Day.
Obviously, it's awesome if you're poetic and romantic, but even just a sentence explaining why you appreciate the other person is a sweet bonus on a day that often gets overshadowed by kids stuff.
Do a Fun Couple's Countdown
Next, here are 3 SUPER fun ways to use a countdown to spice your traditions up! Let's check them out!
13. Twelve Dates of Christmas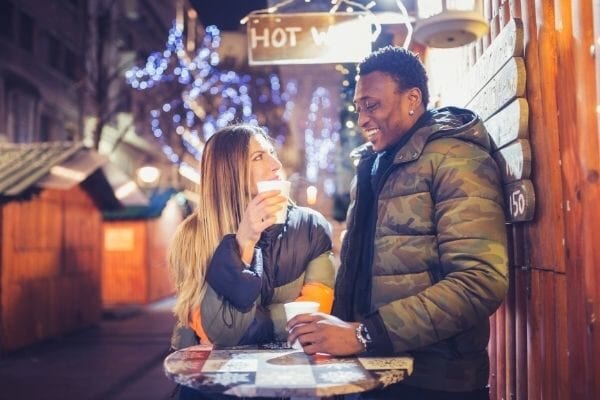 As your Christmas gift, prepare 12 separate dates for the coming year. Organize and buy gift cards to make them easy to do the dates when the time comes for each of them.
Find more ideas HERE at the Little Frugal House
14. Twelve Days of Self Care
There's no doubt about it. The holidays are fun, but also can be stressful. If it's a difficult time of year for your mental health or relationship, consider doing a self-care challenge! It's a wonderful way to slow down together during an incredibly fast-paced time.
See what's in the 12 Days of Self Care Challenge HERE>>
15. Twelve Days of Christmas Gifts
Next, give your partner 12 days of Christmas gifts leading up to Christmas Day. This fun tradition can coincide with the Christmas song or it can be anything you want.
See HERE for TONS of Christmas gifts for 12 days.
16. Make Your Own Tradition
We are all unique, so our traditions should be too! Spontaneous and out-of-the-box traditions are often the most special.
What do you love to do? What do you love to eat? Incorporate these!
Perhaps you get Chinese food together on Christmas eve or drink champagne to celebrate that you survived another season. Do something that makes you both happy, and own it!
17. Exchange a Christmas Ornament
Are you building a beautiful Christmas tree? If so, give your partner the gift of a new ornament every year. Years later you'll come across ornaments that bring back sweet memories.
18. Make a Christmas Eve Box
The Christmas Eve box is one of our favorite family traditions, but it can easily be a Christmas tradition for couples instead. Pack items in a box to make the evening fun and bright for the night before Christmas. Ideas for your partner include:
Hot chocolate, coffee, or alcohol
For lots of family ideas, read: A Magical Christmas Eve Box for Kids
19. Do a Winter Hike
If the first snowfall occurs before Christmas, take advantage with a hike out on a trail with your love. You'll enjoy the untainted beauty and connecting with nature will bring you both happiness and gratitude.
20. Stuff Christmas Stockings
Finally, of course, it's a lot of fun to fill your partner's stocking with small goodies that make him or her smile. Let them know that you are thinking about them!
Looking for More Quality Family Time?
Check out my low-cost ebook! It's an incredibly useful guide for family traditions to do ALL YEAR LONG! Don't miss out on these memory-making activities this year!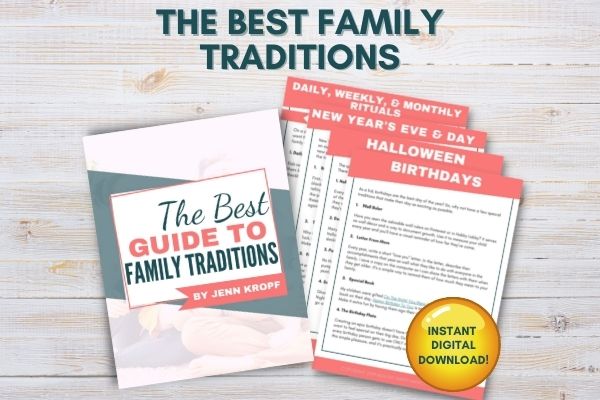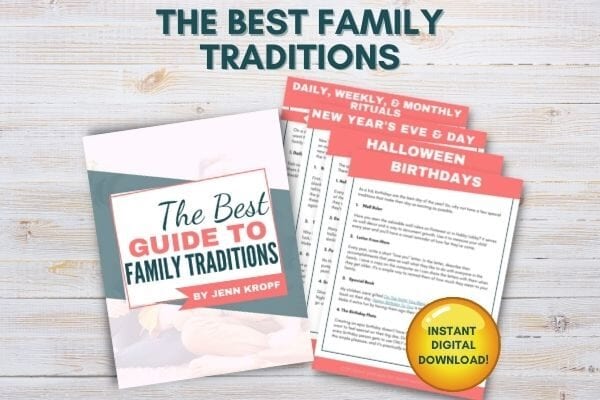 To Consider With Christmas Couples Traditions
Traditions certainly don't need to cost money, but Christmas traditions for couples DO make a difference. As you do them, you'll find that you've stolen priceless moments with your partner, even when the rest of life seems chaotic.
What are your favorite couples Christmas traditions? Let me know in the comments!
Other Christmas posts you'll love…


20 Festive Couples Christmas Traditions