15 Indulgent But Healthy Treats for Christmas
Healthy desserts for Christmas? Do they even exist?
Creamy chocolates, scrumptious pies, and indulgent truffles reign this time of year. Oh, let's face it. Staying healthy during the holiday season is HARD. We're surrounded by decadent desserts. That all look SO GOOD. And, who doesn't want to indulge? Live a little…
Saying no to all of those goodies isn't a very realistic option. But we can find healthy Christmas treats that we love WITHOUT the guilt or sabotaging our good intentions. So, check out this delicious list!
1.HOMEMADE HEALTHIER MOUNDS BAR RECIPE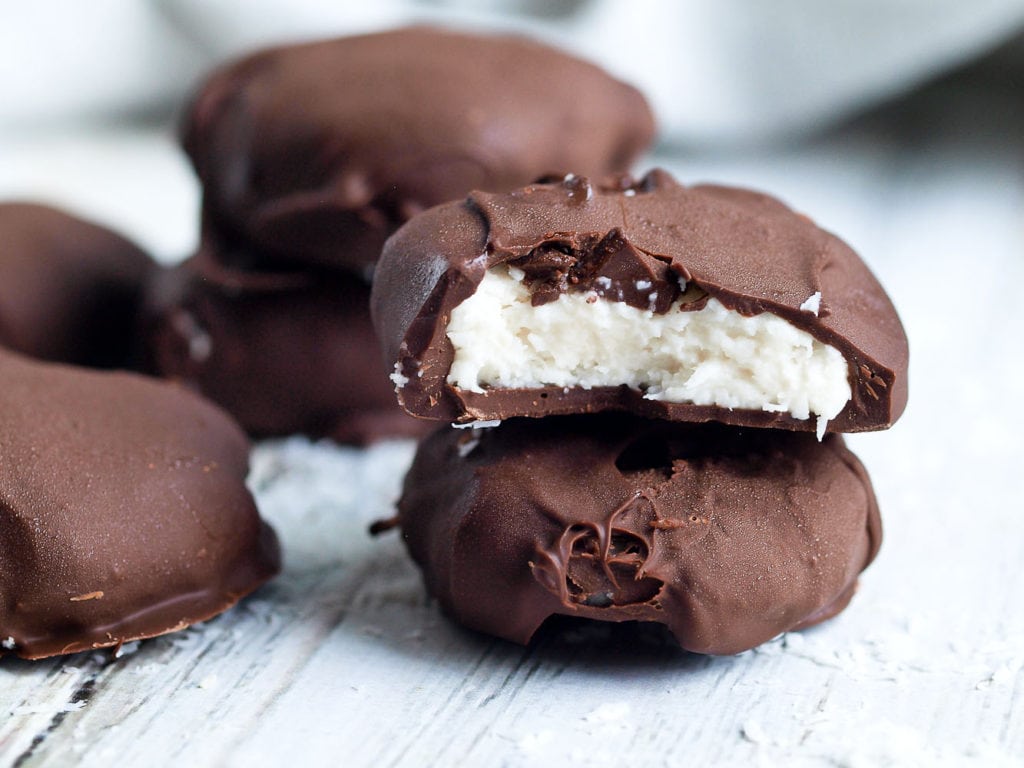 I'm a sucker for chocolate. There's just nothing better, in my humble opinion So, naturally, I love these healthier candy bars. This lighter recipe calls for only 5 ingredients, and honey is the main sweetener. I'll take two.
2. CHOCOLATE DIPPED SATSUMAS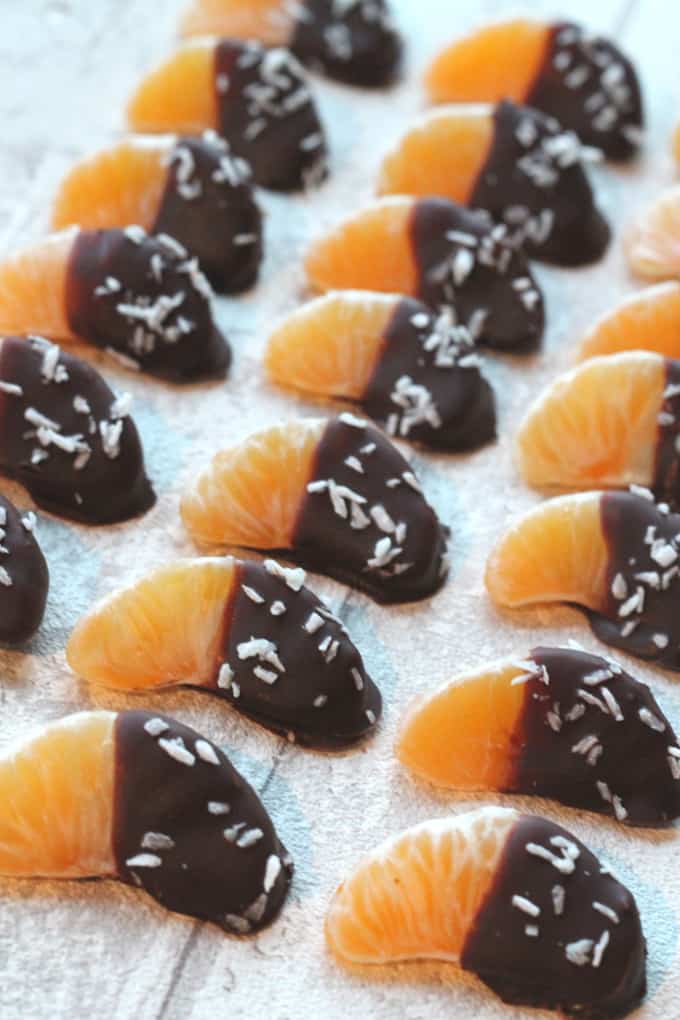 Any holiday treat involving fruit is going to be a better option. These beautiful satsumas dipped in chocolate even look fancy. With mandarins and oranges on sale this time of year, this is a healthy and affordable option for parties or kids.
3. DARK CHOCOLATE SEA SALT ALMOND BARK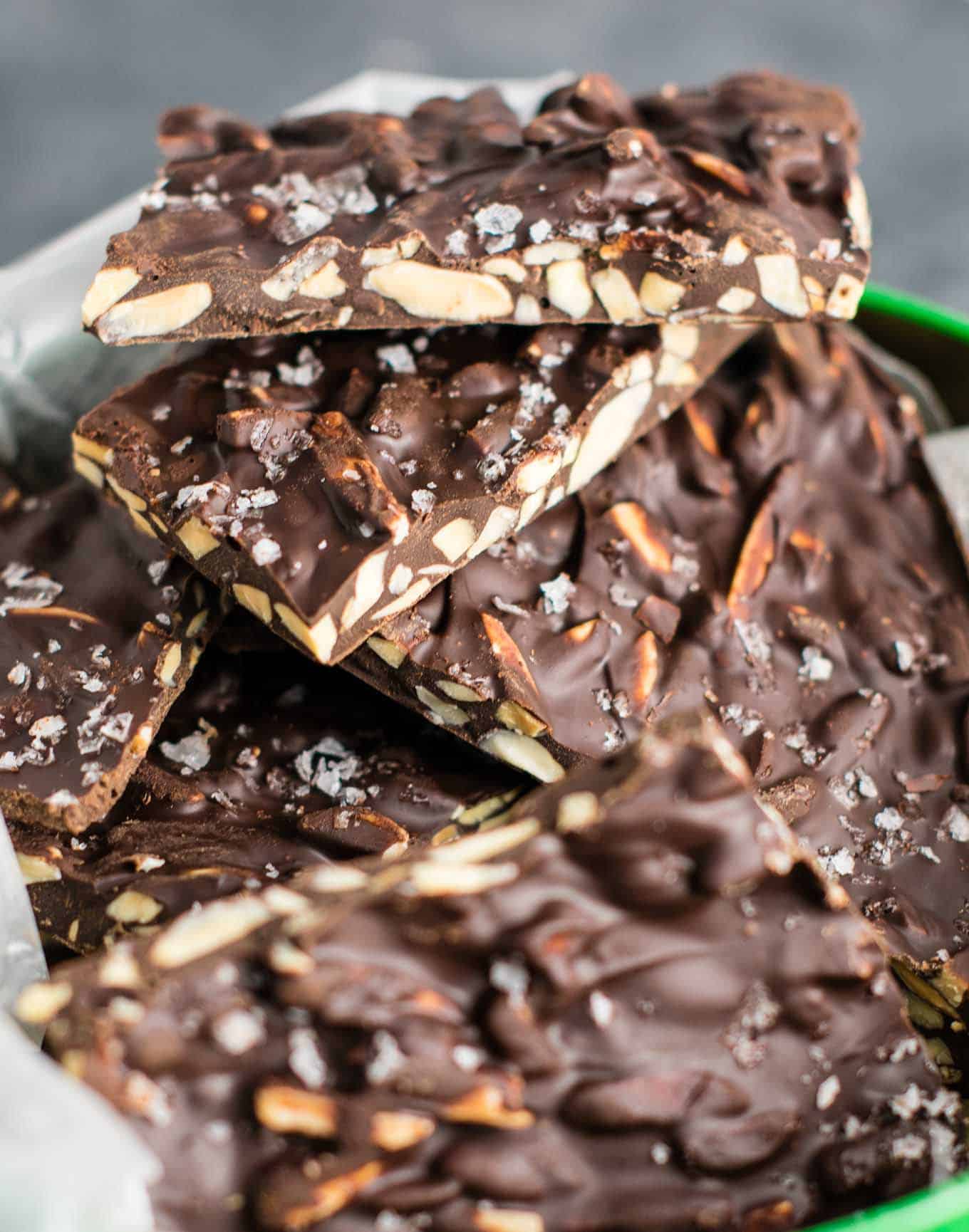 Did I say I like chocolate? This super simple treat has only 4 ingredients AND is vegan and gluten-free. The dark chocolate in it also has less sugar than milk chocolate. And yet, it's no surprise that the creator of these says they're incredibly addicting.
Related Post: 17 Healthy Holiday Breakfasts You Can Make Ahead
4. CHRISTMAS FROZEN YOGURT BARK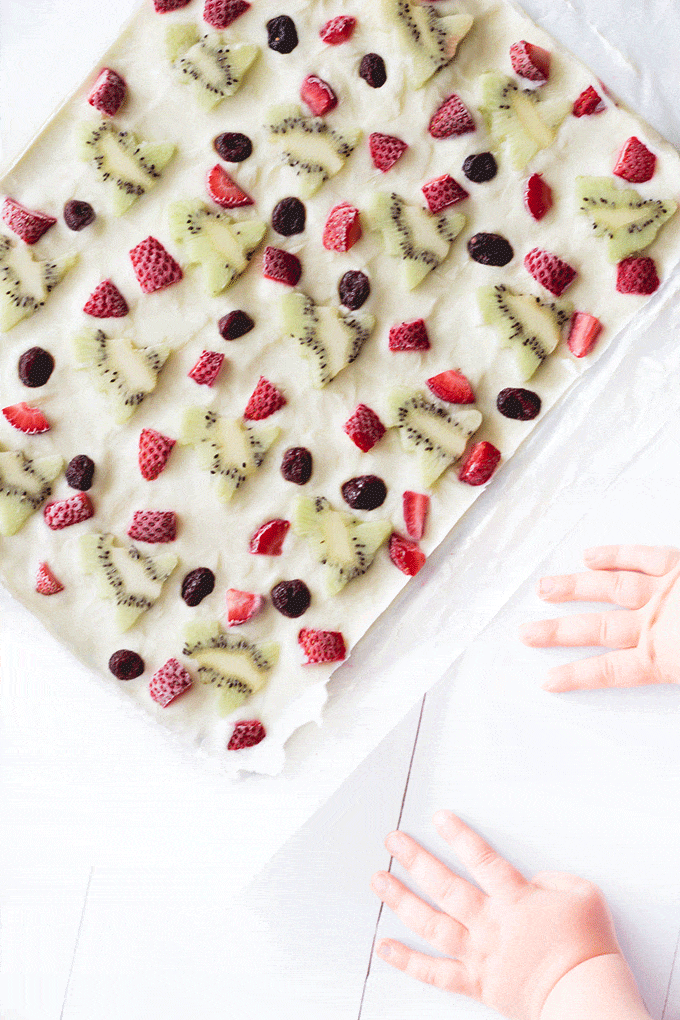 This is a WONDERFUL healthy snack treat for kids! Substitute your favorite yogurt option for the chocolate and add fresh fruit to the top. They'll love this as much as the sugary stuff.
5. HEALTHY PEANUT BUTTER BALLS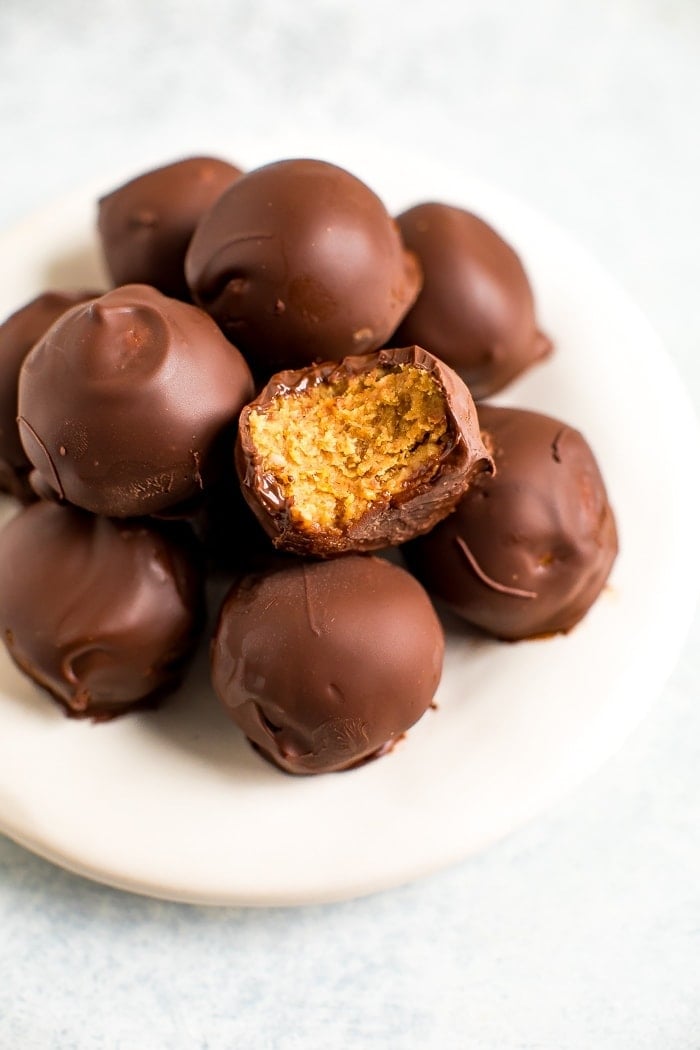 These peanut butter balls have all the flair of the traditional truffle. And like many of the other recipes, these are vegan and gluten-free, plus sweetened with natural elements (dates)! They look just as good as the full-on versions without all the empty calories.
Of all these healthy Christmas treats, I'll be making this one first!
6. HEALTHY STRAWBERRY SANTAS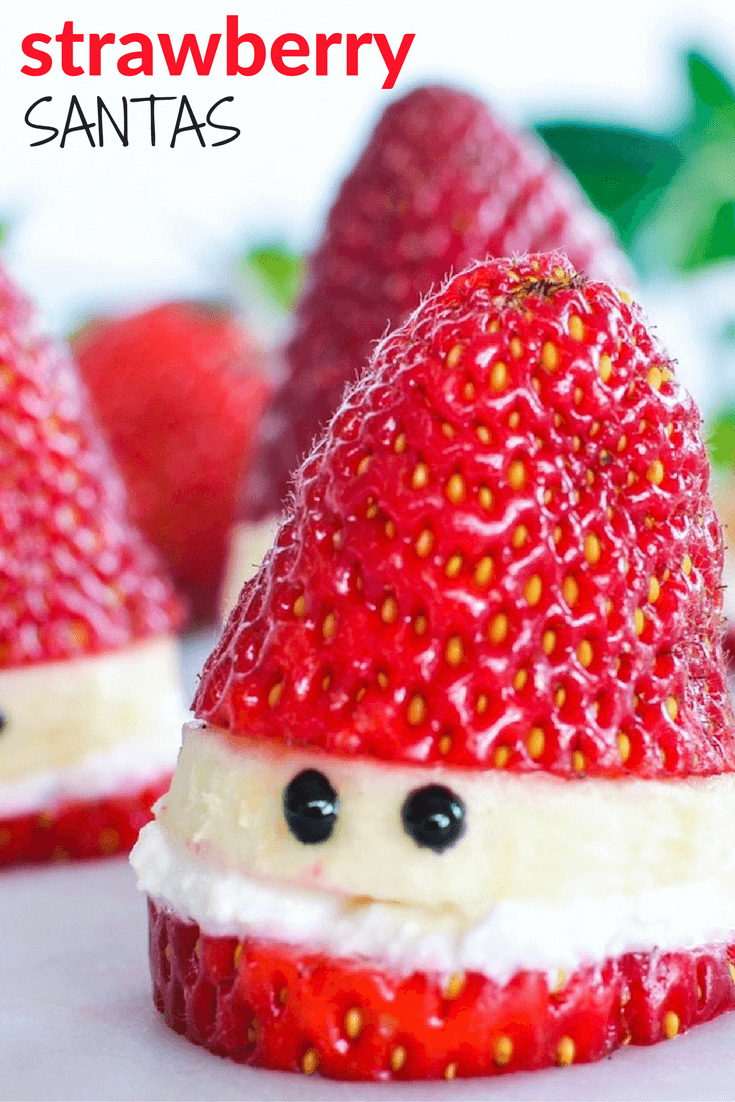 This is sure to be another kid favorite because, well look at them! Who doesn't want to eat little Santas? All this takes is fruit and whipped cream from the fridge with a little dose of creativity. It doesn't get much easier than this!
Try these with one of your easy family movie nights this holiday season!
7. VEGAN CHOCOLATE COCONUT BALLS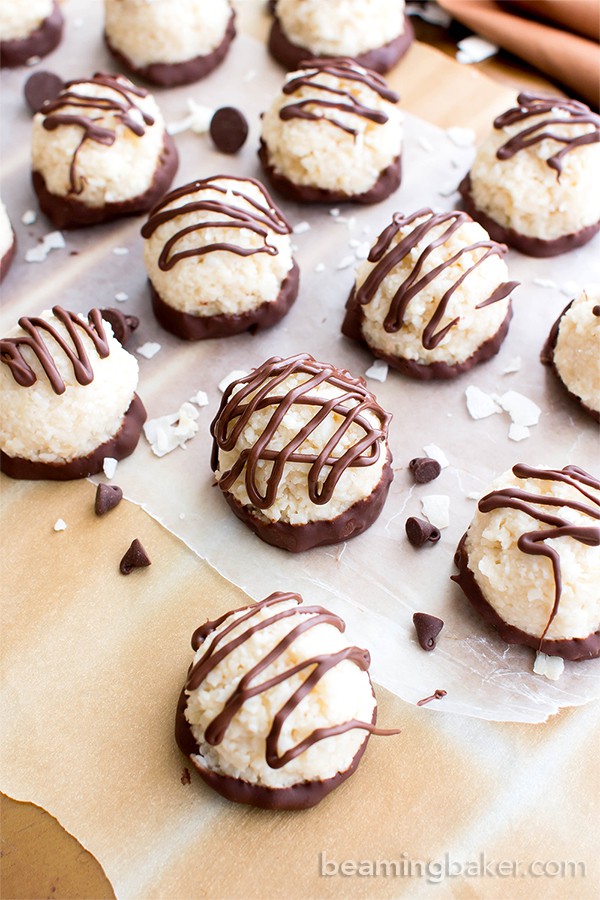 These healthy little truffles look like they should be sitting in a fancy bakery somewhere. Yet, even though they look sinful, they're just sweetened with maple syrup and chocolate chips.
8. EASY GINGERBREAD TRUFFLES
Perhaps I have a lot of truffles on this list! But dangit, it's just that time of year. And they look so decadent. These healthy holiday truffles come together in just a few minutes and are sure to bring that classic gingerbread taste!
9. HEALTHY PEANUT BUTTER FUDGE
And now fudge. Obviously.
Traditionally fudge is indulgent and rich. This fudge is no different EXCEPT that it's gluten-free, refined sugar-free, vegan, and dairy-free. Which basically means it uses whole ingredients. I mean, just look at this 4 ingredient fudge and tell me you don't want it.
10. PEPPERMINT DARK CHOCOLATE NICE CREAM
We can't leave ice cream off this list! This healthy version uses bananas and clean ingredients to make this delicious peppermint dessert. As a banana ice cream eater myself, I can tell you that banana ice cream is just as tasty as the dairy stuff. You'll be shocked when you try it!
11. HEALTHY TURTLE BARS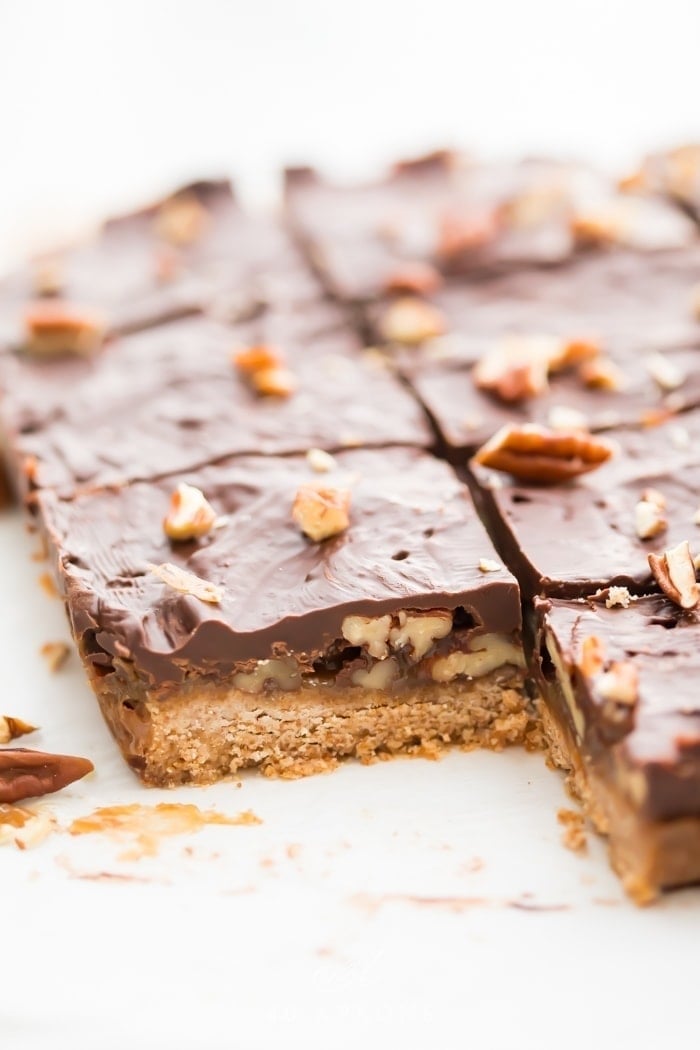 And then I saw these bars and couldn't keep them off the list. This healthier bar option is a great dessert to bring to any holiday gathering. And no one will even guess that you used cleaner ingredients to make it.
12. CHOCOLATE DRIZZLED FRUIT SKEWERS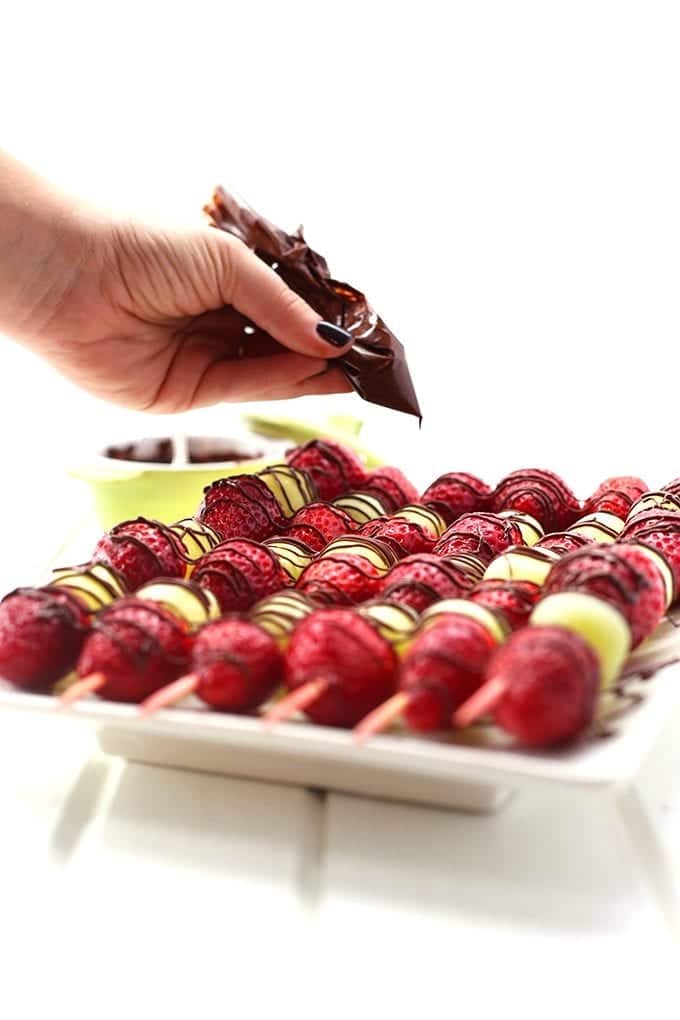 This super simple dessert can include any fruit, but the strawberries and grapes give it the Christmas spirit. Drizzle a little chocolate on top and you've got a festive dessert that won't sabotage your healthy lifestyle.
These make a fantastic New Year's Eve appetizer as well!
13. SALTED CARAMEL PECAN PIE (PALEO/GLUTEN-FREE)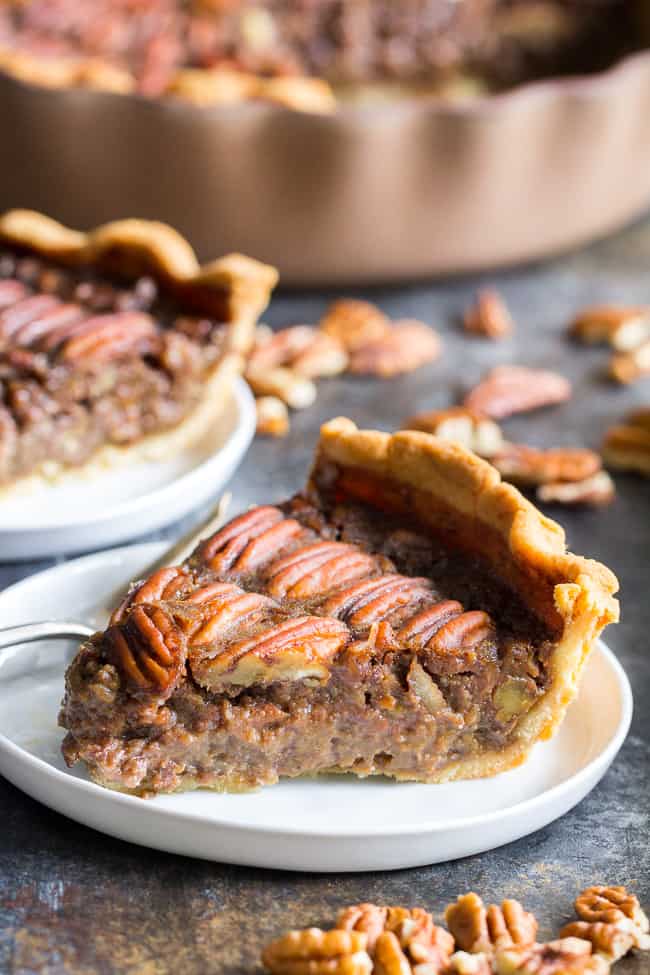 Pecan pie makes its yearly appearance this time of year. And for good reason. Not only is it rich and delicious, but it brings back lots of beautiful memories of holidays past. This year, give the classic a healthy makeover!
14. HEALTHY NO BAKE SUGAR COOKIE BARS
Know what got me with this recipe? The no-bake part. It just sounds so EASY if I don't have to cook it! This healthy treat even includes protein powder which will help give it a little staying power.
15. HOT COCOA COOKIES WITH BEAN FROSTING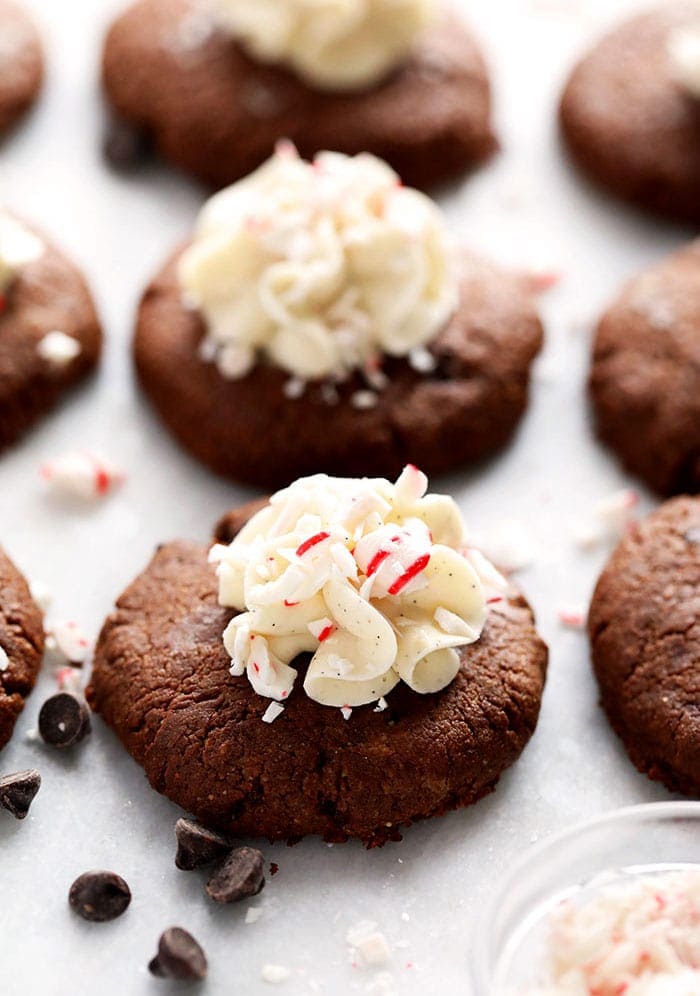 Finally, think hot cocoa but in cookie form! There's no flour at all in these cookies, and coconut sugar is used to make them taste amazing. Try this healthier option for your next cookie exchange!
Tips for Your Traditional Holiday Treats
Now, we all have those standby dishes that we hold near and dear to our hearts. As for those indulgent recipes that you already love, here are some tips to make them a little healthier.
SUBSTITUTE A HEALTHIER INGREDIENT
Got your grandma's famous pie recipe? By all means, make it! Just scan it to see if there's one (or half of one ingredient) you can swap out to make it a healthier holiday dessert. Substitutions include:
Applesauce, banana, honey, and maple syrup for white sugar
100% whole wheat flour for white flour
Avocado for butter (1/2:1)
Flaxseeds for eggs
Black beans for flour
Consider adding these good for you ingredients too: chia seeds, walnuts, berries, and oats.
MAKE A LIMITED AMOUNT
Our eating is hard to keep in check during the holidays because there are so many sweets around. So, do a little environment rigging. When baking, make a certain number that you'll use and stick with it. There's no need to make 30 extras that you'll scarf down the next day when willpower is gone.
USE WHOLE FOODS
As with the healthy treats above, anytime you can include whole ingredients into your baking it's a BIG win. So, stay away from ingredients you can't pronounce. Non processed ingredients mean fewer preservatives and sugar, and more fiber and protein.
INCLUDE FRUIT
Finally, adding fruit to your dessert table helps carb the excess calories and fill you up. Drizzle chocolate on fruit or add it to your favorite dips.
Something to Consider With Sweet Treats
While these recipes and tips are in no way a substitute for vegetables, they do give us a way to lighten the calorie load and look after our bodies a little bit better. I don't know about you, but I can use all the help I can get this time of year!
Furthermore, food is an essential part of celebrating with friends and family. BUT it doesn't HAVE to equal weight gain and January guilt.
Now, what are your favorite healthy treats for Christmas? Is there a recipe you have that you could make healthier? How so?
More Joyful Holiday Posts…


15 Healthy Treats for Christmas