One of the Best New Years Eve Traditions With Kids (+5 Epic Tips)
What Do You Do With Kids on New Years Eve?
If you have kids, you know that it's not always EVER easy to get out of the house. Therefore, our New Years Eve traditions are kid friendly and center largely around the home. And that's perfectly fine! It's simply the stage of life we're in.
This post contains affiliate links, and I may earn a commission at no cost to you. See my disclaimer for more.
Kids New Year's Clock Countdown
Also, we need for our holiday festivities to wind down BEFORE midnight. Because, whoa, no one wants to see my kids the next day when they haven't slept. It's just not worth it while they're little.
For that reason, we do our New Years Eve activities from 5 pm to 8 pm. This gives us a festive night of fun and entertainment, but our kids still go to bed at a normal time. Then, my husband and I get a little adult time to unwind (and fall asleep before midnight).
But, of course, do the activities when they work for you!
How it Works
First, I write 15-minute time increments on clocks that I laminated several years ago. The time is written on the front in a Visa V pen so that it can be erased! Then, I write the activity on the back so that I know what we're doing.
When it's the specified time, we do the activity labeled on the back. Finally, we keep going until all of the clocks are done (and it's bedtime :))
I don't remember where I printed my blank clocks from, but HERE are a bunch of free clock templates!
FOR YOUNG KIDS
For toddlers and young kids, set an alarm to keep kids on track for your countdown. Make activities every 15 minutes to keep them moving and relieve the inevitable impatience between activities.
FOR OLDER KIDS
Older kids can read the clocks on the door (it's great practice!). For kids with more patience, every thirty minutes works well. Or try a combination of time lengths that work depending on the activity.
A Sample Schedule of New Year's Eve Activities for Kids
Here's a sample schedule for activities every thirty minutes.
5:00 EAT A FUN DINNER
Make it fancy-schmancy or throw out some chicken nuggets. Either way, a fun family dinner is a must! Read my easy family dinner activities if you need something fun for your meal.
5:30 DECIDE ON FAMILY GOALS
Come up with 5-10 things you want to do as a family this coming year and goals you may have. Our list last year included things such as going to church more often, seeing a national park, and more family exercise. Adults usually write it and kids add pictures. Then, it goes up on the fridge.
See this list of family goals examples for great ideas for your tribe!
6:00 EAT A FANCY TREAT
It's New Years, and who doesn't love a treat? I bake some healthy(ish) banana bars with fancy chocolate on top. Be sure to include 12 grapes for good luck!
6:30 SPECIAL BEDTIME RITUAL FUN
I LOVE the idea of getting ready for bed as part of the countdown. I mean, make bedtime as easy as possible people! Draw a bath for the kids (involve some new special toys if you'd like), read a great story, and have them brush their teeth. (Or save the teeth brushing for after your toast).
This book is a great one for New Years Eve traditions…
7:00 LOOK AT PICTURES
We take tons of photos, so why not celebrate them? Cuddle up and look at all of the pictures that you took over the year. Talk about your best memories. It's easy to use your phones or computer, and we always find special moments we forgot about already!
7:30 NEW YEAR'S EVE QUESTIONS
Next, we've used a questionnaire for many years. The kids love reading what they said in past years. Plus, there are tons of free printables on Pinterest for your own questionnaire! Or just ask them general questions!
This year, we started New Year questions cards to talk about the "best" and "worst" things of the year too! You can grab free cards in the resource library!
8:00 THE FINAL CLOCK COUNTDOWN
Finally, do your own countdown and toast to the New Year (with sparkling grape juice, of course). Drop balloons from the ceiling or hop on Netflix to choose from several of their kids' countdowns. We do two or three different countdowns for fun. And, of course, make LOTS of noise!
Other Great New Years Eve Traditions & Activities
In years past, we have varied the activities. Different things work for different kids and ages! So, here are others that we've done and additional ideas to try.
BRAIN BREAKS
We ALWAYS need to get the wiggles out. Pop See Co by Koo Koo Kangaroo (video below) and Cosmic Kids Yoga are our longstanding favorites, but a simple Youtube search usually gives us lots of options to move our bodies for 15 to 30 minutes.
DON'T LET THE BALLOON HIT THE FLOOR
And now we're going old school. Again, get the kids' energy out! We included this last year and the kids LOVED it. Simple, but effective.
NEW YEAR'S BALL GAME
The Saran Wrap game! If you've seen this game, you know it's a big ball of plastic wrap with various goodies inside. You sit in a circle and roll a dice to see how long each person gets to unwrap the ball and try to get a prize.
Honestly, I'm nervous about wasting all of that plastic wrap. However, I recently saw someone re-using Christmas wrapping paper to use in their ball. Brilliant! We'll give it a shot this year as one of our activities!
Check out game rules and another way to make the ball eco-friendly HERE.
TREASURE HUNT
If you're feeling industrious, do a simple treasure hunt for the kids to search inside or outside of the house. Have a small prize or kids reward coupon at the end. Older kids can even make their own for the rest of the family to do.
WATCH A FUN 30 MINUTE SHOW
Do they have a favorite show they love? Add it into the countdown! This is a great activity to help them wind down for the night.
HAVE THE KIDS COOK
This one has to be done BEFORE dinner, obviously. But it's a great activity to get them involved. As they get older, they could have their own New Year's Eve signature dish.
MAKE A TIME CAPSULE
Put a few special items from 2023 in a box and record your best moments of the year. Bury it in your backyard or set it in a back closet or the basement.
PLAY TRIVIA (Great with older kids)
Test your New Year knowledge with these easy and hard New Year Trivia questions. You'll learn a lot AND have fun!
Also, check out New Year's Jokes and Riddles for Kids!
BRAINSTORM YOUR FAMILY'S FUTURE
This one is similar to family goals, but more of a family bucket list. Get a huge piece of poster board and go crazy brainstorming things you want to do as a family, places you want to travel, projects to conquer, and goals to accomplish.
See here for cool vision board examples and fun vision boards for kids >>
WRITE A FAMILY LETTER
Finally, recap some of the major events that happened in your lives in the past year.
Write it down. Then, include something that you each hope for in the coming year. As the years pass, take some time to read the letters from previous years.
Looking for more great family night ideas? Get a copy of the pdf below!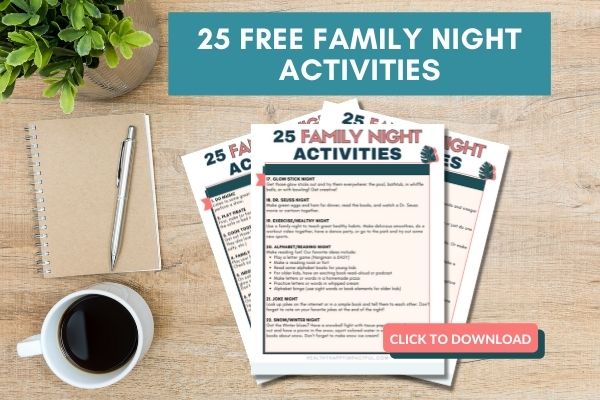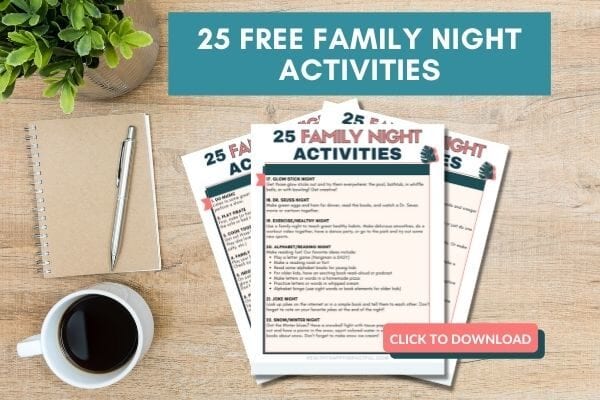 5 Clever Tips to Make the Night Amazing
Ok, you've got your clocks and New Years Eve traditions ready to go. What's next? Check out these quick ideas to make everything extra special!
1. USE SIMPLE DECOR
Include a few decorative items in the evening! We like to add a "fancy" tablecloth and flowers to the dining room table, and we get out a few balloons. Nothing crazy, but enough to make the evening special.
2. DO SOMETHING SCANDALOUS
Scandalous for the kids, that is. Pick one thing that adds a little craziness to the night. Buy some ridiculous hats, eat only with spoons, or wear your pajamas inside out. The giggles you'll hear will be worth it!
3. PRE-PLAN YOUR NEW YEAR'S EVE TRADITIONS
New Years Eve traditions are not meant to be stressful for parents. So, make-ahead items for dinner (or your treats) and buy everything well in advance. Or just use items in your home. Then…
4. GO WITH THE FLOW
Like the rest of the holidays, expectations can get out of hand. Make mental notes for what works and what doesn't. Choose the easier activities if you need to. But remember, your time together is the most important thing here.
5. CREATE NEW YEARS EVE TRADITIONS WITH ADULTS
This kid party finishes early. So, grab your ebook and finish out the night with some special rituals you love with your partner or friends. And of course, don't forget the kiss!
Something to Consider With NYE Family Traditions
Since starting these New Year's Eve activities with our kids the night has gone SO SMOOTHLY. The first time you do it, there's a little setup work, but after that, it's incredibly easy. Plus, it adds a special flair, and it's a fantastic transition into bedtime.
Now, end the year with the right tone. Be reflective and excited for what comes ahead! The future is bright!
What are your favorite New Year's Eve traditions? Is it with family, friends, or your partner? I'd love to know below!
Other Family Traditions Posts You May Enjoy…


Family Friendly New Years Eve Traditions & Activities