89 Epic Vision Board Examples & Ideas for 2023
Looking for vision board examples to help you make your dreams a reality? This post not only has beautiful vision boards to motivate you, but you'll get specific ideas for your goals too!
This post contains affiliate links, and I may earn a commission if you purchase (at no cost to you.) See my disclaimer for more.
Make a Vision Board In a Few Easy Steps
1. Decide on goals and dreams
Finding clarity is the most essential step to this entire process. Here's the thing: a vision board is the inspiration. It's for the energy and motivation that get you where you want to be.
Your underlying goals are the foundation. So, make your vision board while you also write specific goals (on or off your board). If you look at both often, you'll be unstoppable.
2. Gather the needed materials
Next, use images, vision board quotes, and affirmations that inspire and move you!
Feelings are vital to making your vision real. You need to be able to both get excited when you see it and SEE yourself doing each action.
3. Create
Now is the best part. Make a dream board that you are in love with! – The ideas below will be all you need.
*For more on specific steps, check out how to make a vision board.
4. Display
It's extremely important to see your vision board often. So, put it in a high-traffic spot! The vision board examples below also give excellent ideas for new places to put it – including a journal, screensaver, and workspace.
18 Examples of Vision Boards That Will Inspire You
Now, a vision board can be anything you want it to be – from a piece of paper to a giant board in your living room. These powerful vision board examples will get your creative juices flowing.
1. My 2021 Vision Board Example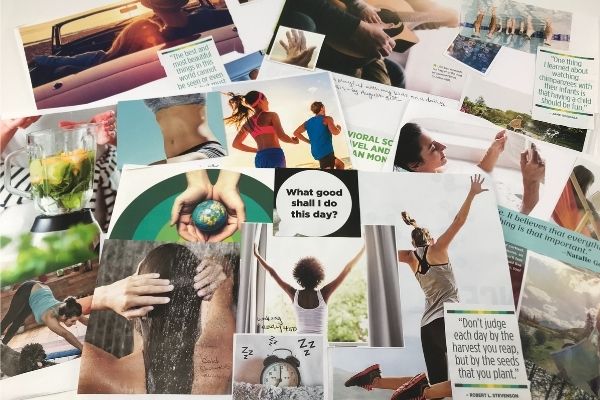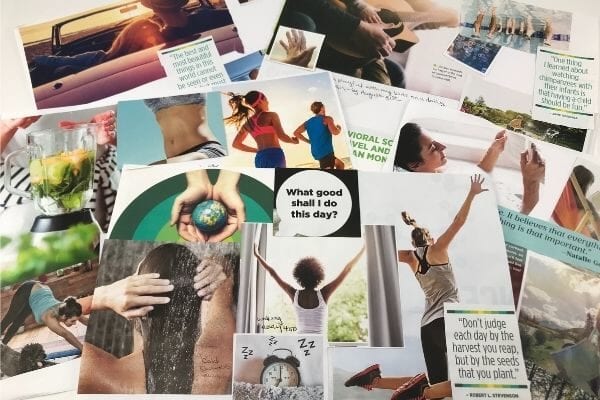 First, here's the vision board I made last year out of magazines.
While it looks like one big collage, my vision board example is actually separate pages laid on top of each other. The front/center page is personal growth, and the other pages included health, family, my partner relationship, and wellness.
2. The Bright Vision Board
This vibrant dream board uses a black background and bright colors that draw the eye. It not only has strong action words such as "cherish," but it also includes motivating images and focuses on specific goals. (Love the reading room!)
3. A Grid Vision Board for Work
Now, some of these vision board examples are meant to help us think outside the box. This woman uses a wire wall grid to display her dreams at the office.
Can you do something like this in your workspace?
4. An Online Vision Board
Do you prefer to create your vision board online? No worries, there are several great digital vision board examples on this list!
This one was set up with a free account in Canva in less than 10 minutes.
5. A Journal Vision Board
This vision board fits in someone's journal and makes for something the person can flip back to whenever she needs a little inspiration in her notebook. How handy!
6. A Teacher Vision Board
If you are a teacher, you know that some days are more difficult than others. Putting together a vision board that helps you (and your students) through the hard ones is a brilliant idea.
This teacher idea would work well as a family vision board too!
7. A Free Vision Board Template
Now, if you need something simple and all on one page, this is it!
This free vision board template can also be used as a fabulous goal-setting template to go alongside a more visual dream board in 2023.
8. A Creative Digital Example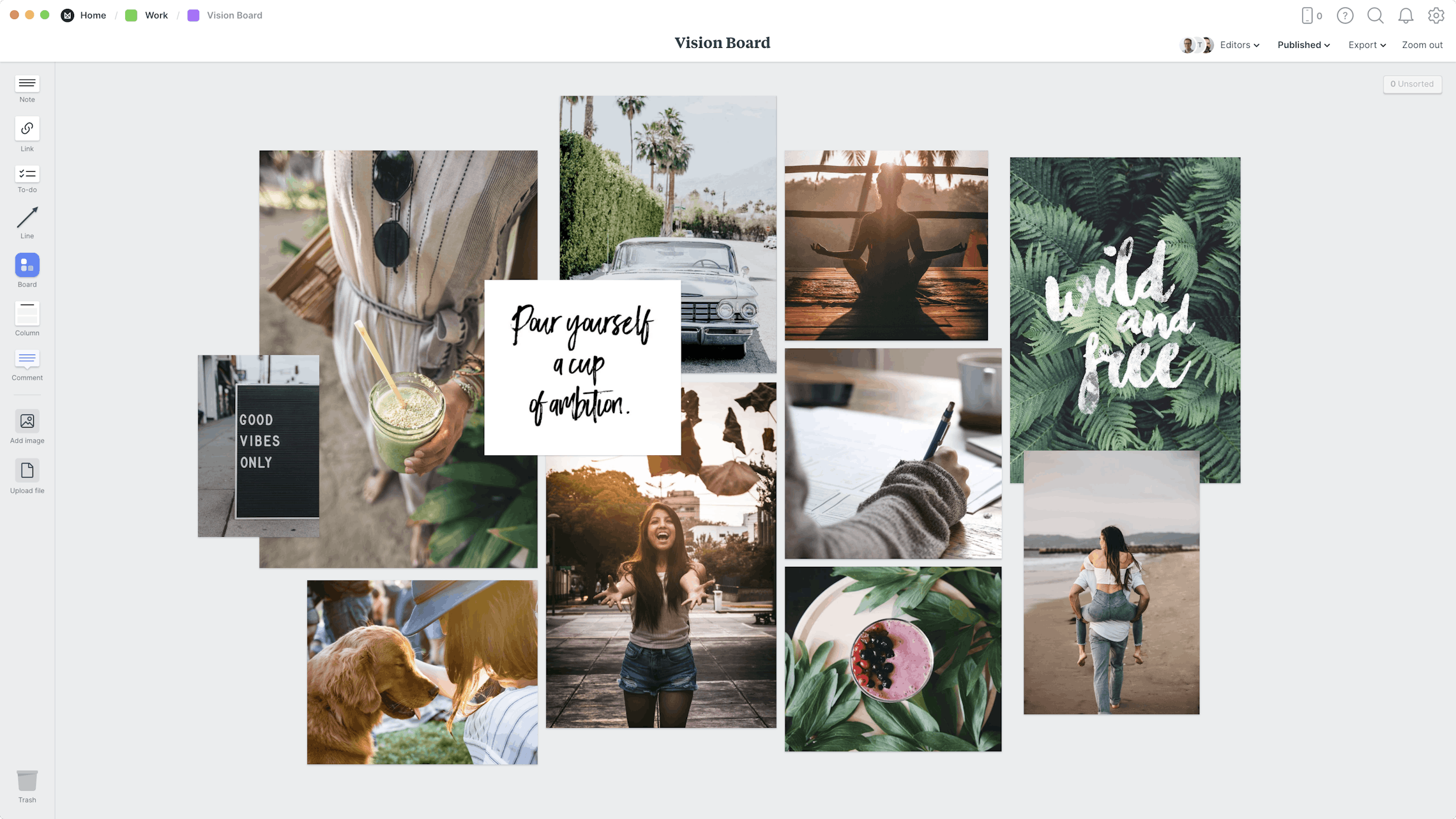 Here's another digital vision board using a free creation software called Milanote.
The great thing about digital is that you can put your vision up as your phone and computer screen saver – making it guaranteed you'll see it often.
9. A Beautiful Mom Board Example
This pretty vision board is from a mom and is one most moms can relate to well!
She does a great job of using words to identify the different categories and goals that are important to her – creativity, self-care (get 100 self-care ideas HERE), family, simplicity, reading, photography, routine, and health.
10. A Bulletin Board Vision Board
A great dream board doesn't have to be magazine cutouts. This creative bulletin board is designed with images, words, and even symbols and objects to get the meaning across. How inspiring!
11. A Personal Development Vision Board
One beautiful benefit of a vision board is that it helps you look beyond the usual categories people focus on – money and health. It's a pledge you make to your wellbeing, relationships, and sense of adventure thrive too.
*Don't miss this checklist of simple actions that keep you inspired!
12. The Highly Visual Vision Board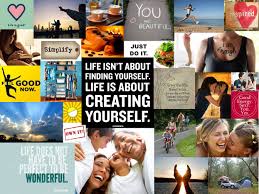 The centralized quote in the middle of this board helps tie it all together and bring focus and motivation to the board.
It's also a very visual board. As we are all different, we will all have a different ratio of words to images that speak to us. Use what feels right to you.
13. The Simple Frame Dream Board
This board is simple and to the point. It uses images and words, and it shows us that we can put our vision board in a small frame as well.
14. A Vision Board Movie
Because visualization is all about seeing yourself in motion, I decided to make part of my 2022 vision board into a moving visual as well. What do you think?
15. A Vision Board Wall Example
Do you have a lot of space you can use? Take an entire wall and dedicate it to your dream life. How inspiring to walk into a room like that every day!
16. A Scrapbook Picture Frame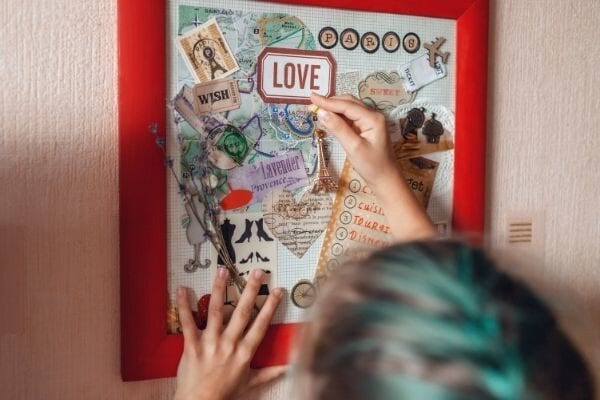 Next, this is another vision board inside of a frame but the owner used scrapbook materials to make it – giving it a more 3-D look. It is also a specific travel vision board. This reminds us that we can have different boards for different categories.
For travel ideas for your vision board see the Bucket List of Ideas post!
Note: A scrapbook board is a fun one to do with kids! See more kids vision board examples here >>
17. The Pretty Etsy Vision Board Kit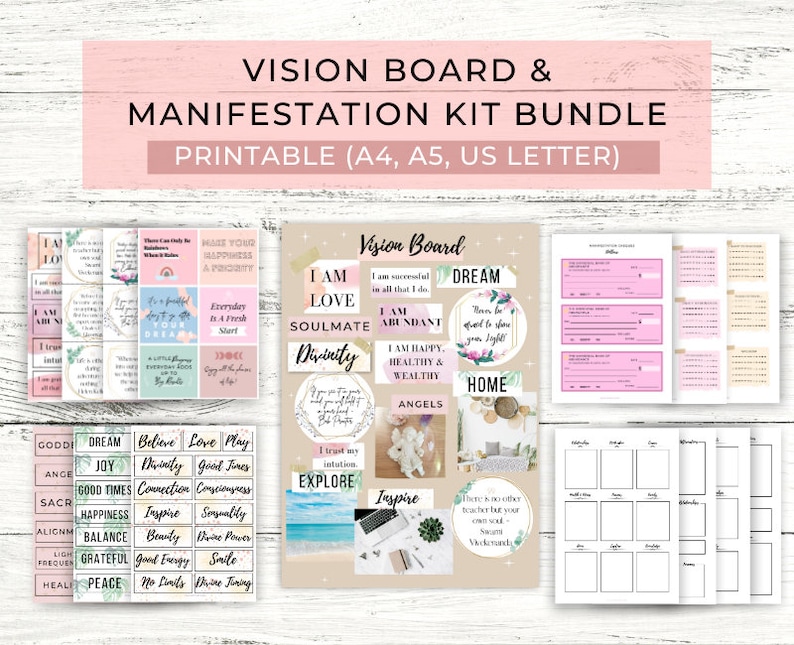 I close out the list with a few ready-made kits that make vision board creating super easy. This manifestation kit even comes with printable checks and affirmation cards, which I thought was quite unique.
18. An Etsy Vision Board Workbook and Guide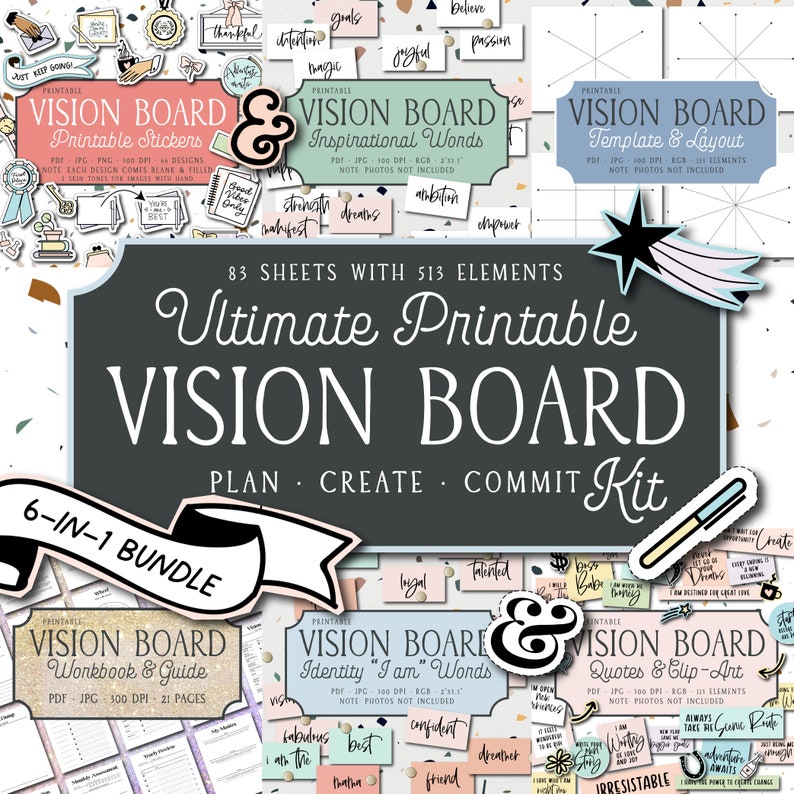 The style of this vision board kit is absolutely stunning. It also comes with printable stickers and worksheets to help you map out your dreams in a specific way.
Bonus Tip: Set your vision board affirmations up as reminders on your phone! I have 5 that pop up every day, and I've been shocked out how effective they are! See more on the law of attraction HERE>>
71 Vision Board Ideas to Start Goal Setting
Now that you've seen excellent examples, here are ideas for goals and categories to think about. I kept these non-specific for your vision board (because everyone is different).
However, remember to follow the SMART goals pattern and get granular with your real goals – on or off the vision board.
Vision Board Ideas for Health & Self-Care
Vision Board Examples for Family
*See more family ideas with this family goal examples post or family bucket list ideas!
Work & Money Vision Board Ideas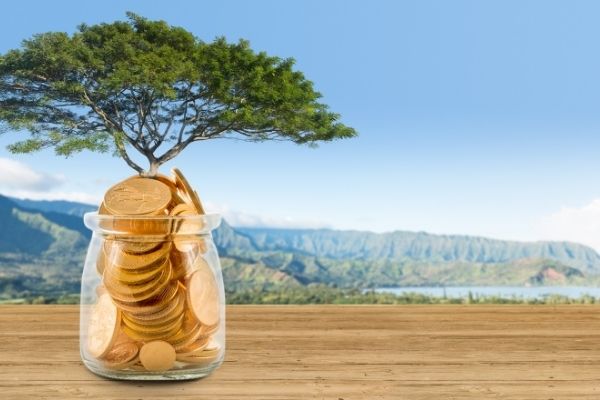 Vision Board Ideas for Personal Development
Vision Board for All Relationships
This list includes friends, family, and partner ideas.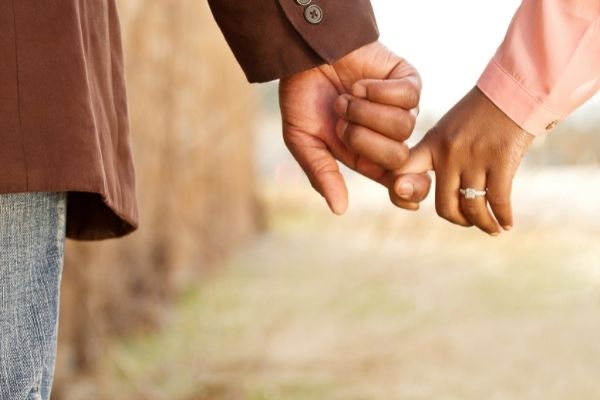 Related Post: The 35 Best Couples Goals for Your Relationship
Vision Board Ideas for Fun and Adventure
Related Post: Super Fun Things to Do on Your Birthday
Don't Forget the Benefits of a Vision Board
In case you needed more convincing, a great vision board has a wealth of benefits. So, stick with it!
To Consider With Vision Boards Examples & Ideas
Looking for more support on the way to your dreams? See my Full Digital Personal Growth Planner! You'll find tips and tricks for your vision board, bucket list, and help for following through on your goals!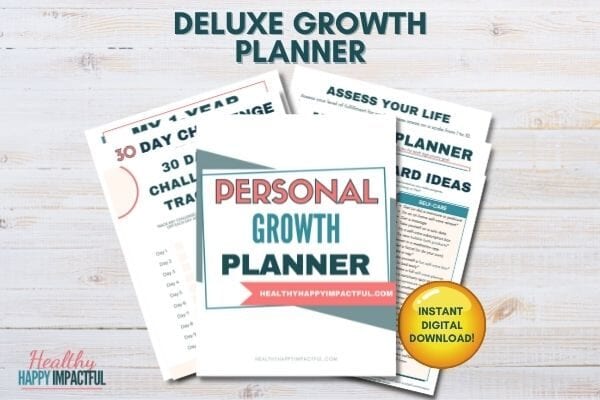 Finally, what are your favorite examples of vision boards? Do certain ideas speak to you? Share in the comments and let me know!
More Personal Growth Posts You'll Love…
Examples & Ideas to Make a Vision Board That Works for YOU!