Free Vision Board Template + How to Make Your Amazing Dream Board
What is the Purpose of a Vision Board Template?
In his book No Limits, Michael Phelps explains that his ability to visualize was a critical skill to his success as a swimmer. Every single day (often multiple times) he visualized what his perfect swim looked like.
Now, he's the most decorated athlete in the history of the Olympic games, with 28 medals (23 gold). It appears, he was on to something.
But how do we apply this skill to what we want in our own life?
Today, let's dig into visualization, find how a free vision board template can help, and learn how to make a vision board that WORKS to reach your goals and dreams.
This post contains affiliate links, and I earn a commission at no cost to you. See my disclaimer for more info.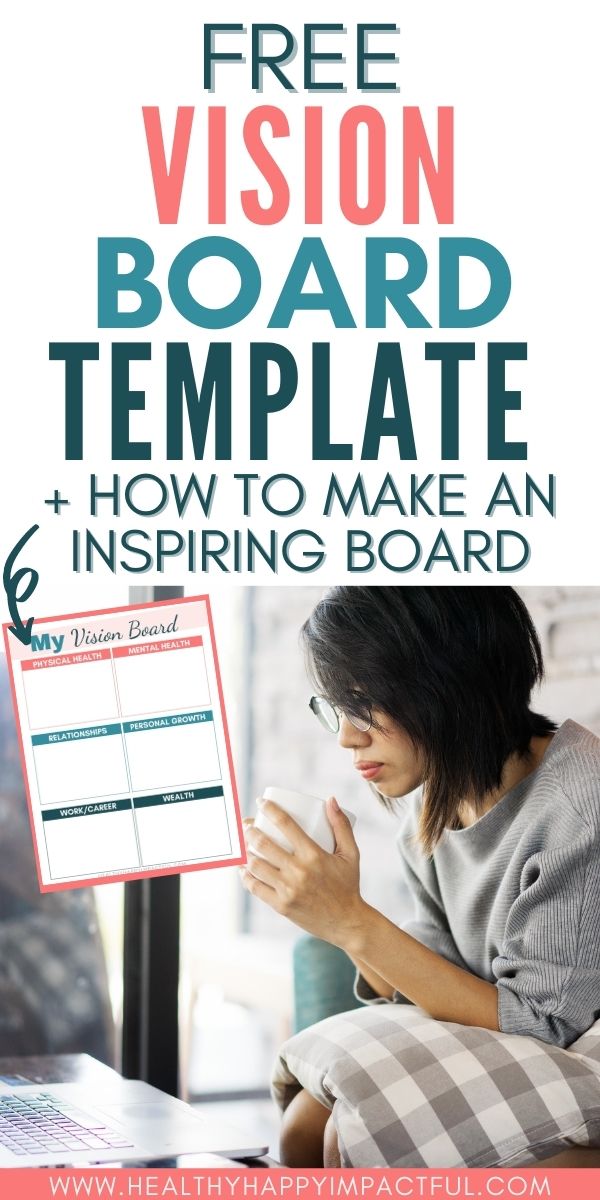 First, Why Visualization Works
As Phelps and other high performers understand, the mind is a powerful thing.
In fact, one study shows us that visualization alone is almost as effective as physical activity because mental imagery impacts our cognitive processes the same way that action does (source).
As a result, visualization is a magnificent way to train your brain, and therefore your actions.
More research reveals that visualization BY ITSELF can enhance muscle strength or get us to make better food choices (source), But the point is the same with all of the studies. This tool can help you get where you want to go.
And we certainly don't have to be Michael Phelps or Oprah Winfrey to make this work for us.
So, where does learning how to make a vision board fit into this?
Well, it's not always easy to come up with a detailed mental picture in our minds. A goal/dream board (or vision board template) can be the guide you need to make this skill a part of your life.
How Do You Make a Vision Board?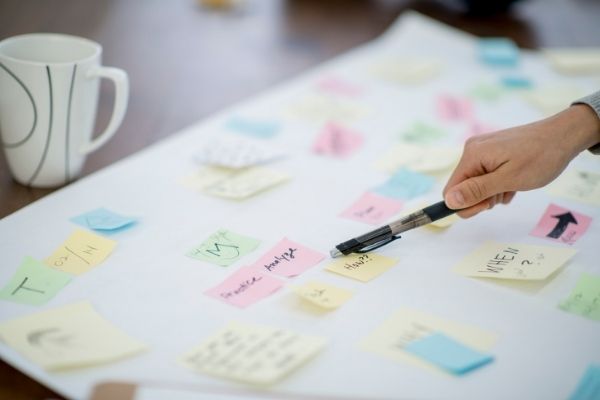 Here's the step by step process for how to make an amazing vision board! Then, don't miss the tips, extra free tools, and quick vision board checklist at the end of the post!
1. Begin With Specific Goals
Before you start, it's important to do some self-reflection. Decide what your short and long-term vision board goals are going to be.
What do you want your life to look like in one year? Six months? The next twelve weeks?
Don't play small! Your vision should inspire you!
Keep smart goals in mind as you develop your goals! They should be:
Specific
Measurable
Achievable
Relevant
Time-bound
Check out 11 Steps to Achieve More Goals for more on setting great goals, and these amazing family goals examples or relationship goals ideas specifically for your household.
2. Gather What You Need – Vision Board Supplies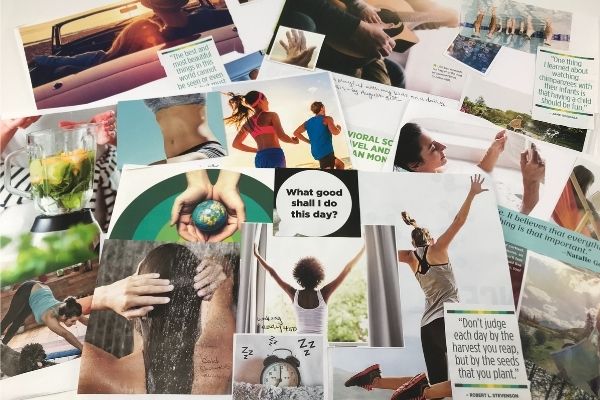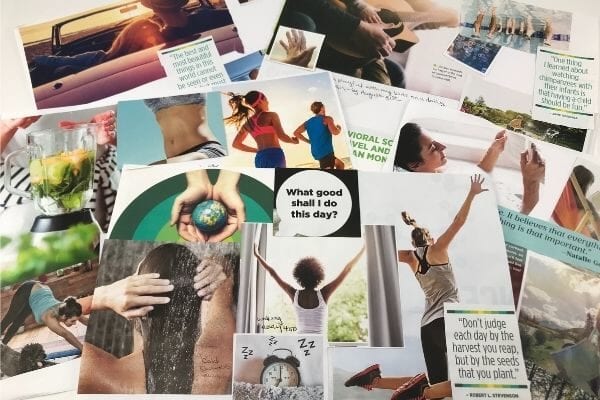 Next, you'll need a few vision board supplies!
Paper – One large poster board or individual sheets of smaller paper to make multiple pages.
Images – Photos from magazines, an inspirational clip art book, or the ability to print photos from a computer.
A Pen – So that you can write in personalized words. Find fun ones HERE.
Glue – Of course, you need glue to hold it all together!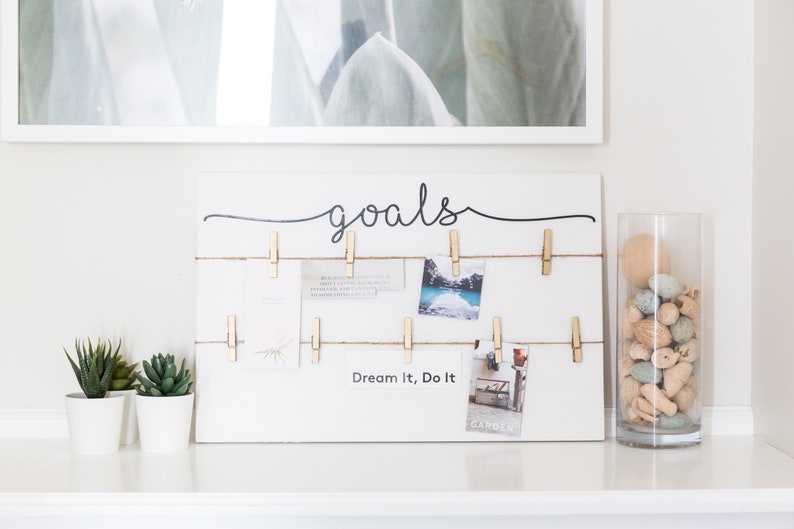 You can also purchase a kit that includes most of your materials or a ready made board like the one above on Etsy.
3. How Do You Structure a Vision Board?
Next, decide how you want your board to look. In the vision board example above, I used regular printer paper and made a separate category for each page (health, family, etc.). I chose magazines and overlapped my images.
Another option is to put all of your content on one page (like with the vision board template below), or go old fashioned with tacks on a corkboard.
Here are a few common vision board category examples:
Health
Family
Career/Business
Friends
Relationships (combining family, friends, partner, etc.)
Wealth
Personal development (spiritual goals, examples of habits to start, reading, daily routine etc.)
Self-care
Travel
Fun
Additions to Your Board Include:
Personalized goals in writing
4. MAKE Your Amazing Vision Board
Now, divide your categories, glue in your images, and write what you want!
Don't want to go freestyle? Check out several free options below!
Can You Create a Vision Board Online?
If you don't want to do paper, check out Canva.com for a free way to do a digital version. I made the vision board example above in less than five minutes and used pictures from their website. (See many more great examples of vision boards HERE)
*Note: if this was my true board I would add more words and be more specific with my goals!
Click HERE for more on how to make a vision board on Canva from famleeoffour.com.
How to Make a Vision Board That Actually Works
That's the basics. Now, here are vision board tips that make it as effective as possible.
Use Photos That Fire You Up
A goal board needs images that help you stay inspired. So, be picky about your photos. They should represent your goals as accurately as possible.
For example, if your goal is toned abs, a picture of strong legs is great but doesn't align with your precise vision.
Add Words That Speak to You
Do not forget to write your vision board goals, inspirational quotes, and bold affirmations alongside your images. Go with what keeps you the most lit up!
You'll need these words on days that you don't feel like following through with your dreams.
Here are great examples of powerful action words:
Explore
Build
Rise
Own (your power)
Trust
Dream
Cherish
Live (your best life)
Choose (joy, discomfort, optimism, etc.)
Make (a difference)
Give
Inspire
Relax
Believe (in yourself, in your dreams, etc.)
Find (your blesssings, your joy, freedom, etc.)
Be (creative, a doer, etc.)
Simplify
Lead
Strengthen
Model (excellence, generosity, etc.)
Energize
Look at it Daily
Finally, here's the most important part: take a moment every day to check in with your vision board. Morning and night is even better!
Display it where you see it often, and reviewing it will become a natural thing to do.
When you look at it, see and feel your goals, your vision, your future. Use your five senses and imagine yourself doing these things in the present tense. The more you can put your body and mind into the vision, the better.
Before you know it, you'll be using the power of visualization to get yourself moving in the right direction of where you want to go! How awesome is that!
Download the Free Vision Board Template!
Even if you don't want to do the images, this vision board template makes a great goal-setting guide!
*Looking for specific ideas too? Download a kids vision board printable here and see couples vision board ideas >>
Other FREE Tools to Help Your Vision Become a Reality
These free printables can also help with following through on your life visions:
A Quick Vision Board Checklist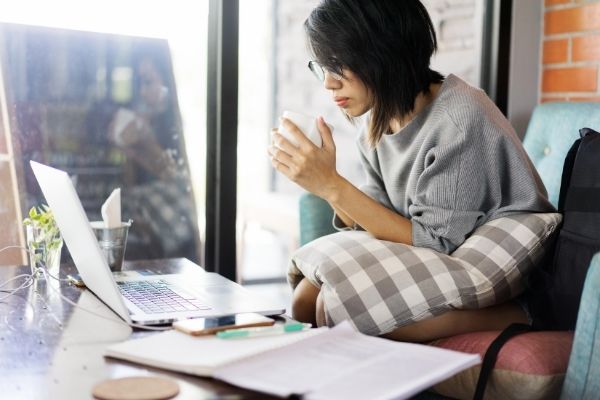 Now that you know how to make a vision board and perhaps used the vision board template, go through this quick checklist that ensures your board is ready for action.
My goals are specific and defined.
My goals force me to stretch my limits and get out of my comfort zone.
My images match my goals and are inspiring to me.
I add affirmations, quotes, and positive words to amplify my vision.
My dream board is in a location I pass often.
I mentally see myself following through on the actions of my board.
I spend time each day visualizing with my dream board.
When I visualize, I get as detailed as possible, and use multiple senses.
Something to Consider With Your Dream Board
Remember, nothing is ever perfect. So, don't be afraid to change it as you go. Dreams and goals change. The point is to have a purpose and a direction. After all, those are the foundations of a meaningful life!
So, where do you want to go with your life? And will you try the vision board template today?
Other personal development posts you may enjoy…


How to Start a Dream Board With Your Free Vision Board Template