Free Habit Tracker Printable: Improve Your Progress Now!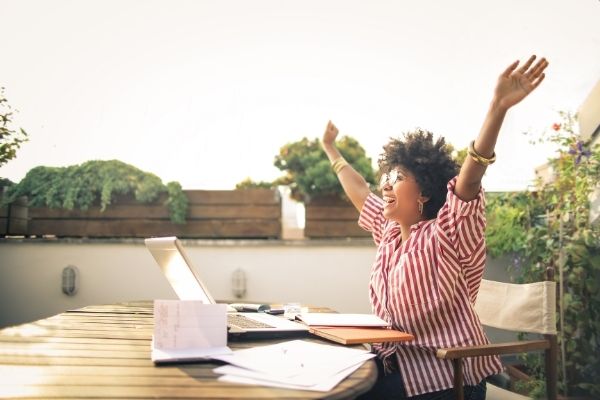 Find Success With a 30 Day Habit Tracker Template
Developing good habits is no easy task.
There are strong forces constantly working against us. The kids woke up late and we have to get them out the door. The client at work just pushed up a work deadline. Or we're feeling a little under the weather lately.
Obstacles are abundant on the path to a healthy, happy, impactful life.
So, what's a person to do?
Well, use an easy habit tracker printable to motivate and help you build unbeatable habits!
This post contains affiliate links, and I may earn a commission at no cost to you. See my disclaimer for more.
"We are what we repeatedly do. Excellence, then, is not an act, but a habit."

Will Durant
Does Habit Tracking Work?
We all have things we'd love to improve. But often, it's easier said than done.
Yet, here's the thing about habits: we NEED to feel and see our progress to keep doing them. Without progress, motivation vanishes like a wisp of smoke.
This chart WORKS because it creates that visual of your progress. You can celebrate your successes and continue to pull through when it gets hard.
Here's what else the daily habit tracker printable does for you:
Gives you quick satisfaction
Makes it difficult to forget to do it
Motivates you (don't break the chain!)
Here's a short youtube video to explain why it works + what's on my tracker this month! Then, read on for more habit ideas + three free printables to choose from!
Related Post: 21 Easy Ways to Motivate Yourself on Hard Days
What Habits Do You Want to Work on?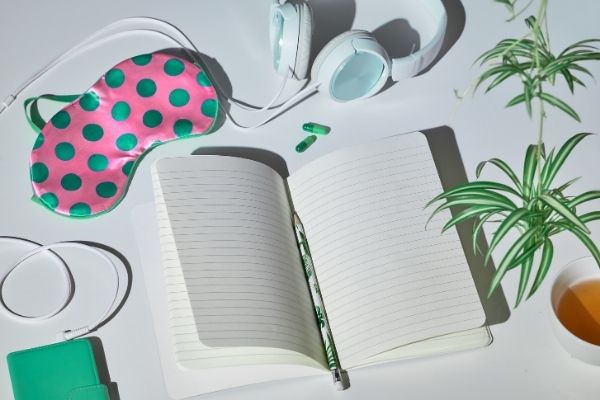 Next, here's an easy list of habits to improve for your monthly habit tracker printable…
Taking your vitamins
Reading a devotional or something inspirational
Exercising
Drinking X ounces of water
Getting 7/8 hours of sleep
Writing in your gratitude journal
Decluttering one area a day
Flossing your teeth
Making your bed
Reading with your kids
Writing X amount of words
Taking a screen break
Walking 10,000 steps
Doing X number or pushups
Drinking a smoothie or having a salad at lunch
Implementing family dinner or time with a loved one
Planning your day
Saying night affirmations, or mornings ones
Reflecting on your day
Related Posts for More Habit Ideas:
Remember, if it's a brand new habit, start out EASY! When it's too difficult, we give up before we are able to gain momentum. It's 10X better to think it's too easy than to burn out within a few days!
Habits to Avoid
You can also add habits to your habit tracker template that you're trying to avoid:
Alcohol
Smoking
Binge-watching tv
Sleeping in
Fast food or eating out
Nail-biting
Eating after dinner
Swearing
Stress eating
Being around negative/dramatic people
Drinking soda
Procrastinating
Playing video games
Online shopping
Having a long to-do list (make a not-to-do list!)
Checking email too often
Throwing your clothes on the floor
Complaining
Losing focus during the day
Now that you have some in mind, only work on habits you need an extra boost in. If you overload yourself with too many habits at once, again you'll risk burnout.
So, to keep from overwhelming yourself, stick to your most important habits. Though there's room for a lot on the printable, it's ok to start with just a few, especially if they are more difficult.
How to Use The Free Habit Tracker Printable
When you begin your habit tracker template, check off each day you complete your habits or color it in with a marker for a brighter effect. Color coding your habit progress can also make it easier to keep track of different habits if you have multiple ones you're working on.
Furthermore, it's important to track your habits at the same time every day to stay consistent. Usually, your nighttime routine is a great time for this, as it's closing out your day.
Grab the Free Habit Tracker Printable Below!
Also, to help plan your habits weekly, check out the blank weekly planner printable!
More Smart Ways to Track Your Progress
There are four other great ways to track your progress. Use them alongside your monthly habit tracker printable or by themselves. Either way, they're another exceptional tool in your habit-forming toolbox!
A Good Old-Fashioned Calendar
If you're looking for simple and basic, use a paper monthly calendar and X off all the days you do your habit. Use a bright marker for greater impact.
Now, the downside here is that you can only track one habit at a time, and of course, it's not quite as fun as a habit tracker. But it is still effective!
Colorful Physical Objects
Any small object that you put into a jar is also an extremely effective visual for monitoring your progress.
When I began getting up at 5 am, I used marbles for the first 66 days. I was shocked at how satisfying it was to put a marble in the jar each morning, and ridiculously proud of myself when the jar was full.
Moreover, if you have a countable X number you're working towards during the day, try paper clips. Start with one container that has the same amount of paperclips as your habit number.
Then, transfer one paper clip from your first container to another container every time you do your habit (make a sales call, drink X ounces of water, etc.). Finally, go until your first container is empty!
Paper clips, thumbtacks, marbles and any other small colorful item work extremely well for building momentum!
Fitness/Weight Measurements
If you're trying to lose weight or change your body there are several key ways that people track their progress. Many use the weight scale to check on their weight, and others take measurements of their body with a measurement tape.
While the scale is the easiest option, a note of caution. My weight fluctuates often and is not always the best indicator of my health and fitness. This could be true for others as well.
So, if you're looking to change your body, pictures, clothing sizes, or specific measurements can be more motivating and accurate than your weight number.
A Motivated Partner or Support Group
Finally, accountability is no joke! Whether it's your spouse, friend, or a supportive group, another person can be the key to following through. So, text a picture of evidence to your special person every day. Soon you'll have photos to remind you of the incredible work you've done, and a person that knows about your successes.
Other Free Trackers to Move You Forward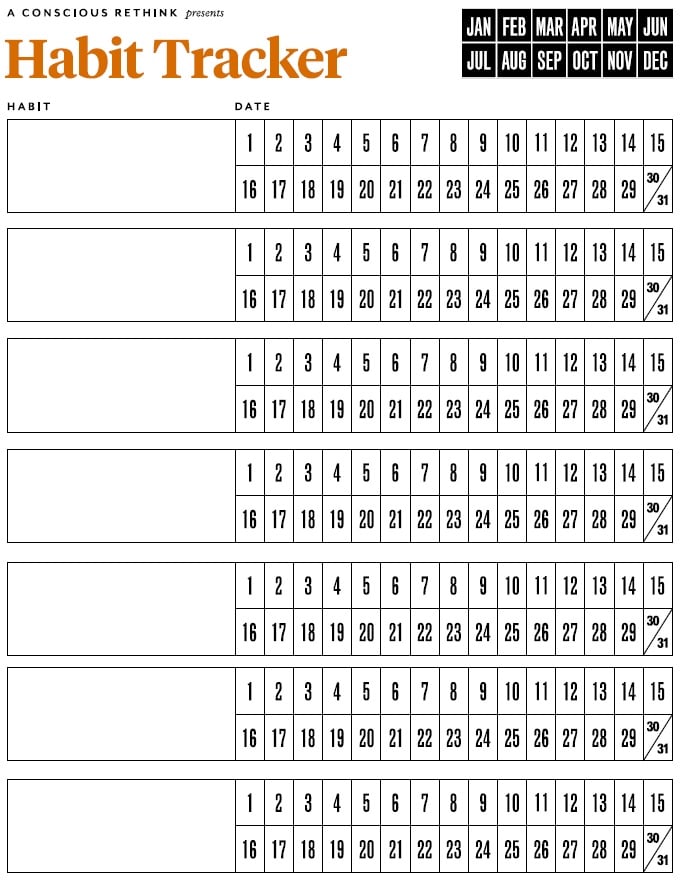 If you're looking for a different kind of free tracker, this one by A Conscious Rethink has the days separated by habits.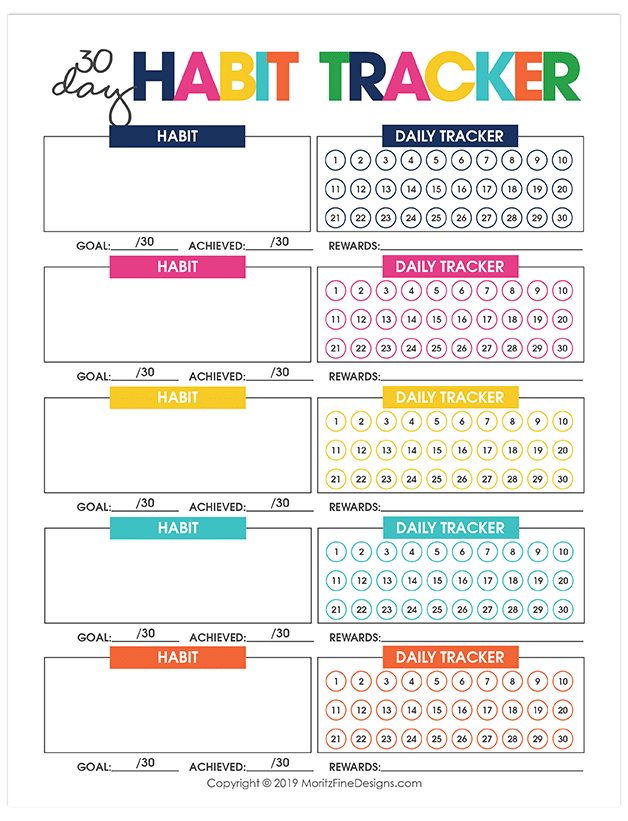 And this one from Moritz Fine Designs is very similar, but with circle markers and added color.
An Amazon Habit Tracker Printable
And finally, if you're looking for something more refined, this tracker from Amazon is a beautiful organizer that works.
Something to Consider With the Habit Tracker Template
Let the daily habit tracker printable help you until your habits are easy to stick to on your own. And, when you see that beautiful tracker full of all the days you followed through, give yourself a small healthy reward. Because, dang, you've earned it!
Happy habit building!
What do you love about a habit tracker template?
Great Resources for Learning About Habits
Other Personal Development Posts to Enjoy…


The Monthly Habit Tracker Printable You Need to Try!