105 Fun Date Night Ideas For Married Couples (In 2023)
Where do married couples go on dates?
It's the end of a busy day and you can't wait to get cozy on the couch.
Most married couples are all too familiar with this scene.
And while it's a good one, there are a variety of other ways we could be spending time connecting with our spouse.
Which is why we need a list of date night ideas for married couples.
A date 'night' is any pre-planned time where you abandon work and focus on one another.
The Gottman Institute's research-based approach to relationships shows that just 2 hours a week devoted to dates contributes to a healthy relationship. (source)
Dates boosts connection and give couples time to talk without distraction.
They help you engage in shared and meaningful activities.
You get to have fun together!
Date Night Challenges & Solutions
You know that couple on Facebook who is always posting about their date nights?
I'm talking multiple date nights a month.
It looks easy. But it takes work to plan a date night. There are date night challenges when you are married, but also creative ways to get around them.
Try morning or lunch dates to find more time in your schedule.
Plan a date night at home if you don't have childcare.
Budget by setting aside a portion every month strictly for date night.
Make a plan using the list of date night ideas below, and put a reminder on your phone if you need to make reservations.
Things to Do On Anniversaries: Date Night Ideas for Married Couples
First, what is there to do on an anniversary or special event? Plan ahead and make your anniversary date night more special than an average date night out.
1. Recreate Your First Date
We do this on our anniversary almost ever year. It is a meaningful way to remember where you were and what you were doing when you had your first spark together.
2. Get Tickets To A Concert, Play, or Musical
Look at the schedules for the venues close to you or within an easy driving distance. Pick something you will both enjoy but haven't seen before.
Splurge for the good seats! It's your anniversary after all.
3. Visit a Brewery or Vineyard
If you like beer or wine, this is a fun way to get out and try something new. Make reservations and set up a tasting at a place of your choosing.
4. Plan Your Next Big Getaway
For us, planning a trip does take a date night away from distractions.
Go to your favorite restaurant and take the time to plan your next big trip. Book the flights and hotel before your leave. Then make a list of all the things you would like to do and see on your trip.
5. Staycation
Opt for a staycation or a weekend away close by. Book a hotel and plan a few fun and new things to do or see in your area.
6. Splurge on a Fancy Dinner
Make reservations at a nice place you love or a place you have never been to. Tell them in advance that you are celebrating your anniversary and they may decorate your table or throw in something complimentary.
7. Take a Weekend Road Trip
Is there a place within driving distance you have been curious to visit? Jump in the car, start driving and see where you end up. (Try these road trip trivia questions to entertain you together)
8. Check Something Off Your Bucket List
If you have a couples bucket list, an anniversary is the perfect time to check something off of it.
Try something adventurous, a bucket list travel destination or a new hobby you have been wanting to explore together.
9. Have Your Cake and Eat It Too
Every year on our anniversary, I try to get a small lemon cake to recreate our wedding cake.
Have a local baker recreate a smaller version of your wedding cake. You can take in a picture of the cake or just have them use the same flavors.
10. Make a Couples Vision Board
A couples vision board is a place to gather images and words that represent your goals, dreams, and wishes. An anniversary is the perfect time to have this productive conversation with your spouse.
Creating it also helps you and your partner focus on your future together, create a stronger bond, and open up honest communication.
11. Reminisce
Make the night all about remembering your love story. Look at pictures from when you first met, engagement photos, and wedding photos. Watch your wedding video and (if you dare) put on your wedding dress and suit.
Dance with one another like you did at your wedding and then enjoy a delicious meal and cake! If you can, drive by or visit the place where you had your wedding ceremony or reception.
12. Renew Your Wedding Vows
Another way to reminisce and look ahead to the future is by renewing your wedding vows. Make it a big affair or a private one- whatever is the most meaningful to you.
13. Learn to Salsa Dance
Learning a dance with your partner can strengthen your relationship, bring you closer, and help you learn how to work better as a team.
Besides, isn't salsa dancing together a much more fun idea for date night than what you usually do? Look for lessons near you or online!
14. Hire a Private Chef for the Night
If cooking isn't your thing and you don't want to make reservations out, hire a private chef to make dinner in your own home. This is a romantic and stress-free way to spend your anniversary.
15. Enroll in a Marriage Class
Each year of marriage, it's good practice to stop and reflect on aspects of your marriage that are going well, but also the aspects that could use some work.
Consider enrolling in a marriage class that can boost skills to make your marriage stronger in the upcoming years.
Date Night Questions For Married Couples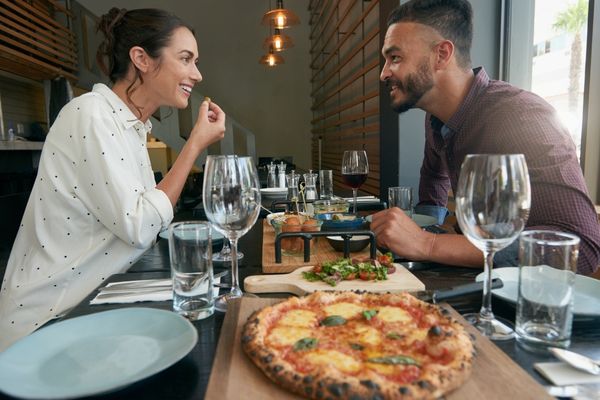 Date night questions and games are perfect to play if you are:
looking for cheap date night ideas for married couples
wanting to have interesting conversation topics over a meal
for virtual and long distance date night ideas
16. Would You Rather Questions for Couples
While on a getaway with my husband, we had fun with these would you rather questions for couples.
17. How Well You Know Me Questions
Do you know your partner's pet peeve? Their favorite hobby? Do you know why they fell in love with you?
Find more questions like this for couples to see what you know about one another.
18. Couples Challenge Questions
Who would die first in a Zombie apocalypse?
Who would handle it better if they gave up coffee?
Play this unique couples challenge quiz with your partner.
19. Conversation Starters
Spicy, romantic, fun and random questions to start conversations can help you reconnect with your partner on date night.
20. Date Night In: A Journal for Couples For Conversation & Connection
This journal is designed to start intimate conversation with your spouse. It features over 75 prompts including "favorite memories" and "first impressions of each other" plus other topics about the past, present, and future as a couple.
21. Sexy Couples Trivia
This game is great for a spicy date night at home and is sure to heat things up in your marriage.
Hot Date Night Ideas For Married Couples
Are you looking to take things up another notch? These ideas will spice up your relationship.
22. Role Play At A Bar
For this date night idea, pretend you are strangers meeting for the first time at a bar. Come up with a new name and storyline. Don't break character!
23. Have a Lunchtime Rendezvous'
Date night can also happen during the day. Schedule a lunchtime rendezvous either at home or at a hotel to make it extra spicy.
24. Try Out Edible Body Paint
Buy some edible body paint or make your own with melted chocolate or whipped cream. Have fun painting one another.
25. Play an Adult Game
Play strip poker, strip monopoly, strip…well anything. Make up your own naughty rules to your favorite board or card game.
Or write sexy or romantic ideas on Jenga blocks and have fun while you play.
26. Try Something New In Bed
Kick things up a notch and make a date to spice things up in the bedroom. Put more effort into your bedtime look with sexy lingerie, throw rose petals on the bed and light candles. Be creative with these cards.
27. Couples Massage
Book a couples massage and relax. Or take turns giving a massage to one to one another with sensual massage oil.
28. Take a Bubble Bath or Steamy Shower
Is there room for two in your bath or shower? Make room and heat things up.
29. Drive-in Movie
Channel your inner teenager and enjoy a drive-in movie with your spouse. Get cozy in the car.
30. Go Skinny Dipping
Take it off and go for a sexy swim with your spouse.
31. Stay in Bed Together
Make a date for the morning! Plan to stay in bed together all morning or all day if you can.
Date Night Ideas For Married Couples At Home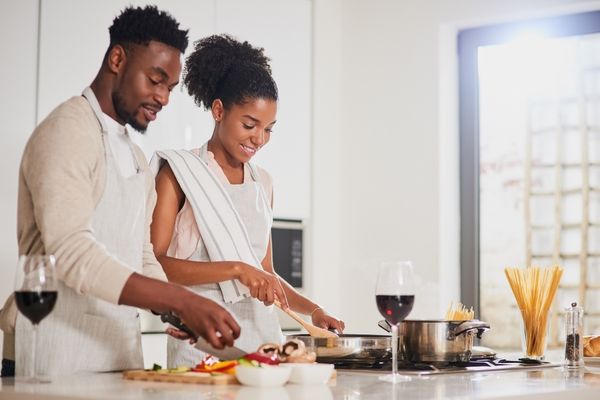 Next, here are cheap date night ideas for a married couples night at home. The key to a successful date night at home is to plan ahead and set aside distractions to focus on one another.
32. Movie Night Menus: Dinner and Drink Recipes Inspired by the Films We Love
A great date night at home starts with a dinner, movie, and drinks with a twist!
Mix it up with this book which spotlights thirty films from the 1930s through the '80s paired with signature drinks and food inspired by each film. Spark conversation with background and facts about each movie.
33. Online Couple's Dance Class
There's a large variety of free dance class tutorials online in lieu of taking lessons in person. Make space in the living room and enjoy learning how to dance with no one watching.
34. Complete a Challenge
Check out these fun challenges for couples and pick something you and your spouse would enjoy. My favorites are:
Iron Chef
The $10 Buyers Challenge
Surprise Date Challenge
30 Day Fitness Challenge
You will also find a free calendar for 30 days of small couples challenges.
35. Happy Hour At Home
Try out making a new cocktail or mix up a classic cocktail you both like.
36. Date Night Subscription Box
These awesome subscription box ideas have your date night at home planned for you. With interesting themes from mysteries and cookies to crafts and having fun, each box offers unique connection opportunities with your partner.
37. Solve a Crime
Do you and your spouse love true crime shows or podcasts? Try to solve a crime yourselves! Hunt a Killer and Unsolved Case Files are fun ones to explore.
38. Charcuterie Board
Make a fun meal with cheeses, cured meats, fruits, nuts, and other little appetizers you love.
39. Use a Dinner Theme
Have a Little Italy night and prepare your own pizzas or make your own fiesta with tacos. Get a little more creative than usual with your food choices and decorate too.
Other ideas include fondue night, make your own crepes or sushi. Or find a new cuisine you want to try cooking and spend the evening figuring it out together.
40. Video Games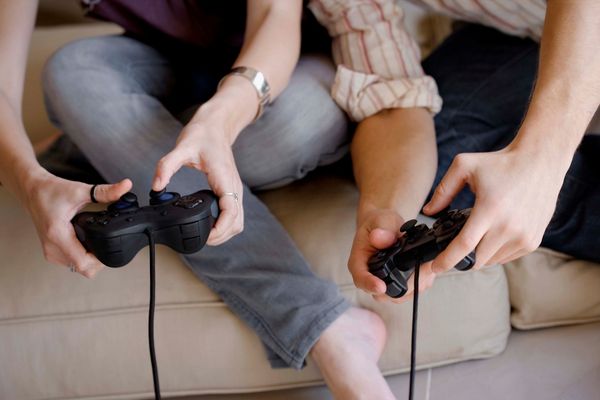 Recently, my husband took out his old Guitar Hero. We had a blast playing together and we laughed a lot. It's a great cheap date night idea that most husbands will be on board with.
41. Picture Puzzle
Turn a favorite picture of you both into a puzzle. Then, spend a night relaxing and putting your picture puzzle together.
<<Customize a picture to turn into a puzzle on Amazon here!>>
42. Make a Bucket List
Spend a night together creating an ultimate couples bucket list. What adventures do you want to take with your time together? What experiences or hobbies would you like to try?
There's no time like the present to get started.
43. DIY Home Project
Do you have a piece of furniture you would like to refinish? Or a room you would like to paint or redecorate? Spend the evening enjoying a DIY home project with your partner.
44. Game Night
Break out all of those board games you own and play them!
45. Have a Firepit
Light up your outdoor firepit, pour the wine, and roast s'mores on a nice evening.
46. Side Hustle Date
Do you and your spouse have a side hustle? Or are you wanting to start one?
We have found it helpful to make a date time each week to discuss ours and plan for the future of our side business. Make this fun and do it over dinner or dessert.
47. Make Your Own Club
Is there something both you and your spouse enjoy or want to learn more about? Make your own club! Some ideas include book clubs, investment clubs, hobby clubs, or sports clubs. The sky is the limit here.
48. Have A Spa Night
Slip into a comfy robe and pamper one another with face masks while you soak your feet and relax.
Fun Date Night Ideas For Married Couples
What do married couples do to have fun? Looking for fun date night activities and ideas near you?
Check out this list of unique and fun date night ideas for married couples.
49. Find Events Close To You
Check out eventbrite.com to see what is going on in your area – from music and food to performing arts and sports.
50. Be A Kid Again
Roller skating? Going down the slides at the public pool? Spend a date doing something you loved to do as kids. Feel like a kid again while you do it.
51. Go To Brunch
My husband and I often reminisce about the days before we had weekend family activities and we enjoyed brunch on the weekends. This is a great date idea!
52. Host A Murder Mystery Party
Invite other couples to join you on date night. Check out how to host the perfect murder mystery party here!
53. Attend a Charity Event
Find a cause that is important to you and get dressed up for a fun evening out.
More Fun Ideas Out & About
Choose from this list of fun entertainment and activities to enjoy!
54. Play Miniature Golf
55. Go To An Arcade
56. Attend A Sporting Event
57. Test Drive Fancy Cars
58. Go Fishing or Camping
59. Check Out A Comedy Club
60. Have Fun At A Drag Show
61. Go To An Amusement Park
62. Take a Motorcycle Ride
63. Visit a Museum
64. Sing Karaoke
65. Take an Art Class
Adventure Date Ideas
If you and your spouse want to add adventure to your date nights, check out these ideas perfect for married couples.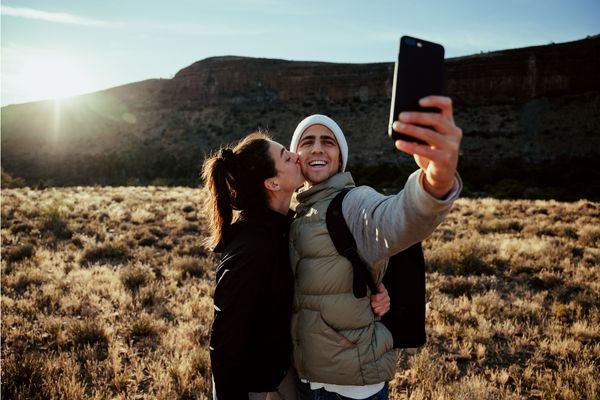 66. Check Out An Escape Room
67. Go Rock Wall Climbing
68. Get Tattoos Together
69. Go Skydiving
70. Plan A Hot Air Balloon Ride
71. Find a Ghost Walk Tour
72. Go Horseback Riding
73. Play Laser Tag
74. Go Axe Throwing
75. Go Bowling
76. Have Fun Ice Skating
77. Take A Hike
78. Take a Kayak or Canoe Ride
79. Go Paddle Boarding
80. Take A Bike Ride
81. Participate in Snow Sports Like Skiing, Sledding, or Snow-Shoeing
82. Go Swimming Sans Kids!
83. Hit Golf Balls At The Driving Range
84. Take an Exercise Class Together
85. Spend Time At The Beach
More Romantic Evening Date Night Ideas For Married Couples
Looking to bring the romance back into date night? Here are great romantic date night ideas for married couples.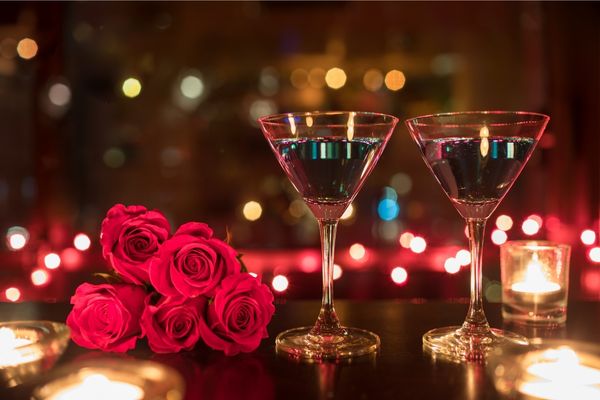 86. Go Out For Drinks And Dessert
87. Stargaze
88. Take a Scenic Drive
89. Have A Picnic In Front of the Fireplace
90. Enjoy A Candlelight Dinner And a Movie
91. Stay At a Bed and Breakfast
92. Book a Private Cooking Lesson
93. Volunteer Together
Chill Date Night Ideas For Married Couples
Looking to do something together that is low-key and relaxing? These are great classic date night activities that are easy.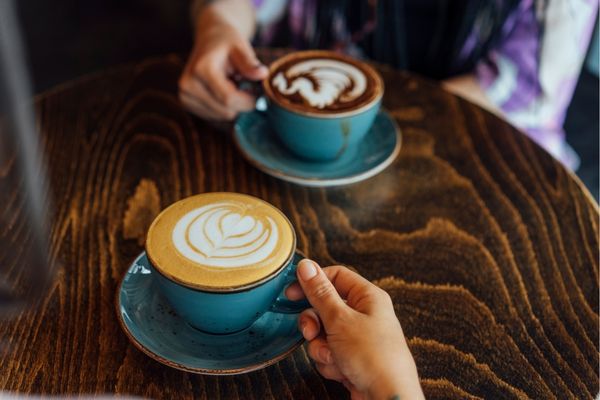 94. Visit The Library or a Bookstore
95. Get Ice Cream at a New Place
96. Try a New Cuisine At A Restaurant
97. Go To The Movie Theater
98. Go Out For Coffee
99. Visit the Local Arboretum or a Flower Garden
100. Take a Walk Together
101. Visit Open Houses
102. Go To Church or Attend An Event or Class Offered
103. Attend Theatre in the Park
104. Visit a Farmer's Market
105. Go Shopping For Something You Will Both Enjoy
To Consider With Date Night Ideas For Married Couples
This year, my husband and I have made a goal to plan at least one date night out per month in addition to a weekly date night at home (without distractions).
I challenge you to make date night with your spouse a priority.
Let me know what other ideas you have to add to the list!
More HHI Posts For Couples You Will Love
Date Ideas For Married Couples (2023)