150 Bucket List for Couples Ideas You'll Love in 2023
What Fun Things Do Couples Do Together?
If you have been a couple for long, chances are you may be in a Netflix and Chill rut.
Let's be clear- by Netflix I mean searching endlessly for a show you will both enjoy, and by Chill I mean falling asleep a few minutes after you hit play. Sound familiar?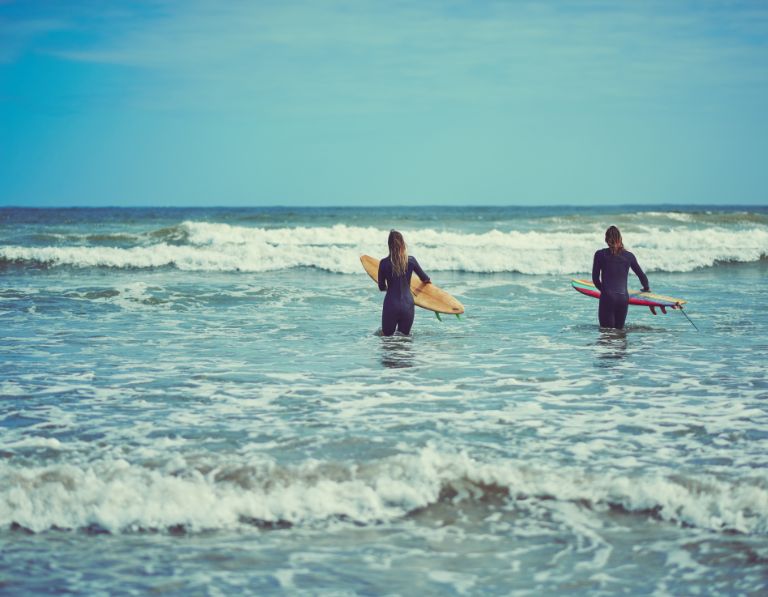 So instead of continuing this cycle, explore 150 ultimate couples bucket list ideas that get you and your partner off the couch and doing fun things together.
How do you Build a Relationship Bucket List?
So what is a bucket list?
Merriam-Webster defines it as a list of things that one has not done before but wants to do before dying. In other words, making intentional plans to live life to the fullest.
How do you build a relationship bucket list? It can be a complex list that requires planning and saving OR inexpensive and close to home. Likely, it's a mixture of both.
The goal is to intentionally plan activities you would like to do and experience together. Pick items that are meaningful to you and your partner.
And have fun doing it! Encourage one another to try new things and explore new places. Choose from bucket list items for couples below to start your list.
Couple Bucket List Ideas At Home
You don't have to leave your home to start your bucket list. Fun things to do for couples at home force you to be intentional with your time. All you need is planning and creativity.
This post contains affiliate links, and we may earn a commission at no cost to you. See our disclaimer for more.
1. Order takeout from a new place
We all get stuck ordering from the same place. It's easy and reliable. So, try a new place or a new type of food. After all, it's just one meal.
2. Have a picnic in front of the fire
Throw down a blanket, add some charcuterie, light a fire, and voila!
3. Try a fondue night
Chances are someone you know has a fondue pot that is begging to be used. Melt some cheese or chocolate and start dipping!
4. Consider a DIY house project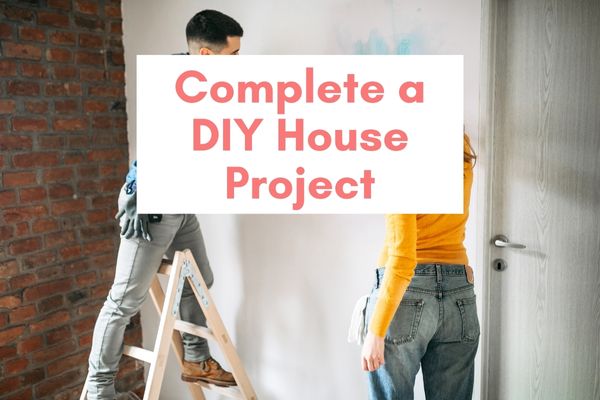 To make this successful, start with a simple project you can both work on. Learn how to tile your fireplace or paint a room in your house. Chances are you'll enjoy the process AND the end result.
5. Learn a classic board game
Have you ever thought about learning how to play chess? Maybe you have a backgammon board just waiting to be used. Take time to learn how to play a more complex game with your partner.
6. DIY at-home spa day
Grab massage oils or make a homemade facial recipe and pamper one another.
7. Plant a garden
8. Watch your favorite childhood movies together
Do you know what your partner's favorite childhood move is? Find out!
9. Play Twister
Stretching ahead of time may be necessary, but this game is not just for kids.
10. Use a constellation app to go stargazing in the backyard
Use an app like Skyview Lite to search for the big dipper or other constellations.
11. Read the same book and discuss
It's a book club for two! The key here is to try to pick something you will both enjoy or learn something from. Or for another variation, read each other's favorite book and discuss.
When we first started dating, my husband gave me a classic Hemmingway novel (his favorite) to read. It was not my first choice, but I enjoyed reading it because he was excited to discuss it with me. Listening to an audiobook or even a podcast together is another idea.
12. Bake something together that you will both enjoy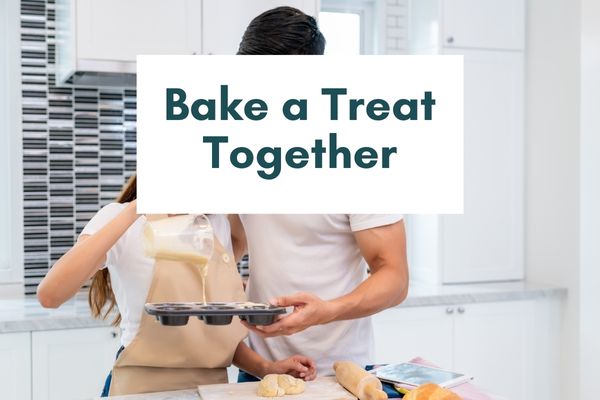 13. Make your bedroom the perfect oasis
Give your bedroom a facelift. New sheets, rearrange furniture, hang curtains…the possibilities are endless. Make your bedroom a place for ultimate relaxation and comfort.
14. Binge-watch a show
15. Play truth or dare
This is not just a game for middle school kids. Try it out with your partner.
16. Play hooky
Channel your inner Ferris Bueller and take a day off from work. Focus on doing things together- like checking off your bucket list ideas!
17. Stay in bed all day
This sounds divine! Go for it!
18. Write a love note to your significant other
Chances are, you may not take the time to do this often. Tell your partner what you appreciate and love about him/her. Get a little sappy. It's okay.
Related Post: Creative Ways to Say I Love You
19. Take an online quiz to discover one another's love language
It doesn't take long, and you will better understand your partner. See the quiz here.
Related: Mr and Mrs Questions Quiz
Adventurous Bucket List for Couples
Whether you want to add adventure into your life or try a new extreme sport, this list has something for everyone!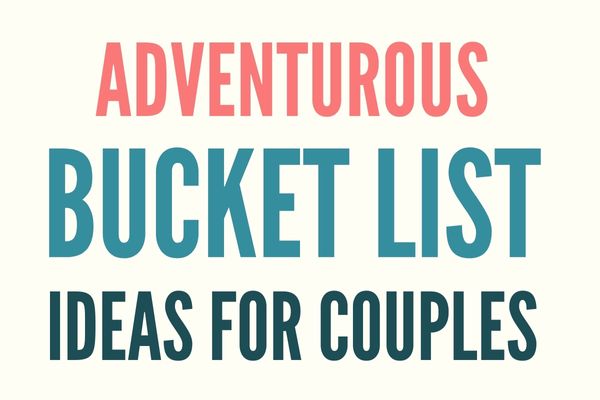 It may sound scary, but adding adventure to your relationship will bring you closer through a new shared experience. It will be both challenging and rewarding. And you will reminisce about these experiences far after they're over.
20. Go rock wall climbing
Find an indoor rock wall climbing place near you. They have all the climbing equipment you need and can instruct you as you get started. There are beginner walls to start on if you are feeling unsure.
21. Hike part of a famous trail
If you like to hike, make it a goal to visit a famous trail. The John Muir Trail starting in Yosemite National Park and the Pacific Crest Trail which stretches along the Sierra Nevada mountain range are two options. Another idea is the historic Appalachian Trail that runs through the eastern United States.
22. Climb a mountain
Did you know there are 96 mountains that are over 14,000 feet in the United States? Colorado has the most of any state with 53.
Most 14ers (mountains over 14,000 feet) offer convenient access for almost any level of enthusiast, depending on the mountain and the season you are hiking. The challenge of this hike is what the 14er is about. Plus, you get bragging rights as a reward.
23. Go kayaking
Kayaking is a great sport for anyone wanting to learn. Rent a two-person kayak and spend a quiet afternoon on the water.
24. Go paddle boarding
Another great water sport for beginners, stand-up paddle boarding is easy to learn in a short time and a great core and leg workout too.
25. Train for a 5k, 10k, or triathlon
You can find a training program for any race and for any fitness level. Train with your partner OR enjoy walking a 5k for charity with your spouse.
Related: Try a 30 day fitness challenge with your partner.
26. Go skydiving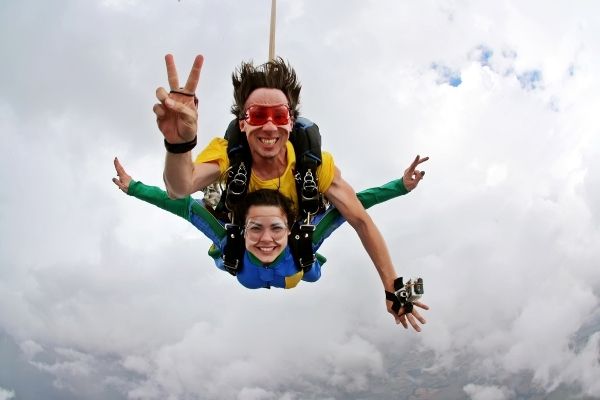 While not for everyone, this is most definitely a big bucket list experience.
Want the same type of experience with less risk? Try indoor skydiving which will give you the sensation of skydiving without having to jump out of a plane.
27. Get scuba certified for an upcoming vacation
Getting scuba certified means you have been appropriately trained to use scuba equipment and to scuba dive safely.
You don't have to be anywhere near an ocean to get certified. You can take an online course and then practice in a pool.
28. Learn how to surf
Take surfing lessons the next time you are at the beach.
29. Take ski lessons together
If you haven't ever been snow skiing or it's been a long time, consider taking ski lessons together. In a couple of days you will be skiing down the mountain together.
30. Join a sand volleyball league
This is a fun and relatively stress-free activity to do with your partner. You absolutely do not have to be an expert on volleyball to have fun playing on a sand league. Grab friends or join a team. We've been doing this for years and it is always fun.
31. Try axe throwing
Check out a local axe-throwing place and make it a date night.
32. Get tattoos together
Getting a tattoo together can be a bonding activity. But, take time to think through this ahead of time. My husband and I did this, and although my tattoo is small, it's an adventurous memory!
33. Fly in a helicopter
This can be expensive, but if you love to fly, this may be the best couples bucket list idea for you.
34. Rent or test drive a sports car
35. Go ziplining
Another adventurous, but safe idea! Ziplining is a cable that is suspended above an incline. A pulley and harness are attached to the rider which allows the rider to be pulled along the line. This is popular in the rainforest, but can be found closer to home as well.
36. Go on a float trip
A float trip involves going down a slow-moving river on a canoe, raft, or tube. This is also an ideal activity to plan with other couples and can be cheap.
37. Complete a mud run obstacle course race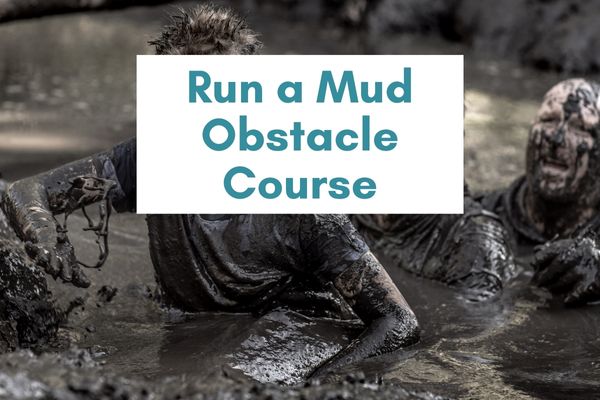 Mud runs are obstacle course type races on a muddy course that are challenging, but exciting. Check out any mud runs coming to your local area and make a reservation to join in.
Don't take this too seriously. Get dirty and have fun!
38. Go camping (or glamping) and fishing
39. Go whitewater rafting
Book an experienced guide and take on this adventure as you paddle an inflatable boat through rough waters and rapids.
40. Try a new watersport like skiing, tubing, or wakeboarding.
41. Try a new outdoor sport like tennis, badminton, or golf.
42. Ride a roller coaster
Visit a local amusement park and ride a roller coaster plus any other rides you find. You'll feel like a younger version of yourself.
43. Ride a mechanical bull
Don't forget to get a video of your spouse attempting this one!
Cheap Bucket List Ideas
Next, we need couples things to do together that don't require a ton of planning or money. Plan a cheap date out and have fun.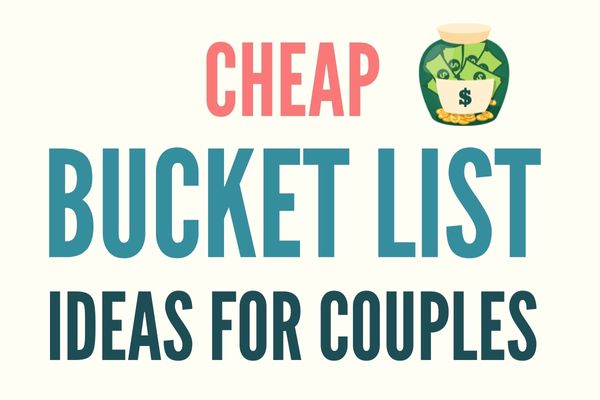 44. Go to a trivia night
Many local bars have trivia night. Sometimes they have themed trivia. Examples include music trivia, "Friends" trivia, 90's trivia, etc…
Related:
45. Sing a karaoke duet
You don't have to recreate a scene from Grease, but you can belt out a song you both love.
46. Take a workout class together
Kickboxing, Bootcamp, HIIT, strength training – Working out together really does make it more fun.
Plus there's nothing like a little competition with your significant other to make you work harder. Many gyms offer a free first visit. Or find a workout online you can do together.
47. Try a new coffee place
While there's nothing wrong with the regular coffee place you love, try out a new local place or drive a little further to try something new. Order in, then stay and chat a bit.
48. Rent electric scooters and explore your city
Chances are you have seen an electric scooter around your city or a place you have visited. Rent one and use it to explore. (Be safe and go slow if it's your first time.)
49. Pack a picnic and a frisbee and explore a new park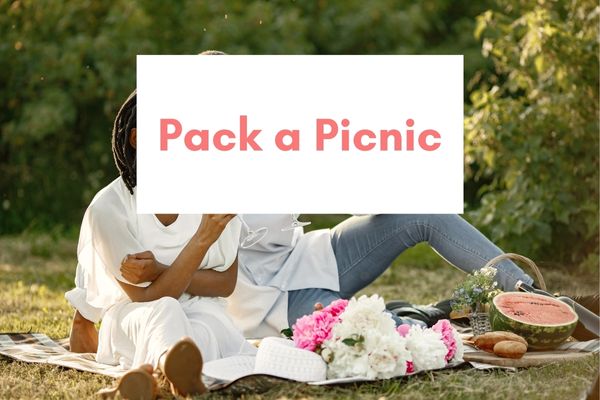 Related: Picnic Date Ideas and Tips
50. Host a couples game night
Invite your friends over for games and snacks.
51. Visit a local brewery or vineyard
I've recently discovered that there are a lot more vineyards near my house than I realized. They often have events that include food and drink specials and free entertainment. Check out their websites and plan a visit.
52. Take the dogs to a dog park
53. Take a walk in an arboretum
This is an absolute favorite of mine during fall when the leaves are changing. Our local arboretum also offers winter events and candlelit walks. Another cheap, romantic, and easy date to plan!
54. Go apple or berry picking
Another of these "things to do" that isn't just for kids. The bonus is that you leave with delicious fruit too.
55. Attend a local festival
Again, this requires planning and research to know when festivals are in your area. Put it on your calendar and go check it out.
56. Be tourists in your own town
What would you suggest visitors to your town do and see? Go and do those things with your significant other for a day!
Travel Bucket List for Couples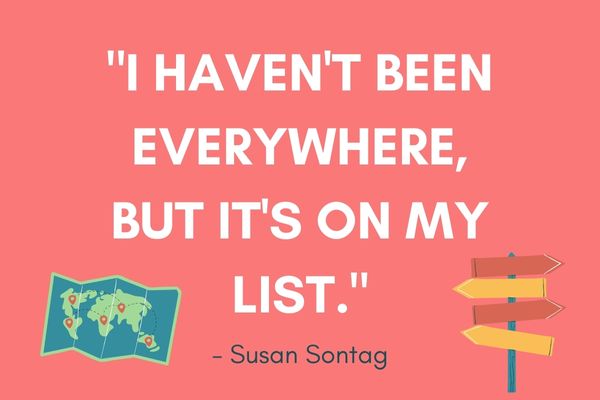 My great-aunt spent much of her life traveling and living in different parts of the world with her husband. She had a framed picture in her room of them sitting in a gondola in Venice, looking at one another laughing.
Isn't travel more meaningful when it is with someone you love?
I am a firm believer that every couple should set travel goals. Whether you want to stay closer to home or visit a different continent, planning a trip is a must for any bucket list for couples. And you'll have great stories to tell too.
57. Mark all the places/states you have been to together on a map and plan a trip to a new place every year.
Buy a push pin map and keep track of where you have been together. Try to see how many pins you can add as you explore.
58. Throw a dart at a map and visit that place.
59. Take a day-long spontaneous road trip.
Start driving and stop at whatever looks interesting and explore. Try this fun road trip trivia too.
60. Travel by train
Not as quick as other modes of travel, but you see some great countryside without the hassle (or gas) of driving.
61. Fly first class
More leg room, better snacks, hot towels, and free drinks. Try it at least once.
62. Attend a luau in Hawaii
You can expect to eat delicious food, drink, and be entertained at this festive and traditional Hawaiian party.
63. Kiss in Times Square on NYE
Join in the party to see the Times Square Ball Drop as you ring in the New Year with your loved one.
64. Be a tourist in New York City
Enjoy the view from the Empire State building, take a walk in Central Park, and visit one of the many museums. If you are there for a holiday, catch the Macy's Thanksgiving parade and see the tree in Rockefeller Center.
65. Walk on a new beach hand in hand
66. Explore a national park
Explore the National Park Service site (nps.gov) to plan your visit to over 400 national parks.
67. Go hiking in the Grand Canyon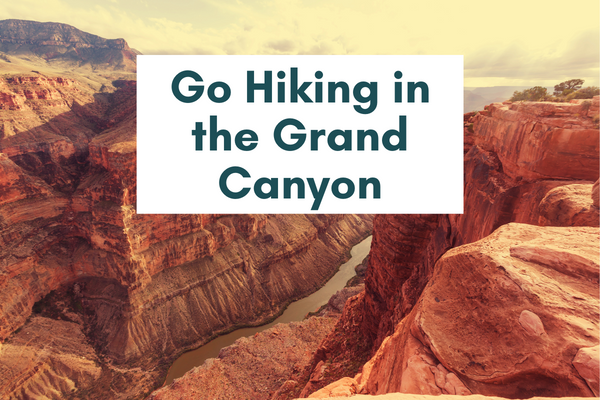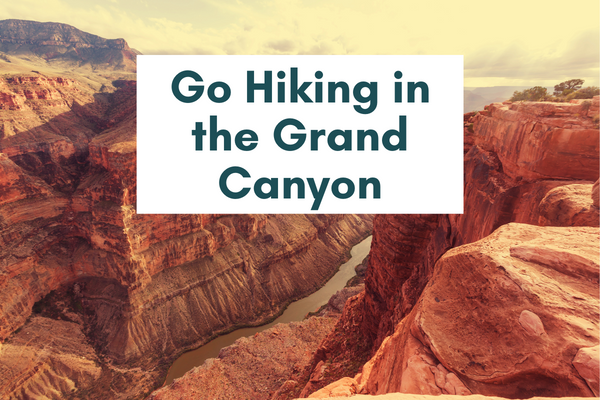 68. Kiss at the Eiffel Tower
Paris is truly a romantic city. Great sights and delicious food make this a definite travel bucket list destination for couples.
69. See the Northern Lights
One of the best places to view the Northern Lights is in Norway, but you can see them from many places, including Alaska if you are wanting to stay in the United States.
70. Visit vineyards in Napa Valley
71. Visit a different continent
72. See Niagara Falls
Niagara Falls, which actually consists of three waterfalls, can be viewed from both the U.S. and Canada.
73. Eat at a Michelin star restaurant
A Michelin star is a prestigious award that goes to the best restaurants. It lets consumers know that it ranks as the best in the world for food and dining experience.
74. See a Broadway play
There is nothing really like seeing a Broadway play. They are beyond amazing. It's time to see Hamilton in person, right?
75. Visit a rainforest
Plan a trip to an exotic and beautiful location.
76. Stay in a cabin in the woods
Craving some quiet and wanting to unplug? Rent a cabin and spend time reconnecting with one another.
77. Walk along the Great Wall of China
78. See the sunset in Santorini, Greece
Santorini is a beautiful Greek island in the Southern Aegean Sea and is famous for its sunsets.
79. Take a gondola ride in Venice
And then eat pasta and gelato of course!
80. Go on an African Safari
The ultimate travel and adventure bucket list idea! Observe wild animals and beautiful scenery on this once-in-a-lifetime journey.
81. See the Egyptian Pyramids
82. Snorkel at the Great Barrier Reef
See the largest coral reef system and the diversity of species it contains.
83. Plan a trip to an all-inclusive resort
This is an easy and convenient way to plan an awesome trip. Once you are there, you can just relax and enjoy.
"If we were meant to stay in one place, we'd have roots instead of feet."– Rachel Wolchin
Romantic Things to Do on Your Couples Bucket List
A little romance goes a long way. Most of these bucket list ideas for couples are straightforward and you can make them as romantic as you would like. Add candles, champagne, and enjoy.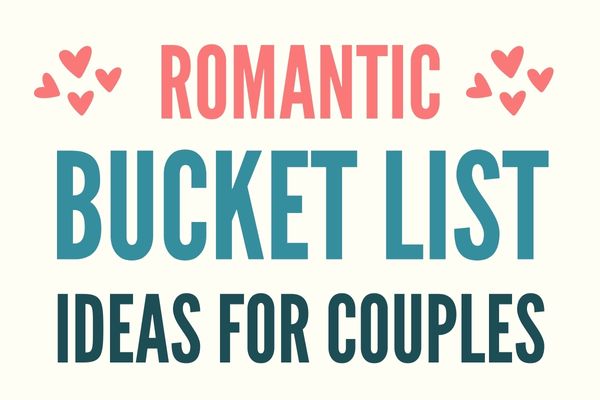 84. Recreate your first date
Every year on our anniversary, we go to eat at the same place we had our first date. It's meaningful. And we are able to reminisce about our first date and what made us fall in love.
85. Paddle a rowboat around a lake
Can we recreate the most romantic scene from The Notebook? Sounds romantic to me!
86. Take a hot air balloon ride
Take champagne along and make a toast!
87. Take dance lessons
If you want to feel close to your partner, dance together. Taking dance lessons is a fun and intimate thing to do even if you don't have a reason to learn to dance. In fact, that makes it less stressful and more fun.
88. Take a cooking class together
89. Go ice skating
Hold hands to keep each other from falling!
90. Kiss under a waterfall
91. Get a couples massage
Make the time to relax together and get a massage at the same time. This is also a great gift idea for your partner.
Related Post: Best Date Night Gifts For Your Partner
92. Join the mile-high club
Joining the infamous mile-high club is a bucket list item for couples who hope to take their love to new heights. Join at your own risk!
93. Go to a drive-in movie
Pack a cooler with snacks and drinks and enjoy a movie from the privacy of your own car. Bring a blanket and snuggle.
94. Stay in a luxury treehouse
Yes, these actually exist and are pretty neat! They're built high among the trees. You will feel secluded and away from everyday life.
95. Visit a bed and breakfast
Usually built from charming old houses, bed and breakfasts make guests feel like they are staying in a home. They offer overnight accommodation and breakfast. You can interact with others and enjoy personalized hospitality during your stay.
96. Have rooftop dinner and drinks
97. Find a high spot to watch the sunset
If you don't live in a place where you can easily see the sunset, seek a high spot away from city lights and snuggle up with your significant other.
98. Kiss atop a Ferris wheel
For whatever reason, Ferris wheels are inherently romantic. Scoot close together and enjoy the views.
99. Stay overnight at a fancy hotel and order room service
This is a perfect idea that does not require traveling far or a big time commitment.
100. Take a cocktail masterclass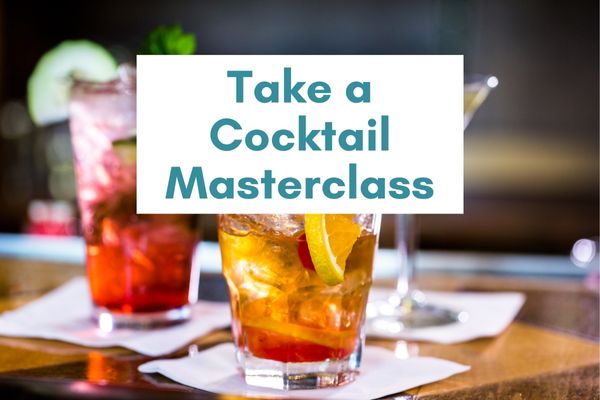 Learn how to make cocktails with an experienced mixologist.
101. Renew your vows
Recommit to one another with a romantic vow renewal. Celebrate your love and the promises you made on your wedding day. Plan a party or make it a destination renewal.
102. Kiss in the rain
103. Book the Penthouse suite
104. Go skinny dipping
Make sure you have privacy. Then, have an exhilarating and romantic experience!
105. Make your significant other breakfast in bed
This is a simple gesture to your spouse that he/she will enjoy and appreciate.
106. Take a tandem bike ride together
A cute and romantic way to have adventure.
Unique Bucket List Things To Do for Couples
Add a new experience with these unique ideas for your couples bucket list.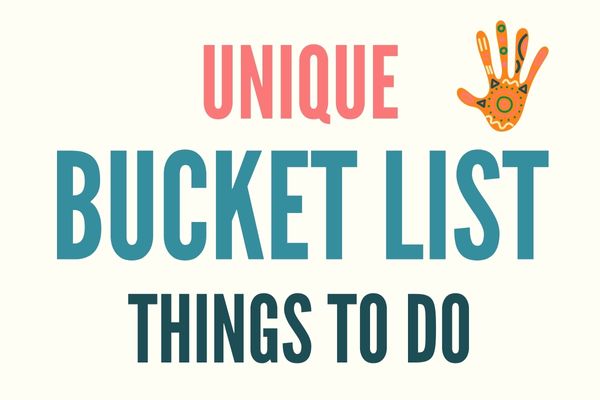 107. Find a local volunteer opportunity
Not only will you make a difference for others, but volunteering also offers many health benefits, provides a sense of purpose, AND nurtures new and existing relationships according to the Mayo Clinic Health System (source).
108. Learn a foreign language together
109. Take a course together
Check out your local community college for unique courses you could take together.
110. Start a side hustle
Have a shared interest that you could make money on? Start an Etsy shop, get into real estate, or start a podcast. Check out this article for more ideas for couples.
111. Have a tech free day
We spend a lot of time on our devices. Commit to putting them away for one day (or even a few hours) and connect with your significant other.
Or go all in with a social media detox together!
112. Attend a murder mystery dinner or weekend
113. Have a 'yes' day
Give your partner a 'yes' day and let him/her plan the entire day while you say 'yes' to everything they want to do. A yes day list should include activities you have been wanting to try or places you have been wanting to go. This is also a great gift to give your partner for a birthday!
114. Donate blood
Help someone else and save lives by donating blood together. Enjoy a sweet treat after as a reward.
115. Complete a few random acts of kindness
Be intentional and plan a few acts of kindness that you can participate in together. Buy someone coffee, help a struggling friend, pay for the meal of strangers at a restaurant, write a thank you note to the mail carrier, etc..
Best Ideas for a Long Distance Relationship
Long distance relationships take work to stay connected and involved in one another's lives. Try these virtual couples bucket list ideas to stay connected and keep your relationship strong.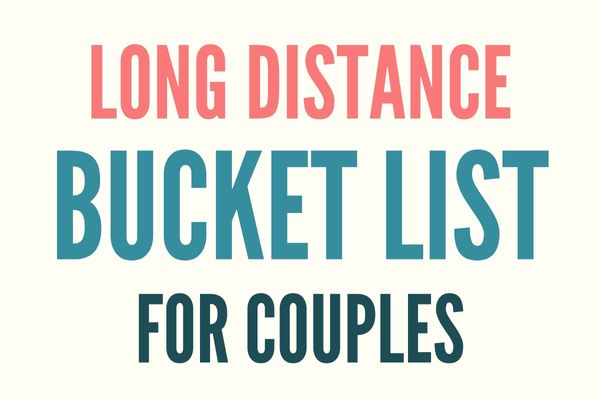 116. Virtual game night
Connect to your partner digitally with a little competition. This article offers 9 virtual games to play when you can't be together.
117. Candlelight dinner over Zoom
Sharing a meal and good conversation can help you feel like you are together even when you aren't. Zoom is such an easy way to connect virtually. Don't forget to light candles to make it more romantic.
118. Play couples would you rather
Have fun and learn something about your significant other with these best would you rather couples questions.
119. Have virtual happy hour cocktails
Enjoy a virtual happy hour after work with your loved one and your favorite cocktail.
120. Cook the same meal virtually
Go through the steps of cooking the same meal together and enjoy!
121. Send a package to each other and open it at the same time.
Put items in this package that you know your significant other loves. Snacks, coffee gift cards, tea, photos, books, lotion, etc… or send a gift that is meaningful or useful.
122. Send a handwritten letter
Handwritten letters are rare. Sending a handwritten note is more time-consuming and intimate than an email or a text. Which makes them feel valuable. It shows you care and your partner will appreciate and treasure the letter.
123. Look at the moon at the same time
Step outside at the same time and look at the moon. You will feel closer together!
124. Plan a trip to see one another or organize a surprise visit
If you are in a long-distance relationship, the ultimate goal should be to see each other when possible. Make plans to see one another as much as you can.
125. Create a shared digital photo album
126. Go for a walk
Share a walk with your partner on the phone or on Facetime. You will feel more connected by doing an activity together.
These good challenges for couples and good challenge couples questions have more excellent ideas that help long-distance relationships.
Couples Summer Bucket List Ideas
The sun is out and the weather is warm. Take time to slow down and do things you will both enjoy.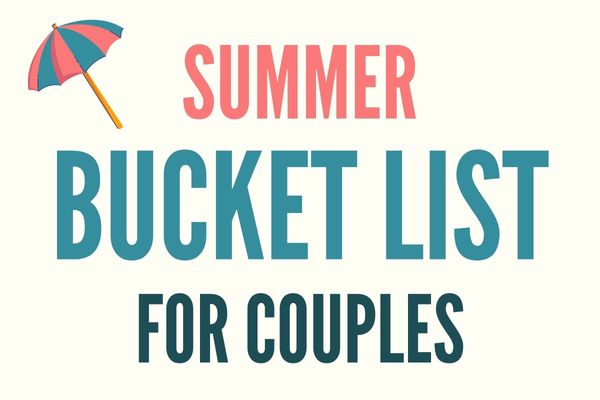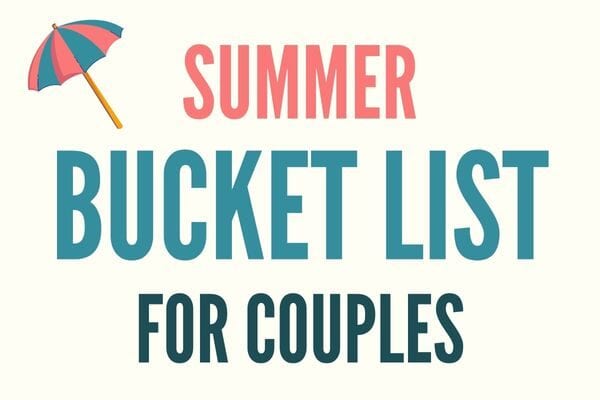 127. Attend a professional sporting event
128. Attend a music festival or see your favorite band live
129. Play a round of miniature golf
130. Go to a local waterpark- Float in the lazy river and try out the slides
131. String lights on your deck and have a romantic dinner
132. Take an outdoor yoga class together
133. Visit a Farmer's market and pick up fresh produce
134. Try out a new ice cream place
135. Attend theater in the park
136. Visit a county fair or carnival
Holiday Bucket List Ideas For Couples
Most holiday seasons are busy and the schedule is packed. But your relationship is important too! Think of one thing you and your partner can do together that is enjoyable.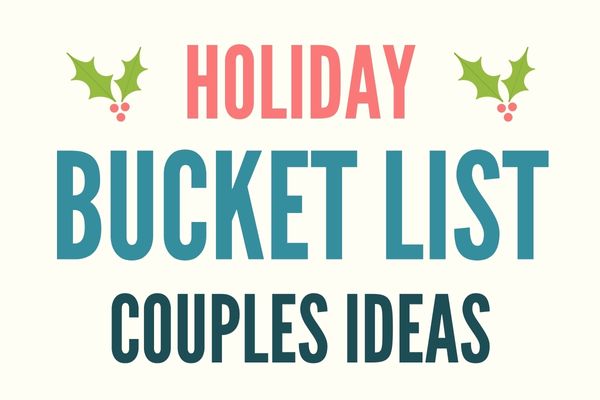 137. Take a wagon ride to look at Christmas lights
138. Go to a tree farm and cut down your own tree
139. Kiss under the mistletoe
140. Go caroling
141. Make a New Year's relationship resolution
Or set one of these great relationship goals for yourselves >>
142. Wear a couples outfit for Halloween
Find more special Halloween bucket list ideas >>
143. Find a local fireworks display
144. Start a new holiday tradition together
See these amazing Christmas couples traditions >>
145. Serve a holiday meal at a homeless shelter
Big Relationship Bucket List Items
These are commitments that require more planning and thoughtfulness. But if you decide to move ahead with any of these items, it will be an adventure worth starting.
146. Buy a house together
147. Get married
148. Adopt a pet
149. Have a kid(s)
150. Foster a child in need (or a pet)
*See these couples vision boards and examples of vision boards if you want to put them into a visual format.
To Consider With Your Fun Things to Do as a Couple
A bucket list for couples can be as simple or complicated as you make it. Either way, do things together that stretch and strengthen your relationship.
Invest in one another by trying new things, being adventurous, traveling to new destinations, and stepping outside of your daily life.
What is the first thing you and your partner are going to mark off your couples bucket list?
Other Great Relationship Posts You'll Love…
Ultimate Bucket List Ideas for Couple Adventures