105+ Fun Picnic Date Ideas (& Tips To Make It Easy) 2023
Picnic dates are an intimate and romantic way to spend quality time with your partner. They are also a fun way to enjoy the outdoors and indulge in delicious food.
Use these ideas and tips to plan the perfect picnic date any time of the year. Then, leave your devices at home, relax, and enjoy time with someone you love!
Not all picnic dates have to be romantic! Keep reading to discover additional picnic date ideas perfect for friends and families.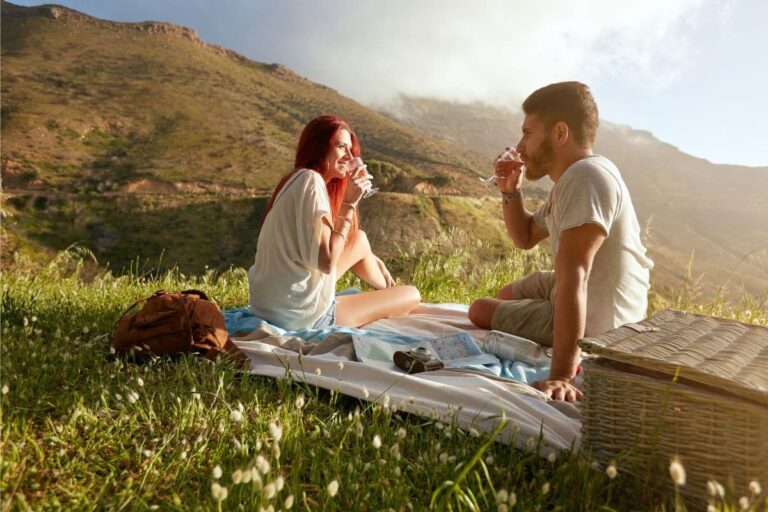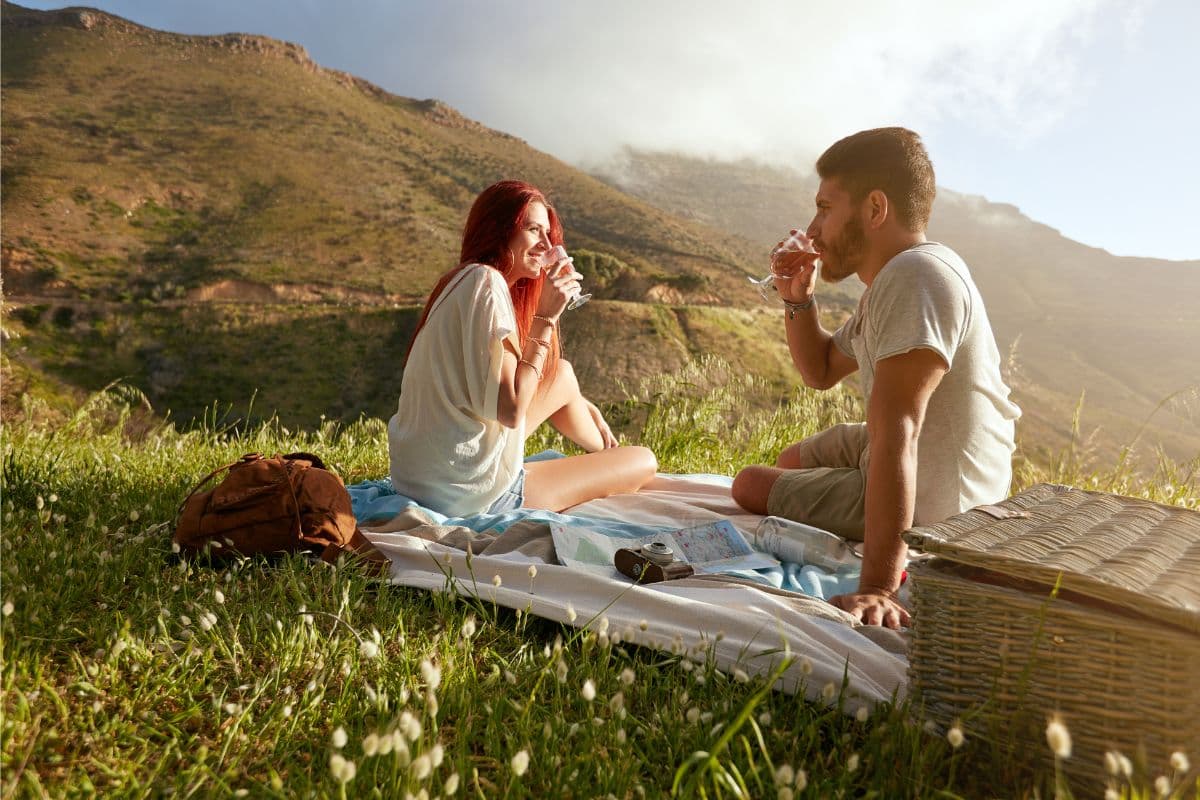 What Do You Need For A Picnic Date?
One of the best things about picnic dates is their flexibility. With a little planning, you can create a memorable experience for you and your loved one.
Follow these steps to plan the perfect picnic date.
Choose the location and time of day.
Plan the picnic date food.
Gather the things you need to bring.
Decide on an activity.
This post contains affiliate links, and we may earn a commission at no cost to you. See our disclaimer for more.
Keep reading below the first 50 for more food ideas, what to bring, and special things to do for your picnic date.
Picnic Date Ideas and Locations
When planning a picnic date, consider these factors:
Easy accessibility
Scenery
Amenities such as trash and restrooms
Weather
Best time of day
Crowd preference
Romantic Outdoor Picnic Dates Ideas
For those looking to enjoy a romantic outdoor picnic, here are a few ideas to choose from.
1. Rooftop Garden
If you are in an urban setting, try finding a rooftop with a scenic view to spice up a romantic picnic.
2. Drive-in Movie
Pack a picnic basket and head to the drive-in! Don't forget to add popcorn and movie candy to your food selection.
3. Fire Pit or Bonfire Picnic
Light a fire (safely and legally), spread out a blanket, and roast some hot dogs and s'mores for this late-night romantic picnic experience.
4. Wine Tasting Picnic Date
Calling all wine lovers! A wine-tasting picnic is a great way to enjoy some wine and cheese.
A virtual wine tasting is an option for this picnic adventure. Try out wine.com. You can register for a free event, buy the wine to taste along, and receive instructions for the virtual tasting held via Zoom or YouTube.
*This is a unique option to check out and a great indoor picnic date option as well.
5. Beach Picnic Date
Romantic beach picnic ideas are a classic choice.
We visit the same beach each summer and my husband and I have an early morning breakfast picnic on the beach. This morning tradition happens before it gets hot, the beach isn't crowded, and it's an ideal time of day for quiet.
No matter the time, pack a basket with food and drinks and enjoy the sound of the waves while soaking in the sun. Remember to bring a waterproof blanket, umbrella, and sunscreen.
6. Scenic Spot Picnic
Do you have an awesome scenic spot close by? Maybe a place you have never visited? Now is the time to try it out!
We love to do this when we travel to enjoy different views.
7. Waterfall Picnic
Having a picnic by a waterfall is the ultimate romantic spot if you have the chance.
8. Vineyard Picnic
Pack a basket and head to your favorite local vineyard for a picnic. Check their rules in advance. Many vineyards offer charcuterie boards and food that you can purchase for your picnic while you are there.
9. Sunrise Picnic
Picnics don't have to be in the afternoon or evening. Early risers may enjoy a breakfast picnic as the sun rises. Opt for easy breakfast picnic food like yogurt, granola, fruit, and muffins.
10. Sunset Picnic
Optimize romance and choose a scenic location where you can easily see the sunset. Bring candles or lanterns to make this memorable as the sun goes down.
11. Stargazing Picnic
Grab a telescope, spread out a blanket, and snack under the stars. Use a constellation app like Night Sky or SkyView Lite to guide you.
12. Favorite Spot Picnic Date
Do you and your significant other have a spot you love? Plan the perfect romantic picnic at this spot!
13. Chocolate and Dessert Picnic Date Tasting
Gather a variety of chocolate and/or mini desserts for this unique picnic experience. Enjoy satisfying your sweet tooth while you sample something new.
14. Boat Picnic
Take your picnic on a boat. Relax and enjoy an afternoon on the water with your loved one.
15. Surprise Picnic Date Idea
Plan a picnic for your loved one, but make it a complete surprise! Focus on your partner's favorite foods, places, and what will make them feel the most comfortable. Go all out on this one!
16. Hire a Private Chef
Skip the planning altogether and leave it up to a private chef. Enjoy your picnic on your deck or in your backyard. This is the ultimate relaxing and romantic experience for you and your partner.
Related: Unique & Fun Date Night Gift Ideas and Questions to Start Conversations for Couples
Cheap and Simple Outdoor Picnic Ideas for Couples
Sometimes we need a simple and budget-friendly date option. Choose from these easy and cheap picnic date ideas for couples.
17. Park Picnic
This classic picnic option is always a great choice because of the many places to relax at a park. Pick a spot that is scenic and not crowded. Then, enjoy nature and fresh air together.
18. Hiking Picnic
If you like adventure, a hiking picnic is perfect! Pack an easy lunch, snacks, and water in an insulated backpack and explore a new trail. Then, find a scenic spot to enjoy your picnic.
19. Arboretum Picnic
Head to your local arboretum or botanical garden with your picnic in tow.
20. Backyard Picnic
If you are looking for easy and budget-friendly picnic ideas, you can't go wrong with your own backyard. Plus, the kitchen is close by which makes planning a picnic simple!
21. Car Picnic
Don't have a babysitter? No problem!
Put the kids to bed early and have a date in your driveway. Pop the trunk, lay out a blanket, and enjoy a nice evening out with some quiet to catch up. I suggest making the food easy and getting takeout!
22. Lakeside Picnic
If you live close (or are visiting) a lake, find a secluded spot and have a romantic lakeside picnic.
23. Potluck Picnic
Divide up the picnic food between you and your partner. Each one of you plans to bring your favorite foods to contribute to the meal.
This is also a great idea when inviting friends or another couple to a picnic.
24. Bike Ride Picnic
Back an insulated backpack and take a scenic bike ride on a new or familiar trail. Find a spot to spread out a blanket and have an easy picnic.
25. Mountain Picnic
We don't all live by the mountains, but if you do or are traveling there, make it a point to have a scenic mountain picnic.
26. Pizza and Beer Picnic Date
It doesn't get any easier than grabbing a pizza and some beer and going to your favorite spot for a picnic. Think college. The greasier and cheaper, the better!
Related: Creative Way To Say I Love You and Sweet Text Messages For Your Husband
Cute Picnic Date Ideas
Next, these cute picnic date ideas are fun additional ideas!
27. Coffee and Pastry Picnic Date
Grab coffee and pastry from a local coffee shop (or try out a new one) and have a breakfast picnic at your location of choice.
My husband and I often opt to do this right on our back deck. This is also something we do while on vacation to get away early in the morning before the day starts.
28. City Center
Does your city have a central gathering space? Many of these spaces include lawns, fountains, and entertainment. Check your local areas to see what events may be happening and plan a picnic to correspond with this entertainment.
29. Yoga Picnic
Take your daily yoga or workout outdoors with your partner. Then, spend time catching up with a simple picnic after your workout.
30. Kayak Picnic
Rent a kayak and enjoy a morning or afternoon on the water. Take your picnic along (if you dare) or eat by the lake when you are done.
31. Bird-Watching Picnic
Grab a local bird guide and a pair of binoculars and find a great spot to watch birds while picnicking.
32. Painting Picnic Date
For artsy couples, gather watercolors, additional painting supplies, and your picnic basket, and enjoy painting with your loved one.
Follow an online painting tutorial to learn to paint something new if you are a beginner.
33. Fall Picnic Date
Plan a trip to a pumpkin patch or another beautiful scenic spot in the fall to admire the turning trees while you picnic. Dress for the weather and bring a thermos with a warm drink to keep you comfortable.
See more fall date ideas to add to your list.
Related: Marriage Goals For Love That Lasts
Simple Indoor Picnic Ideas For Couples
Get cozy and have an intimate date night indoors with your partner. You won't need to worry about the weather, making these romantic indoor picnic date ideas special for cooler seasons.
34. Fondue Picnic
Dig out the fondue pot and make this picnic fancy with melted cheese or chocolate and plenty of dipping options. Opt for a small folding table or tray to help make your food easier to manage.
35. Fireplace Picnic
Create a cozy ambiance and set the mood for romance with a picnic in front of the fireplace. Gather comfortable pillows and blankets and enjoy food and drinks by the fire.
36. Online Mixology Picnic
If you and your partner like cocktails, take an online mixology class at home and learn how to make a wide range of cocktails. These classes are led by top-rated mixologists. You will learn about the history of the cocktail while elevating your technique.
37. Themed Picnic Date
A themed picnic is a unique way to add excitement to your date. Choose one of the ideas below and plan your food menu, decorations, and dress attire appropriately.
Beach/Luau
Vintage
English tea party
Sports
Mardi Gras
Fiesta
38. Staycation Picnic
Have a 'staycation' picnic and recreate a place you have traveled and loved. Emulate the decorations, clothing, and food to turn an area of your house into your ultimate staycation vacation.
Related: Great Staycation Ideas
39. Bedroom Picnic Date
Throw a blanket on top of the bed or have a picnic on the bedroom floor. To enhance the romance, try out this edible body paint for dessert. Or get creative with whipped cream. This will surely lead to a romantic night!
Related: Fun Couples Challenges To Try and A Year of Date Ideas for Holidays
Family-Friendly Picnic Date Ideas
Picnics are fun for the entire family! Add variety to fun activities by planning a picnic your family will enjoy. These ideas are also great to invite friends!
40. Outdoor Movie Picnic
Grab a portable projector or a white sheet and have an outdoor movie. Make it fun with cozy chairs and blankets and a picnic snack with popcorn, candy, and soda.
41. Orchard Picnic
A few years ago, we went apple picking and packed a picnic to eat while we were there. Any orchard can make a fun picnic opportunity for the entire family.
42. Fishing Picnic
Going fishing? Pack a picnic and eat on the dock!
43. BBQ Picnic
Find a park or spot that has a grill and make it a picnic! To make it easy to invite others, have them bring their meat to grill and a side.
44. Camping Picnic
Camping is all about being in the great outdoors, so have a picnic by the campfire.
45. Indoor Fort Picnic
Bring the fun indoors on hot, snowy, or rainy days. Build an epic fort tent with your family and lay out a picnic for dinner.
46. Indoor Movie Night Picnic
Plan a movie night or marathon with your family and spread out on a blanket in your living room to eat and snack while you watch your favorite movies.
We like doing this for football games too!
47. Zoo Picnic
While you are enjoying the zoo, stop in a scenic spot and eat while watching the critters around you.
48. Pool Picnic
Plan a pool day and take your food. Lay out your towels and enjoy a picnic after swimming.
49. Nature Walk or Scavenger Hunt Picnic
Pack a backpack picnic and go for a nature walk with your family. Use this awesome nature scavenger hunt free printable with your kids. Then find a place to eat your picnic.
50. Outdoor Concert or Play Picnic
Pack up a picnic and head to an outdoor concert or theatre performance your family will enjoy.
Related: 7 Secrets to Happy Relationships for Parents
Picnic Date Food Ideas
Good food and drinks are essential for a picnic date.
When you are planning a picnic date food menu, opt for simple foods that are easy to eat when possible. Don't forget about the drinks!
Take out (get your favorite!)
Themed food: tacos, greek, sushi, BBQ, Italian (try calzones)
Food safety tip: Stay away from foods that will spoil easily or need to be heated before eating. Consider your location and how you will transport, keep your food cool, and serve your food.
Things To Bring On A Picnic Date
Pack the essentials for your picnic and use these tips to set up your picnic date.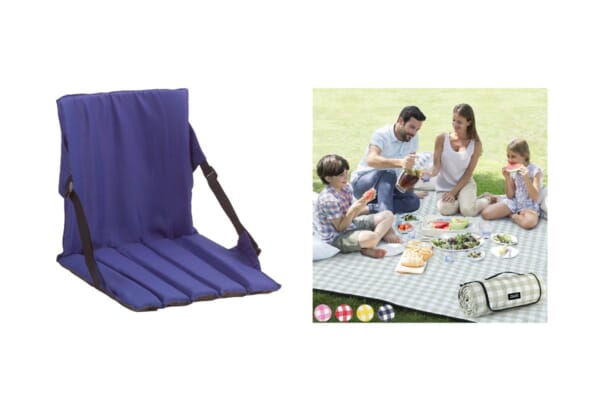 Additional things you may need for a picnic date include sunscreen and bug repellent.
*Safety tip: Bring a small first aid kit containing band-aids, antiseptic wipes, and allergy medication to address minor injuries or allergic reactions.
Things To Do On A Picnic Date
You've planned your picnic location, food, and things to bring. Now it's time to add in an additional picnic date activity if you want.
Here are great suggestions to enhance your picnic experience for couples and families:
Make your own music playlist of favorite songs and play it on a Bluetooth speaker
Check out more Trivia Posts:
To Consider With Picnic Date Ideas
No matter what you choose to do, a picnic date is a great way to enjoy the outdoors (or indoors) with your loved ones.
What's next?
Read Fun Date Night Ideas for Couples to find more ways to have fun and connect with your partner. And consider adding in these interesting topics to talk about on your next date!
Picnic Date Ideas: Food, Set Up, & Things to Bring