20 Unique & Fun Date Night Gift Ideas for Couples
The Date Night Gift Basket To Bring You Together
I must confess. I'm not a gift person.
It's not that I don't appreciate them sometimes. I certainly do.
But receiving gifts ranks low on my happiness scale. My husband happens to be the same way. And for that reason, we seldom get each other gifts.
Yet, certain times of the year are tricky. Sometimes, we want to feel we are still celebrating. So, years ago, we decided that instead of giving each other material gifts for Christmas, we would buy "date night gifts."
This post contains affiliate links, and I may earn a commission at no cost to you. See my disclaimer for more.
Um, What Are "Date Gifts"?
Well, they are gifts used to spend quality time together.
We've enjoyed many date night gifts over the years, and this post is dedicated to this special gift idea. Each year, one of us gives a gift that can be used at home, and the other does a gift that can be used for going out. You'll find both types in this post.
Plus, the BEST part about these date night gift ideas is that you can spend as much or as little money as you want!
And finally, the date night gift basket is perfect for friends or parents that you know! So, feel free to give them to other couples! Now, let's dig in!
Date Night Gift Ideas At Home
For those staying in, these baskets make for memorable at home dates.
1. A Travel Date
What place would you have fun learning more about? Have your date gift center around exploring a country! Here are a few examples of countries to have fun with from home. Remember, the ideas can be applied to any country!
Japan Date Night Gift Basket
A gift card for quality sushi takeout or the ingredients to make your own sushi
Green tea (tea is the most popular beverage in Japan)
A bottle of Sake
A documentary about Japan or how sushi is made
Mexico Gift Basket
The Caribbean, China, England…you name it and you can spend an evening enjoying that culture!
2. Make a Bucket List Date
Dreaming and planning brings couples together, plus it's fun to envision all of the amazing things you can do! Pick up these items for this date night gift basket:
The Bucket List Movie (to get you inspired!)
Simple snacks for your evening together
Drinks that you love (coffee, wine, tea, etc.)
Make your lists separately, and then come together for one big one! Check out this humungous bucket list for individual ideas too. These spring, summer, fall, and winter bucket lists all also have seasonal ideas for adults.
Or would you love a date bucket list made for you? Then, check out these 100 Date Night Idea Cards and start adventuring together on your next date!
Related Post: How to Design a 5 Year Plan (this can also turn into a date)
3. The Five Senses Date
This date gift is incredibly flexible and keeps the preferences of your partner in mind. Simply include something in your gift box for each of the five senses.
This is the clean version, but by all means, spice it up for a more romantic date night gift basket!
Sight: candles and fancy clothes
Sound: soft romantic music
Smell: candles, fresh flowers, or an essential oil diffuser
Touch: Massage oil
Taste: takeout dessert from your favorite restaurant or some foods you've never tried
4. Bookstore / Coffee Shop Date
This is one of our all time favorite dates out, so why not re-create the feel at home!
Bring the bookstore to you! You'll need…
An assortment of hot cocoa, tea, and coffee
Coffee bar items to splurge: whipped cream, coffee syrups, cinnamon, flavored creamer, scones or muffins
A small vase of flowers to set the coffeeshop tone
Magazines
A few books from the library or bookstore
Jazz or classical playlist for the background
And if you're not into coffee, use this concept to create a "bar theme" or a sophisticated at home whiskey or wine tasting.
5. Movie Night Date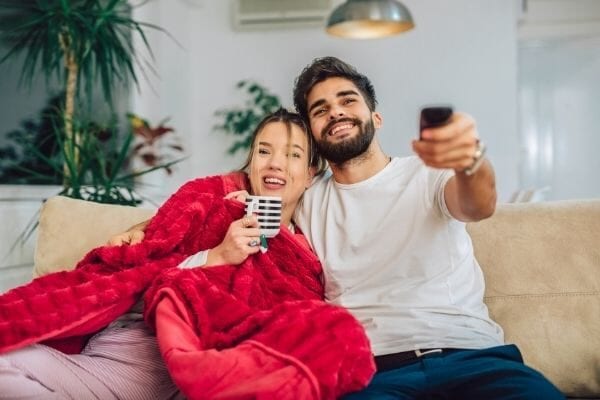 The movie date is an old standby because it works! It's relaxing and easy – what ALL grownups need! Here's what to include in this gift basket:
Candy and popcorn
A pizza gift card or ingredients for a delicious homemade pizza (to make together!)
A gift card to Apple, Redbox, etc. for a fresh movie
Fun drink options
Fort supplies or a new cozy blanket
6. Game Night
Game night is another classic date night gift idea, and for good reason. If you and your spouse love games, give this a try!
A new board game – Check out our favorite games HERE!
A new card game
A classic deck of cards for a romantic game of poker – wink, wink!
Easy finger food snacks you'll both love
Fun drinks (pop, coffee, tea, beer, etc.)
If you enjoy trivia, check out different trivia night categories and ideas.
7. Spa Date
If you both enjoy a good soak, give this gift! And swap massages during your date for extra relaxation!
Items to alleviate stress include:
Comfy robes or socks
Champagne
Candles
8. Taste Testing Date
The taste test date is a HUGE winner here. Apart from the fact that it's fun, you'll realize that you often eat things that you don't actually love the taste of. It's eye-opening!
Here's what you'll need:
Food items that are the same (3 types of bread, 3 different olive oils, 3 different mustards, 3 cheesecakes, 3 of anything)
A blindfold (if you'd like to go only by taste)
An elegant charcuterie board and serving utensils
Anything needed to get your fireplace going (set the mood if it's cold!)
A blanket for an inside or outside picnic (check out more ideas for a picnic date)
Candles
Other appetizer and drink items to go with your taste-testing foods
For more creative dates, check out this year of holiday dates guide!
9. Fitness Date
Have you heard the expression "those that sweat together, stay together." Yeah, me neither.
BUT getting healthy together IS a great bonding experience. So, enjoy some endorphins!
Healthy date night gift ideas include:
Several fitness videos picked out that your partner would have fun trying
New weights or exercise equipment
Healthy meal ingredients with an easy recipe attached
New workout clothes
A new exercise tracker (Like the Fitbit 4)
Gift card for a couples massage for after the date (this part is out, but you can go separately if one of you needs to be home)
Related Post: 23 Easy Ways to Raise Your Health
10. House Project Date
This is for the home improvement enthusiasts! Use the date night gift to move forward in a project you'd both like done.
Items to include:
Specific plans for the project (if needed)
Materials (measured out) for your home project
Wine, beer, or a fun cocktail to enjoy while you work
An easy snack or treat to celebrate your accomplishment!
11. Bed & Breakfast Date
Let's bring the luxury feel home to us! Turn your bedroom into an upscale hotel with these items:
Fancy chocolates
A bottle of high-quality wine for the evening
Gift card for breakfast takeout or fresh fruit and muffins
Fancy coffee for the morning and/or mimosas
A beautiful breakfast tray (helps reduce any mess too!)
Loungewear
For more ideas on a bed and breakfast date read HERE.
12. Couples Painting Date Night
Get creative together by using an online painting tutorial and the supplies needed for a painting night at home.
A few inexpensive canvases
Paints and brushes (grab a set)
List of possible YouTube painting tutorials
Cocktail to enjoy while painting
13. Sexy Date Night Ideas
Spice things up in the bedroom. Make time for intimacy and romance with a sexy date night.
Stawberries and whipped cream
Lingerie or sexy underwear
Related Post: 131 Unique Ways to Say I Love You (Without Saying the Words)
Date Night Gift Ideas Out
Now for the dates that help you explore your area! Check out these unique ideas!
14. A Trip From the Past
Last year, my husband put together a date night gift basket from our trip to Spain years ago. It included:
Favorite written memories from the trip (a nice personal touch)
Old photos from the trip
Spanish wine
A gift card to a Spanish restaurant
Specialty olives
Have you gone on a memorable trip together? Bring back your adventure with a date gift that commemorates it!
15. Camping Date
Next, get some fresh air with the one you love! Put in these items for an epic date:
Ingredients for s'mores
A tent (to pitch in the backyard or camping grounds)
A card game to play
A map of nearby hiking trails
Other fun food or drinks
16. Try New Things Date
Are you stuck in a rut lately? Or just need something to spice things up? Sometimes, getting out of our comfort zone can feel SO good! Why not do it with your partner?
Item ideas to include:
A gift card to a restaurant you've never tried before (or pick up food for a new recipe)
Tickets to an activity you haven't done (or in at least a year): mini-golf, kayak, go to a symphony, learn archery, a cooking class, etc)
A new drink to try (to take with you on the date)
17. A Sporting Event Date
Calling all sports fans! Try this date gift basket idea!
Tickets to a favorite team or event (professional or amateur)
Bottled water or juice to take along
Fun snacks that go with the sport (peanuts, shaved ice, etc.)
Memorabilia from the team
A new shirt or jersey to wear
18. A Progressive Dinner
Now, this one is extremely easy to put together! Make a complete night out of restaurant hopping!
A gift card to a restaurant with great appetizers and drinks
A gift card to a restaurant for dinner
A gift card to a restaurant for dessert
Enjoy people watching and getting out on the town!
19. A Fancy Biking or Hiking Adventure
Go on a bike ride around a new trail and take a special food spread to stop at a beautiful location.
Include these items for the date:
Picnic ingredients to pack on your adventure (fresh fruit, cheese, wine)
A picnic basket or special picnic backpack
A new bike or biking gear
Hiking boots or hiking gear
*Need more ideas for epic dates? Check out these date night ideas for married couples!
20. Stargazing Picnic Date Ideas
For the adventurous night owls, plan a late picnic to gaze at the stars.
Picnic basket with a few favorite snacks
Download a constellation app to optimize star viewing
Thermos with a warm drink to share
*Check out Picnic Date Ideas for more tips to spice up a picnic.
Something to Consider With Date Night Gifts
And now that I'm done with this post, I'll be stealing one for my hubby's gifts this year!
What are the date night gift ideas that you love?
Next, turn these ideas into unique family gift baskets!
Other Excellent Gift Posts to Enjoy…
Date Night Gift Ideas for Parents