Thank You for Being a Great Teacher Appreciation Printable
Kind Words to Thank a Teacher + Free Printable
I've been blown away by teachers the past few years.
They are continually thinking, re-thinking, sacrificing, and working their butts off so that our children can have a great school experience. This kind of dedication to our kids brings tears to my eyes.
And it has worked for my own children.
This posts contains affiliate links, and I may earn a commission at no cost to you. See my disclaimer for more.
So, today I bring you some easy ways to appreciate teachers. These ideas are great for a Christmas thank you, Teacher Appreciation Week, or anytime!
Teachers need the encouragement to overcome challenges as much as anyone. So, let's give them some love!
This post includes:
Teacher messages to write (from students or parents)
"Thank You for Being a Great Teacher" free printable
Incredibly easy thank you gift ideas
Thank you teacher quotes
"One child, one teacher, one book, one pen can change the world."

Malala Yousafzai
What to Write in a Thank You to a Teacher
A personalized thank you message for teachers from students (or parents) is a short and sweet way to tell teachers how much their work matters. So, have your child draw a picture or write a letter telling what he or she loves about the class.
Or for specific words to thank a teacher, try one of these ideas:
1. We appreciate all of the hard work you do to make our child feel welcome and loved within the walls of your classroom.
2. I feel so lucky to have you as my (my child's) teacher. You are patient, kind, and continuously generous with your time. Please know that we appreciate everything that you do.
3. Thank you for inspiring me to be my best.
4. Thank you for your dedication and commitment to excellence in the classroom. Your passion for teaching is obvious in the way that you conduct yourself as a leader.
5. We greatly appreciate how hard you work to make learning fun.
6. Thank you for being an extraordinary role model and guide for our future generations.
7. Thank you for encouraging a love of learning and a positive outlook. We feel so blessed to have a teacher like you.
8. A teacher like you is a gift. And we will cherish it for a long time to come.
9. You make such an enormous positive impact on your students. Thank you for your bright smiles and knowing how to encourage your students.
10. Thank you for going above and beyond for your students. We truly appreciate the extraordinary hard work and dedication that this year has required. And we are ever grateful that you are our teacher.
Which of these words to thank a teacher will you use?
Next, let's make things even easier!
Teacher Appreciation Printable
For a simple fill in the blank thank you card, have your child fill out this questionnaire and draw a small picture of their classroom or teacher.
The questions are easy and straightforward. Plus they lead to genuine and creative answers straight from the heart of the student.
My favorite things about my teacher is ________.
My teacher always says ________.
The thing I like most about this school year is ________.
I appreciate my teacher because ________.
I love when my teacher ________.
My favorite subject is ________.
My favorite memory is ________.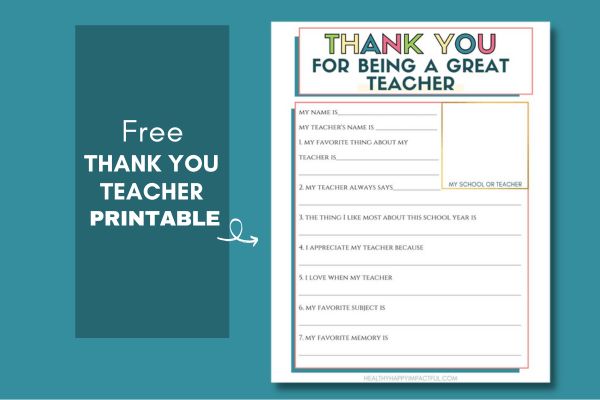 5 Easy Ideas for Fun Teacher Gifts
Now, want something to go along with your thank you message for teacher appreciation? But need it to be easy? I get it!
So, check out these low effort teacher gifts to go along with your note or printable.
1. Charm Bracelet Gift for Teachers
This pretty charm bracelet is perfect for a teacher that enjoys jewelry. Plus the quote is motivation for any teacher to bring on the greatness.
2. Hands Down Teacher Gift
For a simple diy gift, give nice smelling hand sanitizer (I mean WHO couldn't use more of that?!). Then attach this cute free printable tag. And bam, you're done!
3. Awesome Teacher Notebook
Next, give this unique notebook to your favorite teacher! It tells them how much they mean to you, plus provides them motivation on tough days.
4. An Apple For Your Teacher
Go traditional with the apple, but spice it up with a side of delicious caramel sauce and this adorable printable! It doesn't get any easier, and this gift is also very low-cost!
5. A Teacher Survival Kit
Find a small container and put together a practical survival kit that any teacher would love to use.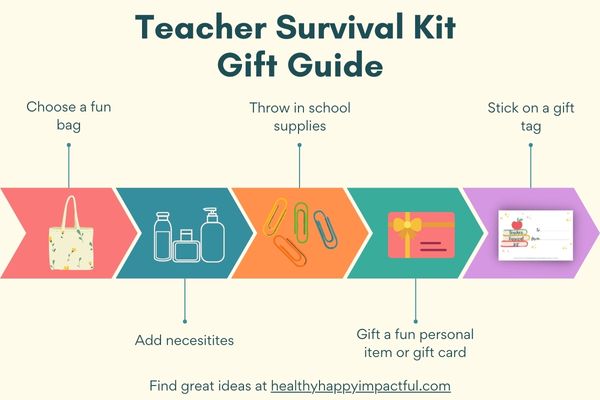 Item ideas for your kit include:
Lotion
Tylenol
Gum
Mints
Chocolate
Mini lint roller
Granola bars
On-the-go mix drinks
Chapstick
Small pack of wet wipes or kleenex
Travel size deodorant
Cough drops
Use this free printable teacher survival kit note to attach to your teacher survival kit!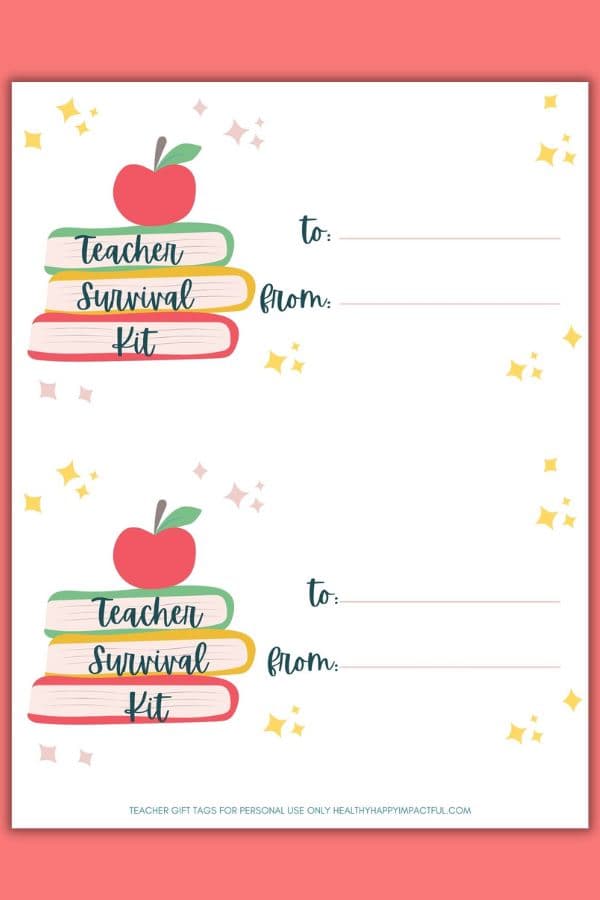 Related Post: How to Make a Self Care Kit for Mental Health
*And when in doubt, ALL teachers love gift cards! Amazon gift cards are a clear winner because the recipient can use them for almost anything.
Thank You Teacher Quotes
Finally, consider adding quotes for a short but meaningful message to thank teachers.
The teachers in your life will appreciate your thoughtfulness and the time you took to make this thank you message.
1."They may forget what you said, but they will never forget how you made them feel."- Carl W. Buechner
2. "What a teacher writes on the blackboard of life can never be erased."– Author Unknown
3. "It takes a big heart to help shape little minds. Teaching is the greatest act of optimism."– Colleen Wilcox
4. "Tell me and I forget. Teach me and I remember. Involve me and I learn."– Benjamin Franklin
5. "A teacher affects eternity; he can never tell where his influence stops."- Henry Brooks Adams
6. "Anyone who does anything to help a child in his life is a hero to me."- Fred Rogers
7. "Your heart is slightly bigger than the average human heart, but that's because you're a teacher."– Aaron Bacall
8. "A truly special teacher is very wise, and sees tomorrow in every child's eyes."– Author Unknown
9. "Good teachers know how to bring out the best in students."– Charles Kuralt
10. "Because my teacher believed in me, I never gave up. Now I am flying towards my dreams."– Heidi McDonald
To Consider With Your Thank You Message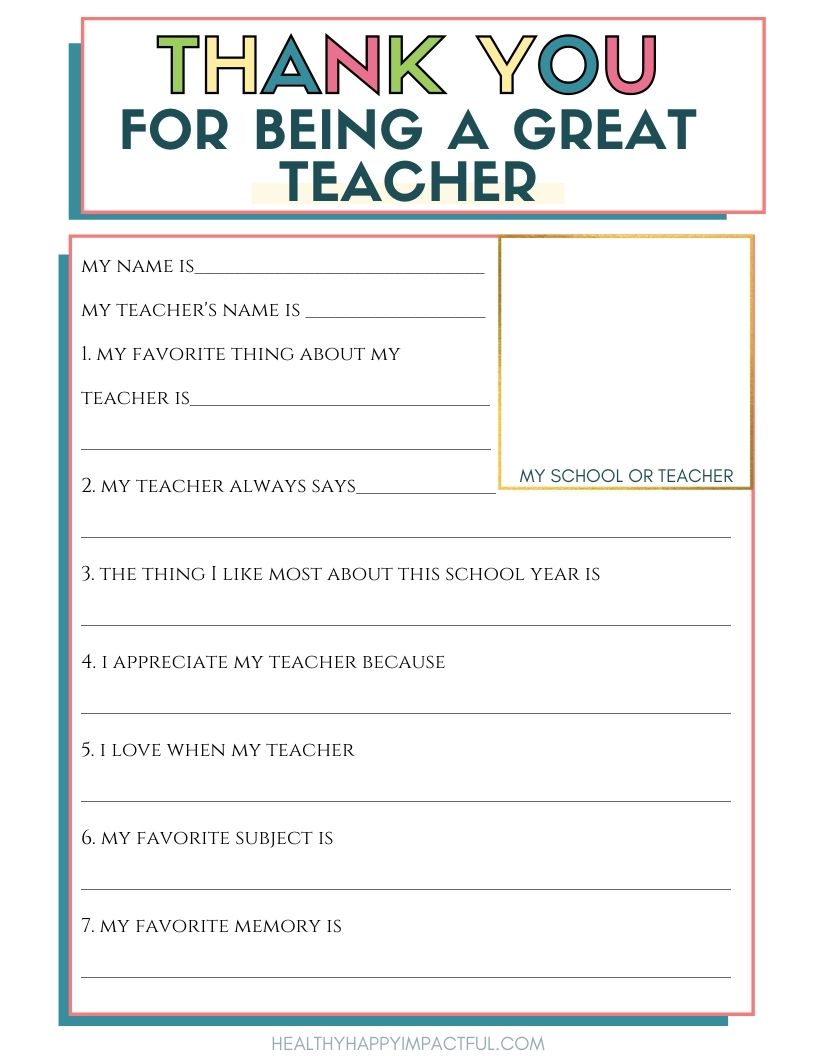 Teachers don't get enough credit for the enormous dedication required to inspire and teach a group of children. So, let's give them some extra love this year and remind them that their work is one of the most important jobs in the world.
What do think of the thank you for being a great teacher printable? Or what are your favorite words to thank a teacher?
Family Articles to Enjoy From Healthy Happy Impactful…
Thank You for Being a Great Teacher Printable