105 Best Spring Bucket List Ideas for Kids & Moms in 2023
How do you celebrate spring with the kids?
The green buds are sprouting, the birds are chirping, and we begin to bask in the sunlight and fresh air. It's hard not to love spring!
So, let's make the most of this glorious season with a spring bucket list that's sure to inspire joy!
This post contains affiliate links, and I may earn a commission at no cost to you. See my disclaimer for more.
If nothing else, you'll have ideas ready to go for spring break when the kids are off of school!
This spring bucket list for the family contains:
Fun things to do at home
Creative outdoor activities
Spring food you should try
Places to visit this season
Then, read on for a special bucket list just for moms!
Things to do at Home: Spring Bucket List
There are so many adventurous springtime activities!
Make a bird feeder (or buy one and hang it close to bird watch)
Have a garage sale. (Let the kids participate and make money!)
Do a St. Patrick's Day scavenger hunt.
Dye eggs.
Decorate for Easter.
Enjoy special Easter activities like brunch, an Easter tree, or an Easter would you rather game.
Have a rainbow drawing contest. The family votes on the winner!
Play an April Fool's Day prank.
Hug your pet on National Pet Day (April 11th)
Have a movie marathon on the first rainy day.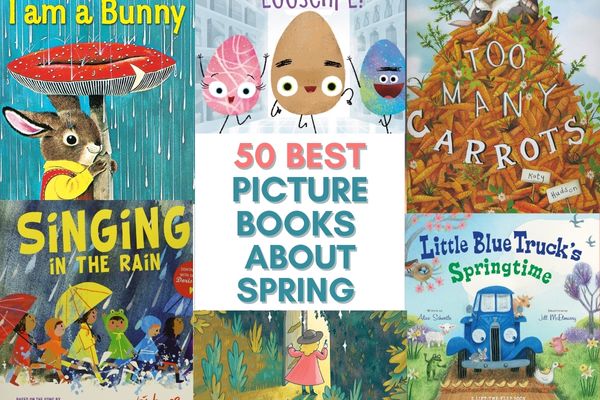 Read your favorite springtime books.
Play with your Easter basket goodies (Here are basket fillers for girls and Easter stuffers for toddler boys too)
Spring clean. (Not always fun, but doesn't it feel better after?)
*Use this free bathroom cleaning checklist >> or finally get the kids on a good daily routine with this free chart: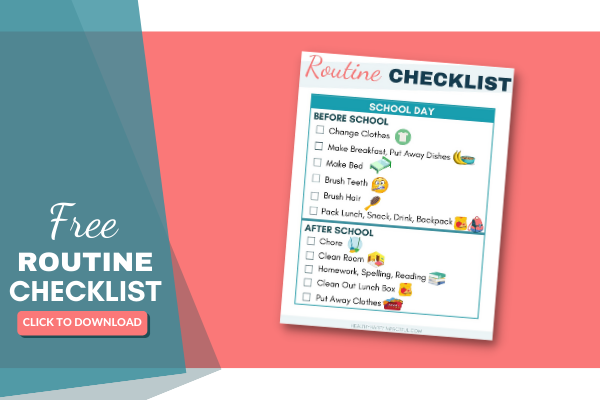 Make a thank you gift for your teacher (link has a free printable!)
Celebrate Cinco de Mayo.
Make a sun catcher.
Bounce around these "Would You Rather" kid friendly questions on the next rainy day.
Watch caterpillars become butterflies. And then release them.
Have fun mom with Mother's Day things to do near you. Try this free Mother's Day Interview Questions Pdf >>
Start some uplifting affirmations for kids.
Participate in a kindness challenge.
Celebrate the end of the school year with a fun tradition. (breakfast at the park is a fun one!)
Related Post: Smart Things to Do When It's Raining (ideas with kids too!)
---
Family Things to Do Outside (At home)
A little rain shouldn't stop anyone! Try these fun activities outside!
Pull out the sidewalk chalk. Make art.
Eat on your deck or patio.
Plant a garden.
Pick up trash for Earth Day.
Play in the rain – I have NEVER seen as much joy in my children as when they do this!
Fly a kite.
Watch a sunrise or sunset.
Host an outdoor tea party.
Search for four-leaf clovers. (Here's some other St. Patrick's Day ideas)
Go for a long bike ride.
Enjoy a long hike.
Spot a rainbow.
Paint rocks (hide them around the neighborhood to spread joy).
Skip rocks at a creek or lake.
Go mushroom hunting. Or snail finding. Or tadpole searching.
Try drying or pressing flowers.
Make mud pies.
Go on exploration walks together.
Put together a fairy garden.
Blow bubbles.
Pull out the frisbee and soccer ball.
Play hopscotch.
Make an outdoor obstacle course.
Build a tree fort. Perhaps a bit ambitious, but if you have a good climbing tree, this makes for an epic spring project.
Collect the rain using different objects around the house.
Need more for your bucket list for spring break?
Check out these posts before reading on!
---
Delicious Spring Food For Your Bucket List
Don't forget food on your spring bucket list! Enjoy the first harvests with these ideas!
Bake a berry pie or cobbler.
Make green food for St. Patrick's Day! We love pesto eggs and muffins (blend some spinach in them, and they'll never know!)
Cook corned beef and cabbage for St. Patrick's Day.
Enjoy baseball food on the first day of games.
Host a Memorial Day bbq potluck.
Eat bacon-wrapped asparagus. Yum!
Make a pie for "Pi Day" on March 14th!
Try a new dish at Easter. Do it together!
Make a delicious salad out of things found in your garden.
Make mom a Mother's Day brunch.
Read Rainbow Stew and cook a colorful stew using the book!
Blend more smoothies for a lighter breakfast option.
---
Places to Visit This Spring With Kids
It's a wonderful time to shake off that winter hibernation!
Go to the zoo.
Picnic at as many parks as you can.
Visit a botanical garden.
Get outside and go garage saling.
Visit a farmer's market. Then stop for breakfast nearby.
Go somewhere for spring break. Even if it's a short day trip. (Plan your family staycation with these ideas.)
Feed the ducks.
Visit a local farm to go berry picking.
Go fishing.
Go camping. (Here's a free checklist for kids to help pack)
Visit the batting cages.
Go to a restaurant and dine outside.
Go mini-golfing.
Find an arboretum near you.
Go to a baseball game (minor or major league). Soccer is fun too!
Sit on the patio at a restaurant.
Visit a petting farm.
Go to work with mom or dad on "take your child to work day."
---
A Spring Bucket List for Moms
As always, it's important to have spring bucket list ideas for adults too! Enjoy yourself this spring mama!
Go on a tandem bike ride with a friend or partner.
Run or walk a 5k, 10k, or half marathon.
Buy yourself flowers or pick wildflowers.
Get a fresh spring haircut and highlight.
Begin using this list of self love affirmations or start a loving challenge!
Indulge in a relaxing self-care day.
Open your windows and air out your home. Change your sheets that day too and you'll feel lovely!
Do yoga outside.
Wake up 15 minutes earlier to add in self-care. It will be easier to do with the longer days! (Find a self-care ideas list HERE) or use one of the ideas below: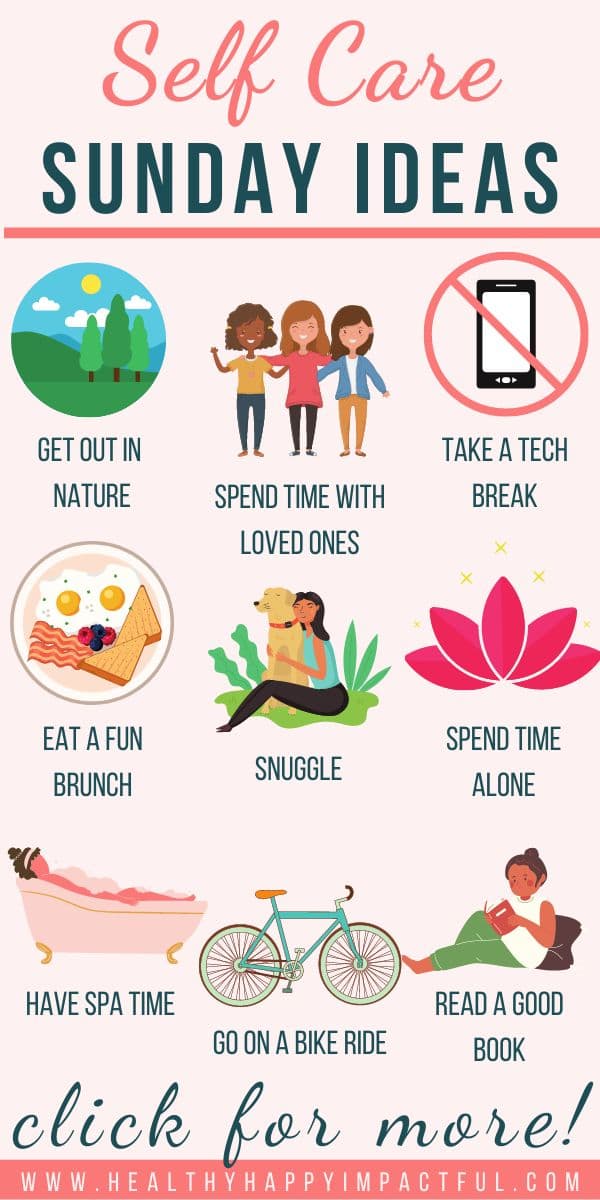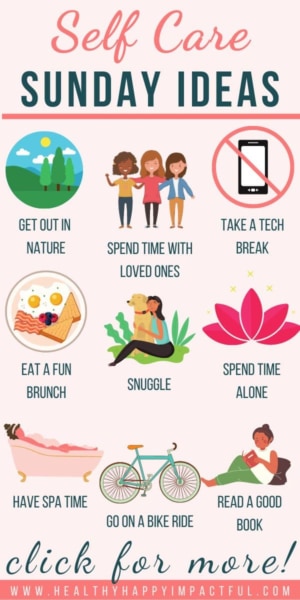 Paint your nails bright pink, purple, or yellow.
Buy yourself a Mother's Day present from these self-care gift ideas for mom or best gifts for busy moms.
Take pictures of the beauty you see outside.
Write your mother a letter thanking her for everything she's done for you.
Enjoy a date with your mom. Even if it's through Zoom.
Milk Mother's Day for all it's worth! You deserve it!
Drop off a small gift to your mom friends.
Put together epic Easter baskets (make it EASY with these ideas for girls and baskets for boys)
Read a book outside on the deck.
Plant a butterfly garden.
Wear a bright outfit.
Review your vision board and goals.
Play in the rain. With or without your kids!
Sit and listen to a thunderstorm with a cup of tea or coffee.
Pinch your family on St. Patrick's Day (at least once).
Slow down and plan for prayer/meditation time at Easter.
Have a spring holiday date with your partner.
Take yourself on a picnic.
Participate in a spring self-care challenge.
To Consider With the Spring Bucket List Ideas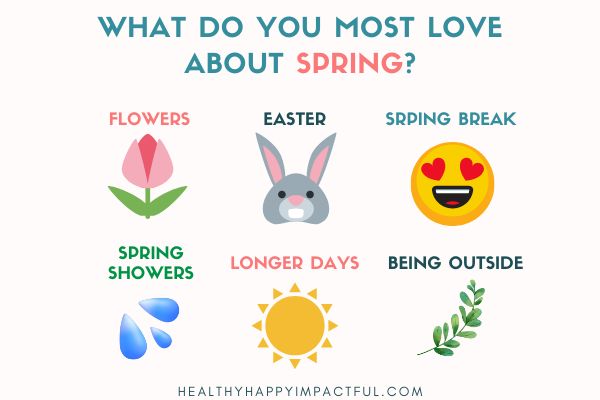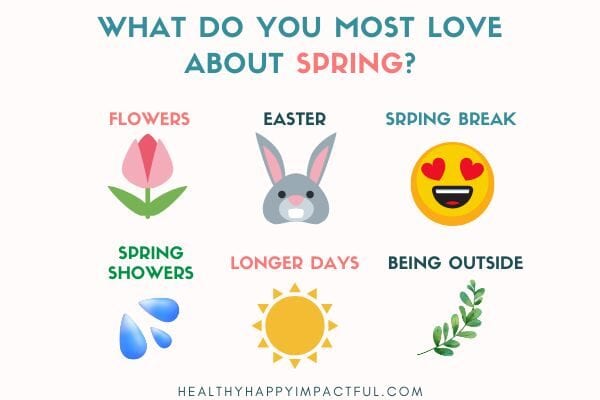 When you think of spring, what do you envision?
Thunderclouds? A rainbow? Spring holiday traditions?
Whatever it is, enjoy it when it comes around. Take pleasure in the things that bring you joy this spring.
And finally, get the most out of the season by getting outside as much as possible and enjoying the newfound daylight. Energy levels naturally pick up this time of year, so take advantage!
What are your favorite activities on the spring bucket list? I'd love to know!
Did you love the spring bucket list ideas?
Check out these for other seasons as well!
All of them have lists for mama too!
The Ultimate Spring Bucket List for 2023