40 Best Self Care Gifts for Moms This Mother's Day 2023
Thoughtful Mother's Day Gifts for Self Care
With Mother's Day around the corner, many of us are wondering about special self care gifts for moms.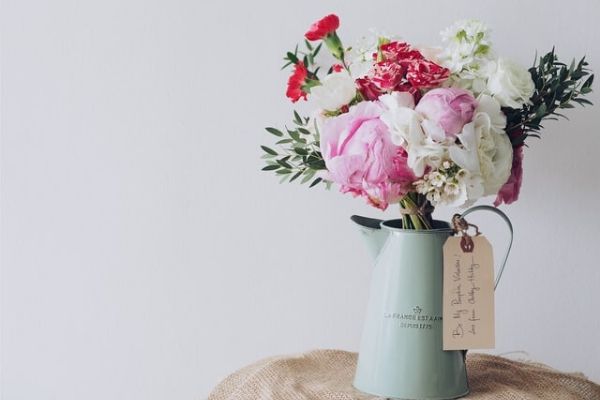 "A mother's love is the fuel that enables a normal human being to do the impossible."

Marion C. Garretty
This post contains affiliate links, and if you purchase items, I may earn a commission. See my disclaimer for more.
Plus, if you're like me, you're a mom yourself who's always on the lookout for products that help make life healthier, happier, and more impactful.
So, read on for gifts to promote radiant health and well-being.
Additionally, check out the end of the post if you're looking for a unique touch, diy self care gift ideas for mom, or you're short on cash this Mother's Day. There's something for everyone!
Healthy Mother's Day Self Care Gifts
What is a perfect gift for your mom in 2023? Let's start with fun self-care products and gifts for moms. They all promote a healthy lifestyle.
1. A Fun Charcuterie Board
5 ⭐ Amazon Review
This elegant serving tray is just the thing to allow mom to have fun with others. Add a few healthy foods to your gift and you've got an amazing self care gift for mom.
2. Quality Tea or Coffee
*Warming & soothing herbs
Stress levels are high for moms, so an assortment of tea is a fantastic way to help someone wind down and relieve stress at night. This tea variety pack features something for everyone, is organic, and lets mom try new flavors.
3. Spiralizer 7-Blade Vegetable Slicer
*Encourages healthy cooking
So many healthy recipes call for spiralized noodles these days! So, save time and get this spiralizer. Mom will have healthy spaghetti in no time!
4. A Special Water Bottle
*helps mom keep her energy up
This BPA free water bottle is the perfect gift to keep mom drinking – water that is. This pretty glass water bottle will keep her hydrated and healthy!
5. Fitbit Inspire 2 Health & Fitness Tracker
*Tracks exercise and sleep
This fitness tracker will keep mom moving and even tracks heart rate along with steps, activity, sleep, and calories burned. It also goes 10 days without having to be charged.
6. Dried Fruit Tray
*Bestseller
Many mamas are trying to eat healthy or have food allergies that limit certain foods. This tray is perfect for giving mama goodies that also do her body good.
7. Cold and Hot Eye Mask for Sleeping, Eye Puffiness, Dry Eye, Tired Eyes
*Best Self Care Gift for New Moms
The trials of motherhood are well-known for making mom's eyes tired and dry. So, gift this awesome cold and hot eye mask! It has reusable ice gels and easy temperature control to help mom with her puffiness.
Plus, the mask doubles as something that HELPS with sleep!
8. The Instant Pot
We've all done our share of cooking lately, and the Instant Pot is an essential tool in any healthy kitchen.
Boil eggs, cook whole cuts of meat, and make delicious soups in no time. It has made trying new dinners a whole lot easier in our house!
Related Posts:
9. Himalayan Salt Purifier
The Himalayan Salt Lamp is a healthy ionizer and purifies your air. It comes with 7 changing colors and is great for a home or office.
Wellness Self Care Gifts for Busy Moms
Next, let's gift a little self-love to our special woman! These are the perfect Mother's Day self care mom gifts from Amazon!
10. Shower Bombs
*Easy to use
Next, after spending so much time taking care of others, every mom wants to feel pampered. Plus, you don't have to take a bath with these shower bombs! It takes mom little effort to throw one in the shower with her and come out feeling incredible!
11. Five Minute Journal
*Guided sections that relieve anxiety and boost wellbeing
The five minute journal is my FAVORITE notebook for a quick dose of gratitude, goal setting, and reflection. Each day features an inspirational quote and simple sections to help you feel amazing.
I've given away several to others, as I love it so much.
Related Post: How to Start a Journal That Improves Your Life
12. Weighted Blanket
"It's a hug in a blanket," my sister says often. And couldn't we all use an extra hug these days?
One word of caution: investigate the weight, as they do vary and it depends slightly on the individual's weight. Check out this weighted blanket HERE.
Related Post: Thoughtful Gifts for Anxious People
13. Facial Mask Gift Set with Dead Sea Mud Mask, Bentonite Clay and Charcoal Mask
*Great for all skin types
A replenishing mud mask set is the perfect self-care gift to help mom relax and unwind after a long day.
Related Post: Try A Refreshing 30 Day Spring Self-Care Challenge
14. Essential Oil Diffuser
From sickness relief – to relieving anxiety – to energizing your body, there's something for everyone with essential oils. Help mama feel her best with an essential oil set.
15. The Deluxe Self Care Planner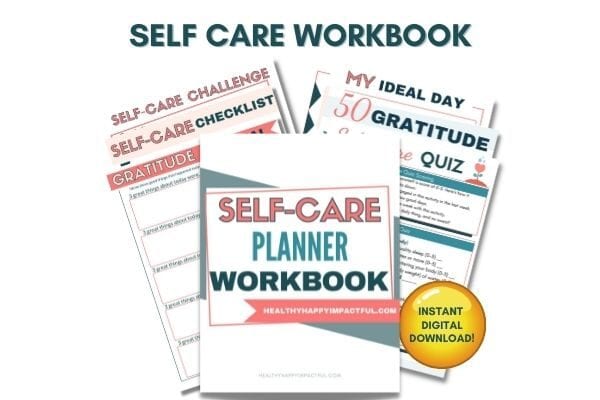 This 2023 self care planner is a sweet gift that guides any mom to destress and slow down. It has tons of easy, indulgent ideas, templates, planners, and worksheets to help mom feel her BEST.
16. Good Days Gratitude Journal
Gratitude is the perfect way to add optimism into mom's daily life. Want to feel more joyful? At peace? Happy? Start with this.
Practice finding the good in everything.
This beautiful journal makes it incredibly easy.
17. An Affirmation Bracelet
Help mama feel powerful, calm, or radiant with an engraved bracelet.
A year ago, I bought a bracelet with "take the risk" engraved on the outside, and I've adored it. It's a simple reminder to do the uncomfortable, and I wear it when I need confidence or spark.
Check out a unique bracelet HERE, or a similar one HERE.
Related Posts:
18. Breathe Mama Breathe
*A National Parenting Product Award (NAPPA) Winner
We could ALL breathe a little more.
This guided journal is five-minute mindfulness for busy moms. It has straightforward practices that guide mom to reset and refocus.
19. Other Great Books for Mom's Self Care Gift
Sometimes, moms need reminders to give themselves extra love and time. Try these other amazing books too:
20. Spa Life Spa Set
On a similar note, try this 10 piece spa set that pampers like no other. The set includes hand gloves, foot sockies, face wraps, under-eye strips, and a cuticle wrap. Everything mom needs to feel loved and relaxed!
21. Slippers: Self Care Gifts For Moms
Fluffy slippers are a great practical gift for every mom! Keep her feet warm and help her feel cozy with something on her feet at home.
Check popular slippers HERE >>
22. 31 Day Mindfulness Challenge Cards – Take One a Day for a Month of Mindfulness
I'm a huge believer in the benefits of meditation, so this is a must-try for anyone seeking to gain more peace in her life.
See the mindfulness cards here >>
23. Echo Dot
The Echo Dot is a marvelous gift because it makes playing upbeat music an effortless experience. We listen to music three times as much now than before we had the Dot. And it has brought so much joy to our days.
The Best DIY Self Care Gifts for Moms
Perhaps the self-care products above look amazing, but you're short on money or you'd love a personal touch. Check out these Mother's day gift ideas from the heart!
24-31. The Gift of Time For Mom's Self-Care
Show mom your love by devoting time to her. Obviously, some of us can't be physically close, but we can spend our time making it special in other ways. Try one of these:
Cook a meal and deliver it
Pick up groceries for her or have them delivered
Bake a special treat and deliver it
Prepare an activity that would keep the kids independently busy so mom can relax
Sign up for a class to do together (like a cooking class)
Spend a family night playing these Mother's Day trivia questions and answers
See a movie or grab a coffee with her
Take a nature walk or go on a hike together
32. Homemade Card
Next, the best self care gift anyone can give is a heartfelt card. Write what mom means to you and how she has impacted your life. Mothers work tirelessly, and a simple but specific thank you goes a long way.
33. Mom Questionnaire Printable
Download the free All About My Mom printable and have kids fill it out. It's a super easy DIY gift. Plus, you get to find out what kids really think.
For another sweet (and free) gift, fill out these blank love coupons for mom or stick in these free self care bingo cards >>
34. A Homemade Self Care Package
I recently made a unique self-care package for a new mom.
It included 12 small gifts that she could open each day for 12 days. It was a big hit, and would make a sweet gift for any mom! (Absolutely perfect for Mother's Day or ideas for mom's birthday)
My items included: chocolate, chapstick, lotion, nail polish, a coffee gift card, paper plates/forks, pajama bottoms, and more.
35. Reasons I Love You As My Mom
Find a large jar and write 10, 30, or even 365 reasons you love your mom. Have mom take one out every day to remind her of the impact she has on your life.
36. Mom's Emergency Stash (Self Care Mom Gifts)
I don't know a mom that doesn't downright covet an emergency stash of chocolate…
So, find out her favorite indulgences, and put them in a special box or jar labeled accordingly.
37. Flowers
Grab them at the store, or better yet, cut them from your own garden!
38. Best Self Care Gift Ideas For Moms: A Kit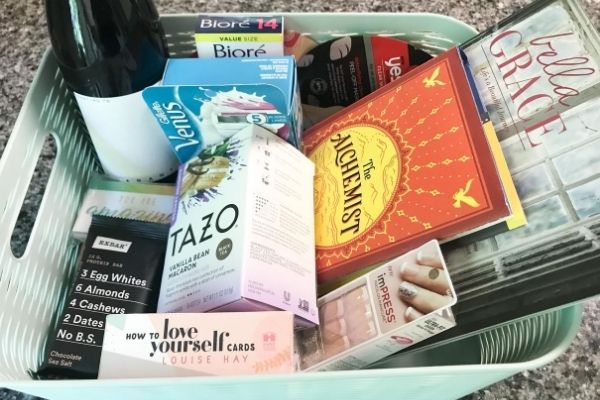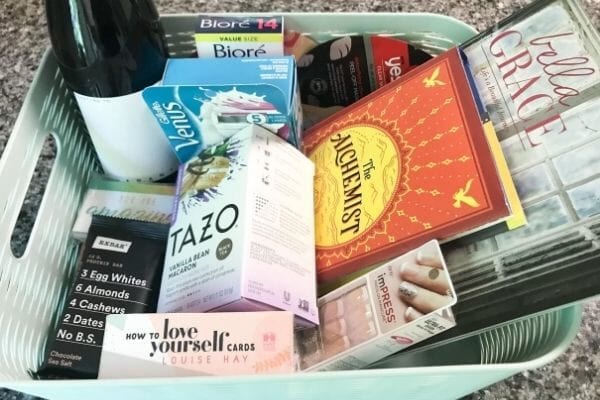 A DIY self care kit is a beautiful way to show mom you care. Include her favorites and anything that helps her relax!
39. Gift Cards or a Gift Card Bouquet
Give mom the gift of a fun time out! Try any or all (tape them to sticks to mimic flowers):
Coffee gift card
Spa or massage gift card
Restaurant gift card
Yoga or health class gift card
Target or fun store gift card
40. Personalized Self Care Mom Gifts To Make
Finally, if you are crafty, make mom's day with a homemade gift. Make a wreath, bake cookies, create custom decor, or build personalized bookends. Whatever your skills are, mom will appreciate something that you made from the heart.
Plus, this is a great one to do with grandkids!
Don't Forget to Save Money!
Save money on moms self-care gifts by using your Amazon Prime membership and Rakuten! Rakuten is an online program (used to be Ebates) that gives you cashback for making everyday purchases!
It's a ridiculously easy way to save money on gifts! So, sign up for Rakuten HERE if you don't have an account!
Need Mother's Day activity ideas?
Learn great things near you to do for Mother's Day too!
To Consider With Self Care Gifts for Moms
In all things, it's the love that matters.
"A mother is she who can take the place of all others but whose place no one else can take."
– Cardinal Mermillod
What are your favorite self care gifts for moms in 2023? And what would you love for yourself?
Other wellness posts to enjoy…
Mother's Day Gifts in 2023 for Moms Self Care