Free Self Care Bingo For Women In 2023 (Printable Cards)
Self care bingo is the perfect way to motivate and prioritize yourself.
Recently, I got sick with a virus that I could not shake. It lasted weeks! Finally, I had to put myself in a "time out" to rest and get well.
At first, I went stir-crazy. Until I realized that this was the perfect time to do self-care activities that I had stopped doing.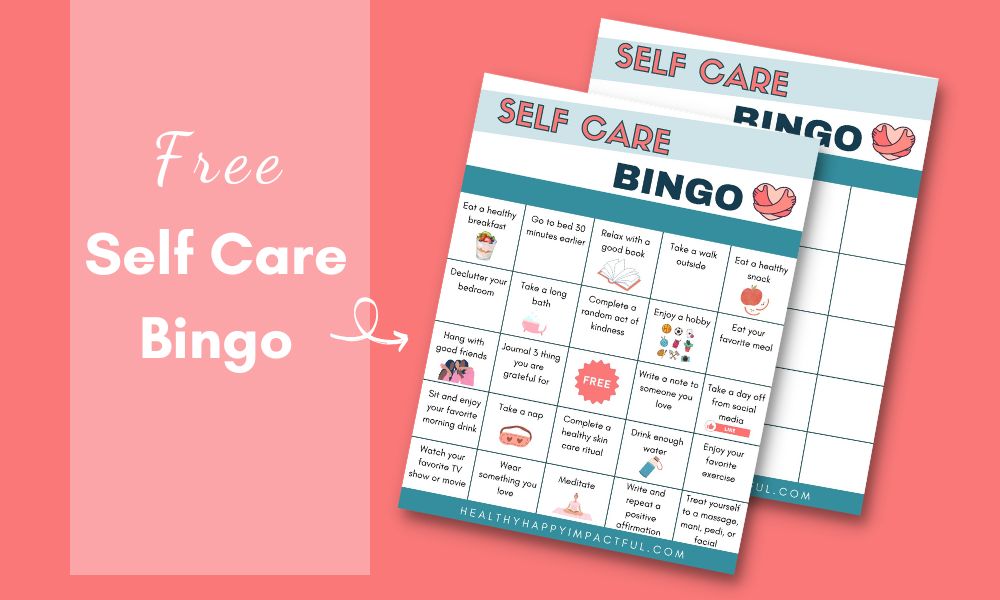 If you need a kickstart too, keep reading for tips, ideas, and great self care bingo cards!
How do you play self care bingo?
Self care bingo is simple and easy to play.
Print out the completed self care bingo card or fill in your own ideas on the blank printable.
Each day, complete a self care activity on your card. Complete 5 spaces across, up and down, diagonally, or complete the entire card.
Play on your own and reward yourself with something that lifts your mood when you have a bingo.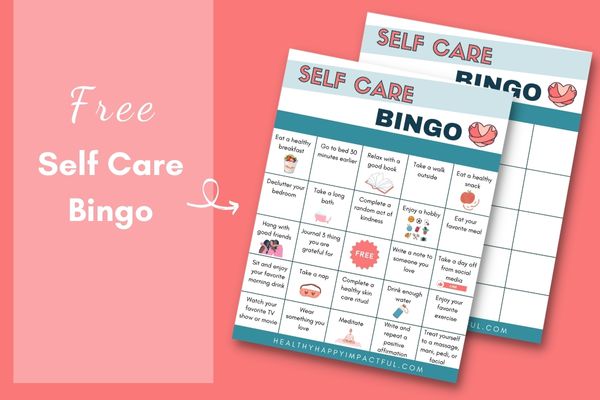 Invite friends or family members to play along with you. If you are in a group, Consider a prize for the winner or plan a shared activity once everyone completes their cards.
Self Care Bingo Activities
The self care bingo ideas in this list are easy to accomplish and can be adjusted to meet your personal health goals.
Eat a healthy breakfast
Between packing lunches, helping kids get ready for school, and feeding them breakfast, I often go hungry! Plan ahead and give yourself time to make your favorite healthy breakfast. Then, sit and enjoy it.
Breakfast kickstarts metabolism
Gives you energy and helps your focus
Eating breakfast is linked to overall good health
Go to bed 30 minutes earlier
Sleep has a significant impact on how you feel physically, mentally, and emotionally. Aim for 7-8 hours of sleep each night.
Relax with a good book
Besides being enjoyable, reading has stress-reducing benefits, supports memory health, and aids in better sleep.
Check out this list of great inspirational books for women.
Take a walk outside
Moving in nature can lower blood pressure and stress, enhance the immune system, and increase mood. Get outside and take a walk.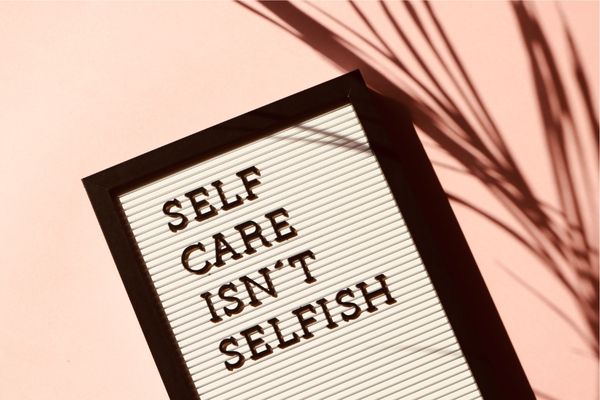 Eat a healthy snack
Have a plan for a healthy snack. Try fruit with nut butter, a hard-boiled egg, or a handful of almonds.
Declutter your bedroom
Clear off the spaces in your bedroom to create a more calm environment. In fact, a less cluttered space will help you to sleep better!
>>See tips to declutter fast here!<<
Take a long bath
Add some bubbles and bath salts. Aim to make this a relaxing time.
Complete a random act of kindness
Helping others improves our overall health and helps us feel happier. Need ideas?
Take a meal or a treat to a neighbor
Give someone a compliment
Leave a generous tip
Buy coffee for someone else in line
Bring in a small treat for your coworkers
Visit an elderly relative or neighbor
Enjoy a hobby
Remember the things you love to do when you make time for yourself.
Play a musical instrument
Draw, paint or create something
Play a sport
Garden
Knit
Photography
Reading
Find more great hobby ideas here >>
Eat your favorite meal
Plan, make, and eat your favorite meal for dinner. OR get takeout from your favorite restaurant and save the dishes for another day.
Hang with good friends
There are few things better for my soul than laughing and being with good friends. Plan a walk, meet for coffee, or get together on a Saturday night to enjoy time with one another.
Journal 3 things you are grateful for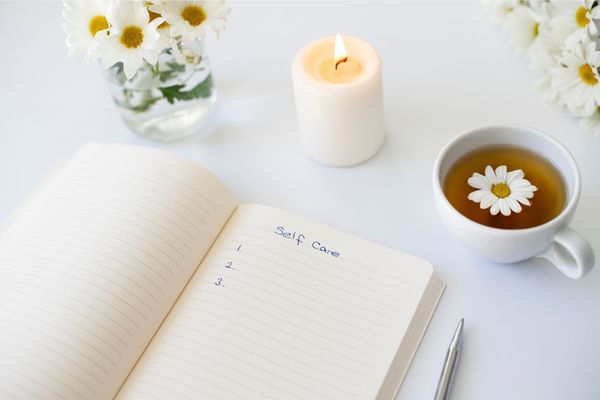 Journaling and practicing gratitude are two great forms of self care.
Positive psychology research links practicing gratitude with greater happiness and improved emotional and mental wellness.
Write a note to someone you love
When I was dating my husband, he took a lot of time to write me notes. It was something that made me feel special to him.
Write a note to your loved one to give them that same feeling. (You will feel good too!)
Take a day off from social media
Facebook, Instagram, Snapchat. Take a break from it all. You may find you feel more content with your life. And it will most definitely free up time for other things.
Take a nap
This seems like a guilty pleasure, but most of us are running on less sleep than we need. Get all the way under your covers for this nap.
Sit and enjoy your favorite morning drink
Sit down and savor that cup of coffee or tea to the very last drop (and while it's still warm). That's right! Don't move until that mug is empty.
Complete a healthy skin care ritual
Use a facial mask or take extra time to clean and moisturize your face.
Drink enough water
While there is not one specific right amount of water for everyone, aim for about 11 cups of water per day. You will know you are drinking enough water if you 1) rarely feel thirsty 2) your urine is colorless or light yellow.
Enjoy your favorite exercise
Yoga, HIIT, strength training, barre, walking – the exercise options are plentiful. Pick something you enjoy and focus on moving your body.
Watch your favorite TV show or movie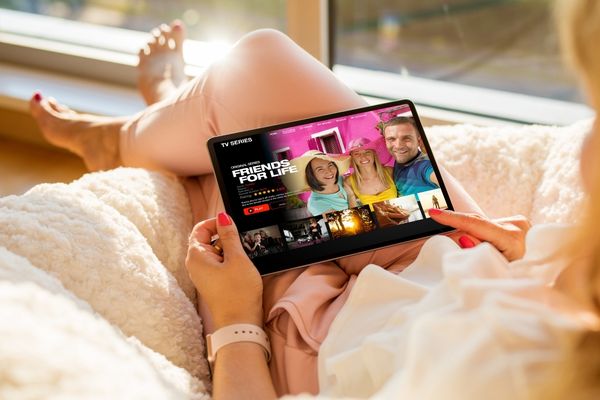 Choose to watch something that elevates your mood. Invite a loved one to join you or take time to yourself.
Wear something you love
Choose an outfit that makes you feel good and ready to take on the day.
Meditate during self care bingo
Meditation helps us invite peace into our life, express gratitude, and let go of worry. Learn how to meditate for beginners.
Write and repeat a positive affirmation
Affirmations are positive statements we repeat to ourselves daily. They can motivate us to become more healthy in mind and body.
I take care of myself to better take care of my family.
I am strong and capable. I show love to myself by moving my body.
I choose to do things I enjoy for myself today.
Look here for more positive affirmations for women.
Treat yourself to a massage, manicure, pedicure, or facial
I recently got a hair blowout with a friend for her birthday. It wasn't something I would normally do, but it felt like wonderful self-care. Plus, I got to enjoy time with someone I love.
Go for it on this one. Splurge and pamper yourself. Invite a friend that is playing this self care bingo with you!
Download your free self care bingo printable here!
Additional Self Care Bingo Card Ideas
If you decide to fill in your own blank bingo printable, here are additional ideas:
Hug someone you love
Listen to your favorite music
Listen to an inspiring or enjoyable podcast
Read inspiring quotes
Help someone else
Do something creative
Set goals for personal habits you want to maintain
See these 100 creative self care ideas for more >>
To Consider With Self-Care Bingo Cards
Engaging in self care activities benefits your overall health.
Reduces stress
Improves mental health
Improves relationships
Increases ability to adapt to changes and recover from setbacks
Helps achieve more balance in life
Don't wait until you're sick and tired to take care of yourself.
Enjoy self care bingo and invite a friend to play with you!
<<Take a Self Care Quiz Here!>>
More Self-Care Posts You Will Love
Self-Care Bingo Cards Anyone Can Do!