177 Healthy Ways to Reward Yourself (Without Food!)
What are good rewards for yourself?
Rewards for positive reinforcement are commonplace for kids. (The popularity of them in our home is telling).
But, knowing how to reward yourself is extremely beneficial for adults! In fact, a reward is required for any goal or habit!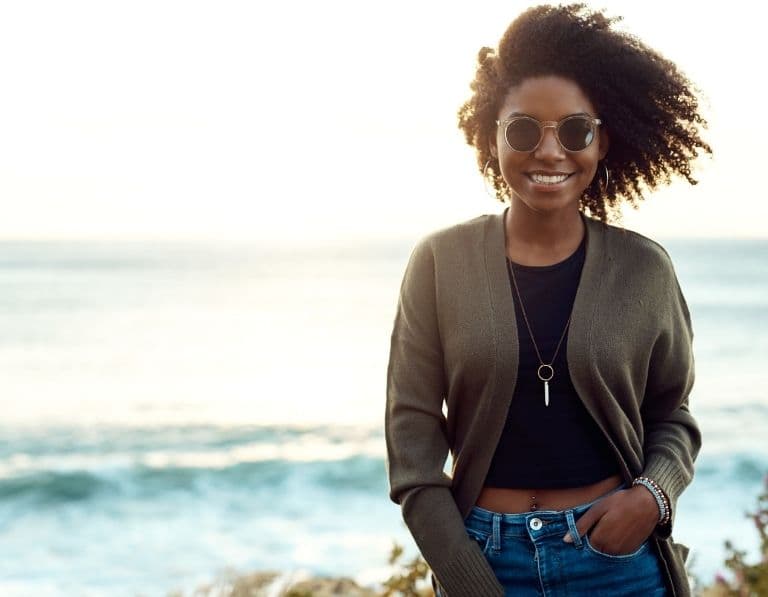 Here's Why:
EVERY habit that you have has three parts.
Cue: What's the trigger? What craving are you trying to fill?
Habit: The action or routine.
Reward: Wahoo! Your brain likes this. The habit is worth doing in the future.
Sometimes the reward is a natural consequence like a bonus at work, or a simple mark off a self-care checklist. But physical non food rewards can play a HUGE role in keeping you motivated and making progress.
The Problems With Rewarding Myself
Now, while the science is solid, I often face two issues with self rewards.
Do you have these problems too?
This post contains affiliate links, and I may earn a commission at no cost to you. See my disclaimer for more.
1. All I want is to reward myself with food. Really, chocolate.
While this sounds innocent enough, the truth is that it is a subtle self-sabotage of bigger goals. It's hard not to love sugar.
2. I don't want to spend a fortune.
How can I reward myself without money? Or at least a lot of it?
Solve both of these problems without food!
That's why, in this list of non food rewards, the free/cheap adult reward ideas have an asterisk beside them.*
That way, if you're looking for something that's not going to blow the budget, it's easy to find!!!!
177 Reward Ideas for Adults
Now, the following adult rewards are varied and split into:
Amazing Healthy Rewards for Adults
These self reward ideas will encourage and inspire you on your health goals journey!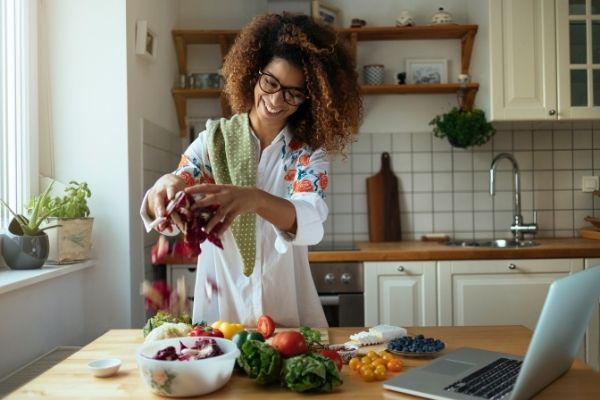 Pick up a motivating fitness magazine*
Purchase a new outfit that makes you feel confident.
Purchase a new swim suit.
Buy new undergarments that make you feel amazing.*
Invest in a gym membership (or digital membership for at-home workouts).
Build your perfect workout music playlist.*
Buy a laptop stand to help with your posture while you work (and upper body pain)
Take a salsa dancing class on youtube.*
Meet with a personal trainer, nutritionist, or health coach.
Splurge on a non-food item at the Farmer's Market.*
Purchase an app or program that supports your physical health: Noom, My Body Tutor, and Weight Watchers are just a few examples.
Set your screensavers to an inspiring photo or a picture of the progress you've made.*
Buy a cookbook or health book that will help motivate you (or check it out at the library).*
Sign up for a health subscription box.
Order a supplement you've been interested in.
Try a meal planning service to help delegate future work.
Invest in quality plates and kitchen utensils. (Make the plates a little smaller and you'll automatically consume less!)
Donate a pound of food for each pound you've lost. (What an awesome visual for losing weight!)*
Non Food Self Care Rewards for Yourself
Rewarding yourself can be indulgent with these ideas!
Allow yourself to do an at-home self-care retreat.*
Take yourself on a solo date.
Get a massage (professional or from a loved one).*
Invest in a meditation app like Headspace. (They offer a free trial to try it out!)*
Get a facial (or do your own face mask at home*).
Invest in a sanctuary spot in your home. Dress it up with soothing candles, cozy blankets, pillows, etc.
Sit in a massage chair for 5-10 minutes.*
Listen to your favorite podcast for extra time.*
Splurge on a babysitter for the night and take time for yourself instead.
Have a movie night with your favorite childhood movie.*
Get your eyebrows professionally done.
Go to a local book store and spend a few hours checking out the latest magazines or new books.*
Invite friends over for a relaxing night catching up.*
Let yourself sleep in for a day.*
Spend a few hours at a pet store or snuggling with your furry friends at home.*
Have a pajama day. Allow yourself to stay in your jammies all day.*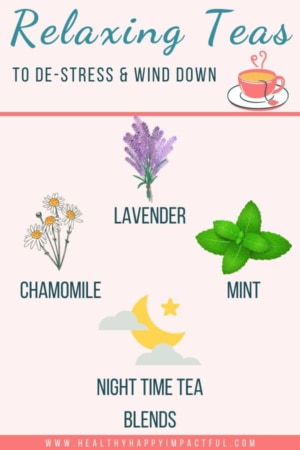 Re-read your favorite book.*
Take the night off from responsibilities. Let someone else cook dinner, clean up, etc.*
Spend the entire day hanging out at the library, reading whatever you want.*
*Need a self care boost? Grab access here to the free 2-page toolkit! (along with access to much more!)
Adult Relationship Rewards
These non-food experience rewards for yourself allow for fun and strengthening of connections!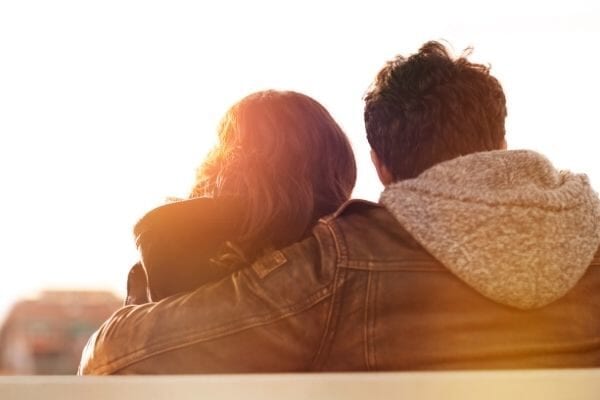 Schedule a coffee date with a friend.
Go stargazing with your favorite person.*
Sign up for a creative class with someone you love (cooking, painting, etc.)
Try Top Golf or go mini-golfing.
Hit the movie theater for a recent blockbuster. (Or a drive-in movie!)
Find a new activity you've never done (escape room, axe throwing, painting party, etc.) Check Groupon!
Book a night at a bed and breakfast.
Grab the ladies for a fancy girl date or chick flick night in.
Meet your partner for a lunch walk.
Visit a monument, zoo, or museum.
Go to the symphony, play, or other arts experience.
Take a vacation (or weekend road trip) with someone you love.
Spend the night in a hotel with your family.
Self Rewards That Make You Feel Good
Next, these ways to reward yourself are meant to bring joy and pleasure in general! They also make great ways to treat yourself on a tough week!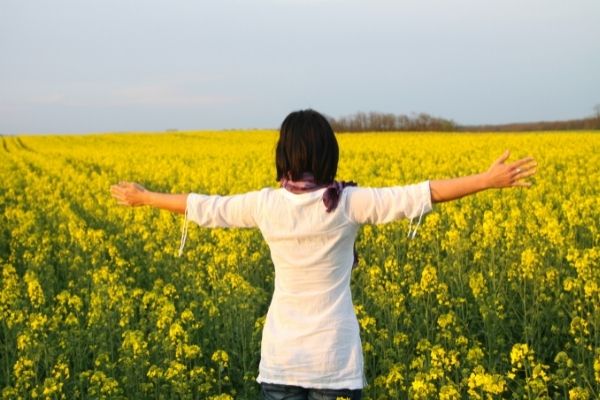 Get a fresh hair cut or color.
Buy something fun at Target.*
Hire someone to clean your house.
Take your car to get professionally cleaned/detailed.
Have a movie night with a movie you've been wanting to see.*
Take a mental health day off of work.
Pay someone to mow your lawn.
Put $5 in a jar (this allows you to save for a bigger reward later!)*
Buy a piece of art or a photograph that inspires you.
Purchase music that motivates you.*
Take a leisure trip to the library. Peruse books and read quietly just for fun.*
Sign up for a conference or seminar you've been wanting to attend.
Give yourself a night to "do whatever you want." No guilt.*
Binge on a tv series others have recommended to you.*
Splurge on nice photos of yourself or your family.
Look up stand up comedy on youtube and spend an hour laughing.*
Take a joyride in the car driving by a pretty view.*
Get a pet you've been wanting.
Buy something special for that hobby you love.
Purchase new sunglasses.*
Perk up your work space. Buy a plant or new candle.*
Get yourself fresh flowers.*
Give yourself a gift card to your favorite place.*
Buy a pair of high heels that make you feel sexy.
Hire someone to fix up your home (a painter, carpenter, etc.)
Buy yourself new luggage tags (or luggage).* (Great when hitting a savings goal for a vacation)
Get all dolled up. (Enjoy feeling your best!)
Tell your mom, sister, or best friend about your accomplishment. Celebrate with someone!*
Test drive your dream car.* (Great when saving for a new car)
Walk through your dream home models.* (Great when saving for a new home)
Remodel a room in your house.
Create an Amazon wishlist.*
Spend a few hours going through past photos.*
Cash out your credit card rewards and spend $100 on something just for you. (Not the house, the kids, etc.)*
Take a free online class learning about something you've been wanting to for awhile.*
Indulge in a fresh veggie juice at a healthy restaurant or market.*
Take a free library class that looks interesting.*
Spend the afternoon playing video, computer, or board games.*
Eat on your best dinnerware, and light dinner candles just for fun.*
Upgrade your phone, ipad, or computer. (Great for work goals)
Buy a new app or computer game you've been wanting.
Buy a magazine you don't normally let yourself purchase.*
Buy one thing off of your favorite Pinterest board.
Give yourself 30 minute to scroll your favorite social media – guilt free!
Hire someone to do your laundry. (Or hire your kids for a weekend!)
How to Reward Yourself With Nature
Finally, small outdoor rewards are healthy and practically free! You can't get better than the beauty of nature!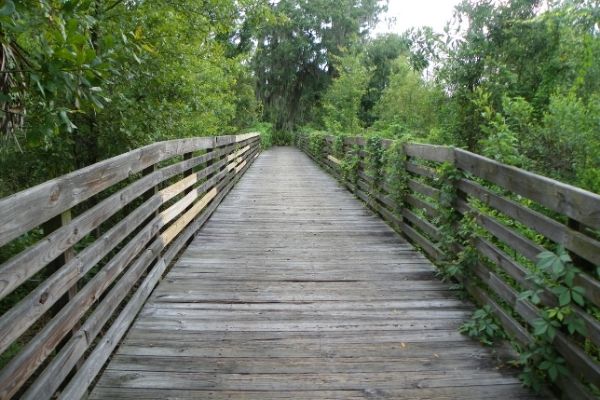 Take a hike out in nature.*
Walk through a botanical garden.*
Head to a park and watch a sunset. (bring a bottle of champagne to toast a bigger accomplishment!)*
Go camping (or glamping).*
Travel to visit a beautiful natural site you've been wanting to see.
Lay in a hammock for several hours in your backyard or park.*
Have a bonfire or fire pit night with someone you love.*
Pick out something beautiful to plant in your garden.*
Hit the beach for a day and bask in the sun and sand.*
Explore a simple natural beauty nearby (cave, hidden trail, hill, lake beach)*
Take yourself on a healthy picnic. – Or just spread out on a blanket in the grass for a day!*
Dr. Danielle Kelvas, physician and mental health expert says, "We need adequate sunlight exposure to utilize vitamin D in our bodies. Spend as much time outside as possible. Open the windows. Take your shoes off and walk barefoot whenever possible. This reduces the charge that builds up in our bodies and is clinically proven to reduce inflammation."
Have a specific goal, but you're not sure what reward to pick?
Leave a comment below, and I'll help brainstorm possibilities. 😊
Or check out this video for a few other examples:
Different Types of Self Rewards for Adults
Obviously, different rewards fit for different areas of life, your interests, budget, and how big the goal/habit is.
Plus, it's beneficial to build with multiple small rewards for yourself to keep going while you're putting in the most work. Here's an example of something that would work for a health goal!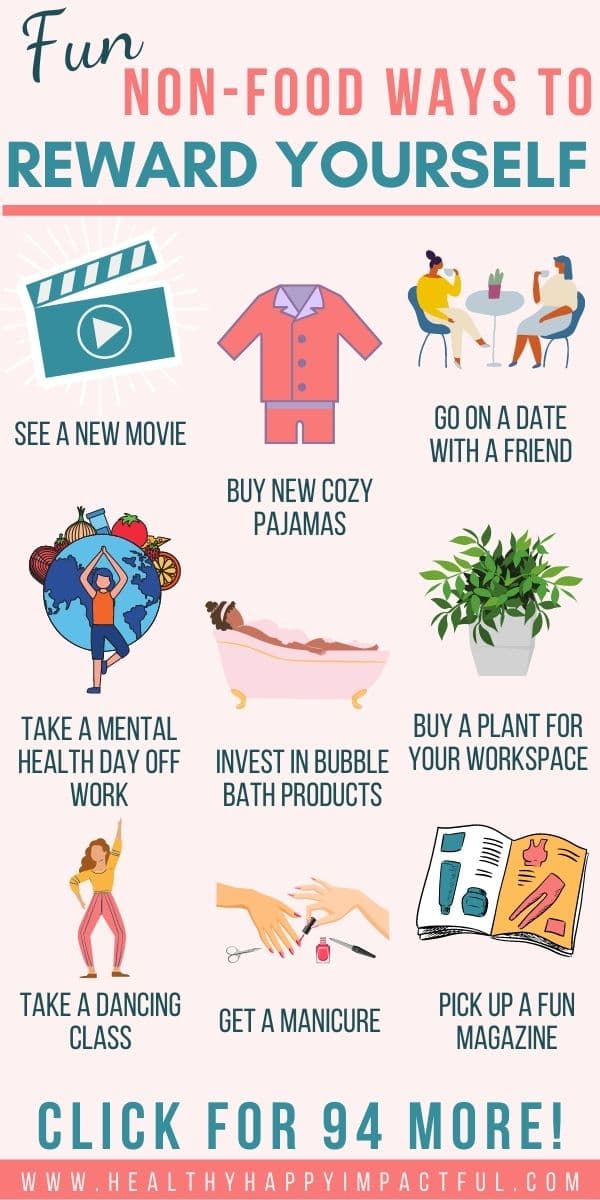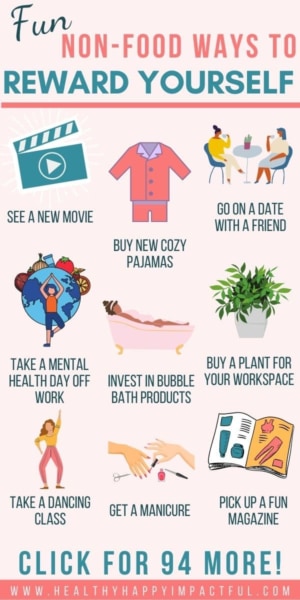 Goal: Workout 3x a week
1st reward: (After 1-3 workouts) Buy 2 new songs to workout with.
2nd reward: (After 1 week) Sit in a massage chair (or have partner give you a massage).
3rd reward: (After 2 weeks-1 month) Buy fun new workout clothes.
There are TONS of things to reward yourself with, so use a variety along the journey to your bigger goals! They work for weight loss, business, new self-care habits, anything
Need more help with goals and habits?
First, read this list of habits to develop to figure out what your goal is.
Then, use the following tips to crush your goals!
Tell someone or join a group for accountability.
Make the habit as easy as possible. (i.e. set out your equipment, etc.)
And again, utilize the self reward ideas above during the process for extra motivation!
Check out this for more on how habits work and forming better habits!
How to Follow Through: Actually Reward Yourself!
Finally, force yourself to enjoy the rewards! Sometimes, it's difficult to celebrate our wins before we're on to the next thing to do.
So, tell a friend or partner your goal AND your self rewards. Let them help you follow through and celebrate together!
*Are you struggling to achieve your goals?
This affordable personal development planner will help you build momentum and direction!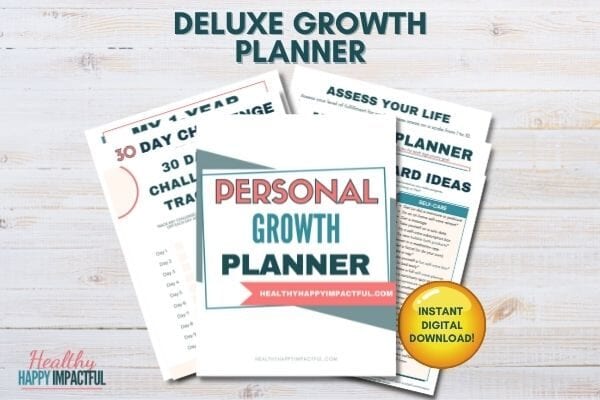 To Consider With Non Food Rewards for Adults
Phew, I hope you enjoyed this HUGE list!
What are your favorite ways to reward yourself? I'd love to know!
*Read here for rewards to motivate your kids!
Other personal growth posts you'll enjoy…