81 Best Holiday Bucket List Ideas for Your Family 2023 (+Printables)
A Christmas Bucket List for Everyone!
It's time to make an epic holiday bucket list to make this season our BEST one yet. Because as much as gifts are pushed during the season, the truth is that it's the EXPERIENCES that make the holiday bright.
So, read on and get inspired. You're going to LOVE this Christmas season.
This article contains:
The ultimate holiday bucket list for families at home, outside, with food, and going places.
Holiday activities for adults
5 Quick Tips for less stress this holiday season
Holiday Bucket List: Fun at Home
This is a great reminder that there are TONS of fun Christmas things to do at home!
This post contains affiliate links at no cost to you. However, I only mention products I love. See my disclaimer for more.
Take a funny family Christmas photo and have it framed. If you can't be a little silly at Christmas, then when?
Write a letter to Santa. Check out this fun, free Santa Claus letter template!
Try a fun Christmas science project. There are so many great ideas at Little Bins Little Hands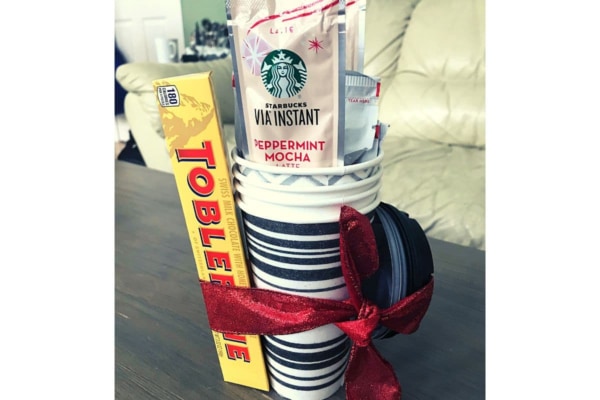 Make treats for neighbors.
Get creative with the Elf on the Shelf. You can find tons of cute note ideas HERE and funny elf hiding ideas HERE.
Decorate the Christmas tree (and your living spaces).
Kiss under the mistletoe. Or just spend the season chasing your kids under it like I do!
Set up a living room campout by the Christmas tree.
Have a Christmas music dance party.
Create with the Home Depot crafts. (they usually give a holiday craft on the first Saturday of the December)
Do a random act of kindness. It's the perfect time to spread Christmas cheer! Try one of these ideas:
Donate food for someone's holiday meal
Pay for someone's food in the drive-thru behind you
Leave candy canes on neighbor's doors
Leave money in a library book for a child (or adult) to find
Read 17 other ways to spread positivity for more.
Make ornaments for grandparents. You can find lots of cool homemade ornament ideas HERE.
Have a family game night next to the tree. Don't forget the snacks!
Try this Christmas charades printable or check out awesome family game night ideas.
Wear matching holiday pajamas.
Make a gift or Christmas card for someone special.
Watch your favorite Christmas movies.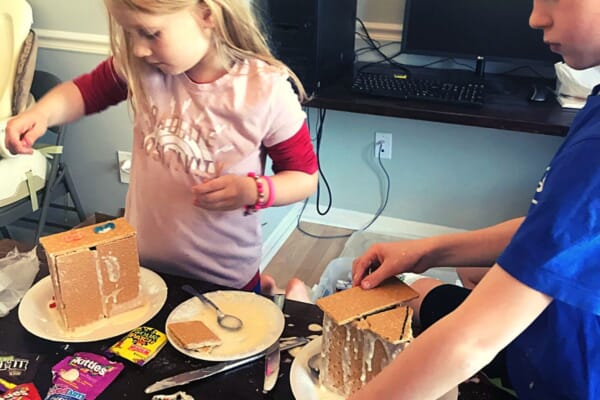 Make gingerbread houses. Use an elaborate kit, or go old school with graham crackers and frosting. Either way, the kids LOVE being creative with sugar.
Do a large Christmas puzzle. Can you complete it before Christmas?
Make Christmas cards for teachers. Check out this free teacher appreciation printable for an easy gift idea!
Put together reindeer food. We love to mix together oatmeal and sprinkles. Then, we throw it out on the grass for the reindeer to eat while they wait for Santa. Here's a specific recipe and printable. You can also add this to your Christmas Eve Box for kids!
Wrap Christmas gifts together.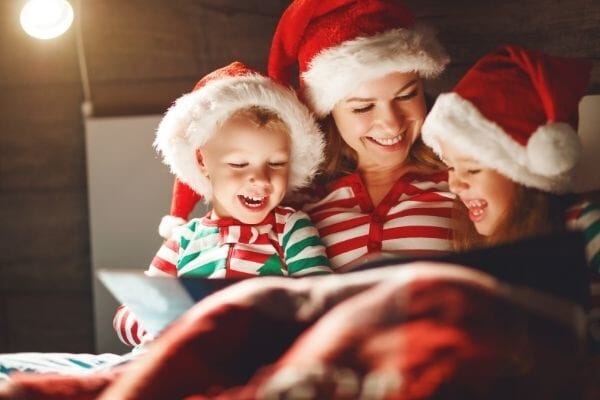 Read the best Christmas picture books (or check out how to do a kids book countdown!)
Make Christmas cards for a local nursing home
Try a secret Santa or secret Angel tradition. Either leave small gifts for family members to find or do acts of kindness for your recipient. After, everyone guesses who their secret Santa or angel was!
Make snowflakes out of paper to decorate.
String popcorn on your Christmas tree.
Adopt a family in need. Use an organization like Doing Good Together or try the 12 days of Christmas gift on your own.
Make your own snow globe. PBS shows us how HERE. It's not as hard as you'd think!
Let the kids decorate their bedrooms. Add lights and small trees to their living spaces.
Take a holiday trivia quiz together.
Play a Christmas themed would you rather game.
Need ideas for after the holidays? Check out the Ultimate Winter Bucket List too!
---
Festive Outside Ideas for Your Holiday Bucket List
Next up, check out these fun outside Christmas bucket list ideas the whole family will love.
Create Christmas sidewalk art or paint holiday-themed rocks.
Gather around the fire pit with a hot drink.
Walk around the block to look at neighbors' Christmas decorations and lights. This is simple, free, and one of our favorite holiday traditions!
Build a snowman.
Go sledding.
Do a scavenger hunt. Check out this Christmas scavenger hunt printable for kids.
Have a snowball fight. Get the parents out there too for a family fight everyone is sure to remember.
Related Post: 5 Ways to Create a Magical Christmas
---
Delicious Holiday Food Ideas
Don't forget to have fun with food to make your holiday extra special.
Make Rudolph pancakes (or Santa with his beard). For a reindeer, all this takes is bacon for antlers, frozen fruit, and then dabs of whipped cream to make the eyes and nose.
Make a hot chocolate bar. Splurge on toppings you normally don't use like cinnamon, heavy cream, and gourmet chocolates!
Make a Christmas tree pizza (and eat it by the tree!)
Make your own eggnog.
Eat candy canes. Just for fun.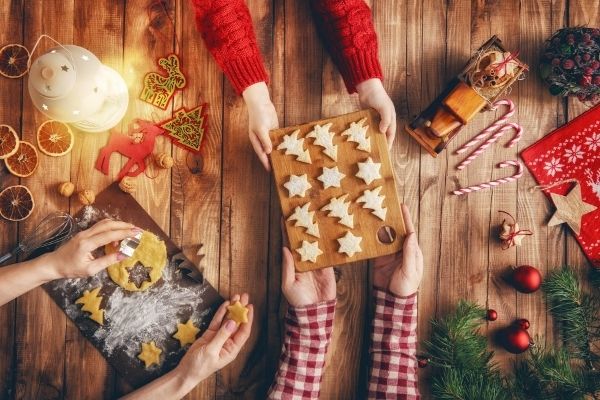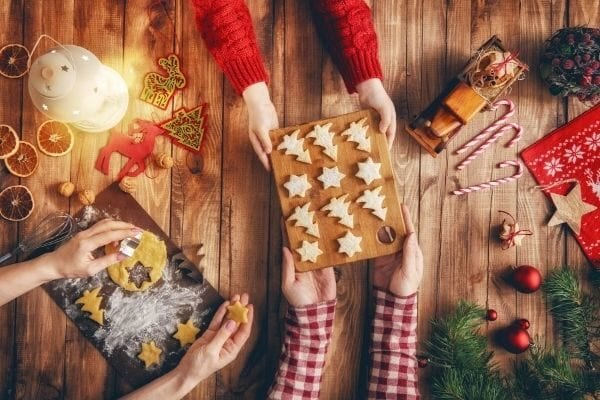 Bake Christmas cookies. Don't stop there! Spend the day baking and then participate in a cookie exchange with others.
Drink hot cocoa by the fire while you listen to Christmas music. Gosh, doesn't this sound AMAZING?
Try a new holiday recipe.
Start a new food tradition. Make your favorite dip every Christmas Eve or order Chinese on the 5th. Do something unique to what your family loves!
Make a delicious and healthy holiday breakfast.
---
Out and About Ideas for Your Christmas Bucket List
Finally, spread your merry cheer at these fun places!
Go door to door and sing Christmas carols. Surprise a loved one with their favorite Christmas song! (or try Christmas carol trivia here)
Collect old toys and take them to donate. Declutter before the madness of new gifts.
Drop off Christmas cards at a nursing home. Brighten someone's day!
Do a white elephant gift exchange.
Drive to see a light show. We have several drive-thru light shows near us. This is the perfect easy activity when you are tired.
Attend a Christmas festival. See if there are activities going on near you.
Drop off a meal, gift, or presents to a nearby holiday drive.
Go to church. Or watch it online.
Attend an outdoor holiday lighting.
Volunteer. Many places need help keeping up with demand over the holiday season.
Go ice skating.
Go to pick or chop down your own Christmas tree.
Want a free calendar with Christmas activities built in?!
Grab access HERE for a ready-made calendar!
Related Post: The Best Bucket List for Families Year-Round
---
A Stellar Holiday Bucket List for Adults
Now, here's the thing. Holiday fun shouldn't be just for family. Parents need special holiday traditions too!
So, once the kids are in bed and you can think about your Christmas, add a few of these on your adult holiday bucket list.
Do the 12 Days of Christmas Self Care Challenge. Actions include …a night of taking it easy, giving yourself a healthy boost, going on a solo date, getting in nature, and more!
Do a digital detox. It will help you focus on what matters this season.
Wear an ugly Christmas sweater. The one above COULD NOT get any more absurd!
Roast chestnuts.
Begin planning your New Year's Resolutions.
Give yourself or get a winter pedicure.
Buy a new Christmas candle.
Send a Christmas care package.
Take a nap.
Plan a cozy Christmas date with your partner. Try one of these:
A romantic holiday movie (Hallmark anyone?!)
Wrapping gifts together with music and a fancy drink
A fun appetizer tray eaten by the tree
Related Post: 20 Christmas Traditions for Couples You Should Try
Listen to Christmas music.
Make a fancy Christmas cocktail (or mocktail). Check out some fun ones HERE.
Make your own Christmas list.
Host someone you haven't seen in a while (in a safe manner if needed!)
Make a wreath for your door (Check out these 80 beautiful DIY ideas).
Make spiked eggnog or another classic holiday drink. Here's a great eggnog recipe from Tastes Better From Scratch.
Go on a winter walk the first time it snows.
Make a homemade gift from the heart.
Bake a healthy Christmas treat to share (or not!)
Host a holiday game night with friends (or virtual game night).
Decorate and then donate a small tree
Use the holiday to re-connect with an old friend. Give a small gift, meetup for a coffee, or host a firepit night.
Take a weekend or week completely off of work and/or household tasks – give yourself a Christmas break too!
Make a fancy hot chocolate or coffee – to drink by yourself
Now, read on for what to do with our amazing new lists!
---
5 Tips for Less Stress This Holiday Season
Alright, I'm a sucker for a Christmas bucket list. BUT, it can be easy to get stressed out feeling like there's even MORE to do. The holidays can be crazy!
So, check out these five tips to leave the stress behind with our holiday bucket list!
1. Make it Manageable
First, ONLY pick the activities that mean the most to you or that you can see yourself smiling with. If you know you're going to go overboard on activities, then force yourself to keep it to a certain number.
2. Turn it Into an Advent Calendar
Pick one easy activity per day leading up to Christmas and make it into an advent calendar. Buy an affordable calendar to use, make your own diy version, or simply write the activities in your December calendar. Then, you're ready to go!
Want one already done for you? Sign up below for a calendar!
3. Use Free Printables
Next, use, free resources to make the holidays easier!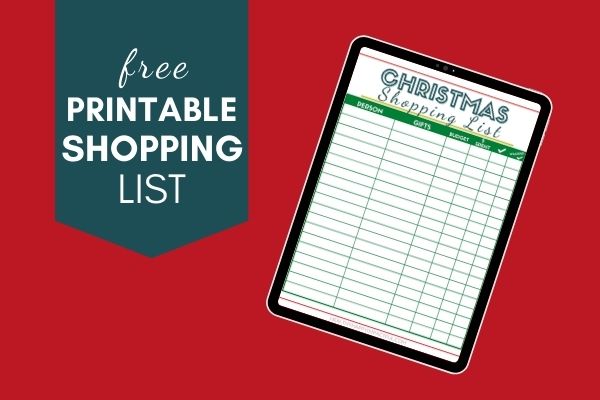 Print off these free Christmas gift tags and this shopping list tracker (above) for easy gift giving this holiday season!
4. Improvise on Your Traditions
Go with the flow, and it will be easier on your mental health.
Not every tradition is worth doing if it's going to cause stress. Let go if you need to!
5. Stay Healthy
Finally, you'll enjoy this time most if you take care of yourself. So, don't forget your self-care for moms, regular movement, and healthy eating too.
Again, try the 12 days of Christmas self care to be at your best this holiday season. Your family will thank you.
To Consider With the 2023 Holiday Bucket List Ideas
The best way to create an unforgettable Christmas is with a plan. Even if it's a flexible one. So, don't let this time slip by! Those happy memories are waiting for you. Now, go get them!
What will you add to your Christmas holiday bucket list? I'd love to know!
*And if you need a list of life bucket list ideas for New Year's, see HERE>>
Other great Christmas posts to enjoy…
The Best Things to Do During Christmas Bucket List