17 Healthy Holiday Breakfasts You Can Make Ahead
I adore holiday breakfasts! It's one more excuse to enjoy food with family.
But these dishes from around the web require THREE things: they must be delicious, healthy(ish), AND you can make them ahead. Because there's nothing worse than holiday weight gain or spending your time cooking instead of enjoying.
Plus, all of the recipes have a little extra flair, something that's perfectly suited for a holiday breakfast.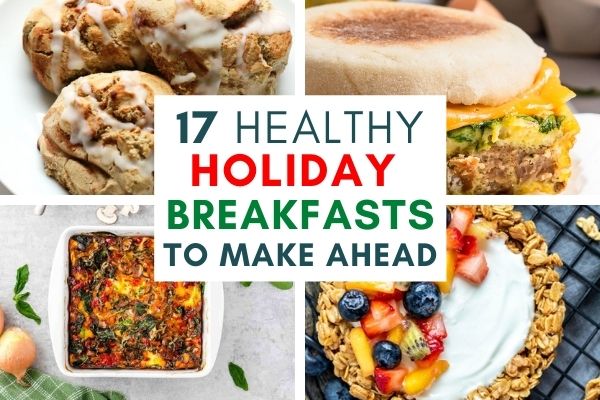 In this post, you'll find:
Delicious oat recipes
Hearty egg dishes
Healthy classic indulgences (cinnamon rolls, breads, etc)
Now, let's dig in!
Flavorful Oat Breakfasts
Oats are a healthy grain with lots of "yum" potential! Check out these to make ahead!
Gluten-Free Vegan Banana Oatmeal Bars
This easy recipe for gluten-free vegan banana oatmeal bars with blueberries and walnuts is for those who want a healthy homemade breakfast that can be made a few days ahead, without a lot of work.
Granola Fruit Tart
Granola Fruit Tarts are a delicious breakfast or brunch recipe made with a baked granola crust and a vanilla yogurt filling topped with your favorite fresh fruit. It is the perfect make-ahead breakfast or brunch recipe. Make it into several mini tarts or one big tart and then decorate it with fruit before serving it to friends and family.
Spiced Gingerbread Vegan Granola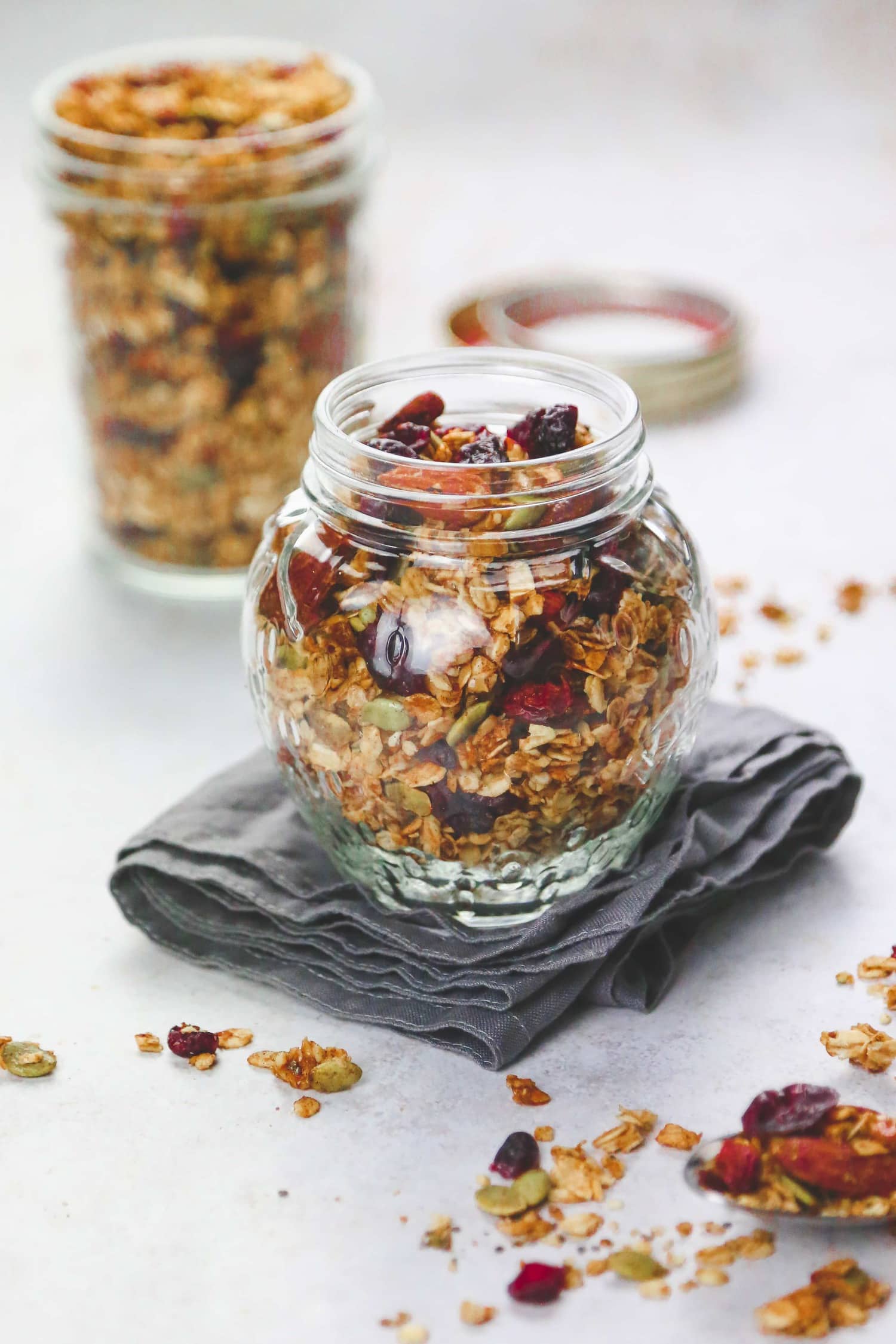 Healthy homemade gingerbread flavored granola, perfect for breakfast during the festive season. It's easy to make, and much better than store-bought granola! This flavored granola is vegan and naturally gluten-free.
Healthy Homemade Granola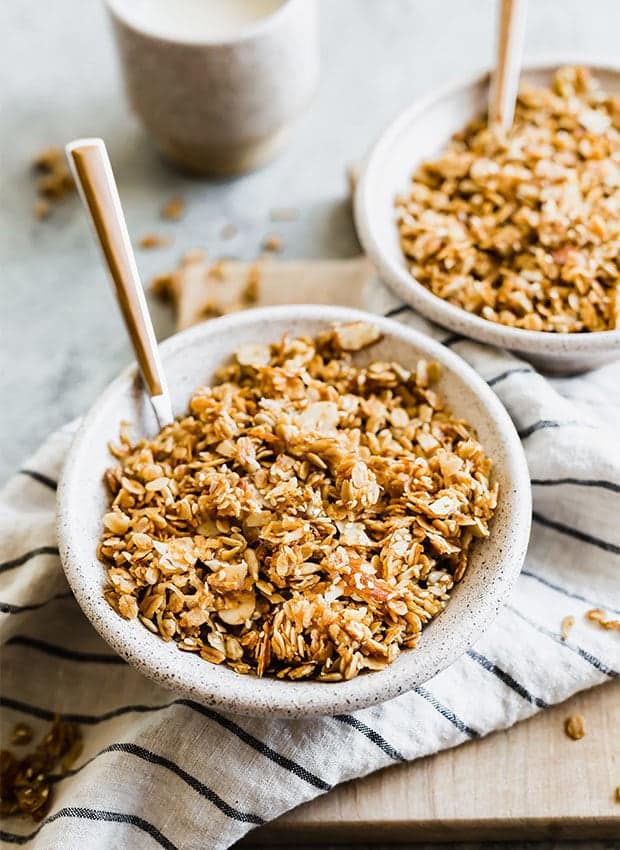 This healthy Homemade Granola has a warm, rich, and oh-so satisfying flavor! It's full of oats, an array of nuts, and coconut flakes. This granola tastes a million times better than store bought granola! Plus, it's healthier!
Hearty Egg Recipes
For those looking for savory holiday breakfasts, these ideas will hit the spot!
Super Easy Ham and Egg Cups
Breakfast has never been easier. These super easy Ham and Egg Cups have only 3 ingredients and breakfast is ready in a flash.
Sausage and Spinach Frittata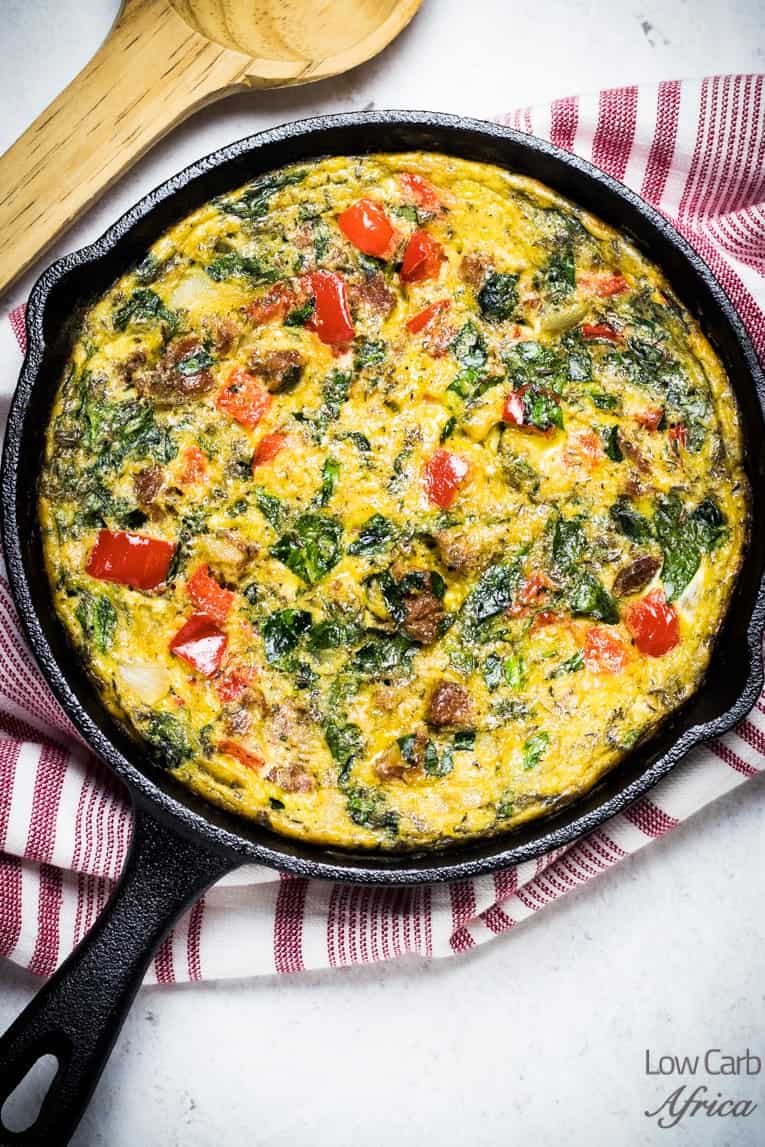 This sausage and spinach frittata is rich, nutritious egg-based dish that you can make ahead and eat any time of day you feel like!
Sausage McMuffin Recipe With Spinach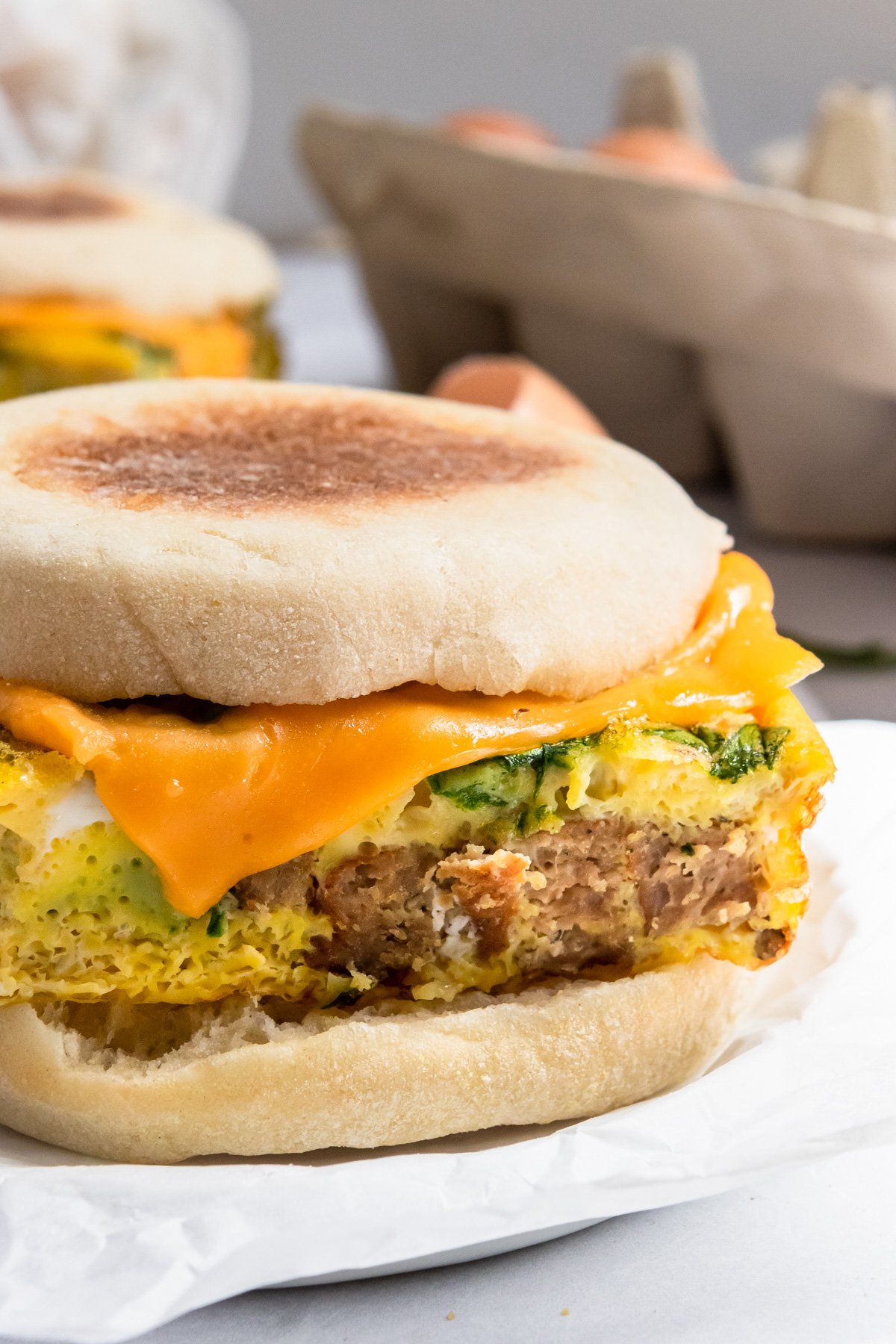 Breakfast on the go never tasted so good–and so simple as well! This Sausage McMuffin recipe is packed with eggs, spinach, cheese and a fresh English Muffin. Forget the drive thru!
Easy Vegetarian Breakfast Casserole
This Easy Vegetarian Breakfast Casserole can be prepped the night before and popped in the oven the next morning. It is perfect for a Sunday Brunch or holiday breakfast. It also makes a great "breakfast for dinner" option.
Veggie Breakfast Casserole & Hashbrown Crust (Whole 30)
When you think about breakfast, are you excited? You WILL BE when you have this Veggie Loaded Breakfast Casserole on your meal plan! The absolute best part about it is the hashbrown crust, cooked and made extra crispy with melted ghee and a little salt.
Easy Crustless Quiche
Savory bacon, mixed with sweet onions, garlic, and broccoli are the perfect match with eggs and creamy cheese in this easy crustless quiche!
Christmas Breakfast Enchilada Casserole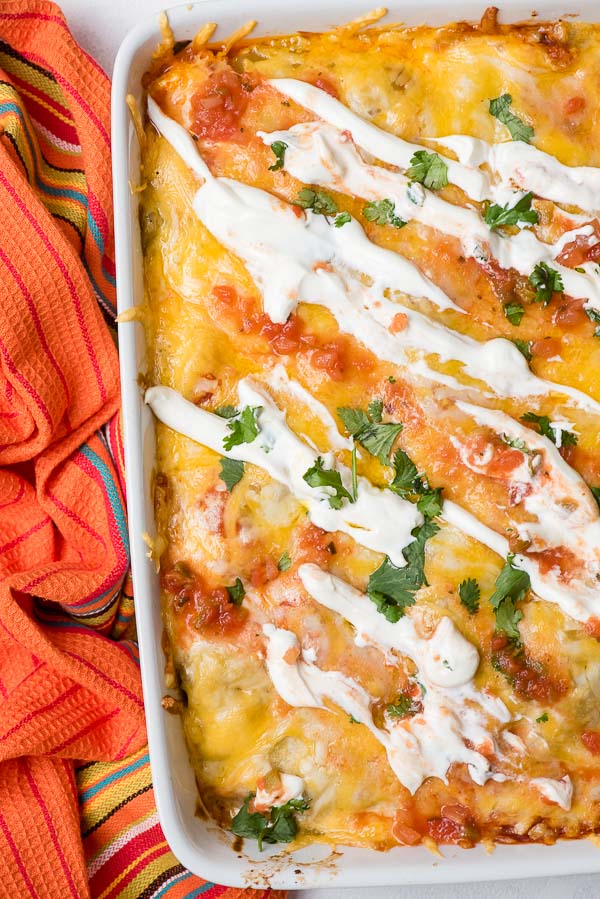 Christmas Breakfast Enchilada Casserole is an irresistible cheesy easy breakfast casserole perfect for any meal! Packed with mouthwatering ingredients bringing flavors of the Southwest to the breakfast table.
Decadent Classics
Now on to those classic mouthwatering dishes we crave this time of year! These will give you the indulgence, without the guilt!
Gluten-Free Coffee Cake
The best Gluten-Free Coffee Cake loaded with cinnamon streusel! This classic cake is vegan, allergy-free, and sugar-free! Baked rich and moist with a dairy-free sour cream and balanced with a decadent and buttery brown sugar cinnamon top and middle layer! A breakfast treat or dessert recipe you will adore!
Baked Gluten-Free Vegan Gingerbread Doughnuts (Allergy-Free, Paleo)
A healthy holiday donut recipe you'll love! These Baked Gluten-Free Vegan Gingerbread Doughnuts are paleo, allergy-free, grain-free, and perfect for breakfast, dessert, a Christmas brunch, or an afternoon snack! They're seasonally spiced, topped with a sugar-free glaze, easy and kid-friendly!
Related Post: 15 Healthy Treats for Christmas
Rustic Gluten Free Cinnamon Rolls
Rustic gluten-free cinnamon buns that are vegan, oil-free, sugar-free, nut-free, and no yeast! Lovingly made right in a cast iron skillet for extra flavor and charm. A breakfast or brunch recipe that will leave you feeling warm and cozy!
Vegan Apple Cinnamon Bread
Vegan apple cinnamon bread is delicious and healthy. A great breakfast for special occasions that is easy to make and so good.
Easy Vegan French Toast Casserole
This super easy vegan French toast casserole is a perfect no-stress holiday breakfast recipe! With sweet notes of cinnamon and vanilla, this vegan custard-y casserole bake tastes just like the classic!
Healthy Cinnamon Sweet Potato Rolls
This healthy cinnamon sweet potato rolls recipe is perfect for Christmas or Thanksgiving breakfast or brunch. Try the rolls that are delicious, moist, fluffy and easy to make!
Something to Consider With Holiday Breakfasts
I hope you enjoy these make ahead holiday breakfasts! I know I'll be using a few recipes for our family!
Other Holiday Posts to Enjoy…