The BIG List of Non-Toy Gifts for Kids in 2023
Unique Gifts for Kids That Are Not Toys
I cleaned out my kids' rooms recently and was disgusted with myself. I let it get too far.
What I found were piles of toys in every way shape and form. Half of them were broken or lost. And none of them had been played with in ages. In fact, some of them were played with ONLY on the day they were received.
The truth is, I stopped trying to organize our toys. It became overwhelming.
So then and there, I decided that whatever our kids got from us, they would not be toys. And while I'll give a few toy ideas to family, the majority will be items that serve the kids in a more meaningful way.
But, what do you get kids instead of toys?
I'm not the only mom that struggles with toy overwhelm. And I can do better. As a society, we can all do better.
Here is a GIANT list of non-toy gifts for kids. So we can gift things that mean a bit more instead.
This post contains affiliate links, and I may earn a commission if you purchase (at no cost to you.) See my disclaimer for more.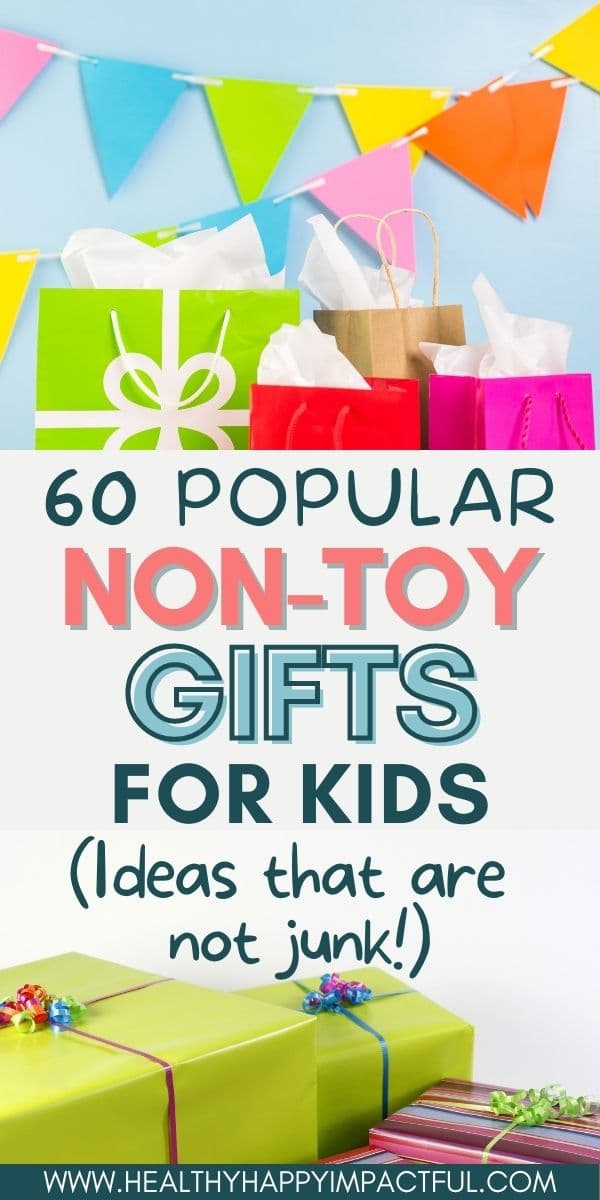 Useful Gifts for Kids
First, these non toy gifts for kids are both fun and practical!
An Alarm Clock
Kids crave structure, and a huge part of that is knowing what time it is! If your kids are younger, try a clock that lightens and darkens to help them understand when they can come out of their room. If they're older, get a fun big kid one!
And if your child needs help with darkness, here's a fun star night light too.
A Flashlight
Both useful and fun for playing flashlight tag in the summertime! What child does not love a flashlight?!
For a younger child, this triceratops LED headlamp is spectacular.
Camping & Sleepover Stuff
My kids LOVE sleeping anywhere that isn't their own bed.
So, gifts that help them enjoy themselves while camping out are a big plus. Give a sleeping bag, camping lantern, real 4-person tent, or play tent for them to build excitement for the outdoors.
A Watch
My kids have always been CRAZY over watches, as I suspect all kids are. Additionally, kids have a much harder time learning analog than they used to. So make sure they have a watch to learn.
Real Tools and a Tool Bench
My son is a builder. So, one year we got him his own set of tools, and the wood and plans to build a tool bench all his own in the garage. It was a HUGE hit.
Travel Supplies
Next, kids need equipment to travel too! So, get your child his or her own suitcase and a small travel kit to be able to put their toothbrush in.
See a durable big kid suitcase here >>
Money Sense Items
Kids don't learn much financial education in school. They learn it at home. So, give a gift that supports their learning. A wallet, piggy bank, money into a savings account, stocks, or a 529 are good options to begin teaching.
This fun piggy bank looks like an ATM, and here's a cool one that helps with saving, spending, and giving.
A Fun Towel or Bathrobe
Do you have multiple kids? Get them their own unique bath towel! Not only does this cut down on throwing clean towels in the hamper, but they'll feel special knowing they have something all their own.
Other cozy gift ideas include fun slippers and a colorful bathrobe.
Headphones
Technology is the way of the future, and sometimes it GREATLY protects a parent's sanity if their child has headphones…
See our favorite headphones HERE >>
A Colorful Umbrella
Umbrellas with creative designs are another way for kids to feel like they have something that's special to them.
Sports Equipment
Is the child athletic? Plan ahead, and get sports equipment that is needed anyways! A new basketball, soccer ball, cleats, a baseball bat, dance tights etc. will make perfect gifts.
There is a lot of stuff that comes with sports!
An Apron and Cooking Supplies
If your child enjoys helping in the kitchen, gift him or her their own set of supplies! My kids received aprons and whisks one year, and they get them out EVERY time it's time to make muffins.
A fun kids cookbook is a great complement to this gift!
Garments
Perhaps not as fun, but always needed! Fun shoes, socks, underwear, and nice clothes are always appreciated down the road.
And a cozy pair of mittens, snow pants, or boots could make a difference in how much your child is able to be outdoors in the winter.
Fishing Supplies
Do you have a fishing or hunting fan? Gift hunting gear, their own fishing pole, bait, or even a lifetime license if your state offers it. This fishing starter kit is a good value>>
Related: Free Camping Checklist For Kids to Pack
A Calendar
Just like the watch above, kids feel grown up and independent when they know what day it is. So, get them a calendar that matches their interests and watch them mark off the days.
Unique Learning Gifts
These non-toy gifts for kids are perfect for building big brains in our kiddos!
Exciting Books & Audiobooks
Get your kids into a cool new series!
Last year, we gifted the first two books and movies of the Harry Potter series to our son.
Whatever you do, go with their interests! And to make this book and movie gift a tradition every year, write a special note in the front cover of each book.
A fun book light is another useful gift option to go with this!
A Butterfly Kit
*Most popular item with readers!
Want to SEE how a caterpillar becomes a butterfly?! It's really cool! Gift a butterfly kit and release the butterflies when you're done!
A Light-Up Terrarium Kit
Help kids create their own mini garden in a jar with a kit that lights up at night!
Monthly Subscription Boxes
A grandparent gifted us KiwiCrate for the past year, and we've been blown away by how creative and fun the monthly projects are. Plus, the kids get super excited when they see the box arrive! Other great options are Little Passports and OwlCrate.
A Bug Kit
Got a nature lover? Get them a kit to collect their bugs and sticks.
A Microscope Kit
Kids love looking at the tiny particles found through a microscope. So, spark their curiosity this year!
Arts & Craft Supplies
Add paints, clay, and some tools they've never worked with before to make it a fantastic hands-on learning experience.
Do you have a crafter? Add in these fun items:
What about a kid that enjoys drawing? Try…
A Telescope
Take a learning trip into space and the stars with a telescope and a cool book about constellations.
A Crystal Growing Kit
Did you know that you can grow crystals?! After they grow, it turns into a unique night light. Science is so cool!!! Find the Cyrstal Growing Kit HERE >>
An Aquarium
Introduce your kids to different fish and teach them how to take care of them. They'll be excited to see what their fish does! Here's a good aquarium >>
A Magazine Subscription
Highlights Magazine and National Geographic for Kids continue to be outstanding magazines. If your child loves to read with pictures, and get mail regularly, they'll love this gift!
Bird Feeder & Book
*Amazon's Choice Feeder & Binoculars
Not into fish (above)? Get a bird feeder, binoculars, and a book about birds!
If you are ready to take care of an even bigger animal, use that in your gift for the year by gifting items to help the child take care of it. Examples include food bowls, a leash, animal toys, etc.
Puzzles
Next, puzzles are great for all ages, and they are a fun way to engage the mind in a challenge. These Melissa and Doug puzzles are perfect for little dinosaur lovers!
Musical Instruments
*Best non-toy gifts for toddlers!
Generate interest in the arts with a musical instrument. Keep it simple with wooden instruments for small kids, or gift a guitar, piano, or drums to someone older.
A Digital Camera
Does your child enjoy taking pictures? Then, give them a real camera to take photos of all the things they love!
Compare the best kids cameras HERE >>
Dress Up Clothes
Spark their imaginations with real dress-up clothes. This doesn't include Disney princess dresses! We're talking clothes here that they can match to play different roles.
A Bookstore Gift Card
Not sure what books your child would enjoy? Instead, give them a gift card so they can have fun picking out their next reading adventure.
Practical Family Gifts
Next, these non-toy gifts for kids are also GREAT for the whole family and they work to keep you active!
Gifts That Get the Family Moving
*Popular item with readers!
Anything that promotes health for the family is hugely beneficial! So, consider fitness trackers for everyone, bikes, and even a yoga mat if your child enjoys doing yoga with you!
We ordered the kids these tracker watches this year because they've been begging to count steps with us!
Gardening Supplies
Get kids their very own shovels, gardening gloves, and seeds so that they can participate and get invested in the family garden.
Or check out this complete tool set!
Fun Family Games
Games encourage cooperation, build vocabulary, and promote critical thinking. Plus, they're fun! You can't go wrong with a great game!
Classics like Monopoly Jr. and Clue never go out of style.
See 23 of the BEST Family Games for more!
A Tumble Mat
Sometimes the best non toy gifts for the kids are the simple ones. This is especially true if you have a child who likes to move. See this colorful tumble mat to give your child space to groove.
Swing Set Equipment
A playground for your home is a wonderful gift for the kids. But if that's too expensive, invest in pieces for your backyard paradise and add slowly until it's what you want it to be. This fun tree swing is reasonably priced.
A Relaxing Hammock
This is practical because we all need to relax more! Our kids enjoy our hammock more than anyone, so this is the perfect gift if you don't have one!
*Related Post: Best Outdoor Gifts For Kids in 2023
A Weekend Family Vacation
When we are able, we want to give the gift of a weekend at a local hotel/water park for our kids. They would LOVE it, and we wouldn't be adding to our collection of stuff.
Creative Gifts for the Child Who Has Everything
Next, do you have a child that seems to have everything?! Then, check out these unique gifts!
Special Blanket
A blanket with sewn-in pictures or even a weighted blanket to help them sleep is both practical and very appreciated.
Check current price on this Amazon's choice blanket >>
*And see more gifts to help with anxiety here>>
A Lego Table
Perhaps your child that has everything needs something to do with all of his or her toys! A play table with storage is the easy solution.
A Photo Book
Kids love seeing themselves through pictures, so make a photo book of special memories to give to them. Add your own comments to the book and they'll cherish it forever.
Find other great personalized ideas in: How to Make a Birthday Special
Bedroom Decor
Perhaps your child could use something for their room! Think creative wall decals, canvases, fun signs, and even lamps to spruce up their bedroom and make their space inviting.
This electric jellyfish lamp is also crazy unique >> (I can't decide if it's amazing or creepy!)
Donations
Teach kids about the benefits of giving by putting a donation in their name. Take it a step further and have them sponsor a child through World Vision.
Personalized Mugs for Kids
Not only is having your own personalized mug super cool, but the kids will never fight over which cup is theirs. Or use up three cups in a day!
Trading Card Binder
I've seen more than a few Pokemon collections the last few years. And if your child is into them too, you'll need a cool binder to keep them organized.
Snacks
Anyone else's kids obsessed with snacks? This could be chocolates and crackers, or a little healthier with homemade granola or dried fruit. But food is ALWAYS a winner.
Mail Every Month
Finally, consider simply sending something to them in the mail for 12 months. Pretty postcards, care packages, or cool stickers are something that the child can look forward to often, and costs very little.
*If you're looking for something SUPER creative and unique, read the 12 days of Christmas gift idea and adapt it for any time of year!
Non-Toy Kids Gifts for Making Memories
Next, these gifts promote experience over stuff! So, read on!
Memberships
Memberships to local attractions are a great way to get kids out to see things! Consider the zoo, children's museums, YMCA, amusement park, or local gym for a yearly membership.
Tickets
Next, splurge on tickets to a game, concert, or play. If a professional performance is out of the question, local events are still a lot of fun!
Creative Classes
Next, what are the child's interests? Consider gifting a cooking class, painting class, sculpture class, or anything else they're into. Local classes are usually offered, and many online classes are now available for just about anything!
Mini Golf
Kids LOVE mini golf, so take them to a new place!
Movie Tickets
The movie theater is a special kind of place to a kid. Make this even more fun by adding theater snacks and drinks to your gift.
Coupons Make Great Non Toy Gifts for Kids
Coupons are diy gifts at their best! Write out special privileges that you know your kids will love! Find a free kids coupon printable HERE >>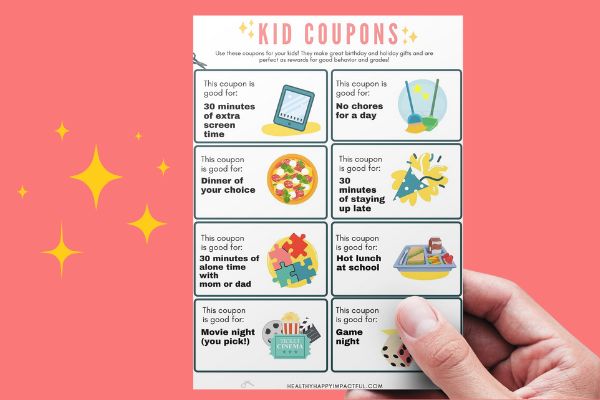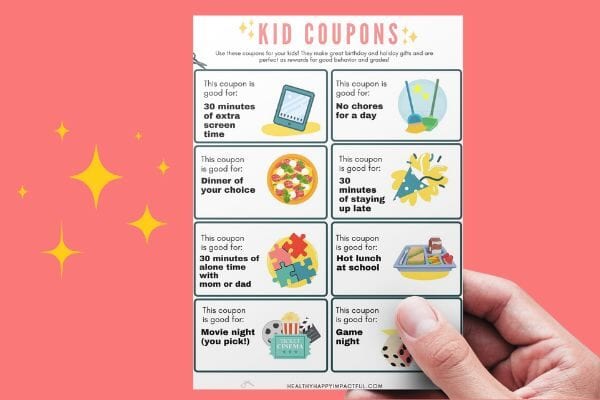 Some ideas include:
30 minutes of extra screen time
You can also give sweet notes, and write your coupons on the back. See: 24 Love Notes for Kids
Bowling
Give the gift of bowling! If kids are really into this sport, personal shoes and a bowling ball are fantastic gifts too.
Skating
Whether this is roller skating or at an ice skating rink, this is sure to be a memorable experience with a child you love.
A Restaurant Gift Card
This one makes a fantastic stocking stuffer. Add a $5 gift card to a place you know they'll be excited about. If you include new pajamas, you've got a fun family night date in the car!
One-on-One Date
And finally for experience gifts, give them an invitation to a special date with mom or dad. They will love having a day trip, nature trip, or fancy tea party to look forward to at a pre-determined time!
Video: specific examples of non toy kids gifts in our home!
Then, read on for great baby gifts!
Best Non Toy Gift Ideas for Babies
Lastly, what do you get babes?! Here are the best non-toy gifts for the baby, 1 year old, or young toddler in your life!
Diapers
Maybe this is obvious, but I truly wished for diapers more than anything else. It's what actually gets used! So, if you don't know what to get, diapers and wipes are ALWAYS a winner!
Shop the top 3 diaper brands below!
A Potty Seat & Potty Book
Our two-year-old is receiving a potty seat this year! She's pretty excited to be a big kid like her siblings. And even if we don't use the potty seat, cute undies, and fun potty book right away, it will definitely come in handy in the future!
Convenient Baby Food
Most moms love the fruit and veggie pouches for when they're out and about. Not only is it healthy, but it is ridiculously convenient when you just need to keep your kid happy for a few minutes!
Clothes
Kids grow quickly. Gift shoes, socks, sleeper sacks, cozy pajamas, and anything else the baby is low on!
Books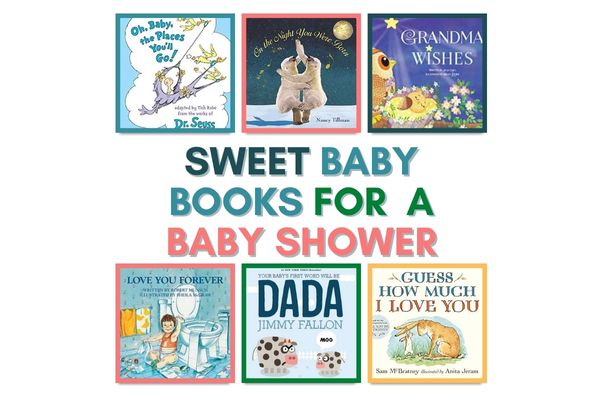 Add to their book collection with one of these classics: Goodnight Moon or Chicka Chicka Boom Boom.
Related: See these best books for 1 year olds and 2 year old book list >>
Babysitting
And finally, if you are a friend or family member, give a coupon for babysitting in the near future. Parents will highly appreciate it!
*See these baby and toddler stocking stuffers for more little one ideas!
To Consider With Non-Toy Gifts for Kids
Phew, that's a lot of gifts! But if you're still not sure what to get the child, leave a comment below describing the child, and I'll help brainstorm ideas.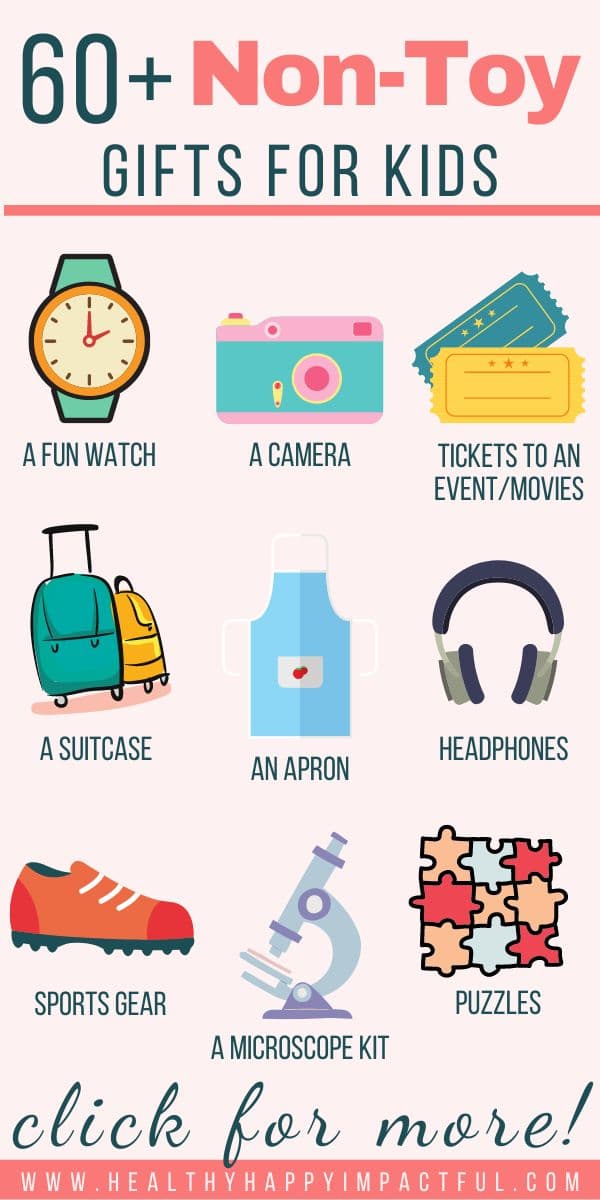 What are your favorite non-toy gifts for kids?
Next, enter your email below to enroll in this free email course today!
More gift ideas for you…
60+ of the BEST Non Toy Gifts for Kids