75 Best Stocking Stuffers for Boys 5-18 Years Old 2023 (No Junk)
Stocking stuffers for boys that both they AND you will love! If you are drowning in stuff, toys are a big part of that. In this post, you'll find a mix of practical, cool, and fun items that don't just take up space.
This post contains affiliate links, and I may earn a commission (at no cost to you). See my disclaimer for more.
You'll love seeing your kids' faces light up when they see their stockings!
Stocking Stuffer Ideas Boys & Teens Love!
Short on time? Check out these top picks!
Useful Stocking Stuffer Ideas (5-12 Year Olds)
First, everyone loves gifts that are practical and helpful. So, let's start here!
Garments for Winter – With winter coming, gloves and winter hats fit nicely into a stocking.
Socks and Underwear – While these are never the most fun, they are always needed! Find popular Hanes boxer briefs >> and Star Wars socks >>
Books – Great books are fun and help kids learn. Popular boy series include the Dog Man books, Trapped in a Video Game, and Percy Jackson.
Christmas Coupons – For a unique way to promote experiences, try this free coupon printable for kids, or Christmas coupons!
A Wallet – Giving a fun wallet allows boys to take their money with them. (And opens up important conversations about handling money.)
Blue Light Glasses – Kids spend a lot of time staring at screens these days. Save their eyes with blue light glasses! They help with glare and eye strain, plus the kids feel cool.
Cooking Tools – As kids grow, they can help in the kitchen more. So, get them
Swimming Goggles – Will your child need new goggles this year? Or are swim lessons on the schedule? Make sure they have swim goggles ready to go!
For more practical items, see my great list of non-toy gift ideas >>
Cheap Boys Stocking Stuffer Ideas
Next, these affordable stocking stuffers for boys are $5-$7 and under – great for any budget!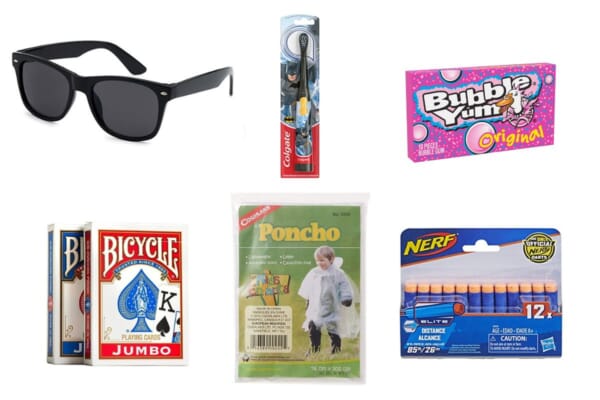 Sunglasses – Kids need eye protection just like adults! Try these sunglasses for under $7.
A Toothbrush and Toothpaste – Restock supplies with a fun electric toothbrush that helps them keep their teeth cavity-free.
Gum – Most kids go crazy over a fun flavor of gum. It's an easy win for something that's so cheap!
A Deck of Playing Cards – It's simple, but a deck of cards provides endless entertainment once you learn a few games.
Poncho – If you have a boy who loves being outdoors, then consider a poncho as one of your boys stocking stuffers.
A Dart Refill – If your kids love their dart guns, a refill of darts will be much appreciated! If they get a little bit crazy, clear safety glasses are a good option too.
Food – Put in…
Christmas Game Printables – This site has lots of fun free holiday printables: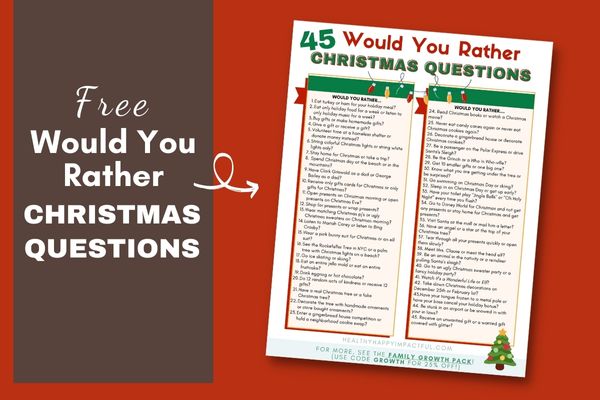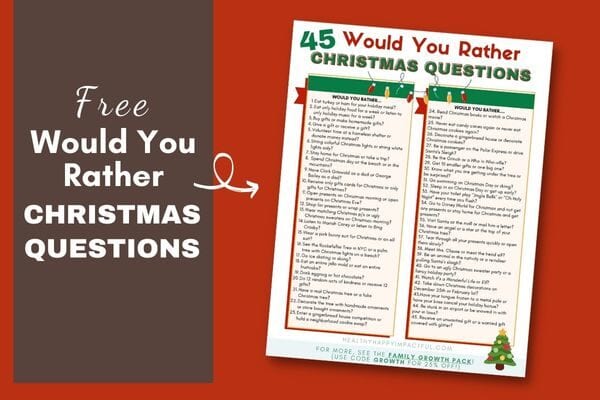 Chapstick – Even boys need a little lip love in the winter. Chapstick makes for an affordable, yet useful filler.
*Looking for girls too? Don't miss the list of girls stocking stuffers >>
Cool Stocking Stuffers for Boys
Next, these are the most fun and unique items on the list!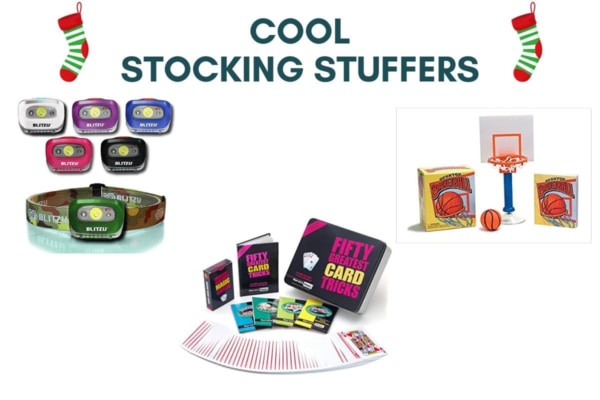 A Headlamp – LED Headlamps can be used to help parents, go camping, or are just super fun to wear around in the dark.
A Magic Kit – Help your boy wow others with a set of wondrous card and magic tricks.
Desktop Basketball – When your kiddo needs a break from homework, this desktop basketball goal will do the trick.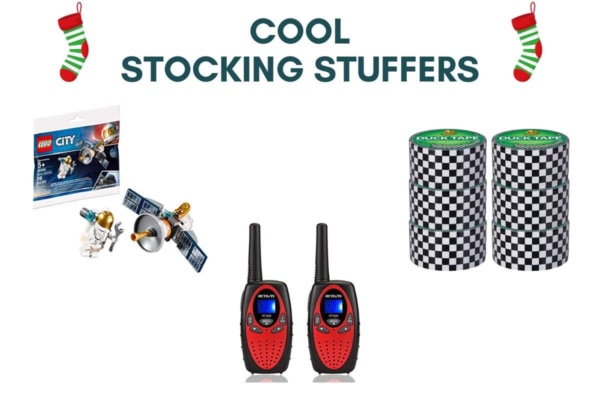 Small Lego Sets – You can find small sets of Legos at most stores to stick in boys stockings. This Space Satellite is 36 pieces.
Walkie Talkies – Most kids adore walkie talkies. They can be fun when picking up your child from school too. See quality walkie talkies here >>
Duct Tape – Textured, colorful, and checkered duct tape is something that boys can use AND have fun with!
Secret Agent Pens – These fun invisible ink pens help your boy feel like a mystery solver.
Comics – Comic lovers adore finding one or two exciting comics in their stockings.
A Hat – A fun ball cap keeps the sun out of their eyes and shows off their favorite things.
Would You Rather Eww Edition – This hilarious book will entertain kids for hours. (Try these free would you rather kids questions too!)
*For a way to help narrow it down, try this free Santa wishlist for kids.
Games for Boys Stocking Stuffers
Card and travel-sized games are a great size for a boys stocking stuffer. Plus, they pack lots of fun!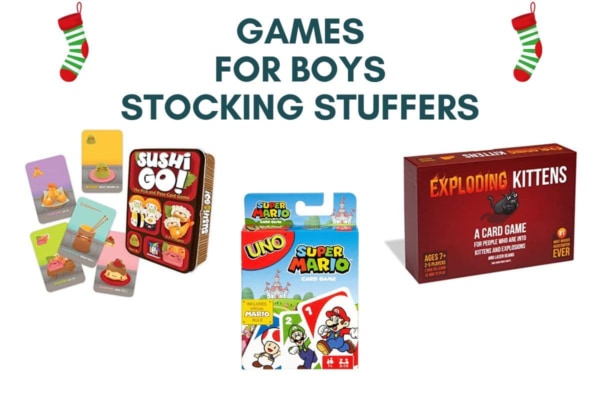 Sushi Go – Sushi Go is compact and is a fun game of strategy and probability.
Uno – This classic game has a Minecraft version and a Super Mario so you can customize it to your child's interests.
Exploding Kittens – My kids are obsessed with this fun Russian roulette-style game. *Game of the Year Award Winner.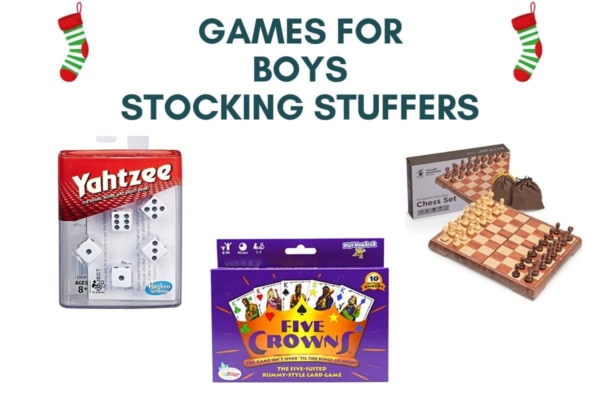 Travel Yahtzee – This family-friendly game can be taken on trips and in the car to play anywhere!
Five Crowns Card Game – This rummy style game has a rotating wild card to keep things interesting.
Travel Sized Chess Board – This smaller chess board is one that your child can take with you and play anywhere. Perfect for any chess lover!
*These also make great gifts for your Christmas Eve Box!
Fun Learning Stocking Stuffers
Next, these boys stocking stuffer ideas develop a sense of growth.
Binoculars – Watch for birds and other wildlife on your nature walks with cool binoculars.
A Survival Watch – Tactical survival watches are fun kids gifts for camping, fishing, and hunting. Many of them have a flint fire starter, whistle, compass, and scraper. See this cool wristband here.
A Harmonica – If you have a musically inclined child, or you want to give him more exposure to music, a harmonica is easy to stick in!
Desk Supplies – As your boy grows, office supplies can help keep him engaged with school work. Great ideas include:
Bookmarks – Help your kiddo find his reading spot with designed bookmarks. Or if you ever argue about how much time he really spent reading, consider these digital time bookmarks.
Weird But True Book – My son adores the Weird But True Books and could spend hours telling me about the weird stuff he finds.
A Cool Watch – Help kids learn analog time and be on time for things with their own fancy watch.
Active Boys Stocking Stuffers
These stocking stuffers for boys are either good for movement or for sensory.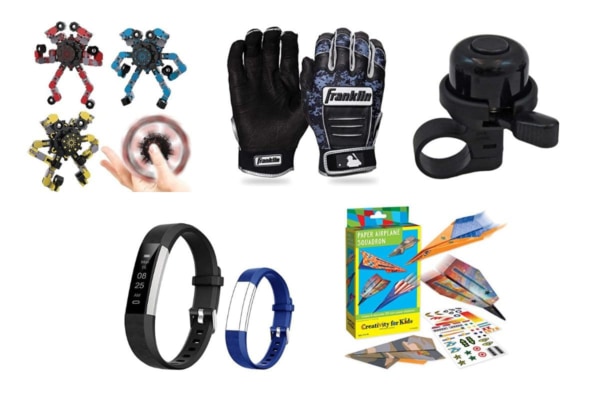 Pop Fidget Toys & Spinners – I don't know what it is about these, but my kids LOVE THEM. It does keep their hands busy.
A Bicycle Bell – We love hitting the trails on our bikes, but the kids would much rather have bells to alert others than have to yell.
Sport Supplies – If you have a baseball player, it's a great time to give him a set of batting gloves for when he'll need them. Extra high socks for soccer kids work here too, or anything else small your sports player needs in the future.
A Fitness Tracker – A tracker for his steps motivates him to keep moving in a fun way!
Paper Airplane Squadron – Boys who enjoy working with their hands can create these airplanes. They will have a blast flying and chasing them.
*For more help getting kids outside, see this list of outdoor gifts boys love.
Creative Art Stocking Fillers
Next, foster imagination with one of these stocking stuffers for boys!
A Kids Camera – Allow kids to take pictures of the things they love while exploring their creative side.
A Sketchpad or Drawing Book – Drawing pads and sketchbooks are an open-ended way for your child to get imaginative. We love Art Hub for Kids for free tutorials.
Fun writing and drawing utensils – Invest in cool crayons, markers, or colored pencils, to keep your boy creating fun things with his mind.
Modeling clay – All sensory items make great stocking stuffers for boys! They'll love this modeling clay, or try play-doh, or slime.
*Don't forget to make your Christmas bucket list together too!
Boys Stocking Stuffers for Gamers
Next, my 10 year old recently described himself as a "gamer," So, here are great stuffers for those game-obsessed boys in your life.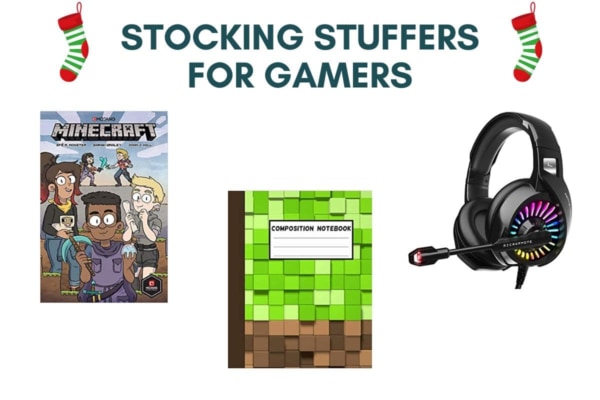 Minecraft Books – For the Minecraft lover, books help your boy enjoy the game while building reading skills. See the Minecraft Graphic Novel, Diary of a Minecraft Zombie book, and a fun Minecraft Notebook >>
Gaming Headset – This gaming headset has a microphone and is compatible with PS4 PS5 Xbox One and the PC Laptop.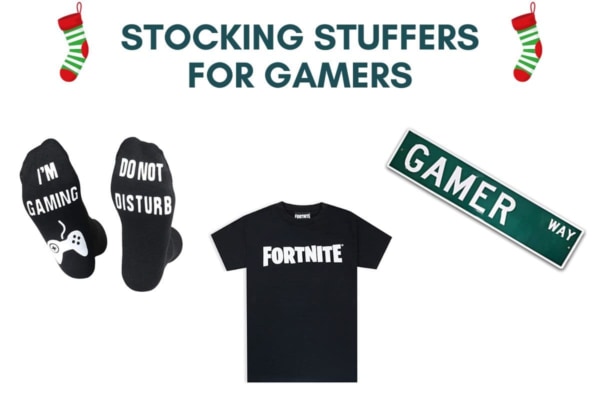 Fun Gamer Socks – These "I'm gaming, do not disturb socks" will be loved by your little gamer.
Fortnite T-Shirt – Let your boy wear his favorite game with pride. See the t-shirt HERE>>
Gamer Sign – This fun gamer sign is the perfect decorative addition to your child's bedroom, and is a great size to stick in a stocking.
Related: Video Game Trivia for Kids & Adults
Stocking Stuffers for Teen Boys (13+)
Finally, these teenage boy stocking fillers are perfect for tweens and teens who can be hard to shop for!
Rubik's Cube – The Rubik's cube is the ultimate mind tester. Get him one to keep him busy over the holiday break.
Ball Deodorizers – Teenage boys can get a little stinky. Help them out by giving these balls that act as secret odor attackers.
Beef Jerky – Beef jerky is the ultimate boy snack and an easy addition to any stocking.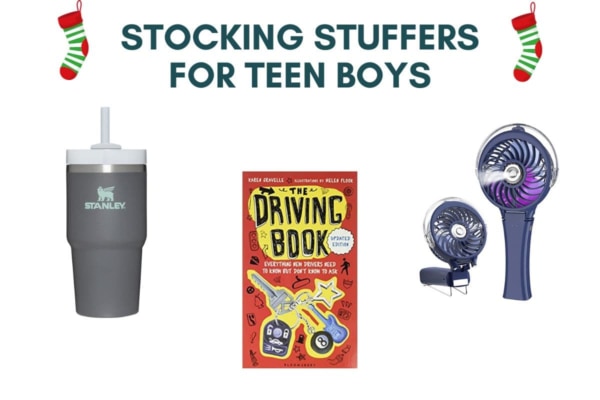 A Tumbler or Mug – Make it easy for your boy to drink on the go with a sturdy tumbler. Or give him a personalized mug so he knows which one is his at home.
The Driving Book: Everything New Drivers Need to Know But Don't Know to Ask – If your teenage boy is getting ready to drive, this book could prove useful!
Mini Fan – In the hot months, your teenager will thank you for having something handy that keeps him cool. A mini fan is especially helpful if your teen works outside or plays outdoor sports.
A Pocket Knife – A pocket knife is super handy, and something a responsible older teenager would use. This Swiss Army Pocket Knife has everything!
A Gift Card – Teen boys are HARD to shop for. If yours is one of them, stick in a gift card to their favorite store and call it a day. He'll love it and you'll save time and frustration.
Mints – Older boys can be more conscious of their breath (around the ladies). Help him out with a box of mints.
For more ideas for teenage boys, check out Boys Easter Baskets for an entire section! – Many apply at Christmas too!
Need more ideas? Check out the short video!
Here's what I bought my almost 10-year-old boy last year!
Note: These gift ideas are for informational purposes only. I am not a healthcare or safety expert. So, do your own research.
To Consider With Kids Stocking Fillers
I hope you found this list helpful! If you are still struggling to find stocking stuffers for your boy, leave a comment before and I'll help with ideas!
Now, what are your favorite boys stocking fillers? I'd love to know!
Other Gift Posts You'll Love…
The Only Stocking Stuffers for Boys You'll Need