150 Easy Easter Basket Ideas for Boys in 2023 (Non-Candy Fun!)
What do you put in a boys Easter basket?
Springtime is coming! And that means Easter 2023 will be here before we know it! So, today we're looking at the best Easter basket ideas for boys!
These gifts will make putting together your basket EASY this year!
Plus, the boys Easter basket fillers are useful, learning-oriented, and encourage outside time. And, as with my non-toy gifts list, I tried hard not to include junky toys and candy.
This post contains affiliate links, and I may earn a commission if you purchase. See my disclaimer for more.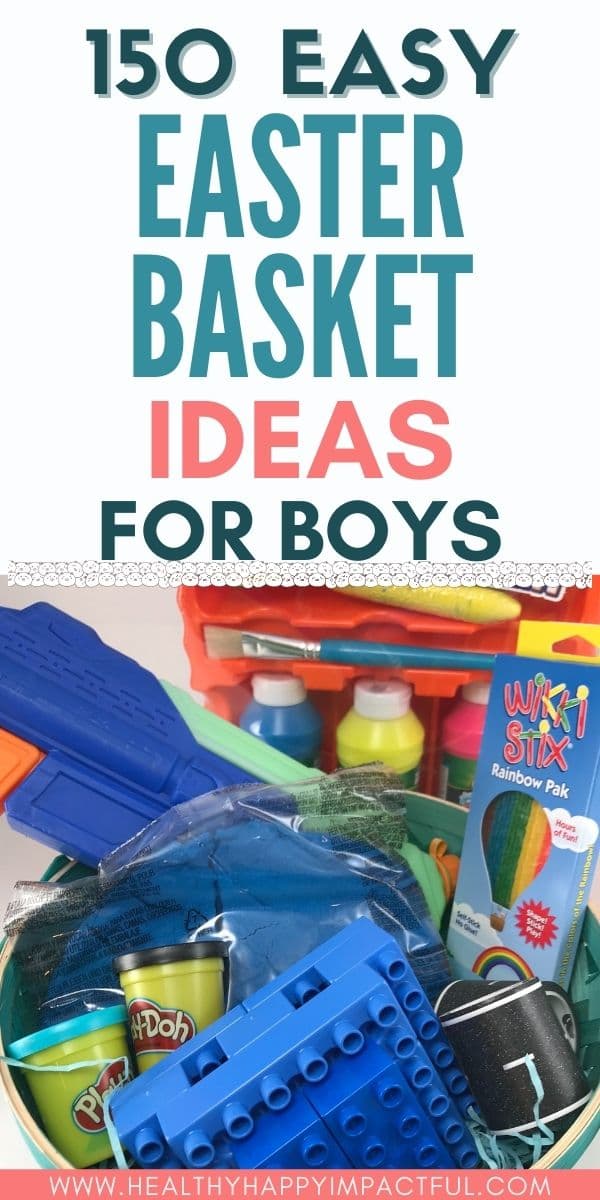 *Don't miss this post if you're searching for Easter baskets for girls too!
And, if you're looking for boy babies or Easter baskets for teen boys, don't fret! The bottom of this post has ideas for every age!
Enjoy the list!
Useful Non Candy Boys Easter Basket Ideas
First, these ideas double as a gift AND items that come in handy! The best fillers, in my opinion!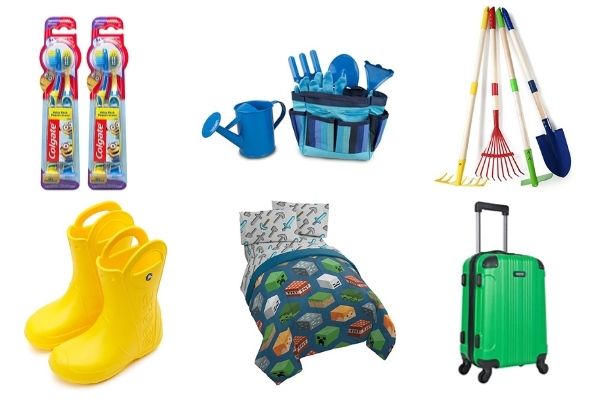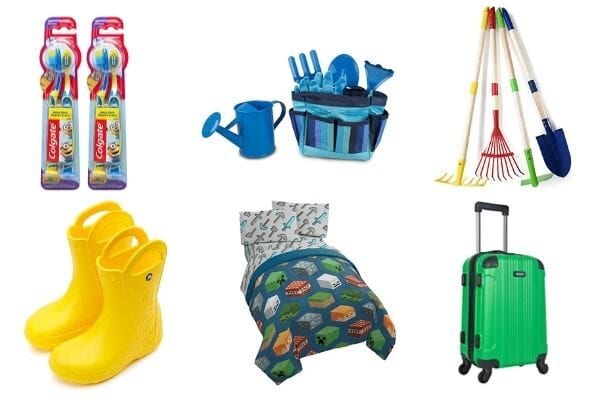 Health & Hygiene Items: Stick in a bright new toothbrush, toothpaste, and fun bandaids! We like doing gummy vitamins too (the kids think they're candy, but we're just re-stocking our stash!)
Garden Essentials: Do they like to get their hands dirty? Add vegetable seeds to your basket along with gloves and a small shovel.
Check out larger garden tools HERE. >
Rain Gear: It's the rainy season, so allow them to continue playing outside by gifting a colorful umbrella, rain jacket, or fun rain boots.
A blanket or bedsheets of their favorite thing: My son loves his Minecraft sheets! Both kids also have Paw Patrol blankets they've had forever.
Travel supplies: Plan ahead for your summer vacations by sticking in a travel pouch or small suitcase the child can call his own.
Even a travel-sized game will prove helpful on car rides!
Bike helmet: As they get on their bikes more, make sure that they have a quality helmet that will last and keep them safe!
Clothing: Give the gift of a nice Easter outfit, socks, or even underwear!
Bath Stuff: A fun towel makes kids excited to dry off. And don't forget soap and cute washcloths if you're in need of these supplies!
Curiosity & Learning Gifts for Easter
Next, encourage their development with gifts that spark a sense of wonder!
Secret Spy Stuff: Does your child like playing spy? Or figuring things out? This secret decoder is perfect!
Even keeping it simple with an invisible ink pen makes a great boys Easter basket filler.
Terrarium: This one on Amazon is perfect for a child that loves dinosaurs. It even glows in the dark!
Paint by Sticker Books: Another wonderful idea for less clean up! If your child enjoys stickers, they'll love using them to create a picture.
Kinetic sand: Perfect for creating outside! Choose bright colors and it's a real springtime treat!
Bug Stuff: What boy doesn't love bugs? Add in a bug catcher and magnifying glass so they can inspect their favorite ones. A butterfly growing kit is still our favorite too!
Egg crayons: Crayons, but in the shape of eggs. Perfect for the holiday!
*Favorite for toddler Easter basket!
Paint by water books: These are especially great for toddlers and kids that tend to get a bit messy when using paints! You can't beat less clean-up! See 3 books HERE >>
Model Magic: A step up from the traditional play dough, bright modeling clay is wonderful for helping kids create their own sculptures.
Puzzle: These are always a winner. Go with their interests or stick with the book themes below to keep it spring oriented. We LOVE Crocodile Creek puzzles.
Lego sets: A winner any time of year, and something that many boys appreciate. Here's a popular Minecraft set and a great Star Wars one >>>
3-D Brain Teaser Puzzle Game for Kids – Kanoodle is a fun brain teaser game for any kid that needs a challenge!
Painting or craft supplies: Are you running low on these items? Stock your child back up with paints, brushes, googly eyes, pipe cleaners, and more. (Here's a big set)
A watch: Kids love knowing what time it is and they'll feel more responsible.
Play Dough or Moon Dough: You can never go wrong with materials that promote creativity. Plus, it's cheap and colorful! – Here's the construction set above!
Nature scavenger hunt: Not everything needs to cost money. Print a free one here and stick it in!
Fine Motor Tool Set – Do you have a toddler boy that LOVES sensory play? These play tools are perfect for helping him use his hands!
*These boys stocking stuffers have great small ideas too!
Easter Basket Books for Boys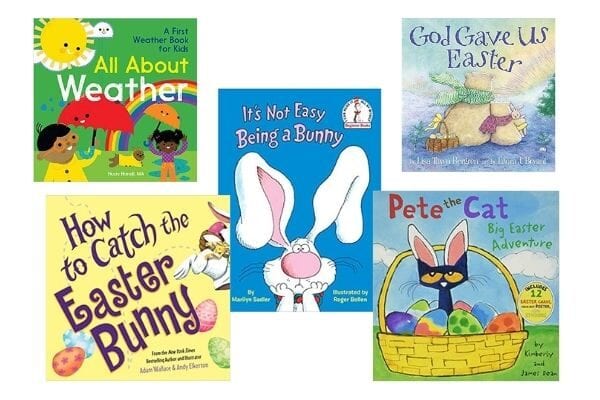 Books: Books like All About Weather or How to Catch the Easter Bunny are fun ones to include in Easter basket ideas for boys!
Other great books include:
*The Easter girls list has more amazing gender-neutral books to choose from!
Fun in the Sun Boy Easter Gifts
This is the largest section because it's time for fresh air and sunshine!
Outdoor Equipment: Whether it's a sports ball, baseball bat, frisbee, soccer goal, or roller blades, it's the best time of year to include new active items!
Special Outside Fun: We love including things that will keep the kids entertained on the driveway for the next few months. Bubbles, a bubble maker, a kite, sidewalk chalk, and sidewalk paint work well here.
Water Toys: And of course, it will be hot soon, so don't forget the water balloons, a slip'n slide, a sprinkler/splash pad, or water squirters! You'll be glad you did in July!
Beach/Pool Necessities: Which brings us to the pool and beach! If you'll be heading there, consider throwing a beach ball, shovels, buckets, a beach towel, swim goggles, or a new swimsuit into the mix.
These foldable buckets are really cool >>
Summer Accessories: Flip flops, sunglasses, and a fun sun hat will also be useful in the sweltering summer months!
Digging Toys: Encourage them to dig in the dirt! This dinosaur excavation kit will keep them outside for hours seeing what they can find.
Bike accessories: Next, encourage bike riding with fun things for their bikes like a bell or basket. And these LED bike wheel lights will have your boy showing off his bike to EVERYONE!
Outside Toys: Little ones will love toy golf clubs or a small toy lawnmower to use out in the yard. Even adding a swing, or finding a skateboard or scooter are smart investments that keep kids playing outside.
Walkie Talkies – Walkie Talkies are a classic toy and can be played with outside or in! Kids love being able to communicate from far away.
Related Posts:
Just for Fun Boys Easter Basket Filler Ideas
Next, many of these simple items are low-cost and make great fillers around larger items!
Small Fillers: Items such as temporary tattoos, markers, gum, glow sticks, and stickers are perfect in your basket! They also are awesome items to put inside Easter eggs.
Bag of Bunny Farts: Ok, this is candy. But, it's too good not to include!
A Joke Book: This item is always a crowd-pleaser with boys. It's cheap too!
A Magic Kit: Help him brush up on his trickster skills.
A Camera: This is great for catching springtime beauty.
Love Notes: These free encouraging notes make anyone feel good!
Easter Slime: Check out this fun slime in the shape of eggs!
Easter Hidden Pictures® Puzzles to Highlight: Kids use the bright marker for coloring and finding the hidden spring pictures. See the puzzle HERE >>
Road Tape: Create a race track ANYWHERE with this super cool road tape.
Notepads, Sketchpad or a Journal: Perfect if you have a boy who likes to take notes, draw, or write. Here are some blank pads >>
Easter Basket Ideas for Teen Boys
Now, kids get harder to buy for as they get older! But with these items in your teen boys Easter baskets, you'll impress them!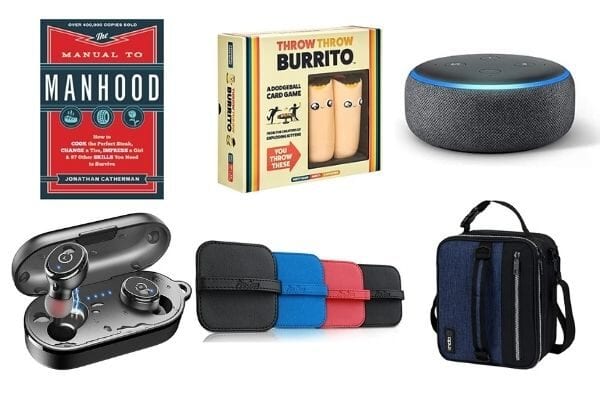 The Manual to Manhood: This clever book is a guide for all teenage boys to build useful character traits and skills. It features helpful information such as how to change a tire, cook a steak, and ask out a girl.
A Fun Game: Throw Throw Burrito is a unique dodgeball card game that will bring out the kid in your teenager!
Technology: The favorite to all! Include video games, an Echo Dot, earbuds, or phone accessories (these cloth wipes look amazing), and they'll love you for it.
*I just saw this headphone splitter: how cool! Teens can share what they're watching or listening to with friends or siblings.
Ideas for on the Go: Teens move in and out a TON, so a nice travel mug, water bottle, and an insulated lunch bag would all be well used.
*Reader Favorite!
Clothing: Items that they need, sarcastic socks (like these), shoes, or a new ball cap would all be appreciated!
A Key Finder: Does your teen have trouble finding his keys? Solve that problem with a Bluetooth tracker that finds them quickly.
Gift Cards: A gas card for getting places, an Amazon card for anything, and an iTunes gift card would both be great options.
Teen Hygiene Supplies: Body wash, deodorant, shampoo, face wash, a razor, and shaving cream are all useful! (You can get a free trial for Harry's shaving supplies here)
A New Wallet: Help that teenage boy stay organized with his money and information! See a great wallet here>>
Magazines: Need a cheap filler? Add in one of these to something they're interested in! (Chapstick is another great low-cost filler for teens!)
A Fishing or Hunting License: Also, if you have a teen that enjoys these things, think ahead and renew their license for the year!
*Finally, check out the "experiences" section towards the end of this post. Many of those gift ideas work well for older kids!
Baby Boy Easter Basket Ideas
Next, if you have a baby, try one of these unique baby boy Easter basket ideas!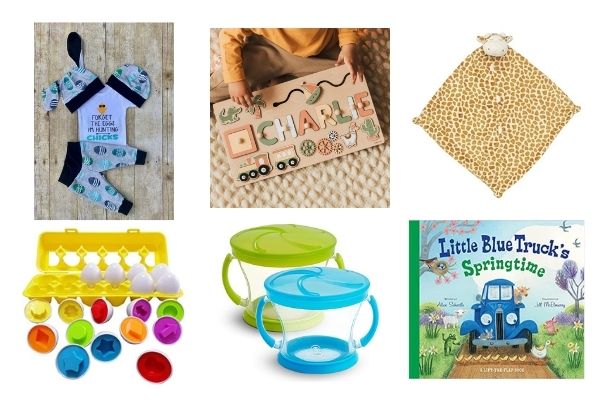 An Easter Outfit – I mean, is this not the cutest Easter outfit you've seen?! It says "Forget the eggs, I'm hunting chicks" on it! Get it here >>
A Customized Puzzle – These puzzles are ADORABLE and feature the child's name – making them a keepsake too!
A Lovey: This Angel Dear Blankie comes in different animals and is perfect if baby doesn't yet have a special blankie!
Matching Eggs – Stick to the egg theme and practice shapes too!
A Munchkin Snack Catcher – These genius bowls come with lids that catch the crumbs! Bye-bye stroller messes!
Little Blue Truck's Springtime-This best-selling book is a sweet introduction to reading for little ones!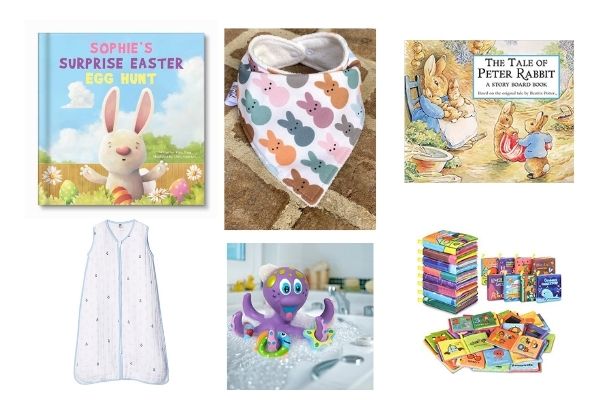 A Personalized Easter Book – Babies and toddlers will love this colorful Easter book that includes their name throughout the book! How unique!
An Easter Bib – Both boys and girls look adorable in this bunny bandana bib.
The Tale of Peter Rabbit Board Book – This classic belongs in every young one's library.
A Lighter Sleeper Sack for Summer – It's fun to look ahead at what baby needs soon – and lightweight clothes are a must for warm weather!
Bath Toys and Books – Babies love the bathtub! This creative purple octopus and bath books make it even more fun for them!
Hippity Hoppity Little Bunny Finger Puppet Book – for a reading option that's more interactive and silly! See the book here >>
Useful Items – Add things to the Easter basket that baby needs! Sippy cups, toddler silverware, and plates are good to have on hand!
For more great baby gifts, check out the ideas for baby girls too!
Experience Ideas for Boys Easter Baskets
Finally, we often get too much stuff during holidays. Instead, these Easter basket ideas for boys bring the family together! And that's always a great gift!
Kid Coupons: This free coupon printable for kids has things like dinner of your choice, movie night, and a free chore day. They are a BIG hit in our home.
Tickets to the Zoo: It's warming up and the animals will be out! What a perfect family outing!
Tokens to the Batting Cages: Whether they play baseball or not, this is a fun outing!
Tokens/Coupon for the Local Petting Zoo: This is cheaper than the zoo, but just as fun for kids. Make your own coupon HERE to stick in the basket!
Movie Tickets: See the next blockbuster hit together! Or watch a movie at home.
Gift Card: Kids love gift cards as much as adults. So, give them one to a restaurant or store they love, and watch them light up.
A Family Game: At-home quality time together at its finest! The best game for your child depends on age level, so check out the best ideas for family game night.
A Voucher/Coupon for Mini Golfing: Fresh air and put-putting as a family!
Tickets to a Baseball Game (major or minor): See the pros in action!
Tickets to a Professional Soccer Game: Another great outing as a family or with a parent.
A Date to Go Fishing: If your child loves fishing, then include a new pole and some bait too!
A Date to Go Camping: Again, include kids camping supplies such as a lantern or sleeping bag to add to the excitement.
Related Posts: 9 Non-Candy Easter Activities for Your Family & Experience Gift Ideas Kids Love
What I Got My Kids for Easter Video
Watch for what my kids got last year!
To Consider With Boys Ideas for Easter Baskets
There you have it! Easter basket Ideas for boys young and old that they'll love!
*Still not sure what to get the boy for Easter? Leave a comment below and I'll help brainstorm with you! 😊
Here's to spending less time putting together the Easter basket this year, and more time enjoying their reactions.
What are your favorite boys Easter basket ideas?
Other popular family posts on HHI…
Great Boys Easter Baskets: Ideas for Baby and Teen Too!