141 Best Easter Egg Fillers That Aren't Junk (Non-Candy Fun!)
Healthy Easter Egg Filler Ideas for 2023
My kids are good kids. But when holidays involving candy come around, they transform into bite-sized monsters.
As parents, we were spending a lot of time fighting battles that didn't need to be fought. And we've noticed that it's easier on all if we don't have mountains of sugar in our home.
So, last year we made the decision to use non-candy Easter egg fillers instead.
The difference was immediate and stunning. While they were still tired after a long day (and still had sugar from family), gone were the roller coaster mood swings. And the unbearable meltdowns.
We felt like we had our kids back. And now we'll be using this list of Easter egg stuffers that aren't junk from now on!
This post contains affiliate links, and I may earn a small commission at no cost to you. See my disclaimer for more.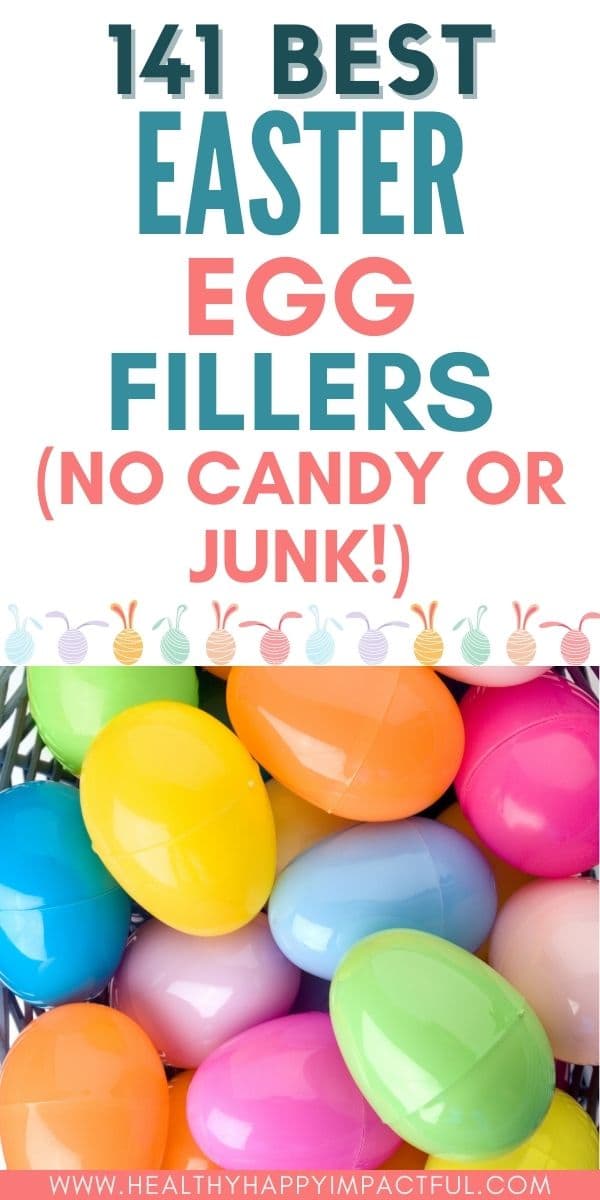 What to Put in Toddlers & Kids Easter Eggs Besides Candy
Now, the first two sections of Easter egg stuffers work best with babies and toddlers all the way up to middle elementary kids!
*Use product age recommendations and your judgment when using small items for toddlers!
Stickers
For young kids, stickers are ALWAYS a popular item for an egg. Most toddlers are delighted to see their favorite cartoon characters like Paw Patrol. Or you can stick to a springtime theme or puffy stickers.
Temporary Tattoos
To mix it up, stick fun temporary tattoos in the eggs and let kids put them on after the hunt.
Small Arts & Crafts Supplies
Really, it's a great time to re-stock on any art or craft supplies you may be low on. Here are items that make creative projects:
googly eyes
rubber stamps
small colored pencils
crayons
short markers
paints
puff balls
For this Easter egg filling idea, it may be easiest to buy a pack of craft supplies and split them out between the eggs!
Related: Craft Books for Preschoolers and Kids
Pieces to a Puzzle
Want to give your kids a challenge on Easter? First, buy a fun puzzle. Then, put puzzle pieces in each egg. After they collect them all, see if they can put together the picture!
Here's the cool 300 piece egg puzzle >>
These mini-egg puzzles work well for younger kids too!
Kids Coupons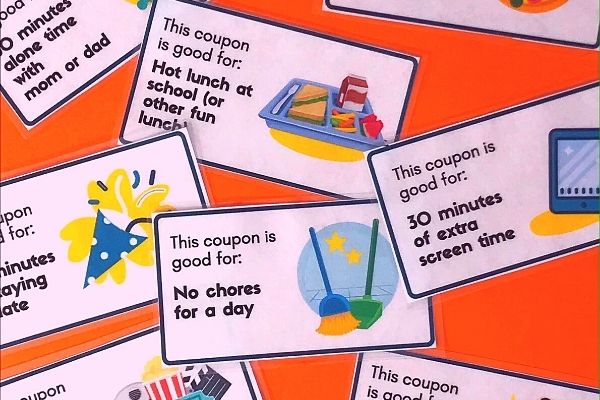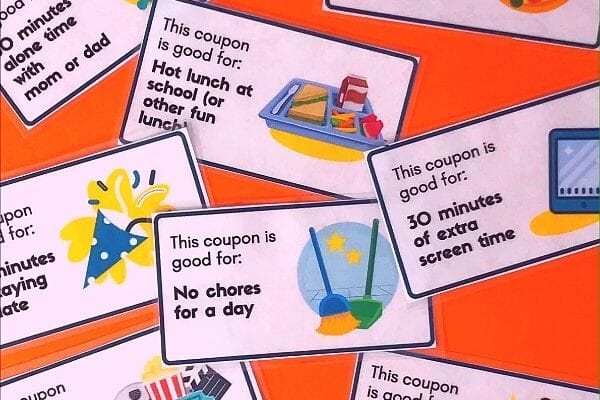 Next, coupons are coveted in our home – and for good reason. They give the kids something out of the ordinary to look forward to!
Mine especially love the coupons for 30 minute screen time, staying up late, and one-on-one time with mom or dad.
Sign up here for the free kids coupon printable >>
Wild Kid Socks & Fun Shoelaces
Get a little creative with items for their feet! Stick silly socks or rainbow shoelaces in your eggs!
Money
Money is easy because most of us have a few coins lying around. Not only is money the perfect size, but it allows for kids to work on their counting, math, and early money management. Win-win!
Healthy Snacks
There are plenty of non-candy Easter egg fillers if you'd still like to fill your eggs with food! Use cheerios, raisins, popcorn, nuts, goldfish, mini bars, or anything else you know your child would enjoy, but won't spike their blood sugar.
More Non-Toy Easter Filler Ideas for Eggs:
Easter Eggs With Toys Fillers
Next, of course we don't want a lot of toys filling up our homes. But these make great stuffer alternatives for younger kids too!
Small Toy Animals
⭐ Most popular with readers!
Small fuzzy chicks and little stretchy lizards have both been big hits in our home. These tend to be the "special" eggs and are not found in every single one.
Play Dough
Small containers or bags of sensory items can be the perfect size to stick in eggs, so give bright spring colors. I love that you can buy playdoh in egg form here and just use that as your eggs!
Similar ideas include neon modeling clay, foam doh, and kinetic sand in small bags. Small toys that help with this play make a great complement gift!
Glow in the Dark Stars As Egg Stuffers
After the festivities of the day wind down, let kids put their stars in their bedrooms or bathroom for extra nighttime fun.
Glow Sticks
Have you seen the fun glow-in-the-dark Easter egg hunts? Glow sticks are how they happen! Simply twist the glow stick and then tape the egg shut.
Water Beads
*Ages 3+
My kids are mesmerized by how water beads grow in water. Plus, they're small and make for a great activity after the Easter hunt! Use an assortment of colors so kids can make creative designs in a jar or glass too.
More Small Toys Easter fillers:
Glitter Putty or Slime
Marbles (fun if you put a marble run in the Easter basket too!)
Keychain
Duplo or regular legos (have them create something with the legos they find!)
Hot wheels
Slap bracelets
Pencil toppers
Bouncy balls
Minecraft figures (⭐ Most popular with readers!)
Note: Some of the Easter egg fillers on this list may require larger eggs. Find big ones here >>
*These Easter basket for boys ideas are also a huge hit for all ages!
Watch the video for my favorite ideas below!
Then check out great options for older kids and adults!
What to Put in Easter Eggs for Tweens & Teens
Next, these non-candy easter egg fillers are great for older kids who have more particular preferences!
Nail Polish (or Nail Accessories)
If you have a teen or tween girl, she'll probably want this anyways! Nail polish is the perfect size to fill a few larger eggs. Or try a combination of a travel nail file, bright nail polish, and clippers.
Hair Accessories
For girls, hair accessories are the perfect size for eggs! Stick these very grown-up hair clips or practical hair ties, in their eggs!
The bunny bow scrunchies are awesome!
*See Easter basket gifts for girls for more items that are special for girls!
Post-It Notes
Do you have a kid that secretly loves post-it notes?
Get the small flags that are great for bookmarking and spread the packs out amongst the eggs! These are a little bigger, but could work too!
Washi Tape
Washi tape is such an easy way to add creativity to your belongings. This bright tape is super popular, and this cool kids tape is perfect for decorating projects!
More Easter Eggs Stuffers for Teens & Tweens:
A love you note or kids coupon
Mini hand cream
Chapstick or lip balm
A "golden ticket" that allows for a bigger prize
Gift card
Nail file and kit
Bandanna
Makeup
Letters that spell out a larger prize
Air fresheners (for their room or car)
Mini cologne bottle (or perfume)
Pro tip: If you have lots of kids, assign each child their own color of egg!
What to Put in Easter Eggs for Adults
And finally, if you need a few Easter egg filling ideas for the adults, these are great. Many are practical too!
Plant or Flower Seeds
Seed packs are a great size for adult easter egg fillers and help you initiate the spirit of spring. Check out these popular wildflower seeds >>
Essential Oils
Are you running low on any oils? Get lavender for relaxing baths or lemon to help you focus. Many oils are also useful for homemade cleaning sprays!
Morning Drinks: Non Candy Easter Egg Stuffer Ideas
Stock up on extra-special coffee k-cup pods. This variety pack is SO fun!
Not a coffee drinker? No worries! Add in individual packs of your favorite teas!
Love Coupons
Next, sometimes you don't need to spend any money to make a great gift! Fill out these blank template coupons with the ideas on the post, and you're good to go!
To print out the template, grab them in the free resource library below!
More Easter Egg Fillers for Adults:
Nail clippers or file
Mini alcohol bottles
Measuring tape (or other small tool)
Lottery tickets
Easter egg jello shots
Magnets
Recipes (fill each egg with a different interesting recipe)
Beauty product samples
Gift cards
*Need more? The teens section has ideas that work for adults too!
To Consider With Easter Egg Fillers & Ideas
There you have it! What I loved about this article is finding that there are TONS of things you can use instead of candy!
Try your favorite idea or mix and match several ideas together to make it surprising. Kids will have a blast trying to figure out what's in each one. Either way, if you're looking to cut back on the Easter candy, this is an eggcellent way to do it!
What do you think are the best easter egg fillers?
More great spring posts for kids…
Creative Things to Put in Easter Eggs: What to Hide Inside