25 Best Craft Books for Kids (+Make It Easy Ideas) 2023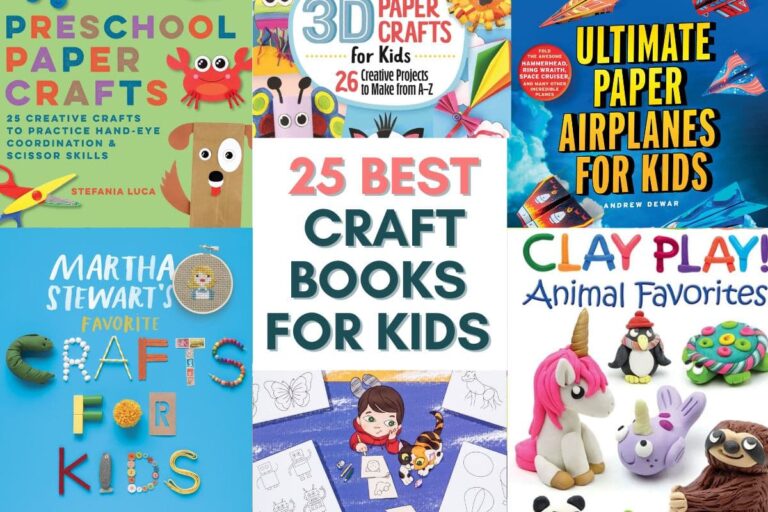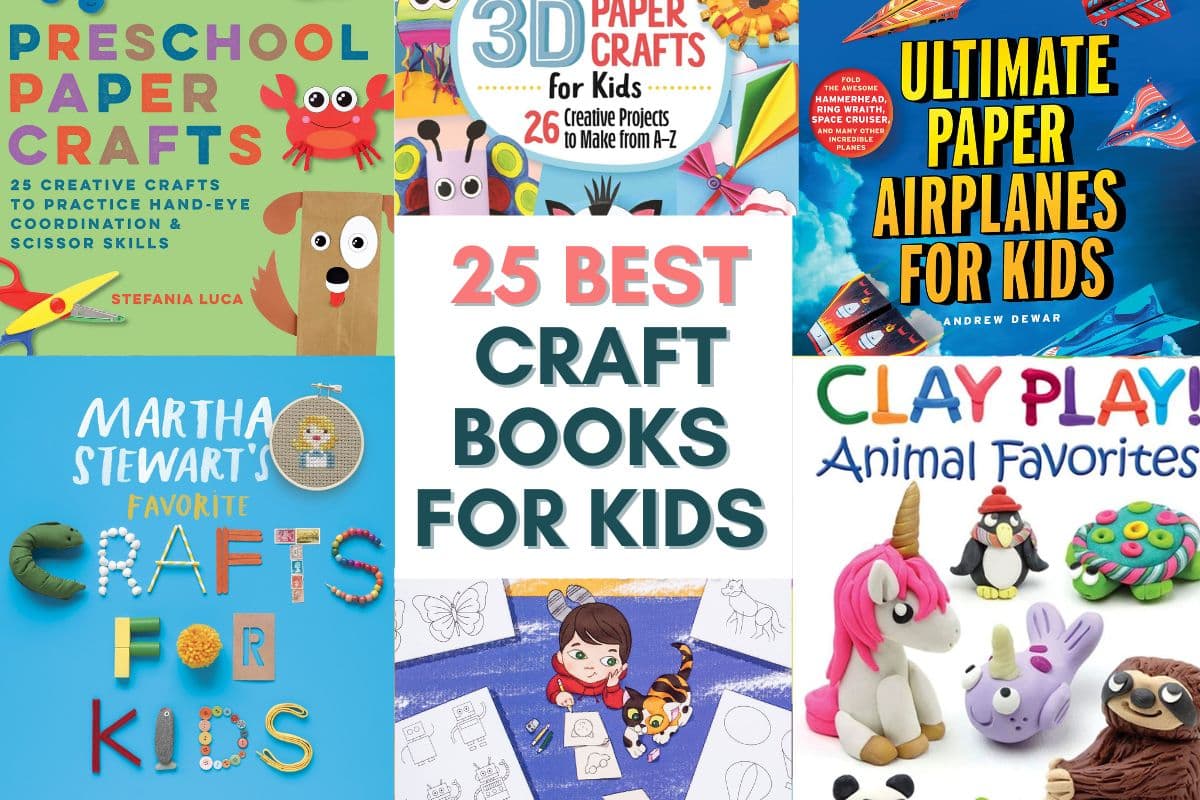 Inspire your child to explore their creativity with awesome craft books for kids. These books are perfect for:
Rainy days
Summer and holiday breaks
To build new skills
To inspire creativity
To boost confidence
Anytime your kids say, "I'm bored!"
Take a look at our list and grab the best craft books for your kids!
This post contains affiliate links, and we may earn a commission at no cost to you. See our disclaimer for more.
Craft Books For Preschoolers
First, check out this list of books that include crafts for toddlers and preschoolers. They will develop fine motor and hand-eye coordination using fewer steps and materials.
Plus, the activities are fun, creative, and age-appropriate!
1. Preschool Paper Crafts: 25 Creative Crafts to Practice Hand-Eye Coordinating & Scissor Skills by Stefania Luca (Ages 3-5)
Use scissors and simple supplies to get your preschooler excited about crafts with this book!
Preschool Paper Crafts will help your young child develop their fine motor skills as they practice cutting out simple templates.
2. Art Lab for Little Kids: 52 Player Projects for Preschoolers by Susan Schwake (Ages 3-6)
This book in the Lab for Kids series features 52 hands-on activities and projects for preschool-age kids that inspire creativity.
Complete with step-by-step photographs, preschoolers will experiment with drawing, painting, sculpting, printmaking, and mixed media art. Grab your copy!
3. The Ultimate Preschool Activity Guide for ages 3-5 by Autumn McKay
Use The Ultimate Preschool Activity Guide includes over 200 low-prep activities, step-by-step directions, and themes to help your child learn through play and creation.
Learn about animals, body systems, construction, family, healthy habits, money, and more.
Check it out here today!
4. The GIANT Encyclopedia of Arts & Craft Activities for Children 3 to 6 by Kathy Charner
Reach for your copy of this comprehension collection. It's one of the best-tested art activities to open your child's imagination and creativity. Each theme has several activities that can be used to increase understanding through art.
Explore food, gardening, farms, holidays, light, music, insects, and many more. 500 arts and crafts await you in this book!
Related Posts:
Awesome Craft Books For Kids
Next, these awesome craft books will get kids' creative juices flowing and keep them entertained for hours!
5. Crafting Fun For Kids of All Ages by Kim Uliana (Ages 6+)
With 200 easy-to-assemble projects, your family will turn craft supplies into art. Crafting Fun For Kids of All Ages explores pipe cleaners, paint, pom-poms, yarn, and more.
Projects include:
craft stick fire truck
pipe cleaner creepy crawlers
egg carton school bus
clay and pipe cleaner dinosaur
Plus more! Grab your copy of this fun craft book for kids!
6. Clay Play! Animal Favorites by Terry Taylor (Ages 7-9)
*5 Stars on Amazon
With 29 clay projects, kids enjoy creating cute animals using easy-to-follow instructions and photos.
Make all the animals in this book!
7. The Drawing Book For Kids: 365 Daily Things to Draw, Jr. Kids Activities (Ages 6-9)
*#1 Bestseller in Conceptual Arts and Children's Drawing Books
Learn to draw 365 animals, food, insects, vehicles, and more with this fun step-by-step guide to sketching.
Encourage your child's confidence with The Drawing Book For Kids.
8. Low-Mess Crafts for Kids: 72 Projects to Create Your Own Magical Worlds by Debbie Chapman
No glitter needed! Low-Mess Crafts for Kids is exactly what every parent is wishing for!
From pipe cleaners to pom poms, keep your kids crafting and creating with this book.
9. Martha Stewart's Favorite Crafts for Kids (Ages 3-12)
Promote creativity with practical crafts that spark creativity. Your kids can wear, play with, or decorate using these 175 crafts.
This book is from the queen of crafting, Martha Stewart.
10. Awesome Art Activities for Kids: 20 STEAM projects to Spark Creativity and Imagination by Lucy Song (Ages 4-9)
*5 Stars on Amazon
This book features 20 fun activities for kids to experience art and science as they create with basic materials.
The STEAM connection allows kids to explore how art relates to science, technology, engineering, and math. Get your copy!
11. 3D Paper Crafts for Kids by Helen Drew (Ages 7-12)
Your kids will love making 26 paper crafts from A to Z with easy-to-find materials for each project. Templates and step-by-step instructions are included.
From butterflies to polar bears, there are different 3D effects for a variety.
12. Adventure Girls! STEM Crafts: 40 Activities for Curious, Creative, Courageous Girls by Megan Olivie (Ages 6-12)
Encourage adventure and creativity in your girl with STEM crafts that explore science, technology, engineering, and math.
Watch as they build new skills while gaining independence with kid-friendly instructions.
13. Adventure boys!: Crafts and Activities for Curious, Creative, Courageous Boys by Nicole Duggan (Ages 6-10)
Boys will love adventuring with outdoor skills, handy crafts, and more hands-on activities in Adventure Boys!
This book is perfect for boys that like to build and create.
More Unique Craft Books For Kids
Find more unique and specific crafts in this section of craft books. Older kids will love these books too!
14. Friendship Bracelets 101: Fun to Make, Wear, and Share! by Suzanne McNeill
*#1 Best Seller in Jewelry Craft
Share friendships and learn new skills with Friendship Bracelets 101.
This book is filled with the basics and everything you need to know to start making your own friendship bracelets for beginners.
15. Paint By Sticker Kids, The Original: Create 10 Pictures One Sticker at a Time! (Ages 5-8)
*Part of Paint by Sticker (7 Books)
This book is no mess and simple. Yet your child will create beautiful art with 10 different sticker paintings. This is also a great project book for kids to do all on their own!
Grab a book from this collection based on the interests of your child. Find anything from rainbows to dinosaurs and outer space.
16. Awesome Engineering Activities for Kids: 50+ Exciting STEAM Projects to Design and Build by Christina Schul (Ages 5-9)
*Part of Awesome STEAM Activities for Kids (11 books)
Start creating with these awesome engineering activities. They are designed for kids to learn how things work using common household materials.
Complete with over 50 projects, young engineers love creating the designs in this engineering book.
17. Ultimate Paper Airplanes for Kids: The Best Guide to Paper Airplanes! by Andrew Dewar
*A favorite in our house!
*Winner of the 2016 Creative Child Magazine Product of the Year Award
Get ready to take flight! Get this book for easy-to-fold paper airplanes of all types.
Colorful and durable cardstock with printed lines for folding will help your kids get creative using Ultimate Paper Airplanes for Kids.
18. Wood Shop: Handy Skills and Creative Building Projects for Kids by Margaret Larson (Ages 8-12)
With 17 creative projects, kids will build everything from a birdhouse to a Tic-Tac-Toe-To-Go!
Grab a hammer and get started learning the essential skills in this book. Become handy and creative at the same time.
19. My First Origami Kit by Joel Stern (Ages 6-9)
*Winner of Creative Child Magazine Preferred Choice Award
Is your child new to origami? My First Origami Kit is the right guide to learn and master the joys of origami. With papers specifically designed for each origami project, your kids will love the designs they create.
This kit includes a guide book, 60 papers, 150 stickers, and 20 projects!
20. Edible Crafts Kids' Cookbook: 25 Fun Projects to Make and Eat! by Charity Mathews (Ages 5-8)
Food turned into crafts! Kids design and create in the kitchen with 25 delicious art ideas they can make and then eat!
21. UpCycle It Crafts For Kids Ages 8-12 by Jennifer Perkins
Crafty kids and tweens will love this book of 25 crafts. The projects use recycled items, including an earbud case, sunglasses, string lights, and pencil pouches.
Clear instructions and pictures help kids easily make these reinvented projects!
Get your copy of Upcycle it! Crafts for Kids today!
22. Sewing School: 21 Sewing Projects Kids Will Love to Make by Andria Lisle (Ages 6-10)
Help your kids learn to sew with 21 fun sewing projects. Included in this guide are simple and illustrated instructions along with cut-out patterns.
Kids will make potholders, dolls, pillows, and more.
*No sewing machine is required! Grab your copy of Sewing School!
23. Stone Painting for Kids: Designs to Spark Your Creativity by F. Sehnaz Bac (Ages 8-12)
Follow popular stone artist, F. Sehnaz Bac, as she gives step-by-step directions for simple stone painting projects. She discusses how to choose a stone, use materials safely, and different patterns and lettering techniques.
From flowers to trees and stars, start painting stones with this guide today!
24. 365 Things to Do With LEGO Bricks: LEGO Fun Every Day of the Year by Simon Hugo (Ages 6-10)
Kids can get crafty with legos too! Build a new creation each day with the bricks you already have.
From building a magic show to designing your perfect pet, there is a creation in this book for any lego lover.
25. The Highlights Book of Things To Do: Discover, Explore, Create, and Do Great Things by Highlights (Ages 6-10)
*Winner of Mom's Choice Award, Best Children's Book of the Year, National Parenting Product Award, and more!
Inspire all-around creativity with this amazing book full of over 500 screen-free projects and activities for your kids to do.
Chapters include:
Things to Build
Things to Do in the Kitchen
Things to Do with Color
And many more! Grab your copy today!
Related: Fun Family Staycation Ideas and Best Activities for Kids At Home
Make It Easy: 6 Ideas to Use A Kids Craft Book
Make crafting easier for your children (and you) by following these helpful steps.
1. Designate A Space
Make a space in your house where your kids can be free to create. Crafts get messy and the creative process takes up space. But if there is a spot in your home where you are 100% ok with this happening, everyone will be happy.
2. Make Supplies Accessible
As your kids get older, you will want craft supplies to be where they can access them without help. Have a specific place where your crafts are kept and can be accessed at any time.
Sort and label supplies to help kids easily find the objects they are looking for.
Use a simple cart with drawers that can be moved around if needed or a drawer storage organizer. I like both of these because you can close the drawers and it hides any mess or disorganization.
3. Set Clear Expectations
Encourage your kids to have fun and be creative while being responsible.
If your kids are crafting independently, set expectations in advance:
Teach safe and responsible use of scissors, glue, and other supplies.
Set expectations of how craft supplies will be managed and appropriately used.
Discuss being resourceful and not wasteful.
Teach your kids how to clean up in the way you expect.
Put away materials you don't want your kids to use (this includes glitter and permanent markers in my house).
*Use parental supervision and discretion as needed with independent use of craft supplies.
Related: How To Teach Good Habits For Kids
4. Gather A Variety Of Craft Supplies
Gather a variety of basic art supplies to have available to your kids to go along with their craft books:
empty toilet paper and paper towel rolls
recycled boxes and egg cartons
save old newspapers for kids to use under messy projects
hot glue gun (older kids)
Or buy this 1000+ piece Arts and Crafts Supply Library to get your craft supplies started.
Limit the amount of supplies you put out for your kids at a time. Store the rest, restock, and rotate in new supplies as needed. Sometimes adding in one new craft supply will reignite imagination.
5. Have A Place To Display Work
Displaying your kids' artwork will encourage them to continue creating. It also shows them their work is valued.
Dedicate a shelf or wall area for displaying finished work. Use a hanging picture display or a bulletin board for paper art. Here's another option that uses a magnetic bar for displaying work.
6. Add Variety With Kids Craft Books
Keep it fresh and exciting by adding in a variety of crafts.
As your kids get older, they may find that they have more ideas about what they would like to do. So, let them help decide which craft book is for them.
To Consider With Craft Books For Kids
Pick out one or two craft books for your kids to enjoy with their downtime.
You will be impressed by their innovations and they will be inspired to create more!
Also, check out our awesome book lists by age for more rich activities that stretch your child's brain!
More awesome posts you'll love…
Best Craft Books For Children