60 Reading Challenge Ideas For Adults & Kids (2023 Free Tracker)
What is a book reading challenge?
60 Reading Challenge Ideas for adults and kids are a fun way to jumpstart new reading goals. Challenges get everyone reading!
Benefits of a Reading Challenge
Plus, reading can reduce stress levels by as much as 68 percent in just 6 minutes. It can
improve memory and brain power
help you sleep better
decrease stress
support self-improvement
You'll feel better while reading more too. (HuffPost)
Reading Challenges For Adults
Read more or find variety with these amazing reading challenge ideas!
1. Books you own but have not read
Start with that stack of books on your bedside table or bookshelf. (Those books are there for a reason.) You wanted to read them before life got in the way.
Choose a number to read and set a timeframe to finish them.
This post contains affiliate links, and we may earn a commission at no cost to you. See our disclaimer for more.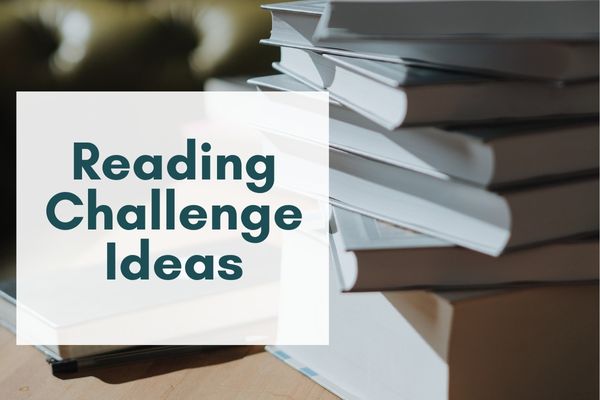 2. Hobby books
Do you have an interest that you want to know more about? Knitting? Golfing? Baking?
Decide on a hobby or two. Then, explore hobby books to learn more on that topic. (Check out this great hobbies list for women for ideas).
3. Book Series
Few things beat reading a book you can't put down. Except perhaps knowing there's another book in the series!
Pick a series. Start with book 1, and read all of them! Possible suggestions:
4. Books by the same author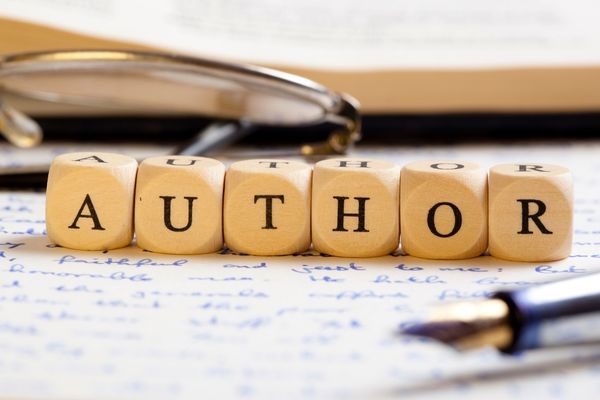 If you read a great book, look up what else that author has written. Odds are you will enjoy more books he/she has published.
Challenge yourself to read 3 books by the same author.
5. Pick a different literary genre
Do you only read one type of book? There is a lot more to choose from.
Read one book from many or all of the following popular genres: Nonfiction, Biography, Historical fiction, Action and Adventure, Classics, Graphic Novel, Mystery, Fantasy, Horror, Romance, Science Fiction, Short Stories, Suspense, Memoir, Poetry, Self-Help, True Crime
6. Read the current bestsellers
Search the New York Times Bestseller's list, set your goal, and read.
7. Read books to improve
Is there a topic that would increase your productivity and knowledge at your job? Do you wish you knew how to cook better? Maybe you want to hone your communication skills.
Boost your brain by gaining new insight or skills. Choose books that will enrich your life in some way.
8. Travel through time
Choose a time period that really interests you and read several books set in that time.
9. Books about places you're going to travel to
If you have an upcoming trip, make it a goal to read about the location ahead of time. This can include fiction books with your travel setting. Or it can also include reading history about different states or countries.
10. Bucket list travel books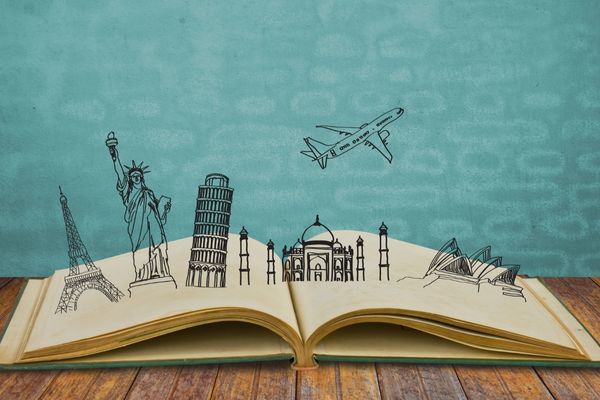 We all have a list of places we dream of visiting. Learn about these places through the history, people, and culture. It could make you feel like you traveled there without leaving your house.
11. Books about historical events or a historical figure
History makes us aware of our past, gives us the opportunity to learn from past mistakes, and gives us the insight to live a better life. So, challenge yourself to brush up on history by picking an event or person that interests you.
12. Read books that are a movie/tv show
*One of the most popular reading challenge ideas!
Streaming services make watching movies and tv shows accessible and easy. Make a list of books that you would like to read before you watch the movie. Invite a friend or family member to read along with you for even more fun.
*Check out the Netflix book club that pairs with Netflix adaptations. And this list of books to start a reading habit has more great options.
13. Improve your side hustle
If you have a side hustle, take this as an opportunity to improve it. The challenge is to read 2-3 books that can somehow improve your business.
14. Grow in Business and Leadership
Challenge yourself to learn how to lead more effectively and grow as an entrepreneur.
According to Forbes magazine, these are the 5 books business leaders must read in 2022.
15. Learn about other cultures
Reading about other cultures opens you up to a whole new world. It lets you enjoy what others have to offer through food, language, and art. And it helps us overcome an "us" vs. "them" mentality without leaving the house.
16. Classic Literature
You may vaguely remember reading these titles back in high school:
Now pick the classic literature you would like to read now that your English teacher does not require it.
17. Reread a book you loved
I have a book on my bookshelf that I loved when I read it over 10 years ago. It has since become a movie and I have been wanting to reread that book before watching the movie.
Many of us have books that hold a special place in our hearts. Reread a handful of these for this reading challenge.
18. Pick an inspirational person
Choose someone you admire. Now, read a memoir or biography about them to learn how they became who they are.
19. Banned book list
When a book is "banned," it means a book has been removed from school and/or public libraries because a group has objected to its content.
Many books that were historically banned ended up becoming literary classics and are still taught. The Catcher in the Rye by J.D. Salinger and To Kill a Mockingbird by Harper Lee are two examples. (USA Today)
Search a banned book list and you may be surprised what you find. I mean, it kind of makes you want to do this challenge even more, right?
20. Book club reading challenge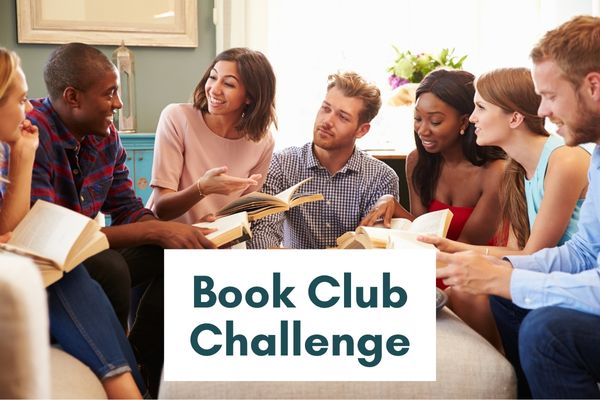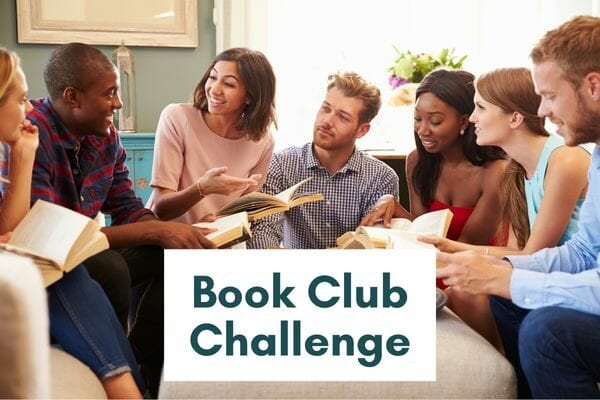 Choose a book to read at the same time as friends or family. Meet and discuss (snacks and wine encouraged).
Related Post: Fun Hobbies for Families To Do Together
21. Ask family and friends
Some of my favorite books are the ones recommended by close family and friends. I also frequently have others comb my bookshelves for new reads.
Pass a good book around to share with others and they will repay the favor.
22. Alternate between fiction and nonfiction
If you tend to stick to fiction, alternate between fiction and nonfiction for a period of time.
23. Read books that can help you get through hardships
What are you struggling with?
Read books that will help you in an area that could benefit you. Possible suggestions: finance, parenting, health, relationships, spiritual growth, emotional well-being.
24. Look for traveling authors coming to your area
Challenge yourself to read books from visiting authors. I recently had two friends tell me about authors they went to see in our area. One author visit was at the library and one was at a local bookstore.
25. Try a different format for your reading challenge ideas
If you typically read paperbacks, challenge yourself to read an e-book or to listen to an audiobook while in the car.
26. Read more about a polarizing issue
Think of an issue people feel strongly about. Now, read a book by someone who disagrees with your opinion. And another book by someone who agrees.
After finishing, is your opinion the same?
27. Ask on social media
Many of us have a diverse group of friends on social media. Ask for book recommendations to fill up your book challenge quota.
28. Let your significant other pick books for you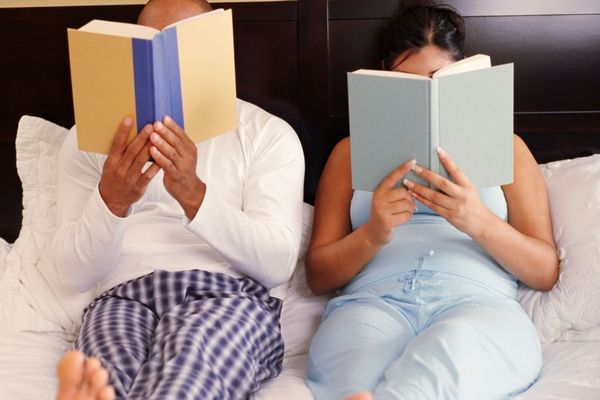 If you are completing this reading challenge idea with your partner, spice things up by choosing books for one another. Read the same stack of books or completely different lists based on what you both like or need.
You could even make this a friendly reading competition.
29. Read your significant other's favorite book or author
When my husband and I first started dating, I read his favorite Hemingway novel. He was excited to discuss it with me, and I enjoyed being able to connect with him in this way.
30. A to Z reading challenge for adults
Pick books that take you through the alphabet from A to Z by title or author. This unique reading challenge idea will require more research, but will also help you get out of your comfort zone.
31. Read books from your area
Is there an author that lives in your state? Could you read books about the history of your area? Do a little research and compile a short list of books local to you.
32. 52 book challenge or 100 book challenge
If you want to dramatically increase the number of books you read, try one book a week for a year. Or try an even bigger 100 book challenge.
Need motivation? Bill Gates reads roughly 50 books per year. (Business Insider)
33. Read books trending online
Goodreads personalizes its recommendations based on what you've read, your book ratings, and what other readers are saying. Book Riot compiles a list based on current trends and pop culture references. Both of these sites can give you excellent recommendations.
34. Pick a few unknown books
Visit the library and pick up random books that look interesting but you have never heard of.
35. Books with a cool setting
My sister-in-law likes to read books set on the island of Nantucket. Now, it's on her bucket list to visit there someday. Challenge yourself to pick an interesting setting and read from that list.
36. Read books with a literary award
For this book reading challenge, pick books that have won a literary award and are highly rated. Choose from one of these categories:
Pulitzer Prize for Fiction
Pulitzer Prize for Nonfiction
John Newbery Medal
National Book Award
Women's Prize for Fiction
37. Read more diversely
Show up for diverse authors. You will be exposed to experiences and cultures you would not have learned about otherwise. This helps us step into shoes we may never walk in, see the world differently, and build empathy.
38. Read from celebrity book club picks
If you are curious about the newest celebrity book club, it's easy to follow on Instagram or online and get their current book choices. This is a great way to stay current with new authors and titles.
Popular celebrity book clubs include:
Oprah's book club
Reece Witherspoon's book club
The Today Show's Read with Jenna book club
Good Morning America Book Club
39. Ask a librarian
Librarians at your local library can be extremely helpful. They can recommend a reading list and help you find books that interest you. They will also know about programs that may be a good fit for you. Many libraries offer adult reading programs and book discussion groups to join.
Book Reading Challenge Ideas For Kids
Alright, we know that reading helps our kids grow and develop. And that becoming good readers takes practice. So, what are some reading challenges for kids?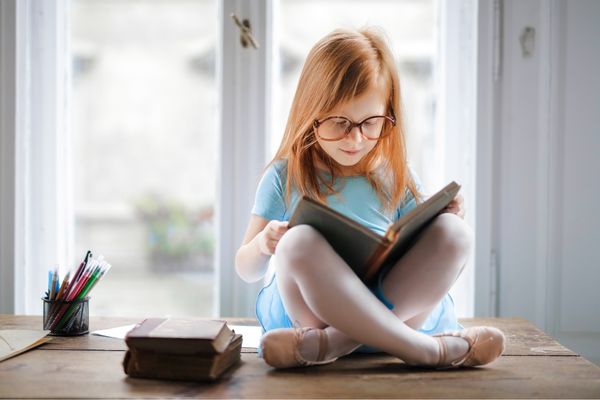 The reading challenge ideas below can be tailored for young readers to high school kids. They keep kids reading and expose them to a variety of text. And many of these book challenges can be done with the entire family. So, read along with your child!
40. Just right book challenge
Reading too hard of books frustrates kids and makes them not want to read. So, challenge your child to read 5 just-right books.
A just-right book is a book that your child can decode and understand. How do you teach kids to pick a just-right book?
Use the 5 finger rule. Open a book to any page and have your child read it aloud. Count the number of words they do not know as they read.
0-1 fingers: It's too easy
2-3 fingers: It's just right
4-5 fingers: It's too hard (great for read aloud instead!)
Follow up by asking a question about that page to see if they can talk about what they just read.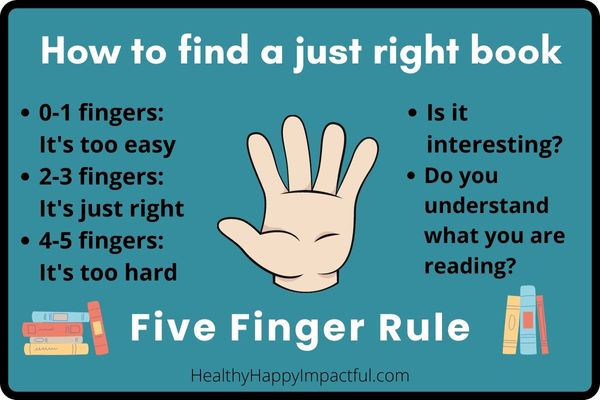 41. Read to learn about a topic
This past summer, I had my boys give me a list of topics they wanted to learn about. I narrowed down the list and checked out library books on those topics.
Expand this kids challenge by having your child create a project about what they learned. (This is a perfect summertime or holiday break challenge.)
42. Follow their interests challenge
Sometimes kids avoid reading because they are not interested in the topic. In fact, 4 out of 10 kids report that they have a hard time finding books they like. (Scholastic)
So, make a list of topics that your child loves. Then explore different genres surrounding these topics.
Ask your child's teacher or the librarian to help you locate books when needed. If you challenge your child to read 3-5 books that interest them, you may be surprised to find that they keep reading after they meet their goal.
43. Easy readers challenge
This challenge is for beginning readers. Pick out any easy reader books that seem fun to your child. Then, challenge them to read as many as they can.
44. A to Z kids reading challenge
Like the adult version above, have your child find book titles that start with each letter of the alphabet and read on their own or together.
45. Read aloud challenge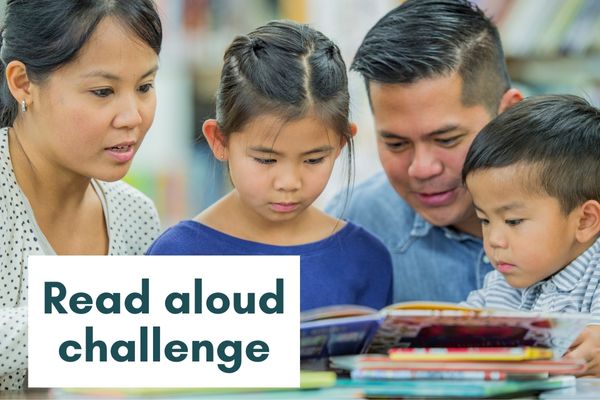 Reading statistics show that 83% of children love or like being read to a lot. 86% of parents love it too. (Scholastic)
So, set a goal as a family for how many books to read aloud together for a certain timeframe.
*To make this easier, read a book aloud that has a movie too. Then, you can enjoy both together! >>
46. Book clubs for kids
Encourage your child to start a book club with a friend or group of friends. This is a great activity for any age, but older readers will especially like this challenge. (You can use these fun kids reading quotes during the meetings too!)
47. Caldecott Medal winner books
The Caldecott Medal is awarded to distinguished American picture books for children.
So, your kids will be reading high-quality books if they try this challenge.
The school library may even have a section devoted to these medal winners.
48. Seasonal books challenge
Do you have a stack of Halloween books already? Christmas picture books? Or springtime picture books or summer book reads?
Create a challenge to read them all, or check out several new ones your child will enjoy reading.
Related: Free Printable Summer Reading Log & Tips
49. Book series challenge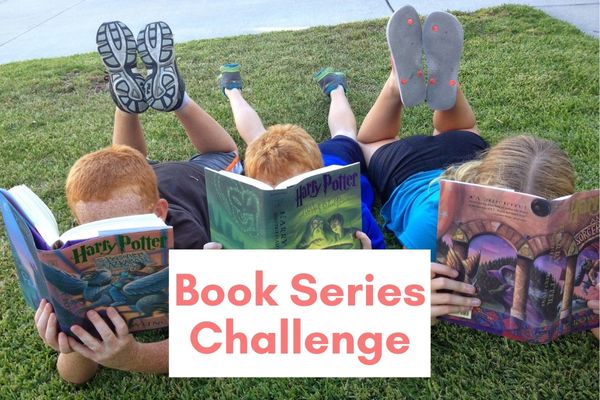 One of the easiest ways to get a child interested in reading is to get them hooked on a series.
When I was teaching in the classroom, I tried to introduce reluctant readers to the first book of a series through a read-aloud or book club. Many times these readers would take off reading the rest of the books and come back to me when they were ready for another series.
50. Family member reading challenge
Does your child have a special relative that likes to read?
Encourage them to have a challenge together. Pick the same book, read, and meet to discuss. Zoom works as a great way to read together or discuss books with distant relatives.
51. Classic fairy tale challenge
Fairy tales involve interesting characters, magic, obstacles, and life lessons. Plus, they are entertaining to read. Pick a handful of fairy tales to read for this book challenge.
52. Poetry, mythology, and folktales
For this book reading challenge, pick from this variety of genres that your child may not be as familiar with, and see what you think.
53. Nonfiction reading challenge ideas
Is your child obsessed with The Titantic? Space? Trains? Challenge your child to read 5 nonfiction books on any topic. They will be bursting with new knowledge to share.
54. Biography challenge
Dive deeper into people your child is interested in. They will enjoy learning about another person's life and a different genre of literature.
55. Books about animals
Have your reader choose between both nonfiction and fiction text for this challenge. For example, read information about animals or read books with animals as the characters.
56. Books about a different place
Encourage your reader to explore different countries and regions of the world. Read information about the place and fiction books from the perspective of someone living there.
57. Comic books/graphic novels for elementary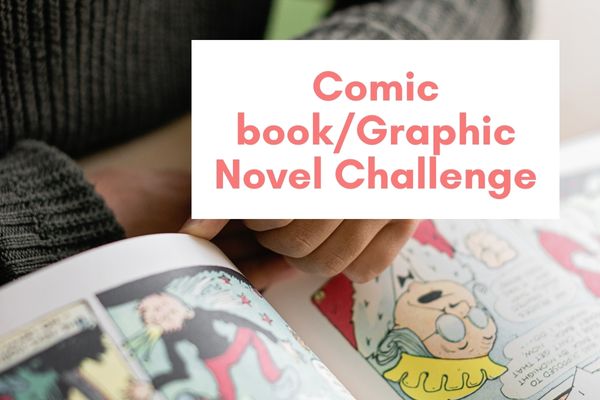 Another great way to hook reluctant readers into good books is with comic books and graphic novels.
These stories are told using a combination of words and pictures, which appeals to a large audience of kids.
58. Read a theme reading challenge ideas
Pick a subject or theme that you want to discuss more with your child.
Then, read several books together or have your older child read chapter books with this theme in it. Examples could include courage, friendship, emotions, family, belonging, grief, and kindness.
See here for 55 Best Books For Kids About Kindness >>
59. Ask your teacher or school librarian for a challenge
Your child's teachers are the best resources to provide ideas about books. They are willing and excited to help your reader advance. They may also come up with some great reading challenge ideas geared toward your child.
60. Find a book list online for your child's age
Find the best books for your child's age by searching online. Here are helpful lists to get you started.
How do you plan a reading challenge?
First, here's exactly how to get your custom reading challenge going!
1. Give your challenge a goal and a timeframe for reading.
How many books do you want to read? What is your timeframe? A month? 6 months? A year?
Do what works best for you. But start with a short timeframe for your first challenge if you are just getting back into reading.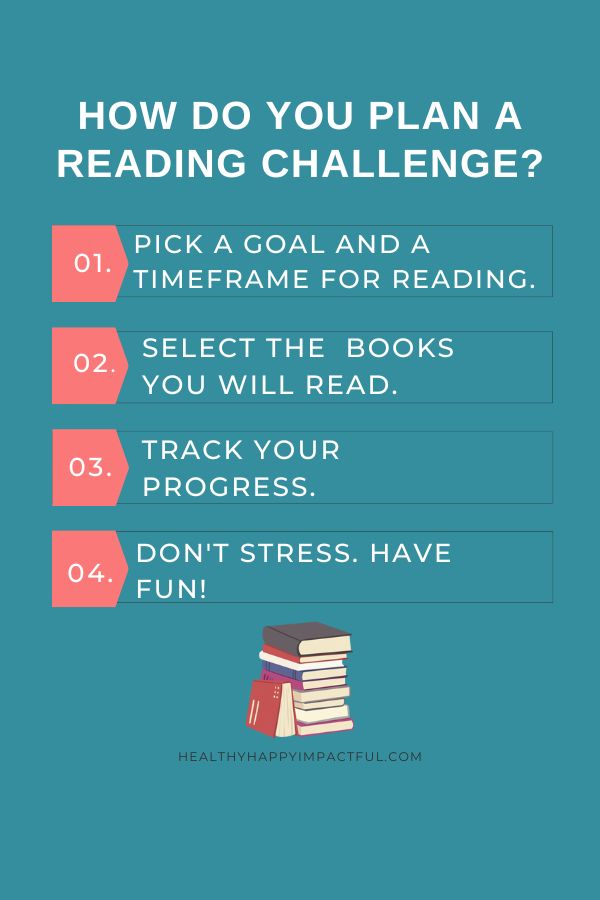 2. Select the books you will read.
Use the reading challenge ideas below to decide what books you will read. Check any out from the library that you do not already own. You can vary the format between e-books, audiobooks, and paperbacks depending on what is available.
3. Track your progress.
The Free Reading Challenge Tracker will help you easily track the number of books you have read.
4. Have fun!
A reading challenge should encourage you to read more, but not stress you out. Keep it fun. If you don't like a book you chose, abandon it and move on to something you will enjoy. (Yes, you have permission to do that!)
Get the Reading Tracker Printable In the Resource Library~
Now that you have your challenges set, track your progress with the free reading challenge tracker printable! Gain access to the resource library below to download your tracker!
Adults or kids can use the reading tracker. And families can also combine their book reading on the tracker. Don't forget to celebrate when you reach your goal!
To Consider With Reading Challenges
Looking for more reasons to get back to reading? Read 65 Interesting Statistics About Reading 2023 (Success & Benefits). The benefits of reading will surprise you.
What reading challenge ideas will you try first? Let me know in the comments!
More posts you'll love…
Sources
Best 2023 Reading Challenges For Kids And Adults