50 Best Christmas Picture Books For Kids in 2023 (Free Printable)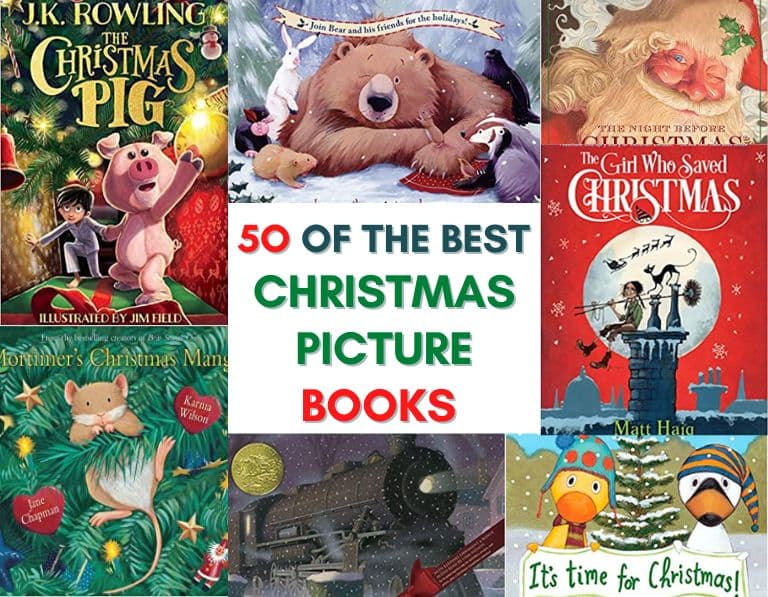 Favorite Picture Books to Read Aloud At Christmas
In our house, the Christmas season starts by gathering our beloved Christmas books from the top shelf of the hall closet. And every year we are excited to add to our ever-growing stack.
Need help deciding what to add to your collection this year? I've done the work for you! Read to find the best Christmas Picture Books for kids in 2023, ranging from books for babies to older readers.
This post contains affiliate links, and we may earn a commission at no cost to you. See our disclaimer for more.
Best Christmas Board Books
Young children and babies enjoy looking at the colorful illustrations in these board books. And most of the books are interactive!
1. Christmas Parade by Sandra Boynton (Ages 1-3)
Popular author, Sandra Boynton, will have your little one ready to march along with the familiar characters in this lively Christmas parade. Grab an instrument and join in the fun!
"BOOM-Biddy! BOOM-Biddy! BOOM BOOM BOOM"
2. Little Blue Truck's Christmas by Alice Schertle (Ages 1-3)
*1 New York Times Best-selling Series
Beep! Beep! Beep! Join Little Blue Truck on a Christmas adventure to spread joy to his friends. Count along from one to five as he delivers Christmas trees. Your little one will enjoy the flashing Christmas tree lights on the final page!
3. Santa's Big Day Finger Puppet Christmas Board Book by Holly Berry-Byrd (Ages 0-4)
*5 Stars on Amazon
Santa has a big job preparing for Christmas. Join in the fun with a built-in finger toy so your baby can play while you read. Enjoy reading this rhyming story with bright illustrations.
4. Dear Santa by Rod Campbell (Ages 1-3)
*A Lift-The-Flap Book
From the author of Dear Zoo, enjoy reading this story of Santa looking for just the right present for a child. Will Santa find the perfect gift to leave under the tree?
5. Frosty the Snowman by Jack Rollins (Ages 1-3)
*Classic Story
Follow Frosty's beloved tale and his magical adventures through town.
Read or sing the loveable classic Frosty the Snowman with your little one this holiday season.
6. Jolly Jingle 10-Button Children's Christmas Sound Book by Becky Wilson (Ages 1-3)
*Part of a Christmas book collection from Cottage Door Press
Join in the Christmas fun with this interactive sound book as Santa, the reindeer, and the elves get ready for Christmas. Press the sounds for each page as you read to further engage your little one in the story.
7. Babies Love Christmas: Lift-a-Flap Board Book by Holly Berry-Byrd (Ages 1-2)
Bright pictures, sturdy pages, and easy-to-lift flaps make this a great book to introduce babies and young children to simple Christmas words.
This board book would make a cute stocking stuffer for a first Christmas!
8. The First Christmas Lift-a-Pop Board Book by Holly Berry-Byrd (Ages 1-3)
Tell the story of the first Christmas to your baby with this board book. Develop fine motor skills with sturdy flaps during the interactive read aloud.
9. Duck & Goose: It's Time for Christmas by Tad Hills (Ages 1-3)
*New York Times bestselling friends
Goose is busy enjoying winter, but Duck is ready for Christmas! Read along and celebrate Christmas with friends Duck and Goose.
10. Don't Push The Button! A Christmas Adventure by Bill Cotter (Ages 2-4)
Larry is back in this funny Christmas book. Can Larry keep from pushing the button? Or will he be put on Santa's naughty list? One little push can't hurt….right?
Read this interactive book with one hilarious monster to see what happens.
Best Christmas Books for Toddlers and Preschool
The 3, 4, and 5 year-olds in your life will love exploring the holiday through the loveable story characters in this Christmas picture books list.
11. Bear Stays Up for Christmas by Karma Wilson (Ages 2-5)
*Great Price!
Bear and his friends are busy preparing for Christmas and helping him stay awake for the big day. In another heartwarming story from this series, Bear learns that being with his friends and sharing Christmas with them is the best gift.
12. Construction Site on Christmas Night by Sherri Duskey Rinker (Ages 2-4)
*1 New York Times bestselling series
Our favorite construction site characters are back just in time for Christmas in this bright-colored Christmas book. They finish a big job and receive their own big surprise!
13. The Sweet Smell of Christmas by Patricia M. Scarry (Ages 2-4)
*Classic scratch-and-sniff book
A sweet favorite in our house, join Little Bear as he prepares for Christmas with his family. Your preschooler will enjoy scratching and smelling the delicious treats throughout the book including hot chocolate and candy canes.
14. Mr. Willowby's Christmas Tree by Robert E. Barry (Ages 3-7)
*Classic picture book
Read what happens to the top of Mr. Willowby's tree as it brings Christmas joy to all the animals. Add this classic picture book to your family collection this year!
15. How to Catch a Gingerbread Man by Adam Wallace (Ages 4-6)
*A New York Times bestseller
A spin from the classic story, the famous Gingerbread man has come to life and jumped right off the pages! What other characters will he meet in the book store and will he be caught?
"Run, run, as fast as you can!"
16. Christmas Farm by Mary Lyn Ray (Ages 2-6)
Good friends, Wilma and Parker work to carefully plant and raise Christmas trees. This story is told in a lyrical way that makes it a wonderful holiday read-aloud.
17. Christmas Stories Vintage 8-Book Boxed Set by Cottage Door Press (Age 3-8)
*Childhood Favorites!
Read all your favorite childhood Christmas stories in one book. This set includes 8 classic Christmas tales with beautiful illustrations toddlers and kids of all ages will love.
The Night Before Christmas, The Gingerbread Man, The Christmas Snowman, and more are included in this set.
18. Dream Snow by Eric Carle: Picture Christmas Books (Ages 2-4)
*Bestselling Author
Beloved author, Eric Carle, brings us a beautiful book about a farmer getting ready for a long Christmas Eve nap. But how can Christmas come if there is no snow? He awakes from a snowy dream to find that it is indeed time for a magical Christmas.
19. Snowmen At Christmas by Caralyn Buehner (Ages 2-6)
How do snowmen celebrate Christmas? Cuddle up and read this snowy bedtime story with your little one to find out!
20. Pick a Pine Tree by Patricia Toht (Ages 2-6)
Beautifully painted illustrations and rhyming text will carry you through a story of preparing for Christmas. Starting with the most important task – picking out a tree! See how a pine tree is transformed into a beautiful Christmas tree by the end of the story.
Read this book before decorating your own family tree this year!
Children's Christmas Read-Aloud Picture Books
Kindergarten and elementary students will enjoy listening to AND reading these Christmas picture books.
21. Click, Clack, Ho! Ho! Ho! by Doreen Cronin (Ages 4-8)
*Caldecott Honor-Winning Illustrator!
Farmer Brown and his ornery farm animals are back in this Christmas edition. While Farmer Brown is busy preparing for Santa, Duck has other plans….will Christmas be saved?
Find this Click, Clack book here.
22. Little Red Sleigh by Erin Guendelsberger (Ages 2-7)
*New York Times Bestseller!
In this heartwarming story, Little Red Sleigh is determined to become Santa's big red sleigh. With the help of friends, will she make it to the North Pole before Christmas? Will her dreams come true?
Anyone with a dream will enjoy and be inspired by the story of Little Red Sleigh.
23. Santa's Smelly Socks! by Len Foley (Ages 3-10)
"Twas the night before Christmas and all through the town, were smelly socks and putrid pants that made Ol' Santa frown!"
Enjoy a laugh-out-loud read aloud that everyone in the family will love. Plus, learn the real reason we hang stockings on the mantle for Santa!
24. Dasher by Matt Tavares: Best Christmas Picture Books (Ages 3-6)
Meet Dasher, a young reindeer in a traveling circus who dreams of another life. Bravely, she journeys to follow her dreams to meet Santa. Her life will never be the same!
Find this beautifully illustrated picture book here.
25. The Polar Express by Chris Van Allsburg (Ages 3-7)
*Caldecott Medal
Join a young boy on The Polar Express as its makes its magical journey to the North Pole. A Caldecott Medal winner and a beloved classic, this book will hold a special place in your heart. Make it part of your holiday tradition here.
After reading, enjoy the equally magical movie here.
26. How the Grinch Stole Christmas by Dr. Suess (Ages 5-9)
"Every Who down in Who-ville liked Christmas alot….
But the Grinch, Who lived just north of Who-ville did NOT!"
Enjoy this loveable Dr. Suess classic tale and discover the true meaning of Christmas from the Grinch himself.
27. The Night Before Christmas by Clement Moore (Ages 1-6)
*New York Times #1 Bestseller
'Twas the night before Christmas, when all through the house….
A best picture book Christmas list would not be complete without this timeless poem. Read this classic edition as a Christmas Eve tradition with the entire family. This edition also includes beautiful fold-out pages for extra big pictures.
28. The Christmas Tree Who Loved Trains by Annie Silvestro (Ages 4-8)
When a little tree is chosen as a Christmas tree, she is taken away from the trains that sped past her tree farm that she has grown up loving. But is she in for a surprise on Christmas morning?
Enjoy a sweet holiday tale for train-loving children!
29. A Simple Christmas on the Farm by Phyllis Alsdurf (Ages 4-8)
*Don't miss this touching story!
This is a wonderful book that shows how a simple Christmas on a farm can help us focus on the important parts of Christmas- family, community, giving, and making meaningful connections with those we love. Included are directions for making three handmade Christmas gifts.
This Christmas picture book is a companion to Thanksgiving in the Woods.
30. Great Joy by Kate DiCamillo (Ages 4-8)
*A New York Times Bestseller and A Time Magazine Top 10 Book of the Year
Read this compassionate tale by Newberry Medalist author Kate DiCamillo and discover a young girl whose kindness for someone else demonstrates the true meaning of Christmas.
31. The Snowflake by Benji Davies (Ages 4-8)
This well-written Christmas picture book starts with two stories. One is a story of a little girl wishing for a perfect Christmas tree. And one is a story of a snowflake wanting the perfect place to land. In the end, their stories intertwine for the perfect ending.
32. Ming's Christmas Wishes by Susan L. Gong (Ages 3-8)
The thing Ming wants most for Christmas is to feel like she belongs somewhere. As an immigrant in California in the 1930s, she doesn't fit in. Will her Christmas wish come true? Or will she discover something else about belonging and family?
33. The Legend of the Poinsettia by Tomie DePaola (Ages 5-9)
In this Mexican legend, by beloved author Tomie DePaola, the story of the Christmas poinsettia is told along with the story of a girl and a special gift from the heart.
Beautiful illustrations and a sweet, meaningful story make this a great Christmas book addition.
34. The Carpenter's Gift by David Rubel (Ages 5-9)
Set in New York City during the Depression, comes a beautiful Christmas tale about the Rockefeller Center Tree.
Henry works with his father selling Christmas trees. They donate leftover trees to construction workers building Rockefeller Center. Because of this kindness, they receive a new home. There, Henry plants a pinecone from that first Rockefeller Center Tree and after many years, Henry is able to repay the act of kindness.
At the end of the book, the author gives the history of the Rockefeller Tree and of Habitat for Humanity. It will surely inspire readers to give back this holiday season.
Best Christmas Books for Older Readers
Upper elementary and older readers will want to pick up the chapter books on this list in time for Christmas.
35. The Family Under the Bridge by Natalie Savage Carlson (Ages 7-11)
*Newberry Honor-winning book
Armand lives a simple life on the streets of Paris. Until the day before Christmas, when he finds three cold and hungry children under his bridge. Armand sets out to take care of these children and find them a home.
Older readers will love this fast read with a heartwarming story.
36. The Best Christmas Pageant Ever by Barbara Robinson (Ages 7-10)
"One of the best Christmas books ever." –Publishers Weekly
Readers will enjoy this laugh-out-loud chapter book featuring the ornery and downright awful Herdman kids. When they take over the church Christmas pageant, their shenanigans are just the beginning. But all it takes is the magic of the true Christmas story to make it the best Christmas pageant ever.
Enjoy this book with your entire family this Christmas!
37. The Christmas Pig by J.K. Rowling (8 yrs+)
*Bestselling Author J.K. Rowling
Jack has lost his beloved childhood toy, Dur Pig. Jack's new toy, the Christmas Pig, comes up with a plan to help Jack find his lost friend. Adventure with Jack and the Christmas Pig as they find the magic in Christmas.
The rich vocabulary in this book make it a great pick for 3rd grade and older.
38. A Boy Called Christmas by Matt Haig (Ages 7-12)
*Now a Netflix Movie
Nikolas is an eleven-year-old nicknamed "Christmas." Join Nikolas on a journey to the North Pole to find his missing father. Along the way, he meets unlikely friends and finds that he is the only person that can help a struggling village regain its Christmas spirit.
Can he find his father before it's too late?
39. The Girl Who Saved Christmas by Matt Haig (Ages 8-12)
*New York Times Bestseller Author
In this follow up book to A Boy Called Christmas, we meet Amelia. The first child to receive a Christmas gift and to give Santa the magic to make his first trip. Unfortunately, Amelia's mother is ill and she is sent to work for a cruel man. Amelia may be the only one that can save Christmas, but she has to regain hope and believe again.
This is a great Christmas read aloud for the entire family!
40. The Last Holiday Concert by Andrew Clements (Ages 8-12)
*Author of the popular book Frindle
Hart Evans is the most popular kid in sixth grade and everyone knows it (including the teachers). This works to Hart's advantage until he hits the chorus director with a rubber band during class.
Suddenly, Hart finds himself in charge of producing the holiday concert. Will this be the last holiday concert for Hart? What will Hart discover about himself?
41. The Christmas Mix Up by Justin Johnson (Ages 6-12)
How do you know if you are on the naughty or nice list? Penelope receives a letter telling her. And what's worse, it says she is on the naughty list! She doesn't know why. It's almost Christmas and she sets out on a journey to straighten up this mistake with Santa himself.
42. Nancy and Plum by Betty MacDonald (Ages 8-11)
From the author of the popular Mrs. Piggle-Wiggle books, we meet Nancy and Plum. Orphaned sisters who are unhappy at boarding school and all alone for Christmas. The sisters team up with a plan to change their situation.
Read this story of kindness, hope and adventure this holiday season.
43. Nancy Drew Diaries: A Nancy Drew Christmas by Carolyn Keene (Ages 8-12)
In this book, our favorite sleuth is forced to stay in bed with a broken leg from an unfortunate skiing accident. And things go from bad to worse because Nancy Drew always has a mystery to solve. Can she solve the case in time for Christmas?
44. When Santa Fell to Earth by Cornelia Funke (Ages 8-12)
*New York Times Bestseller Author
Niklas Goodfellow is the last remaining real Santa and all magic has been banned. Will this young Santa have the courage to save the magic of Christmas? Cozy up with this fun and entertaining book.
45. Long Live the Pumpkin Queen: Tim Burton's The Nightmare Before Christmas by Shea Ernshaw (13 yrs+)
*1 Best Seller in Teen & Young Adult Dark Fantasy
The future of Halloween Town is at stake and Sally journeys to other holiday worlds to save it. This is the book you want if your older reader is looking for something different this Christmas season.
Best Nativity Books For Children
If you are looking for picture books on the nativity story, here are five of my favorite. Everyone in the family will enjoy reading these books about the very first Christmas.
46. The Christmas Blessing by Erin Guendelsberger (Ages 4-7)
The animals must work together to prepare the stable and have the manger ready in time for a special arrival. Read aloud this beautiful tale of the very first Christmas.
47. Mortimer's Christmas Manger by Karma Wilson (Ages 3-6)
*A favorite in our house!
Meet Mortimer, a mouse that lives under the stairs. As Christmas approaches, Mortimer finds a new home that is a perfect size for him. He snuggles into the small bed and falls fast asleep.
He awakens to the story of the first Christmas being told. Mortimer realizes his new home is anything but ordinary, and the small bed he has been sleeping in is meant for someone important.
Adults and children will love this sweet and uplifting tale of a mouse hearing the Christmas story for the first time.
48. Silent Night by Lara Hawthorne: Christmas Picture Books (Ages 3-6)
Celebrate the birth of the Savior through this book told with the words from the song Silent Night. Beautiful illustrations and a beloved Christmas carol make this the perfect book to share at Christmas.
49. Humphrey's First Christmas by Carol Heyer (Ages 2-5)
This book tells the story of a camel named Humphrey and his long journey carrying the wise men to Bethlehem. Read this moving story as Humphrey finds himself giving a special gift to baby Jesus.
50. Star of Wonder by Dan Crisp (Ages 1-5)
*A star that blinks while you read!
Young children love this board book with a bright blinking star that hangs in the sky as the wise men journey to Bethlehem.
Creative Ways To Enjoy Christmas Picture Books
Reading books together is one of the best ways to connect with your children. Looking for some creative ways to incorporate Christmas books into your already packed holiday season? Check these out!
1. Make A Christmas Picture Book Countdown
Start with as many Christmas picture books as you choose. Wrap one for each day leading up to Christmas.
Then let your kids unwrap a book daily and read it together. Add numbers to the wrapped books to make it a countdown or let your kids pick the one to unwrap.
Read more about the Christmas book countdown idea here.
2. Buy A New Christmas Story Book Each Year
Create a tradition of giving your kiddos a new Christmas book each year. Make it more special by personalizing the book with the year and your child's name. You could even write a note to your child about special things that happened this year or reasons you love them.
Your kids will start looking forward to this special gift each year. And will want to continue the tradition long after they leave home.
3. Have A Family Night Out To Read
Take your family to a local bookstore or coffee shop and spend time reading together. My two young boys love to do this. We are free from the distractions of home life, and being in a different environment feels more fun!
4. Try The Icelandic Book Flood Tradition
I recently came across an Icelandic tradition called Jolabokaflod, or 'The Christmas Book Flood.' Books are exchanged on Christmas Eve, and then the rest of the evening is spent reading and drinking hot chocolate. Doesn't that sound amazing?
Interestingly, Iceland publishes more books per capita than any other country. And Iceland sells most of its books between September and November as people prepare for the holiday. Read more about this tradition here.
*Consider moving this tradition to a different night during the holiday season if Christmas Eve is too busy for your family.
5. Have A Book and Movie Night
Read a popular Christmas book together, pop some popcorn, and then enjoy the movie!
6 Fun Christmas Movie Nights With the Book
6. Kids Christmas Morning Books
I once had a smart mom tell me that she left new books outside of her kids' bedroom doors on Christmas morning.
This ensured early risers had something new to read while they waited for mom and dad to wake up on Christmas morning. It's worth a try for a little more sleep!
Free Printable: Best Christmas Picture Books For Kids
There is something for kids of all ages on this list AND so many books families can enjoy together.
I challenge you to read some new books and try a new book tradition this holiday season.
Now, grab your Free Christmas Picture Books Printable below and then let me know what books you love!
More posts about books for kids you'll love…
50 Classic Family Christmas Books For Toddlers & Older Readers