8 Easy Christmas Movie Night Ideas for a Fun-Loving Holiday
Christmas movie night ideas will kick off your festive holiday family nights. These exciting yet easy ideas make the perfect combination we need this time of year!
Who doesn't love a little festive fun?
They cover eight of the major must-see movies of the holiday season. Each holiday movie night includes a book to read, food ideas, and activities to do with your kids.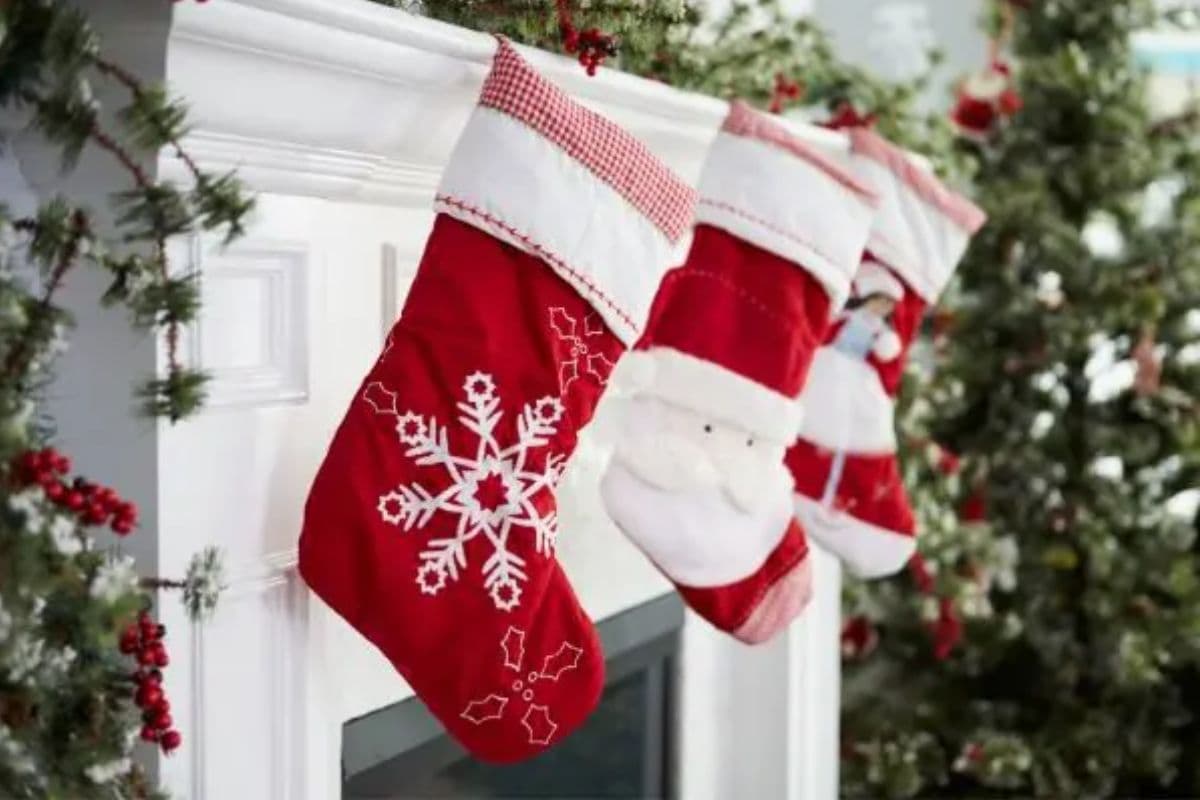 You'll find fun ways to get into the holiday spirit, and all of the ideas below are EASY TO DO. That's the most important part, as all parents know!
This post contains affiliate links, and I may earn a commission at no cost to you. See my disclaimer for more info.
8 Epic Christmas Movie Nights
1. The Polar Express
First, this fan favorite keeps the spirit of Santa alive in a unique way.
"The bell still rings for all who truly believe."

The Polar Express
BOOK
Start by reading the classic!
POLAR EXPRESS FOOD
Join the festive fun by setting up a hot cocoa bar at home when you reach the scene of men dancing. Provide hot chocolate, festive mugs, marshmallows, candy canes, and whipped cream. Let the kids create their own concoctions and enjoy singing along!
POLAR EXPRESS ACTIVITIES
Print a free coloring page and let the kids color themed pictures before the movie. Then, pass out tickets that you can customize yourself from this article at apartmentguide.com. Give the kids cheap bells beforehand to shake during the movie.
Or not, if that causes the crazies!!!
*For a huge array of fun activities, don't miss the ultimate holiday bucket list for more non-movie ideas beyond these!
2. The Grinch
This movie is a must-see (several times and in all different versions) in our house!
"Maybe Christmas perhaps doesn't come from a store. Maybe Christmas perhaps, means a little bit more."

The Grinch
OR
My husband and I are BIG fans of the Jim Carrey version, but the new Grinch is also incredible, and some still think the classic is the BEST!
What do you think? We've turned the adult favorite into a couple's tradition. See 20 festive Christmas traditions for couples for more adult ideas!
BOOK
Before the movie, be sure to read the Dr. Seuss gem!
GRINCH FOOD
Then, try a healthier green theme! Throw out some chips and guacamole, prepare a green "Grinch" smoothie, and try out these EASY Grinch fruit kabobs below from Everyday Savvy. Need a dinner idea? Make roast beef, of course!
GRINCH ACTIVITIES
Print out an easy printable and Pin the heart on the Grinch. Then do a Science experiment to grow the Grinch's heart, or try some easy Grinch slime! These are all great sensory options for small kiddos.
3. The Santa Clause
Most parents today remember growing up with these movies. So, share the love with your kids this year and make a night out of it!
"Seeing isn't believing. Believing is seeing."

The Santa Clause
BOOK
This Christmas classic accompanies the movie perfectly!
THE SANTA CLAUSE FOOD
When Scott Calvin lets down his son Charlie, he tries to make it up to him by ordering a big glass of eggnog. Cheers to your eggnog during this scene! Or try these SUPER cute and easy stuck in the chimney snack cups.
THE SANTA CLAUSE ACTIVITIES
Write a letter to Santa that's as simple or elaborate as you want! Then try these awesome printables from the Dating Divas. They include a bingo to go with the movie!
Get a free Letter HERE: Write a letter to Santa Template
4. Elf
Who doesn't love a giant man that believes he's an elf?
"The best way to spread Christmas cheer is singing loud for all to hear."

Buddy the elf
See the movie Elf here!>>
BOOK
There's no better book than the one from the movie!
ELF FOOD
Ok, I can not, in good faith suggest his spaghetti concoction from the movie. I mean, try it if you dare.
Or make these Buddy the elf sammies below, traditional spaghetti, or pancakes with maple syrup. They aren't as crazy as Buddy's breakfast, but still yummy!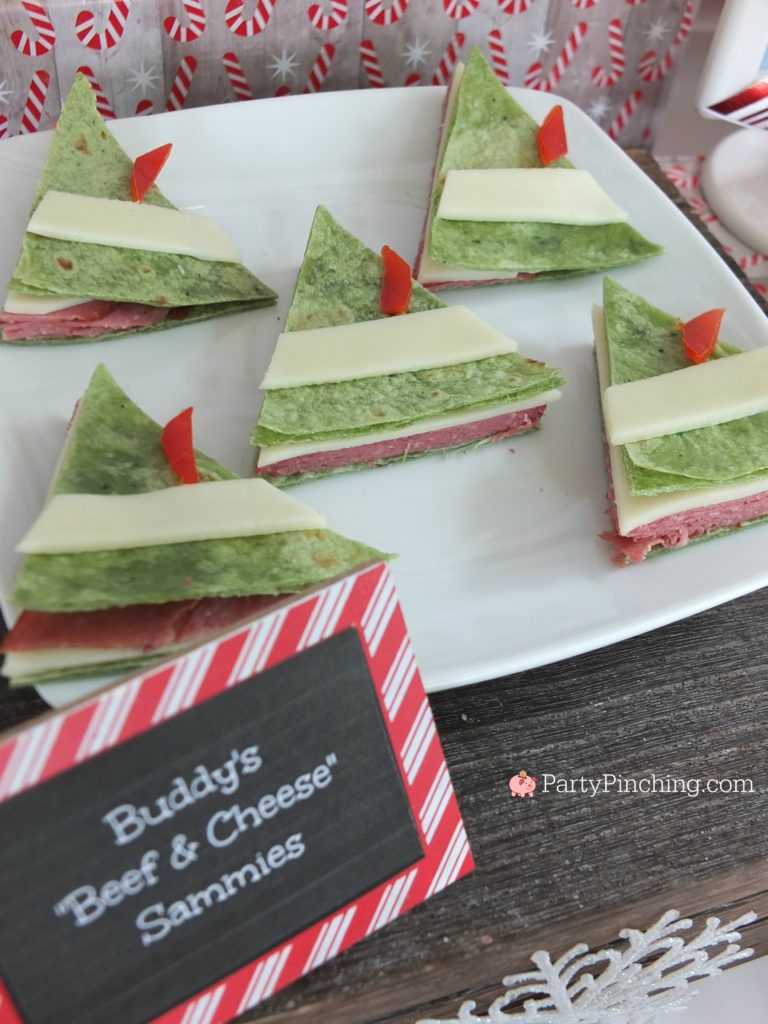 ELF ACTIVITIES
This easy craft with picture faces (below) will get everyone laughing. Need another fun activity? Print out Elf Trivia to do with the kids!
*Recruit your elf on the shelf and add to the fun with these cute free elf notes!
5. Frosty The Snowman
Frosty has a soft spot in all our hearts. This is the best time of year to share his adventure with your kids.
"He was made of snow, but the children know he came to life one day."
Watch Frosty The Snowman here!<<
BOOK
This Frosty version is perfect for the littlest ones in your family!
FROSTY FOOD
FROSTY ACTIVITIES
Are you ok with getting a little messy? Make baking soda snowmen (below) and watch them melt. I mean, what child wouldn't think this is awesome?! Check out the tutorial HERE to make it happen.
Also, check out these Frosty The Snowman Jokes!
6. Rudolph the Red-Nosed Reindeer
Enjoy the classic reindeer all children love!
"Rudolph with your nose so bright won't you guide my sleigh tonight."

Rudolph the Red-Nosed Reindeer
Watch Rudolph The Red-Nosed Reindeer!
BOOKS
This easy level 2 reader is great for kids learning to read.
Or check out the younger seek and find version below that my kids have loved for years. It's one of our favorite Christmas children's picture books.
RUDOLPH FOOD
Begin the day with fun Rudolph waffles or pancakes. It's simple! First, pile a small pancake on top of a large one. Slice banana slices for eyes, a raspberry for a nose, and add bacon antlers to finish it off. Or try these reindeer sandwiches for a themed lunch or snack.
RUDOLPH ACTIVITIES
These adorable reindeer ornaments memorialize your special Rudolph movie night. Make extras to give to grandparents this holiday season!
Then, have an open mic in front of the fireplace with these reindeer jokes and puns.
7. Home Alone
"Keep the change, ya filthy animal!"

Kevin McCallister
Watch Home Alone here!
BOOK
Watch this storybook version of Home Alone.
HOME ALONE FOOD
Eat like your parents aren't home!
Order in a cheese pizza or light some candles and eat macaroni and cheese at the dining room table- just like Kevin! Make a small version of Kevin's ice cream sundae for dessert!
HOME ALONE ACTIVITIES
Fill in this Family Movie Night Silly Story and then play Home Alone Trivia Game!
8. The Muppet Christmas Carol
"God bless us, everyone!"

Tiny Tim
Watch The Muppet Christmas Carol<<
BOOKS
Read an illustrated story version of The Muppet Christmas Carol or read the classic A Christmas Carol story.
MUPPET CHRISTMAS CAROL FOOD
"Please sir, I'd like some cheese." Make a cheese charcuterie board that your family will enjoy!
Or try a plum pudding recipe inspired by the movie!
MUPPET CHRISTMAS CAROL ACTIVITIES
Make a list and complete some Christmas kindness activities to spread holiday cheer and generosity to others.
More Fun Christmas Night Movies
Want more movies to brighten your holiday season? Check out these other options:
Christmas Movie Night Games
Add to your family movie nights with these Christmas game ideas.
Free Activities Calendar
Sign up for the free calendar!
What's Next? Family Night Club
Next, check out what our Family Night Club is all about! We have movies, activities, and food for a family night once a week sent directly to you!
Remember, you don't need perfectly planned family nights to create joyful memories.
There are some days during the holidays when it's a massive feat to get dinner on the table. So, breathe. And get inspired. But keep it fun and stress-free with these Christmas movie night ideas.
Other Christmas Posts to Enjoy…
Christmas Movie Night Ideas for Priceless Family Time