Free Christmas Charades Printable to Boost Your Holiday Fun
Christmas Charades List + Movies + Free Pdf
Looking to connect and skyrocket your fun this holiday season? Try a Christmas charades game – with this unique list of ideas, Christmas movies, and a free printable to get you started.
How to Play Christmas Charades
First, Christmas charades is just like normal charades, and there are lots of rule variations. You can play two main ways:
1. Split Into 2 Teams
If your group is big enough, divide into two teams. One player from each team acts out the card, and you can play one of these ways:
The first group to guess correctly gets a point and play stops to rotate actors.
The groups go through the cards at their own pace using a timer. 30-60 seconds is a good amount of time, but you can vary it. Once the timer stops, the actor rotates and the points are tallied.
For both versions, the group with the most points at the end of the game wins.
2. Everyone Guesses
In this variation, one person in the group acts out the card. The first person to guess correctly out of the group gets a point and the actor rotates with each turn. At the end of the game, whoever has the most points wins.
You can also use a timer and play against the clock with this too!
This post contains affiliate links, and I may earn a commission (at no cost to you). I only mention products I love and recommend. See my disclaimer for more.
What You'll Need for Charades
Luckily, it's pretty simple! Here's what you need to play the Christmas charades game:
Paper and pencil to keep score (use Christmas paper for extra fun)
Slips of paper with the Christmas words (see the free printable below)
A grab bag, Santa hat, or jar to put the papers in
A timer (if you're going to use one)
Christmas prizes (see easy ideas below)
Charades Words List for Christmas
Now, here are the holiday ideas for Christmas charades. Write them on notecards, ordinary paper, or print off the download page.
Kissing under the mistletoe
Santa going down the Chimney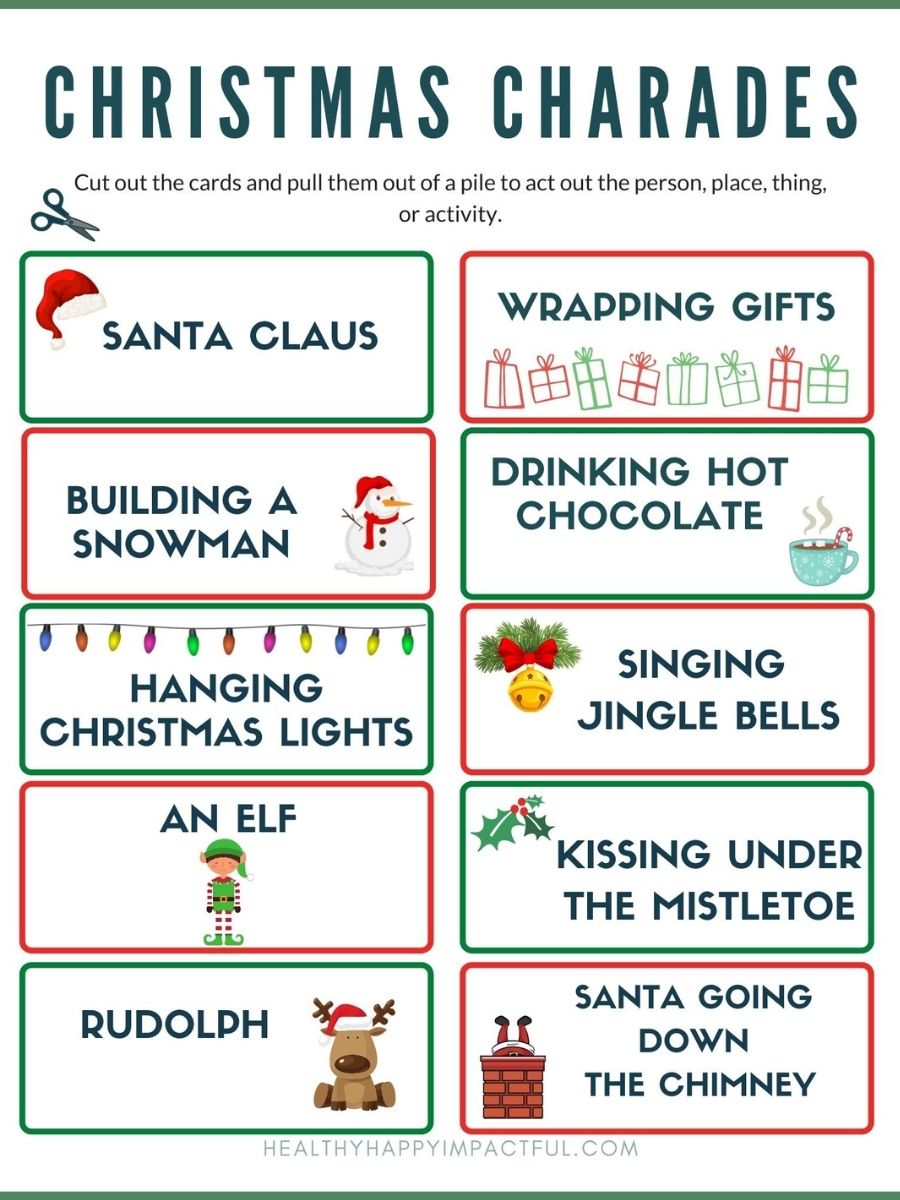 An ugly Christmas sweater
Chopping down a Christmas tree
Christmas Movie Charades
And for a Charades for Christmas movies (classic and new), check out this fun ideas list!
Rudolph the Red-Nosed Reindeer
The Nightmare Before Christmas
A Charlie Brown Christmas
Jingle Jangle: A Christmas Journey
The Nutcracker & the 4 Realms
Related Post: 6 Easy Movie Nights for Christmas
See more about the Christmas Charades game in the video:
Get the free pdf of Christmas Charades below!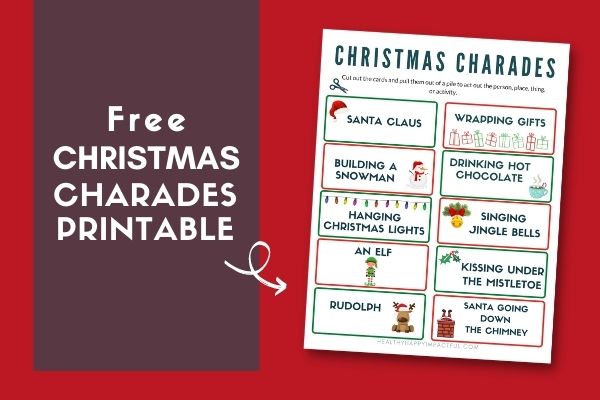 Or get an ENTIRE game done for you: see it in my shop HERE>> *Use the code CHARADES for 20% off!
And for more fun freebies like this, check out the resource library!
Christmas Charades Winner Ideas
Now, do you need a few fun prizes for the winners? These ideas are free or cheap, but LOADS of fun!
Privileges to turn on the Christmas lights for the next week
Christmas read-aloud (winner chooses the book)
A front row seat in the car when you see Christmas lights
Make Your Own Holiday Snow Globe Kit (could use as 3 different prizes)
Child picks the next Christmas movie to watch
A candy cane
A free pass on chores the next day
Related Posts: Stocking Stuffers Girls & Boys They'll Love!
Alternative Game Ideas With These Words:
Here's the cool thing about these Christmas charades words: they don't have to just be for charades! Try these other games with them too!
Christmas Pictionary
Instead of using the cards to act out the words, use them to DRAW the words. Divide your family into teams and get an epic game of Christmas themed pictionary going!
Christmas Catchphrase
Test your family's verbal skills by describing the words on the cards. See who can get their team to guess the word fastest! But remember: the one rule in Catchphrase is that you can't say the word itself.
For example, if the card is: Hanging Christmas lights
The player could say:
It's an action
These are bright and small
You hang them on a tree or your home
They change colors
Keep giving clues until your team guesses or the timer runs out!
*Or see this cute Christmas carol Catchphrase game.
A Holiday Scavenger Hunt
Finally, choose the cards that work well and make it a hunt to find everything in your home or neighborhood. Or see here for a specific Christmas Scavenger Hunt pdf >>
*Not into these? Try something different with Xmas would you rather questions or a Christmas carols trivia game >>
To Consider With Charades
Little touches like picking Christmas team names, wearing ugly sweaters, or using Christmas paper to keep score can also help make this game memorable. But certainly don't stress yourself out over it either.
I hope you enjoy playing this fun Christmas game with your family this holiday season! Have you played the Christmas charades game before? What did you think?
And see this post for everyday charades ideas kids love too!
For even more holiday bonding, get the December activity calendar in the resource library below!
More Free Christmas Printables on HHI…
Charades Ideas List for Christmas (+ Free Cards)