Free Kids Christmas Wish List Printable (Make Gift Giving Easier!)
Free Template: My Christmas Wish List for Kids!
Christmas can be hard for a mom. Not only do we have extra responsibility this time of year, but it takes TIME to figure out what to get the kids for Christmas. That's why I created this Christmas wish list for kids!
Let's make gift-giving easier for us! Plus, this free printable is simplified and helps kids focus on more than just stuff. I think you'll love it!
This post contains affiliate links, and I may earn a commission if you purchase (at no cost to you). See my disclaimer for more.
In this Christmas wish list template you'll find:
Something they need/want/read/wear: helping them focus on what they want MOST and a few items that are practical and useful.
Something they will give and wish for someone else: reminding them that the spirit of Christmas is about giving too.
Their favorite Christmas activity: guiding them to focus on experiences this holiday season.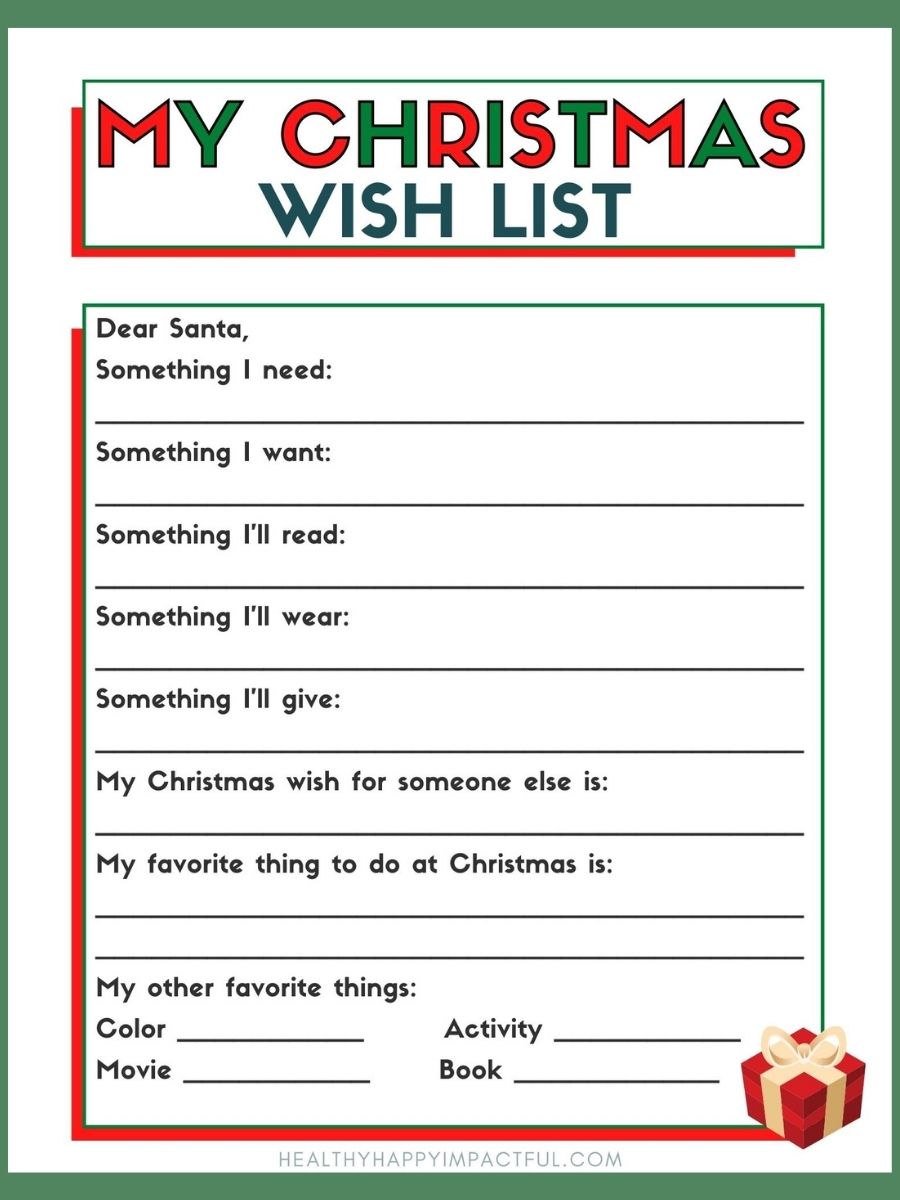 Santa Wish List Ideas for Christmas
If you or your kids are drawing a blank on the Christmas wish list, here are basic ideas to help you fill in the gaps!
Something I Want:
This depends greatly on the child's gender, age, and personal preferences. But here are a few fun ones:
Find other fun Christmas "wants" here at VeryWellFamily>>
Something I Need:
If your child has trouble coming up with something, think about the items that are used often and could be worn down or in need of replacing. Examples include:
For lots more fantastic ideas, read this great list of non-toy kids gifts – FULL of useful items!
Something I'll Read:
Here are popular kid books to check out for the Santa wish list!
For more great books, see these powerful books on growth mindset for kids and mindfulness kids books. Plus, grab free bookmarks HERE to include in the gift!
*For the best Christmas book ideas, see this post!
Something I'll Wear:
New pajamas are a favorite for our Christmas Eve box. And if your older kids have been eyeing a special pair of jeans or a sweater, this is a great time to get it too. Other ideas include:
Something I'll Give:
Go in together as a family and drop off this epic 12 days of gifts for Christmas to someone who needs it this year! You'll have a BLAST putting it together!
Favorite Thing to Do at Christmas:
For awesome ways to make beautiful memories, see:
And finally, for the perfect toddlers stocking stuffer ideas, a post is coming soon!
Now, Grab the Christmas Wish List Template here:
And for more goodies, sign up for the free resource library below!
More fun Christmas printables on Healthy Happy Impactful:
My Santa Gift Wish List for Kids