Cute Elf on the Shelf Notes: Free Printable!
Does your elf on the shelf leave notes?
Our elf, Jack, has brought the kids joy for years. But he's not perfect.
Sometimes, Jack forgets to return from the North Pole. Sometimes, Jack stays in the same spot for days. And he doesn't generally do cool stuff that elves do in other homes.
But, this year, I want to give Jack a little flair with these fun elf on the shelf notes.
Because here's the thing: I'm not into my elf making messes. That's just one more thing to clean up. Yet, sticking a note in his arms is easy, helps the kids practice reading, and produces extra excitement. It's a win-win for all of us!
*For this activity, you'll need an Elf on the Shelf* And when you're done with the notes, keep reading for creative hiding places and more.
This post contains affiliate links, and I may earn a commission if you purchase (at no cost to you). See my disclaimer for more.
Instructions for Making the Notes
Write the ideas on sticky notes or download the free file below.
If using the file, print on cardstock on your home printer to make them more durable.
Cut them out.
Have your Elf on the Shelf bring the notes throughout the season!
The Elf on the Shelf Notes
Hello Letters & Arrival Notes
First, re-introduce the elf with a quick hello note.
Oh how I missed you all year! It's good to be back!
I'm back! And I'm looking forward to a whole lot of fun!
I'm back, and so glad to be here! This definitely is the best time of year!
I'm here and I'll be staying to play, keeping you company until Christmas day.
Remember to do your best, and Santa and I will take care of the rest!
I'm back! Christmas season is here! I've returned for more holiday cheer!
Super Easy Elf on the Shelf Note Ideas
I love your Christmas tree!
Santa says to keep up the good work!
Christmas is coming! Only ___ days left!
I hope you have a holly jolly day!
Have you been kind? Tell me how.
Tell me something good that happened to you lately.
What is your favorite thing to do at Christmas?
Phew, that was a huge snowstorm I flew through last night!
I helped Santa with his list last night!
I saw you being nice! Wahoo!
Have you visited someone who needs a lift?
Smile! It's almost Christmas!
Will you read me your favorite book?
Did you do your chores today?
Jingle bells, Jingle bells….can you finish the song?
I'm thankful for playing with the other elves. What are you grateful for?
Elf Notes That Take More Effort (But Not Much!)
Can you find the 5 candy canes I hid in this room? (Hide candy canes beforehand)
Let's bake cookies today! (Leave ingredients or a cookie mix next to the elf)
Mrs. Claus sent a fun treat! Share with someone you love! (Leave a snack)
What do you think of my paper snowflake? Can you make one? (Make a paper snowflake to put next to the elf)
I drank hot chocolate with Rudolph last night. I brought you some! (Place a package of cocoa mix next to the elf)
Staying in shape is important to fly back and forth each night! (Put a large marshmallow on each end of a straw to look like dumbells)
Goodbye Notes for the Elf on the Shelf
Use these short letters to give a proper farewell.
It's time to go home! See you next year!
I'm sad to go, but I'll be back next year you know!
Do your best while I'm away, I can't wait to see you again when I come back to stay!
I'm so glad Santa could give me to lend, but our time together has come to an end.
Next year will come in the blink of an eye, so watch for me in the sky!
Do lots of cool things while I'm away. I can't wait to hear about them when I come back to stay!
Silly Elf Jokes for Notes
Now, mix it up with these jokes to spread holiday cheer.
What did one snowman say to the other snowman? Do you smell carrots?
What do you call a snoman party? A snowball!
Knock Knock. Who's There? Mary. Mary Who? Mary Christmas!
What did Mrs. Claus say to Santa when she saw clouds in the sky? "Looks like rain, deer."
How much did Santa pay for his sleigh? "Oh, nothing, it was on the house!"
What's the best Christmas present in the world? "A broken drum, you just can't beat it!"
What did the Christmas tree say to the ornament? "Quit hanging around!"
Why was the little boy so cold on Christmas morning? Because it was Decembrrrrr!
What do snowmen eat for breakfast? Snowflakes. (or Frosted Flakes!)
What does an elf study in school? The elfabet.
What did the gingerbread man put under his blankets? A cookie sheet.
Where does a snowman keep his money? In a snow bank.
Now, Get the Free Printable Elf on the Shelf Notes
For a full set of done-for-you elf notes, see my shop here>> *And use the code ELF for 20% off!
25 Easy Elf on the Shelf Hiding Places Ideas
Not sure where to put your elf on the shelf and notes? Add the elf to these hiding spots around your home.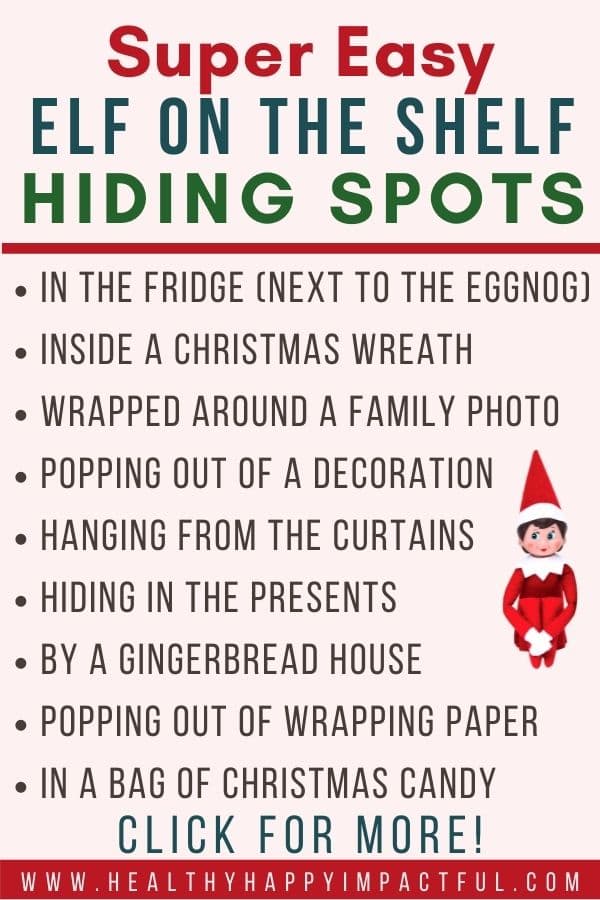 On top of or hanging from the fireplace mantle
At the top of your Christmas stockings
In your Christmas tree
In the fridge (next to the eggnog is fun!)
Inside a Christmas wreath
Wrapped around a family photo
Popping out of a Christmas decoration
Hanging from the curtains
Hanging on a light fixture
Next to a Christmas advent calendar activity to do
Hiding in the presents under the tree
Hanging out by a gingerbread house (or inside of it if it's large enough and open!)
Popping out of a roll of wrapping paper
On a table or in a dollhouse playing with action figures, dolls, or dinosaurs
In a bag of Christmas treats or candy
Hanging from Christmas lights
Inside a jar
Inside a toilet paper roll
Inside the silverware drawer
On top of a laundry basket
Above a large mirror
Hiding behind a plant
Above your kitchen cupboards
Hanging off the vacuum
Napping in a box of Kleenex
Bonus Tip: Set a phone reminder! Many nights this reminder has saved the day at our house!
More Easy Ways to Jazz Up Your Elf
The elf notes should bring lots of merriment this holiday season. But if you're looking for a little more added fun, try one of these! They all take less than 5 minutes and none of them are naughty.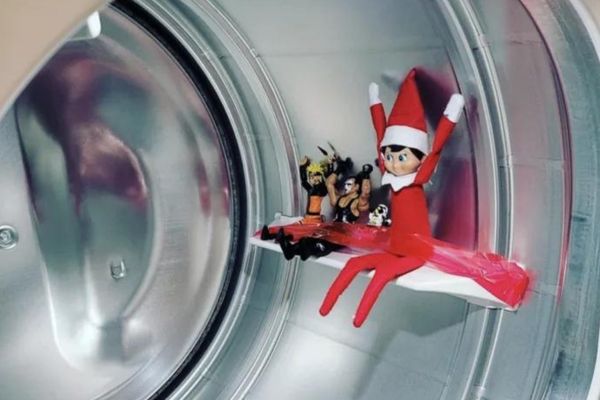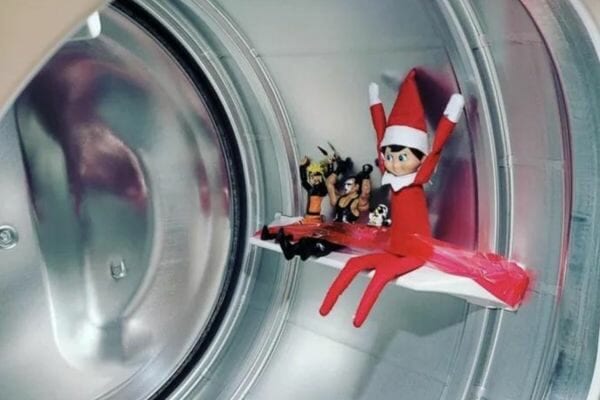 Have you elf take a bath in a bowl full of marshmallows
Spell out "elf" next to it using Cheerios, candy, or berries
Tape your elf alongside a few action figures to the inside of the washing machine to make it look like a roller coaster ride.
Have your elf make a snow angel in rice. (Use a large plate for easy clean up)
Hang a mask on the Christmas tree and use it as a hammock for your elf.
Make a snowflake next to your elf out of Q-tips
Stick two large marshmallows on either side of a toothpick and make it look like the elf is working out!
Grab a few crayons and a Christmas picture and make it look like your elf was coloring.
Don't miss these other free Christmas printables too…
To Consider With the Elf Notes Printables
Remember, this is for fun, and not meant to stress you out. If it's too much to do during this busy time of the holidays, then save it for next year or only do a note or two. Now, have fun and enjoy!
More Holiday Fun for You…