Free Printable Christmas Advent Calendar for 2023
A Printable Christmas Calendar Countdown!
Today I have a free printable Advent calendar for you! I outline all the fun (and simple) advent calendar activities in the post below.
First, this family Advent calendar focuses on two important things:
Family Time & Experiences
Giving to Others
Now, my Christmas calendar doesn't have to be the same as yours! At the bottom of this article, I included additional activity ideas as well as more religious advent calendar activities to add to your template. There are ideas for everyone!
*Get this printable AND make your own with a blank advent calendar template through the sign up form at the bottom of the post!
This post contains affiliate links, and I may earn a commission (at no cost to you). I only mention products I love and recommend. See my disclaimer for more.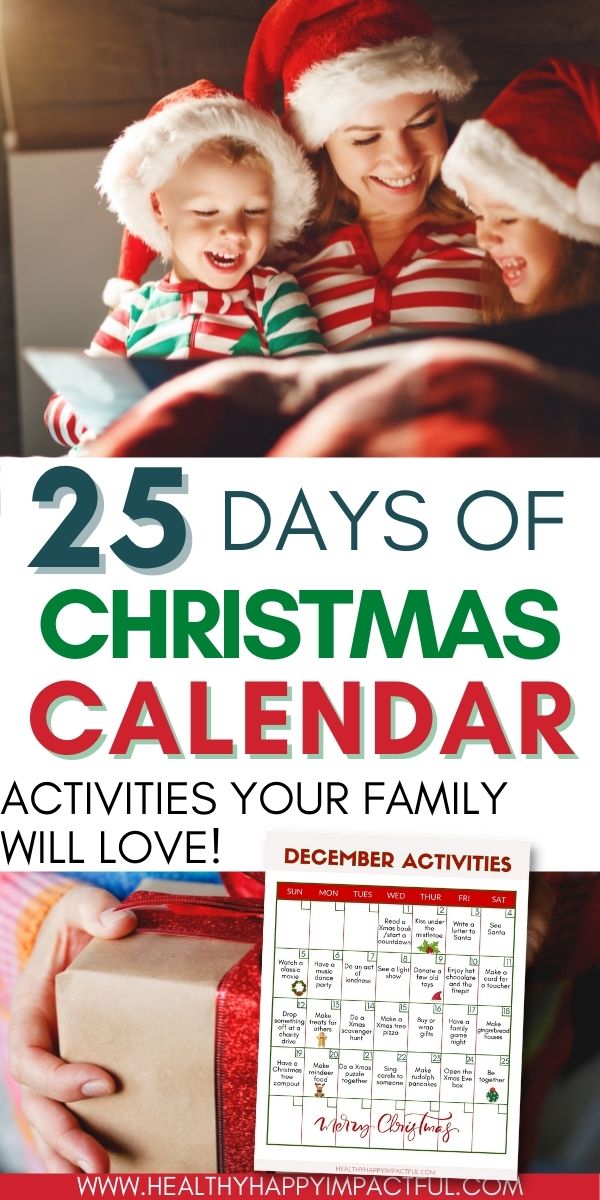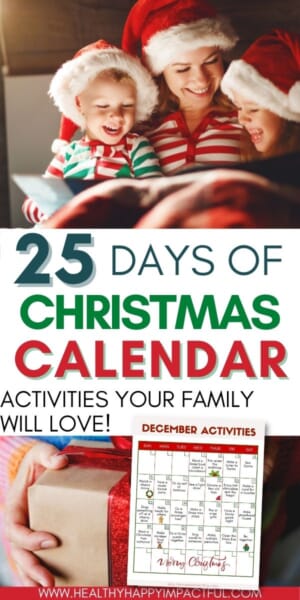 Printable Advent Calendar Activities for Families
1. Read a Christmas Book / Start a Countdown
We love doing a Christmas book countdown! (You can find the best Christmas picture books here)
But re-introducing the elf on the shelf is another way to kick off the season.
2. Kiss Under the Mistletoe
Chase your loved ones under the mistletoe today for some SUPER EASY and hilarious holiday cheer.
3. Write a Letter to Santa
Write a fun letter to Santa and/or have the kids fill out this more meaningful wish list.
4. See Santa
Our Bass Pro has an amazing Santa and always does a good job of delighting the kids.
Related Post: Make Your Own Holiday Bucket List
5. Watch a Classic Christmas Movie
Christmas movies are both easy and fun! Use these movie night ideas for the holidays to make it extra special.
6. Have a Christmas Music Dance Party
Crank up your favorite holiday tunes and move furniture out of the way. It's time for a dancing and signing party!
7. Do an Act of Kindness
Make it random like leaving candy canes on cars, or be super intentional with one family by dropping off this creative gifts for the Christmas 12 days song.
8. See a Light Show
Either check out a formal light show or spend the evening driving around to the coolest neighborhoods. For added fun, let the kids take a travel cup of egg nog or hot chocolate and a blanket. They'll think it's amazing!
9. Donate Old Toys
Get the kids to round up their unused toys and donate them. Not only does this help someone in need, but you also have a chance to clean out before adding the new Christmas stuff.
10. Enjoy the Fire Pit
Grab your chair and blankets and sit by your backyard fire pit with a cozy drink. Enjoy just being together for a night of fun and conversation.
Need conversation ideas? Check out these
11. Make a Card for a Teacher
Make your own homemade card or fill out this free printable thank you letter. Your teacher will appreciate the extra love and you'll be teaching your child the importance of being grateful. Attach a small holiday gift and you are good to go!
12. Drop Something Off at a Charity Drive
Most schools and churches do charity drives around this time of year, so spend the day gathering items. If this is too much work right now then donate money instead.
13. Make Treats for Others
Make cookies or healthy holiday treats and spend the evening dropping off the goodies to those you love!
14. Do a Christmas Scavenger Hunt
Holiday scavenger hunts for kids are super easy and help burn off excess energy. Print off this one, and then watch the kids have a great time.
15. Make a Christmas Tree Pizza
Instead of ordering out, get creative and make your own pizza tonight! Except, instead of the usual, shape your pizza crust into a tree or Christmas wreath.
16. Buy or Wrap Gifts
This activity needs to be done, and it's easier to do with help. So, gather your tribe and work through your list. When wrapping together, turn on your favorite Christmas music or movies and make an evening out of it.
Helpful Gift Posts:
17. Have a Family Game Night
Give your normal family game night a holiday spin with this Christmas charades game, trivia Christmas questions, or would you rather Christmas edition.
18. Make Gingerbread Houses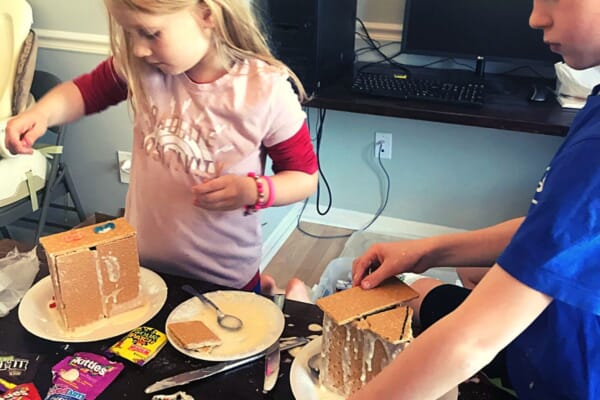 Gather your graham crackers, leftover Halloween candy, and icing to spend the night getting creative with your food! (Or make it easier with a gingerbread kit)
19. Have a Christmas Tree Campout
For one night, let the kids sleep next to the Christmas tree in the living room. It makes for sweet memories and isn't hard to do.
20. Make Reindeer Food (Advent Calendar Printable)
Reindeer food is easy to make! Mix together oats and sprinkles (add glitter if you're brave) and you've got a mixture those reindeer will adore.
21. Do a Christmas Puzzle Together
We love doing at least one Christmas puzzle leading up to the big day. Am I the only one that finds it relaxing? Here's the one we bought last year.
22. Sing Carols to Someone
Pop in on someone and surprise them with a group Christmas carol!
*Bonus: If someone you love lives far away, make a video of your Christmas carol and send it!
23. Make Rudolph Pancakes
Next, making a reindeer out of your morning pancakes is really easy. Overlap a small pancake onto a large one, then use bacon for the antlers and berries for the eyes and nose.
(Whipped cream gives your eyes some flair if you have it too!)
24. Open a Christmas Eve Box
I love doing a Christmas eve box because we use it as a way to add quality family time to our holiday. I typically include:
New winter pajamas
Hot chocolate and marshmallows
Fruit snacks, popcorn, or another fun small treat
A new family game – see here for family game ideas!
An updated family photo (they keep a picture on their nightstands)
But yours can look however you want! Use these fun and cheap Christmas Eve box ideas to customize one for babies, kids, teens, or adults!
25. Christmas Day 2023: Be Together
This day is for family. So, put your phone and devices away and bask in the joy of being with loved ones.
Related Post: Healthy Make-Ahead Holiday Breakfast Ideas
Great Christmas Advent Calendar Alternatives
Everyone is different and will love different things. So, here are additional advent activities to consider for your blank printable Christmas calendar:
Put up holiday decorations – Make a whole night with fun food too!
Do Christmas sidewalk chalk
Host an ugly sweater party (or any other party)
Make a homemade Christmas ornament to give to grandparents
Visit a sick or elderly friend
Make your own Christmas cards
Collect canned goods to take to a pantry
Make a popcorn chain for the Christmas tree
Make a homemade gift for a pet
Decorate your home with items from nature
Host a Christmas get-together
Take silly Christmas family photos
Write your own Christmas book
Take a bath with red and green glow sticks
Religious Family Advent Calendar Activities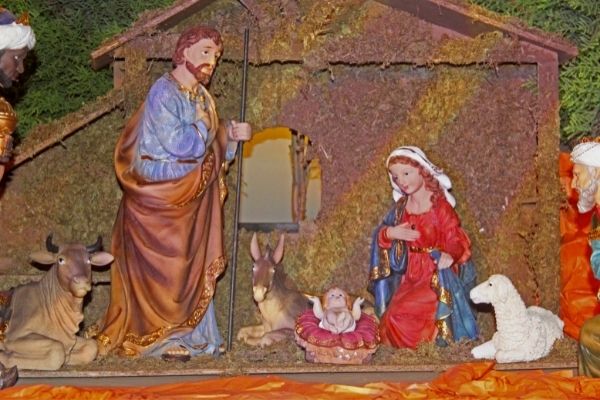 And here are extra ideas to make your Advent calendar more religious and/or meaningful:
See a nativity exhibit (or live nativity)
Read the Christmas story
Bake a birthday cake for Jesus
Attend a special church service
Act out the Christmas story
Read from the Bible
Say a special prayer
Put out your nativity scene (and talk about it)
Now, grab access to the free Advent activities calendar printable here + blank pdf template!
You'll find all sorts of great holiday printables in the resource library too!
Other Holiday Posts You'll Love
Advent Calendar Free Printable of Christmas Activities