Best Christmas Team Names: Funniest in 2023 (Claus We Said So)
Fun Christmas team names will have you clutching your belly as you laugh a hearty "ho ho ho." Don't let the competition get the jump on you!
Christmas is full of cheer. You gaze at the colored lights, decorate your tree, and sip steaming hot cocoa by a fire. But the best part is spending quality time with others.
Talking and laughing fills your heart for the coming winter. So, when you're pulling out the Christmas games, don't forget that half the fun is naming your teams.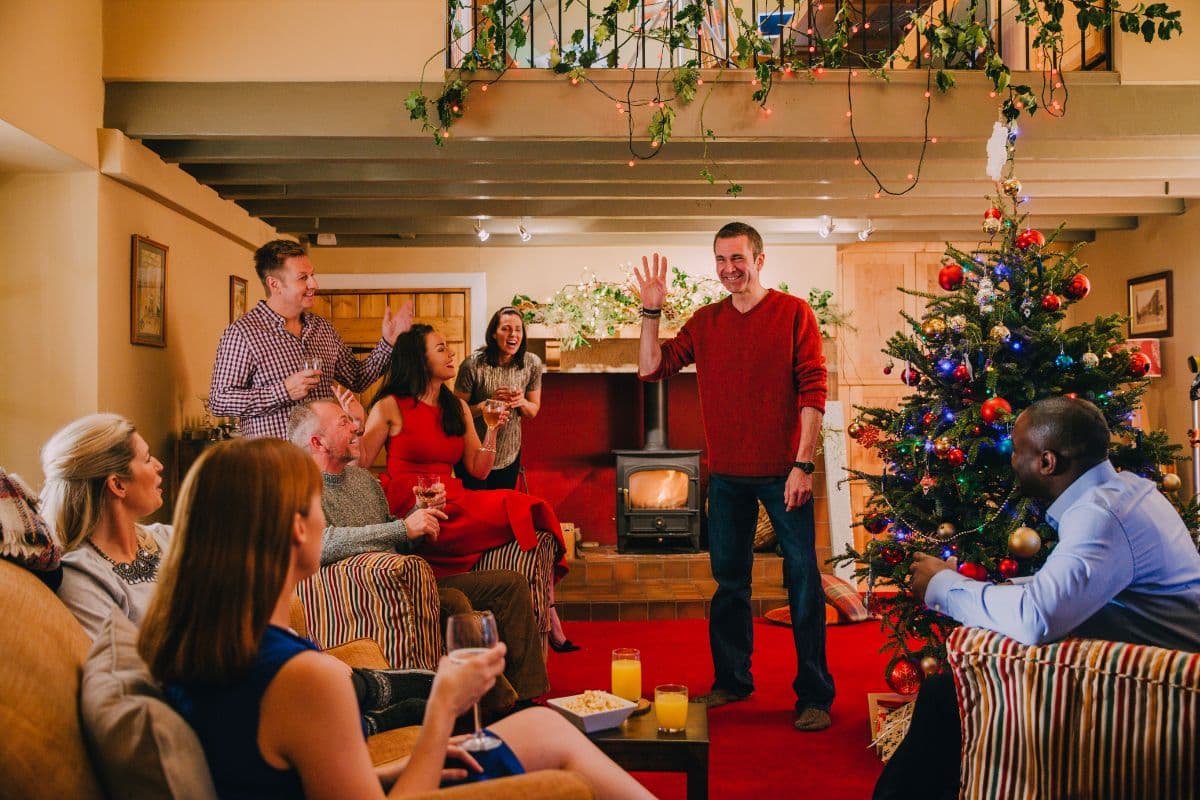 Top 10 Christmas Team Names
First, let's start with the favorites. They have funny and catchy down to an art.
1. Sleighin' It
2. Candy Cane Crushers
3. Elves on Strike
4. Batteries Not Included
5. Snow Way Out
6. Yule Be Sorry
7. Sleigher Squad
8. Holly Hustlers
9. Claus We Said So!
10. Shake it like a Pole-oriod Picture
Funny Team Names For Christmas
And even though those are our favorites, these Christmas team names are just as hilarious!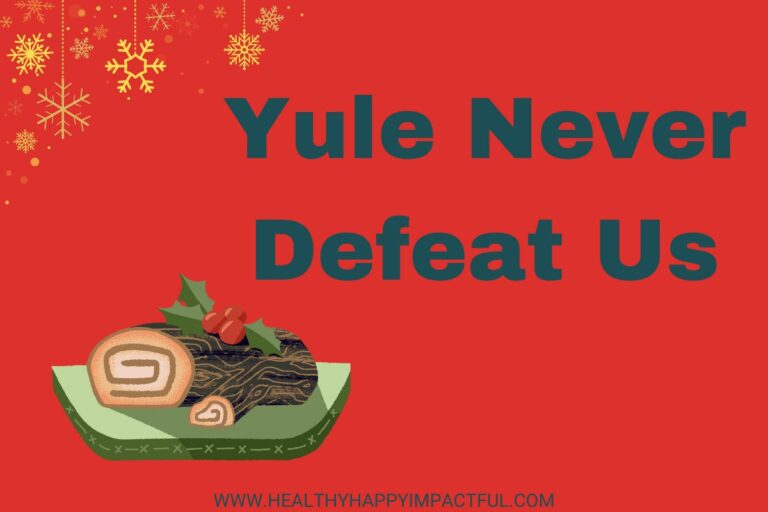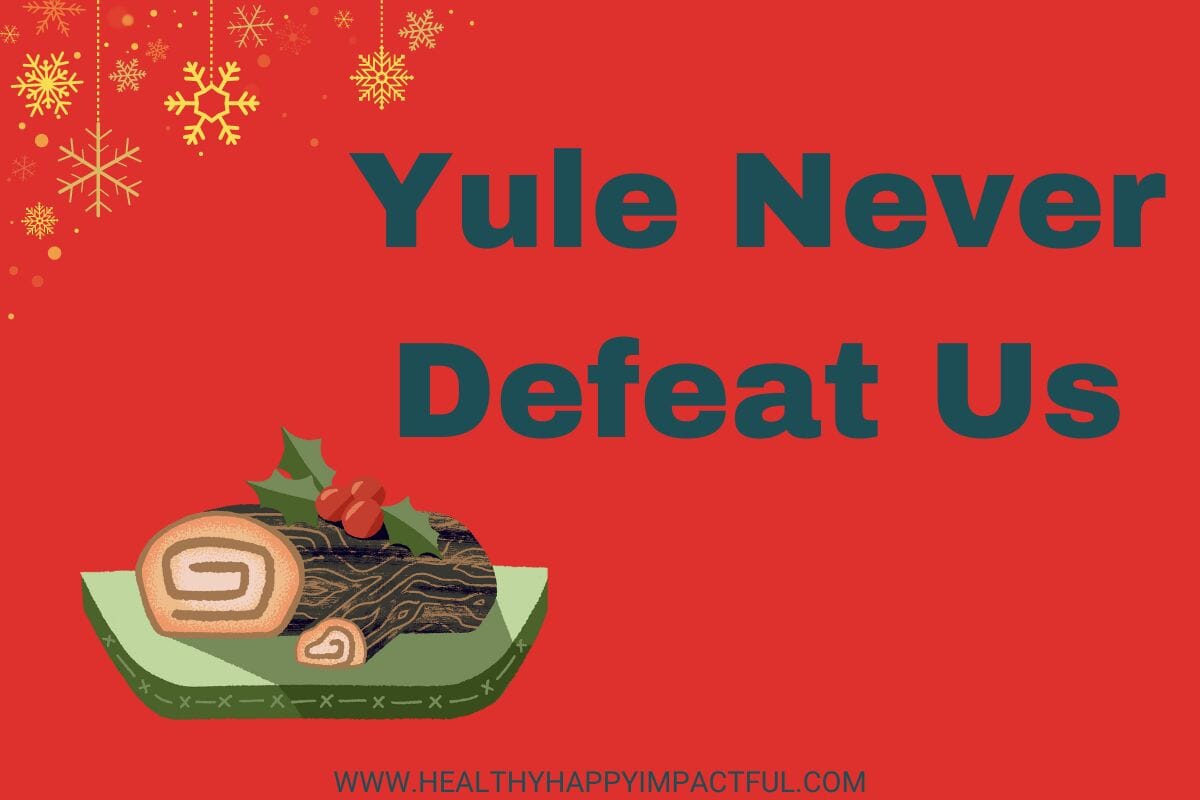 11. Yule Never Defeat Us
12. Up to Snow Good
13. Sleigh My Name
14. Fiesty French Hens
15. Here for the Pie People
16. The Ice-Ice Babies
17. Gingerbread Eaters
18. The Hot Mess Polar Express
19. The Snow It Alls
20. Resting Grinch Faces
21. Snow Me What You've Got
22. All We Want for Christmas is ______ (cheese, gold, etc)
26. Naughty Listers
27. Peppermint Pioneers
28. Bad Santas
31. All the Jingle Ladies
32. Rebels Without a Claus
33. The Elvesdroppers
34. The Flannel Fanatics
35. Jolly Rockers
36. Winter Is Coming Warriors
37. The Nutcrackers
38. Ugly Sweater Squad
39. Jolly Good Fellows
40. Never Sleigh Never
41. Gangster Gifters
42. Frosty's Flakes
Related:
Unforgettable Xmas Movie Names
These Christmas movies are just too great to leave out for amazing Christmas team names.
43. E.L.F.S (The Santa Clause: Effective Liberating Flight Squad)
44. Elves With Attitude (The Santa Clause)
45. Tinsel. Not Just for Decoration. (The Santa Clause)
46. Get That Hole In Your Pocket Fixed The Polar Express)
47. The Believers (The Polar Express)
48. Cotton-Headed Ninny Muggins (Elf)
49. Smiling's My/Our Favorite (Elf)
50. Buddy the Elf, What's Your Favorite Color? (Elf)
51. The Holiday Who-be-what-ees (Grinch)
52. Bleeding Hearts of the World United (The Grinch)
53. Fragile`, Must be Italians (A Christmas Story)
54. You'll Poke Your Eye Out Kids (See A Christmas Story movie trivia)
55. Ya Filthy Animals (Home Alone movie trivia)
56. Bah Humbugs (Scrooge, A Christmas Carol)
57. Needs a Little Love Luminaries (A Charlie Brown Christmas)
58. "It's Christmas, and we're all in Misery." (National Lampoon's Christmas Vacation)
59. The Misfit Toy Lovers (Rudolph the Red-Nosed Reindeer)
60. "Die Hard is a Christmas Movie!" Team
Related: Most Likely To Christmas Questions and Reindeer Jokes for Christmas
Make family fun a weekly affair. Join the Family Night Club and receive a done-for-you family night each week!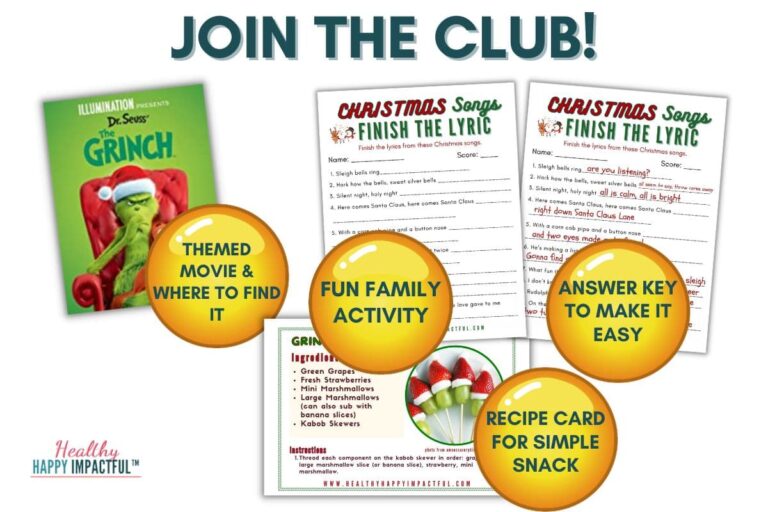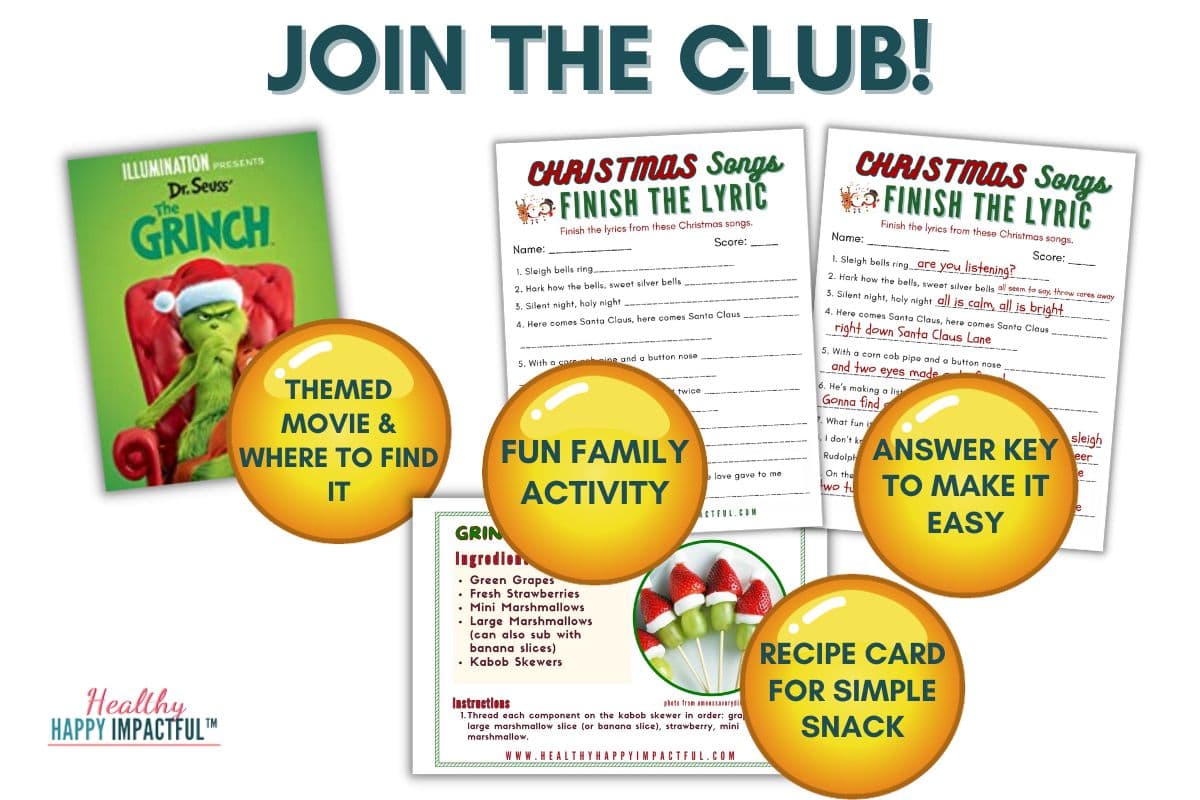 Catchy & Clever Christmas Team Names
These names flow right off the tongue or ad-lib off of a popular phrase.
61. Candy Cane Crusaders
62. Merry Mischief Makers
63. Elves off the Shelf
64. The Frosty Force Be With You
65. All The Jingle Ladies
66. Wrap Artists
67. We Make It Rein
68. Snow Pain, Snow Gain.
69. Rudolph's Rebels
70. Snow Way You're Winning!
71. Belly Full of Jellyers
72. The Snow Globetrotters
73. Jingle Jangles
74. Glitz and Blitz
75. Jingle All the Wayers
76. Mistletoe Misfits
77. Santa Paws and the Reindogs
78. Chillin' with my Snowmies.
79. Believe in Your Elf
80. Caroling Crusaders
81. Don't Claus a Scene
82. Fruitcake Frenzy
83. Scrooge Society
84. Elf-ishly Good Time
85. Gingerbread Gang
86. The Ice Breakers
87. Peppermint Twist
88. The Frost Bites
89. We Have the Final Sleigh
90. Mistletoe-ing the Line.
91. Meowy Christmas
92. Away in a Mangers
93. The Tinsel Terrors
94. It's Lit
95. Good Things Come to Those Who Bake
96. Say it Ain't Snow
97. Takes One to Snow One
100. Chestnut Roasters
101. Can We Get a Watt Watt?
102. The Ho Ho Homies
103. Bowl Full of Jelly
104. Naughty & Nice
105. Cookie Corner Cutters
106. Sparkling Star Strikers
107. Santa's Secret Squad
108. Guardians of the Good Gifts
109. Snow Rest for the Wicked
110. Santa's Little Helpers
111. The Snuggle Is Real
112. If the Pointy Shoe Fits, Wear it
113. Christmas Ball Breakers
114. Silver Bells Brigade
115. The Snowglobe Shakers
116. Blitzen Balls
117. Nutcracker Ninjas
118. Christmas Card Collectors
119. Snowflake Superstar Squad
120. Letting the Cat Out of Santa's Bag
121. Holiday Hooligans
122. North Pole Nomads
123. The Krisp Kringles
124. Gingerbread Giants
125. Jingle Belles
Related:
Best Work or School Christmas Team Names
Do you have a holiday party that work well in the classroom or office? Pick from these amazing Christmas team names.
126. Here for the Cookies
127. Reigning on Your Parade
128. Re-gifters
129. The Not-So-Silent Knights
130. Secret Santa Society
131. Yule Tide Tycoons
132. Hoodies and Cookies
133. We're Fir Real
134. Sleigh What?
135. We are Snow Joke
136. Snow Laughing Matter
137. Winter Wonderkids
138. Bring Us Some Figgy Pudding
139. The Glow Up Is Real Renegades
140. Reindeer Gamers
141. Saved By the Jingle Bell
142. Silent Knights
143. Santa's Secret Elves
144. Team Hot Cocao With Marshmallows
145. Team Hot Cocoa With Whip
146. Tinsel Titans
147. Dashing Through the Competition
148. As Right as Rein(deer)
149. Queens of the North Mountain
150. Sugar and Spice
151. Runaway Reindeers
152. The Fighting Icemen
153. Calm Before the Snow Storm
154. Red-Nosed Nation
155. That's a Wrap Wrappers
156. Ho-ho-home for Christmas
157. The Stocking Stuffers
158. Winning at the (Gum)Drop of a Hat
159. Elves on Break
160. Christmas Riddle Renegades
161. But Wait—There's Myrrh.
162. Chillin' Like Jack Frost
163. On Thin Ice
164. Gingerbread Geniuses
165. The Best Thing Since Sliced Gingerbread
166. Wreath it and Weep
167. Cold Coworkers
168. How Rude-olf!
169. No Business Like Snow Business
170. Ready, Set, Glow
171. Office Elf Express
172. We're Elf-Taught Team
173. Holiday Cubicle Crew
174. Jingle Bell Jugglers
175. Merry Motivators
176. Cubicle Carolers
177. Wrap Music Marauders
178. The Claus-trophobics
179. Ministry of Elves
180. Just in the (Saint) Nick of Time
181. Deck the Meeting Halls (Or Deck the Study Halls)
182. Jingle Bell Rockstars
183. Snowballers
184. The Smarty Elves
185. Sleigh it Ain't So Squad
186. Jingle Office Rockers
187. Yule Tide Ballers
188. Jingle Jam Jammers
189. Stocking Stuffer Scholars
190. The Grinches
Related:
Specific Trivia Christmas Team Names
If you have a specific game of trivia going, these names are perfect for competition!
191. We Snow All The Answers
192. The Christmas Miracles
193. The Merry and Brights
194. The Trivia-bread Men
195. Silent Trivia Nights
196. The Ghost of Trivia Nights
197. Christmas Trivia Titans
198. Noel-It-Alls
199. Santa's Smarty Squad
200. Two Quizzers Quizzing
Related:
Unique Christmas Themed Names For Teams
201. The Mistletoe Mavericks
202. Give Us Myrrh
203. We'll Never Fir-get
204. 3 French Hens (Or any line from the 12 Days of Christmas song)
205. The Tree Skirts
206. The Eggnog Spikers
207. It's not Christmas Without _______.
208. Drumming Drummers
209. The Gingerbeards
210. Hold on for Deer Life
211. Ice Queens
212. Sugarplum Fairies
213. Get the Elf Outta Here
214. Jack Frosties
215. Treat Your Elf Team
216. Poinsettia Pioneers
217. We Told You Snow
218. We're North Polish
219. Ghosts of Christmas Future
220. Oh, Deer! Christmas is Here!"
221. Mitten Makers
222. We (Candy) Cane Do It!
223. Angelic Assassins
224. Merry Grinchmas
225. Feliz Navi-dog
226. The Snowflakes
227. Birch Better Have My Presents.
228. Time to Spruce Things Up
229. Mrs. Claus' Candy Crew
230. The Color Red Soots Us
231. Grinch Gang
232. The Christmas Rangers
233. Sleigh Racers
234. Tree's a Crowd
235. Too Cool For Yule
236. Your Presents Is Required
237. Fleece Navidad
238. We Are Santa-mental
239. We're S-mitten
240. The Ice Crispies
241. Love At Frost Sight
242. Sugar Plum Sisters
243. The Turtle Doves
244. On the (Snow) Ball.
245. The Christmas Cookie Monsters
246. Feelin' Pine
247. Jolly Ranchers
248. Home Sleet Home
249. Playing With a Chocolate Chip on Our Shoulder
250. Don't Worry, Ski Happy
Related:
Use these catchy Christmas team names:
For your next holiday trivia night
In the classroom with students
At your Christmas family gatherings
While hosting a Christmas party
What's Next? Amazing Holiday Games
Use your new team names on our favorite Christmas games!
Christmas Charades: Act out the most fun words and phrases associated with Christmas. See who can guess first! Or try this holiday pictionary.
Christmas Trivia Quiz: Test your knowledge with our best Christmas trivia questions! Who knows the most about our favorite holiday? It's time to find out!
Christmas Scavenger Hunt: Need a game for kids? Print out the hunts and get everyone searching for holiday delights.