200 Fun Christmas Trivia Questions and Answers (Family Quiz)
What are some good holiday trivia questions? (Free Printable!)
These Christmas Trivia questions are perfect for your holiday family game night or a get-together with others. You'll find unique questions and answers to test out your holiday knowledge and get competitive with those you love.
Then, grab access to the free printable at the bottom of the post!
This post contains affiliate links, and I may earn a commission if you purchase (at no cost to you). See my disclaimer for more.
Family Christmas Quiz and Answers
Christmas Movie Trivia Questions
First, test what you know about the most classic Christmas movies!
1. How many lights were on the Griswold's house in Christmas Vacation?
25,000
2. Finish this line from How the Grinch Stole Christmas: "It came without packages,
boxes or __."
Bags
3. In A Christmas Story, what gift does Ralphie receive from his aunt?
A pink bunny suit
4. Finish this iconic line from It's a Wonderful Life: "Every time a bell rings,
an angel gets his _."
Wings
5. Buddy the elf sticks to the four main food groups: candy, candy canes, candy
corns and __.
Syrup
6. Who was the bad guy Rudulph tried to avoid?
The Abominable Snowman
7. What's the highest-grossing Christmas movie of all time?
Home Alone
8. Describe the Grinch in three words?
Stink, stank, stunk
9. How many ghosts are there in 'A Christmas Carol?'
Four
10. What did the other reindeer not let Rudolph do because of his shiny red nose?
Join in any reindeer games
11. What was the real name of the character Tim Allen plays in The Santa Clause?
Scott Calvin (SC)
12. In Home Along 2, what city does Kevin mistakenly get lost in?
New York City
13. Where does the Polar Express take the children?
North Pole
14. In the story of a Christmas Carol, what is Scrooge's first name?
Ebeneezer
15. What Christmas carol does the Peanuts gang sing at the end of "A Charlie Brown
Christmas?"
Hark! The Herald Angels Sing
16. "The best way to spread Christmas cheer is __." -Elf
Singing loud for all to hear
17. What is the first rule of Christmas (According to Elf)?
The first rule of The Code Of The Elves states "Treat every day like Christmas"
18. What does Elf put on his spaghetti?
Maple syrup
19. What toy does Buddy the Elf not like?
Jack in the Box (it always seems to scare him)
20. What does Santa say to Ralphie when he says he wants a BB gun for Christmas in The Christmas Story?
"You'll shoot your eye out."
21. In a Miracle on 34th St what parade does Kris Kringle fill in as Santa?
Macy's Thanksgiving Day Parade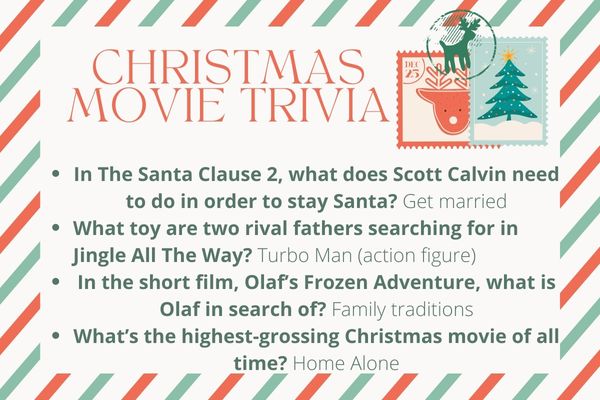 22. What is the nickname of the pair of burglars that tries to break into the McCallisters' home?
The Wet Bandits
23. In The Nightmare Before Christmas, what is Jack Skellington's nickname in Halloween Town?
Pumpkin King
24. What's the name of the Grinch's dog?
Max
25. What magical object did Bernard give Charlie in The Santa Clause
A snowglobe
26. In The Santa Clause 2, what does Scott Calvin need to do in order to stay Santa?
Get married
27. What toy are two rival fathers searching for in Jingle All The Way?
Turbo Man (action figure)
28. In the short film, Olaf's Frozen Adventure, what is Olaf in search of?
Family traditions
29. In the show, Curious George: A Very Monkey Christmas, who is George trying to find a gift for?
The Man in the Yellow Hat
*Related Post: Try the movie ideas in this free Christmas Charades game!
Christmas Carols Trivia Questions
Next, what do you know about your favorite Christmas songs?
30. In the song "Frosty the Snowman," what made Frosty come to life?
An old silk hat
31. In the song Twelve Days of Christmas, what is given on the 10th day?
Lords a-leaping
32. Finish the lyrics from Silent Night: "holy night, all is calm, all is _."
Bright
33. In "I Saw __ Kissing Santa Claus," who did the narrator see kissing Santa
Claus under the mistletoe?
Mommy
34. True or false: "Jingle Bells" was always intended to be a Christmas song.
False! It was written for Thanksgiving
35. How many total gifts are given in the song of the 12 days of Christmas?
364 (from Weird but True)
36. How old was the girl who sang "I want a Hippopotamus for Christmas"?
10 years old (from Weird but True)
37. Complete the song lyrics from "Hark! The Herald Angels Sing"
Peace on _________ and mercy mild, God and _________ reconcile.
Earth / sinners
38. True or False: The Christmas carol "Chestnuts Roasting On An Open Fire" was written during the summer.
True! During a summer heat wave
39. Elvis is not going to have a white Christmas, he's going to have a:
Blue Christmas
40. In the song "We Wish You A Merry Christmas", what else do we wish for?
A happy new year
*Find much more trivia about Christmas songs here >>
Religious Christmas Trivia Questions
To add meaning to your game, add in these questions about the birth of Jesus.
41. How many gifts were received at Jesus' birth?
Three
42. Where was baby Jesus born?
In Bethlehem
43. What did the wise men follow to find baby Jesus?
The star of Bethlehem
44. According to legend, what holiday goodies were shaped to resemble a
shepherd's staff, as a way to remind children of the shepherds who visited baby
Jesus?
Candy canes (they also started off as straight white sticks)
45. What does the word Noel mean in Latin?
Birth
46. Where was Jesus laid after he was born?
In a manger
47. What were the three gifts given by the wise men?
Gold, incense, myrrh
48. Who gave birth to Jesus?
Mary
49. Who appeared to tell Mary she was pregnant?
An angel (Gabriel)
50. World wide, the most popular time to go to church on Christmas is when?
Midnight
51. True or False: Jesus was born on December 25th
False! (According to the Bible, Jesus was most likely born in the summertime)
Related Post: 23 Meaningful Christmas Traditions to Try
Christmas Trivia for Kids About Santa Claus
These questions feature holiday trivia just for kids that highlight their favorite tradition – Santa!
52. What items are left out for Santa on Christmas Eve?
Milk and cookies
53. What are the two other most popular names for Santa Claus?
Kris Kringle and Saint Nick
54. What are the names of Santa's reindeer?
Dasher, Dancer, Prancer, Vixen, Comet, Cupid, Donner, Blitzen, and Rudolph
55. How many times does Santa say "Ho"?
Three
56. What is put into the stocking of a naughty child?
Coal
*Find amazing stockings stuffers for boys, stuffer ideas for girls, and for toddler/babies HERE>>
57. 'Twas the night before Christmas, when all thro' the house, not a creature was
stirring, not even a _."
Mouse
58. What does Santa say at the end of "A Visit from St. Nicholas" book?
Happy Christmas to all, and to all a goodnight!
59. Which real-life person is Santa Claus based on? (Use for older kids)
The Christian bishop St. Nicholas
60. What do kids in Sweden leave for Santa?
Coffee (Weird but True)
61. How many times does Santa check his list?
Twice
62. Typically, how does Santa enter a house?
Through the chimney
63. Where does Santa Claus live?
The North Pole
64. Santa's belly shakes like a bowl full of _____.
Jelly
65. St. Nicholas is the patron saint of _______.
Children, sailors, merchants, thieves, students
66. What is the traditional English name for Santa?
Father Christmas
67. Santa is the personification of ________.
Christmas
68. Santa's suit is lined with what to keep warm?
Fur
69. To let Santa know what they want for Christmas, children do this _________.
Write a letter to Santa (grab a free letter to Santa template)
For more Santa-related posts, see a wish list template for kids, and fun Elf on the Shelf Notes. And if your kids love fun facts, try these funny trivia questions for kids!
Christmas Traditions & Cultures Trivia
Next, learn more about cultural traditions around the world with these questions.
70. In Mexico, children celebrate Christmas by breaking…?
Pinatas (Weird but True)
71. Which country started the tradition of putting up a Christmas tree?
Germany
72. How do you say "Merry Christmas" in Spanish?
Feliz Navidad
73. Originally from Mexico, this red and green plant is used to decorate homes.
Poinsettia
74. What happens for the first person to find the pickle ornament on the Christmas tree on Christmas morning?
The first person to find the pickle on the tree would receive an extra present from Santa Claus or would be said to have a year of good fortune.
75. What did people put on their trees before Christmas lights?
Candles (Weird but True)
76. In Britain, if you eat this for 12 days, it is said to bring good luck.
Mince pie (Weird but True)
77. In the Southern Hemisphere, Christmas comes in the middle of…?
Summer (Weird but True)
78. According to the folklore of Austria and other countries, what horned figure
punishes naughty children at Christmastime?
Krampus
79. What country was the first to add decorations to the evergreen tree?
Germany
80. True or False: The first evergreen tree decoration was a glass ornament
False! It was an apple
81. In Finland, families eat this for breakfast on Christmas morning
Christmas porridge
82. Central American families celebrate Christmas with what outdoor display?
Fireworks
83. In Japan it's common for families to go to this American fast food chain on Christmas
KFC (Kentucky Fried Chicken)
84. In Australia, instead of reindeer, these animals are sometimes used to pull Santa's sleigh
Kangaroos
85. Long ago, Greeks traditionally decorated ________ instead of trees.
Boats
86. In Venezuela, Santa does not bring the presents. Who does?
El Niño Jesus (baby Jesus)
87. True or False: Finnish children get to open their presents from Santa on Christmas Eve
True! Santa Claus lives so close he brings the presents early
88. In Russia, children are given presents not on Christmas day but on:
New Year's Day (by Grandfather Frost)
Reindeer Trivia Quiz For Family or Friends
89. Which department store is credited for creating Rudolph the Red Nosed Reindeer?
Montgomery Ward
90. Which reindeer is named after the German word "thunder"?
Donner
91. Which reindeer shares the same name as another holiday figure?
Cupid
92. What food do children typically leave out for reindeer on Christmas Eve?
Carrots
93. True or False: The reindeer pulling Santa's sleigh are all girls
True (boy reindeer shed the antlers before winter)
94. What is another name for reindeer?
Caribou (NWF)
95. True or False: Reindeer can really fly
False
96. What animal can make clicking noises with their knees to make it easier to stay in herd during a blizzard?
Reindeer (NWF)
97. How many miles can North American reindeer migrate in a year?
3,000 miles (NWF)
98. What body part helps a reindeer warm the air they breathe?
Their nose (NWF)
Miscellaneous Christmas Trivia Questions
Next, test your general knowledge about Christmas with these questions!
99. What country first invented eggnog?
Britain
100. Which U.S. state was the first to declare Christmas an official holiday?
Alabama
101. Who wrote, "Christmas doesn't come from a store, maybe Christmas perhaps
means a little bit more?"
102. What Christmas decoration was originally made from strands of silver?
Tinsel
103. What is the most popular tree topper?
Angel
104. What Christmas greenery do you kiss underneath?
Mistletoe
105. What Christmas-themed ballet premiered in Saint Petersburg, Russia in 1892?
The Nutcracker
106. How do you shorten the word 'Christmas'?
Xmas. Origins from the mid-1500s and the Greek letter X, which is the first letter
in the Greek word for Christ: Χριστός.
107. What Christmas activity became popular by the story of Hansel & Gretel?
Making gingerbread houses
108. How much money do U.S. stores make in sales during the holiday season?
More than 600 billion (according to Weird But True)
109. In what state resides the town of "Santa Claus"?
Georgia (Weird but True) – There are two! A reader informed me there's a town called Santa Claus in Indiana too! 🙂
110. How long does it take to grow a Christmas tree?
7 to 10 years (Weird but True)
111. Who assembled the first strand of electric Christmas lights?
Thomas Edison (Weird but True)
112. Name two types of Christmas or evergreen trees
Fir, Spruce, Pine
113. In Charles Dickens' A Christmas Carol, what was the first name of Scrooge?
Ebeneezer
114. True or False: about 1 in 3 men wait to do their Christmas shopping until Christmas Eve
True!
115. What state was the world's tallest cut Christmas tree displayed?
Washington (Seattle)
116. The record for the most lights on an artificial Christmas tree is?
591,840
117. What is a popular hot drink made during the winter?
Hot chocolate
118. A Yule Log is specially selected firewood to be burned on Christmas and…
A dessert (sponge cake)
119. What Christmas decoration is a symbol for Jesus and hung on doors?
Christmas wreath
120. Which country is the leading producer of Christmas trees?
Canada
121. What was the first Christmas song to be sung in outer space?
Jingle Bells
122. What is the biggest Christmas gift ever to be given?
Statue of Liberty (given by the French to the United States)
123. The old French word "noel" means what?
Christmas
124. What alcoholic beverage is typically used in eggnog?
Rum
125. What action movie with Bruce Willis is considered a Christmas movie by some?
Die Hard
126. "Christmas Canon" is played by which famous orchestra?
Trans Siberian Orchestra
127. What European city hosts the world's largest Christmas market?
Vienna, Austria
128. What popular television channel has a 'Countdown to Christmas' with new holiday movies filmed every year?
Hallmark Channel
129. This cracking tool has become associated with Christmas because of a holiday Russian ballet. What is it called?
A nutcracker
130. In what US state is the "World's Largest Christmas Store"?
Michigan (Bronner's CHRISTmas Wonderland)
131. True or False: A 'Christmas Cactus' is a holiday decoration
False (despite the name, they are not associated with Christmas time)
132. How long was the world's largest candy cane?
51 feet long
133. What is it called when people go singing from door to door?
Caroling
134. True or False: Black Friday is the busiest shopping day for Christmas
False (the Friday and Saturday before Christmas)
135. What is the most recorded Christmas song?
Silent Night
136. True or False: Christmas used to be illegal to celebrate
True (From 1659 to 1681)
137. What item is placed in windows during the holiday season as a symbol of hospitality and warmth?
Candle
138. Do the majority of people use an artificial or real Christmas tree?
Artificial
139. What is a popular outdoor activity to do during the winter involving ice?
Ice skating
140. True or False: The United States Post Office helps Santa respond to letters
True! Check this out for more info.
Funny Christmas Trivia Game Questions
Next, these Christmas trivia questions are fun and a little silly.
141. How do you say Merry Christmas in Hawaiian?
Mele Kalikimaka
142. What are you supposed to do when you find yourself under the mistletoe?
Kiss
143. Who got ran over by a reindeer in a classic Christmas song?
Grandma
144. How many sides does a snowflake have?
6 (Weird But True)
145. Which drink manufacturer is credited for popularizing Santa's red and white outfit?
Coca Cola
146. Which fairy tale was the inspiration behind the first gingerbread house?
Hansel and Gretel
147. True or False: The United States holds the Guiness World Record for the largest gingerbread house created?
True (Texas)
148. True or False: There were protests to the song "Grandma Got Ran Over by a Reindeer"
True
149. What toy has magical powers and spies on children during the holiday season?
Elf on a Shelf
150. Which was the first US state to declare Christmas an official holiday?
Alabama
151. Which was the last US state to declare Christmas an official holiday?
Oklahoma
153. True or False: Witches are associated with the holiday season
True! (Italy & Norway both have witches in their holiday traditions)
154. What beverage is also known as "milk punch"?
Eggnog
155. What traditional Christmas decoration is also a parasitic plant?
Mistletoe
156. What fashion trend is popular for parties but not popular outside of Christmas time?
Ugly Christmas sweaters
157. True or False: Holly and Mistletoe are the same thing
False (holly is an evergreen shrub with red berries and mistletoe is a growth with with white berries)
158. True or False: There is a record for largest human Christmas tree
True (4,030 participants)
*Related Posts: Free Fun Christmas Scavenger Hunt & Free Christmas Would You Rather Game
Christmas Food Questions For Adults
How much do you know about holiday food? Let's find out!
159. Which type of sweet bread is traditionally eaten on Christmas in European countries, especially Italy?
Panettone
160. What food is considered good luck to eat on each of the 12 days of Christmas?
Mince Pies
161. True or False: Sugar plums are a fruit
False (they are a type of candy!)
162. 'Gluhwein' is what kind of drink?
Mulled wine
163. What food has a long shelf life and is popular during the holiday season but not many people like to eat it?
Fruitcake
164. This herb is popularly used in coffees and desserts during the holiday season
Peppermint
165. The traditional Christmas feast includes what type of meat?
Turkey
166. True or False: Fried Caterpillars is a traditional dish in South Africa
True
167. Christmas fudge consists of which three main ingredients?
Sugar, butter, milk
168. True or False: There is a candy cane pickle flavor
True (voted one of the worst flavors)
169. True or False: Fruitcake has alcohol in it
True (medium sherry, dark rum, whisky, brandy or orange-flavored liqueur)
Easy Xmas Trivia for Kids
Next, these Christmas questions make for an excellent trivia quiz for young ones.
170. Santa Claus is married to who?
Mrs. Claus
171. What snacks are typically left out for Santa on Christmas Eve?
Milk and cookies
172. What do you hang above the fireplace for Santa to stuff treats (or coal)?
Stockings
173. Who has eyes made out of coal?
Frosty the Snowman
174. Who helps Santa make all the gifts?
Elves
175. True or False: All the countries in the world celebrate Christmas on December 25th
False
176. "All I Want for Christmas is My Two _____ _____"
Front Teeth
177. What storybook character tried to steal Christmas?
The Grinch
178. True or False: Christmas celebrates the birth of Jesus
True
179. What does Santa ride on to get from house to house?
Sleigh
180. The Polar Express is what type of transportation?
Train
181. Christmas is often called the "season of _______"
Giving
Hard Trivia Questions For Christmas
182. What organization tracks Santa's location on Christmas Eve?
NORAD: North American Aerospace Defense Command
183. Where is the world's largest nativity scene located?
Einsiedeln, Switzerland
184. In the Christmas carol, "We Three Kings," which way is the star of wonder leading the kings?
"Westward leading, still proceeding"
185. In which direction should you stir mincemeat for good luck?
Clockwise
186. A Christmas Carol was written by which famous writer?
Charles Dickens
187. St. Nicholas originates from which country?
Turkey
188. "Do You Hear What I Hear" is originally a song by:
Bing Crosby
189. The song "Mary Did You Know" is about what?
All the amazing things Jesus would do
190. The day after Christmas, December 26th, is typically when gifts are given to employees by their employer. This holiday is called:
Boxing Day
191. True or False: In the Netherlands, there is a tradition to fill children's clogs/shoes with treats in December
True (December 5)
192. When was the first mass-produced Christmas card made?
1843
Christmas Color Trivia Quiz and Answers
And finally, these Christmas trivia quiz questions highlight where our favorite colors come from.
193. Why are candy canes red and white?
The color white symbolizes the purity of Jesus and the color red symbolizes the blood that Jesus shed for us.
194. What is the color of the berries on mistletoe?
White
195. What are the two colors most associated with Christmas?
Red and green
196. What color is the Grinch?
Green
197. This color is associated with Christmas because it was a gift presented to Jesus by the three wise men.
Gold
198. What is the main color of Advent, the time before Christmas, that Christians repent in anticipation for Jesus' birth?
Purple
199. Silver is also a Christmas color associated with what holiday decoration?
Tinsel
200. What Christmas flower has red with green leaves and is typically given as a "good cheer" gift?
Poinsettia
Grab Your Christmas Quiz for Family!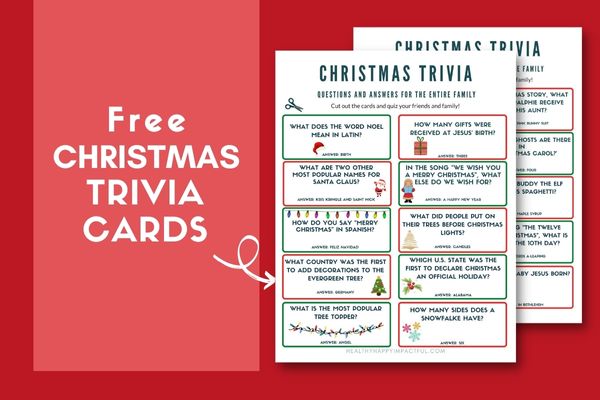 I hope you enjoy this simple game, and you can grab the free printable cards with questions and answers in the resource library! Grab access below and you'll receive the password to access!
Sources Used for Christmas Trivia Quiz Questions
Websites: https://www.smithsonianmag.com; www.britannica.com; www.history.com;
www.natgeokids.com; www.time.com; www.beaconjournal.com; nationalgeographic.com, www.study.com, www.countryliving.com, www.forbes.com, www.projectbritain.com, www.thepioneerwoman.com
United States Postal Service, North American Aerospace Defense, Guinness World Records, National Wildlife Federation (NWF), "How Kids Celebrate Christmas Around the World" by Pavla Hanackova & Maria Neradova
Movies: Elf; A Charlie Brown Christmas; Polar Express; The Santa Claus; Home Along
2; Frosty the Snowman; Christmas Vacation; Rudolph the Red-Nosed Reindeer; It's A
Wonderful Life; A Christmas Story, Miracle on 34th St, Jingle All The Way, Olaf's Frozen Adventure, Curious George, Nightmare Before Christmas
Literature: The Bible, "A Visit from St. Nicholas" by Clement Clarke Moore; "How the Grinch Stole
Christmas" by Dr. Seuss; "A Christmas Carol" by Charles Dickens, "Weird But True" by National Geographic Kids,
Music: "Silent Night" by Joseph Mohr; "I Saw Mommy Kissing Santa Claus" by Tommie
Connor, "Mary Did You Know" by Mark Lowry, "Do You Hear What I Hear" by Bing Crosby, "We Three Kings" by John Henry Hopkins Jr.
More Holiday Posts You'll Love…
Best Holiday Trivia Questions and Answers