A Magical Christmas Eve Box for Kids (& Adults) in 2021
The Night Before Christmas Box
Need an EASY meaningful family tradition for Christmas Eve? One that BRINGS your loved ones together?
Look no further! The Christmas eve box for kids can do just that!
But first…
What is a Christmas Eve Box?
This post contains affiliate links, and I may earn a commission at no cost to you. However, I only mention items I love! See my disclaimer for more info.
This special present is a gift that kids open the night before Christmas, and centers around family items that can be shared. It's a fun little tradition that adds magic to the holiday without necessarily adding stuff.
Also, there are two ways to do the box. You can make a small box for everyone separately, or one large Christmas Eve box for the entire family. At my home, I choose one family box because it's simply easier.
Either way, surprise your kids and keep the whole family busy Christmas Eve while they impatiently wait for Santa!
What Can I Put in My Night Before Christmas Box?
I'll give you TONS of Xmas eve box fillers for every age, so make your box as simple or elaborate as you'd like.
If you need guidance: follow a rule, such as the four gift rule – something they need, want, wear, or read. Or use the eight gift rule, adding something used, made, to do, and played.
Now, what you put into the box is up to you!
In this post you'll find:
What's in our Christmas Eve box for kids
Xmas Eve box fillers for any age
Box ideas for babies
Christmas fIllers for toddlers
Night Before Christmas boxes for teenagers
Christmas eve box Ideas for adults
Beautiful gift boxes
Our Christmas Eve Box
First, I always include the same things in our Christmas Eve box for kids. Staying consistent every year makes things easy. Plus, the kids look forward to the contents inside and know what to expect. Here's what goes into our box:
Hot chocolate and marshmallows
Fruit snacks or another fun small treat
An updated family photo (they keep a picture on their nightstands)
Often, I'll also add slippers, more food, or another small surprise (see below!) to mix it up just a little bit.
Other Awesome Ideas for Any Age:
The following box fillers work for ALL kids, and can even be things you already own (like the legos).
Reindeer food to leave Santa
Cookies to leave Santa (or a cookie mix to make)
Fun toothbrush and toothpaste (to make bedtime more fun!)
A movie to watch together
Legos (so the family can build a Santa or Christmas tree together)
Now, younger and older kids can be a bit tricky, so here are some ideas for them:
Christmas Eve Box Ideas For Babies
These are all sweet ways to introduce your baby to the holidays!
Baby's 1st Christmas ornament
A special Christmas outfit or bib
Night Before Christmas Box Ideas for Toddlers
Anything that keeps these kids BUSY will work beautifully for your toddler box!
Christmas coloring pages or books
A Christmas stuffed animal
Bath toys and other fun bedtime routine items
Christmas or winter stickers
Christmas Eve Box Ideas for Teenagers
Next, young adults are HARD! But these ideas should put a smile on their faces!
A personalized mug with their name or zodiac sign
Crossword puzzles and mind challenges
Supplies to make photo booth props (spend the night taking fun Christmas selfies!)
A movie theater gift card (go as a family, but your teen gets to choose the movie)
Christmas or winter bookmark
Christmas or winter bath bomb and lotion for teen girls
A winter or Christmas decoration for their bedroom (they'll love making their own space more festive)
Need even more ideas? Check out this GIANT list of non-toy Christmas gifts for all kids
And for before we get the adults, get the free Christmas calendar for lots of fun things to do with family!
Christmas Eve Box Ideas for Adults
Finally, if you're doing separate Christmas Eve boxes, then you'll need some ideas for adults in the home. Here are a few:
Popcorn or kettle corn for your Christmas Eve snack
Socks, slippers, or a robe
Christmas kitchen or bath towels
A Christmas classic movie (Christmas Vacation, the Elf, or the Jim Carrey Grinch)
Bag of coffee and fancy syrups (great for Christmas morning!)
Crossword puzzles and mind challenges
Related Posts:
Beautiful Gift Boxes
Next, the presentation. There are two options: give your gift in a crate or an actual present for the family to open. They are both beautiful!
Also, try to get this gift under the tree early to heighten the anticipation, as they will get excited when they spot it!
And if you want a unique Christmas Eve box that's super cute, but without the work, then check out these package ideas:
Personalised Children's Christmas Eve Crate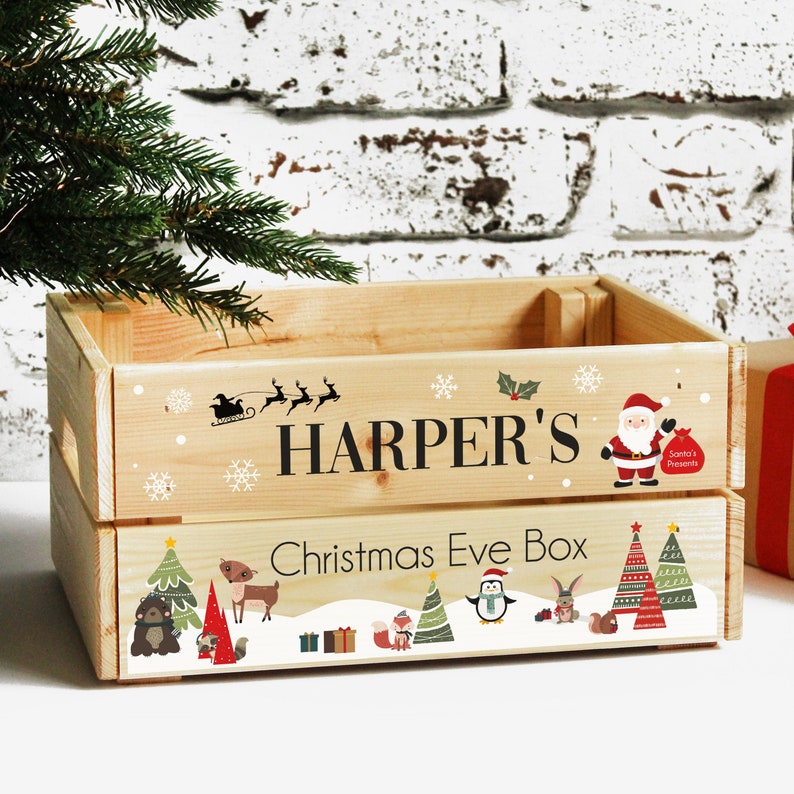 First, this beautiful crate is super durable and the perfect item to use year after year for your special tradition.
Christmas Eve Box – Special Delivery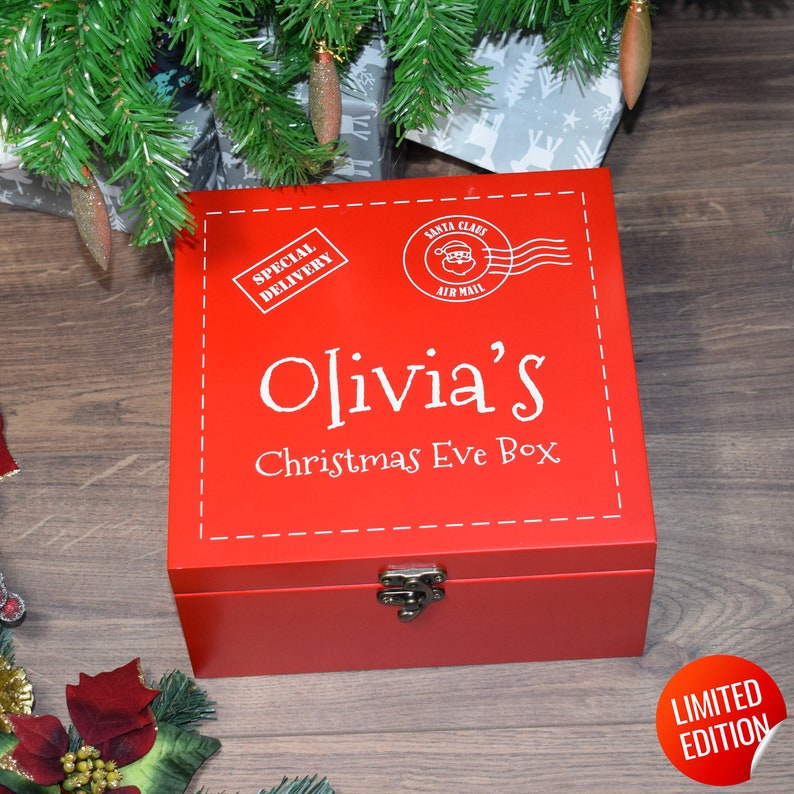 This creative red box is a great size to hold lots of goodies, and has a fun decorative stamp.
Christmas Eve Box Parcel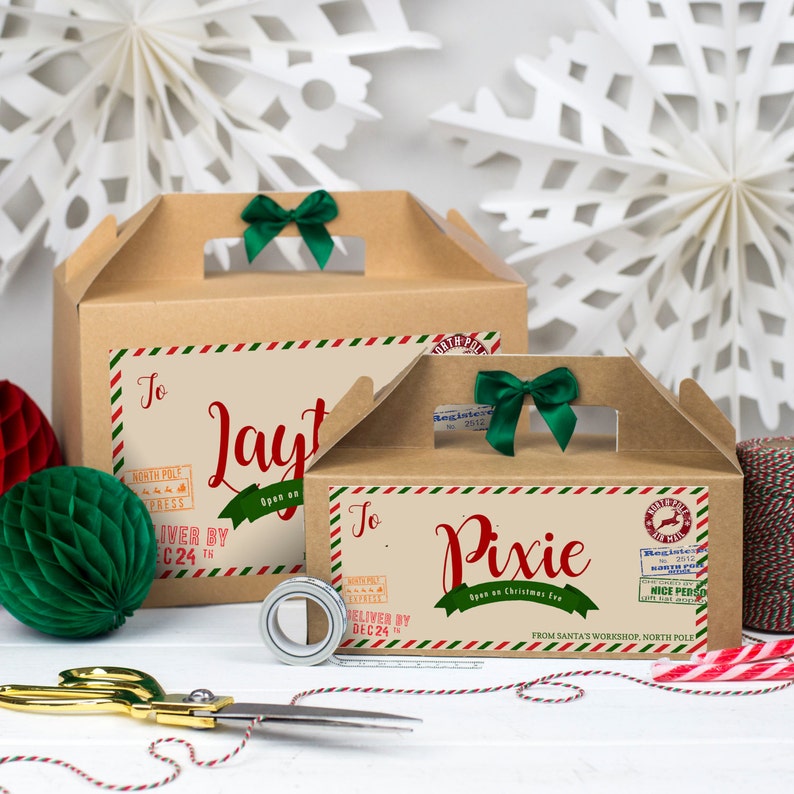 And finally, these fun Christmas Eve boxes are both low-cost and unique. They are sure to brighten your kids' faces when they see them!
You can find TONS more creative box ideas on Etsy HERE. There are so many cute options!
Here's our 2020 Christmas Eve box from Youtube if you're curious what we did last year!
Looking for more fun holiday traditions?
Check out my unique ebook filled with 260+ of the best year-round family traditions! The holidays are the perfect time to build unbreakable family bonds and gain memories that last a lifetime. So, don't miss out!
Something to Consider With the Xmas Eve Box
There you have it! Tons of ideas to start your special Christmas Eve tradition this year!
Have you ever done the Christmas eve box for kids? What do you put in it? And what are other favorite Christmas Eve traditions? I'd love to know!
Before you go, print the free Christmas gift tags and Shopping list tracker to help with all of your gifts this year!
Other Family Christmas Posts You'll Love…
What to Put in a Xmas Eve Box